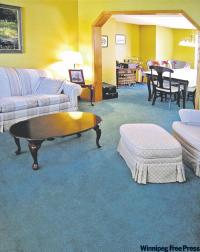 Do you love the "new" smell? That interior of a new car, a freshly painted room or a newly installed carpet? Experts are discovering that that new smell carries chemicals that you are breathing can be harmful to your health.
We've been hearing about off-gassing for a while now -- that's the chemicals you smell and those you don't. The flooring industry is continuously making advancements and improvements in how they manufacture and install products to reduce, or better yet, eliminate some of the hazardous toxins and volatile organic compounds (VOCs) that carpets, in particular, can emit.
Walking barefoot across your new wall-to-wall broadloom might be a dream come true. But you should educate yourself about some of the products in your home, so that dream doesn't turn into a nightmare. Wall-to-wall carpeting used to be thought of as an ideal status symbol from the 1950s. It now makes up about 70 per cent of all flooring used in North America today.
Most carpets are made from petroleum or oil-based materials like nylon, polypropylene and polyester. These synthetic fibres are woven onto a synthetic backing. The result is a product that is chemical based and made up of materials like styrene, which is a suspected carcinogen. Add fire retardants, which contain chemicals known to cause thyroid damage and developmental delays, and you've got a potential health disaster on your hands -- or at your feet.
That new carpet smell made fade, but off-gassing occurs in both new and old carpets. There really isn't a window of time where it stops being a health hazard. Older carpets can be more harmful than newer ones because many contain chemicals now banned in the manufacturing process. Combine that with years of dust mites, dirt, pesticides and other toxins carried inside by shoes, bare feet and your pet's paws, newer carpets might rate better for air quality.
Ask any flooring installer about how to get rid of that new carpet smell and they'll probably tell you to keep the windows open for a few days. Often people complain of headaches, dizziness or nausea so keeping windows open is a good idea. The amount of off-gassing and the results of inhaling these unpleasant chemicals isn't known over the long term so be sure to act quickly if you experience any unpleasant symptoms.
If you have a new baby or young children, keep a close eye on them too because their systems are much more susceptible to the effects of off-gassing. And think about it -- babies crawl and kids play on carpet. They are right next to it, for a lot more time every day than adults are.
Most carpet companies now carry flooring products made from more natural materials like hemp and wool. And while the price might be slightly more, it could be worth it in the long run.
In 2004, the Carpet and Rug Institute started the Green Label Plus Certification program because of the concern about synthetic materials and off-gassing associated with so many carpet products. Basically, a Green Label Plus Certified carpet is free from over 13 toxic chemical used in the traditional manufacturing of rugs so if you're in the market for some new wall-to-wall, look for products with this certification. Also ask about what materials make up the carpet underpad and look for natural products that won't mould and aren't glued down with toxic adhesives.
When it comes time to get your carpets cleaned, there are a lot of companies that offer non-toxic, biodegradable alternatives.
Recycling is the right environmental choice, especially if you are using post-consumer waste, since that keeps the waste out of landfills. Recently I saw a new carpet made from recycled plastic pop bottles. It can be dyed and treated the same as standard synthetic fibre carpeting.
But you need to be aware of anything labelled "green," and make sure it's not a greenwash. Think about how much energy and what kind of processing went into the manufacture of the carpet. There's a lot of embodied energy in the recycling process. How much off-gassing is going to result from the carpet?
Even though recycled carpet has fewer VOCs than new synthetics, the underlayment and adhesives you use can still be a problem. And -- a huge question for me -- how flame-resistant is a carpet made from recycled plastic going to be? All synthetic carpet is combustible or flammable -- does the recycled version have a flame retardant added to it? And, if so, how does that affect its "green" rating?
So, before making the big investment to install new carpets, take the time to research what's best for your family and budget and ask questions when you go shopping. If you do decide on wall-to-wall carpet, you may want to pick up a few air filters while you're at it. Your home should be a safe-zone and informing yourself and protecting your family against some of the possible effects of off-gassing from carpets is a good first step.
For more information on home renovations go to makeitright.ca.