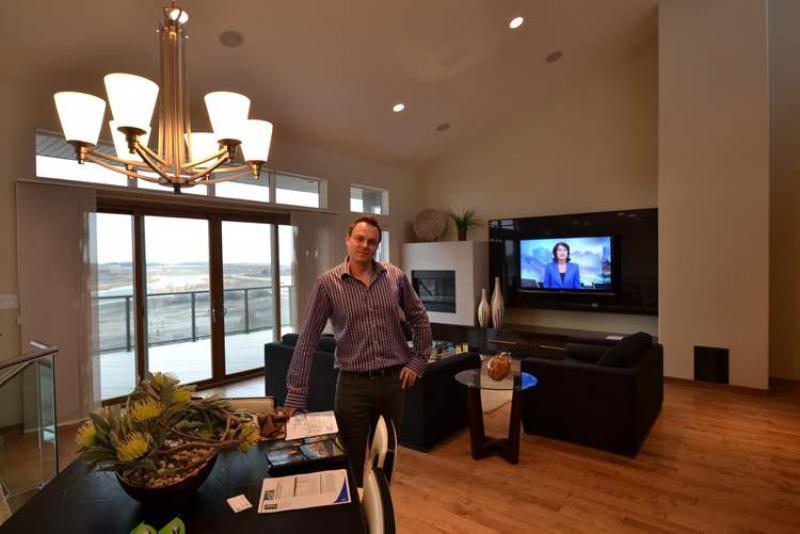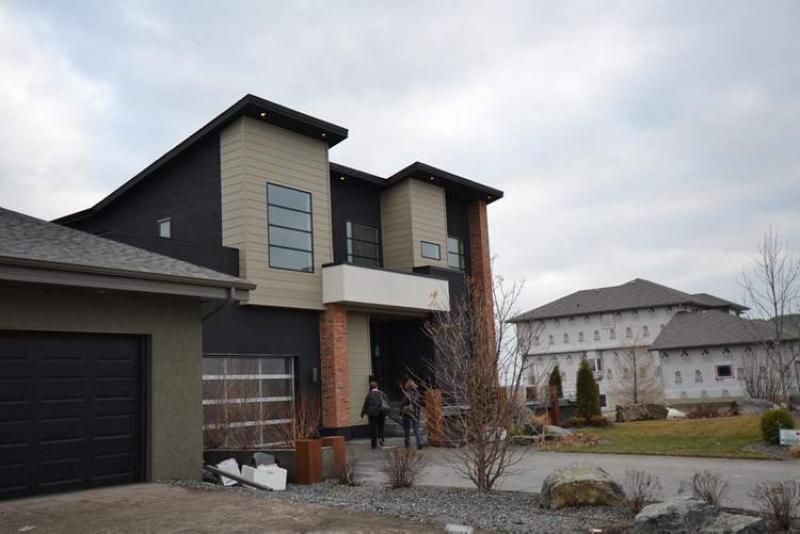 If Manitoba's contingent of home builders was worried interest in new digs would be down during the 2012 Spring Parade of Homes, that worry has been assuaged -- big time.
According to those who've manned the front lines -- the sales representatives in show homes in 24 different subdivisions across Winnipeg and outlying communities -- prospective buyers have been flooding into the new models en masse.
"To say the least, it's been very, very busy," said Gino's Homes' sales rep Jason Topnik from the office of his South Pointe show home at 38 Cypress Ridge. "I would say we probably had 400 to 500 people come through the home today (Sunday) alone."
Just how busy was it?
"Well, when I first came into the home, I could barely walk in the door, there were so many shoes in the foyer," Topnik said. "And from that point on (mid-morning), there was a steady stream of traffic that lasted until late in the day."
Sabie Brar, Kensington Homes' sales representative for their brand-new show home at 64 Shady Oaks Drive in Transcona's Waterside Estates (off Dugald Road at Guy Savoie Drive just west of Plessis Road), said business has also been brisk in Transcona's newest community.
"It's been very busy here. That's been a bit of a surprise, because people are still learning about Waterside Estates -- it's very new, and isn't a well-known area yet," Brar said of the development, which will hold about 100 homes by the time it's finished.
Huntington Homes' frontman Rob Swan added that not only has the volume of people been impressive, but so too has their willingness to look at buying new.
"I think, like pretty much everyone else, the Spring Parade has been crazy for us," he said. "Activity has been very strong in both Bridgwater Forest and South Pointe -- there are tons of people out looking. That said, they all aren't out there kicking tires. More so than even last year, more people are seriously looking to build."
The burning question is why the interest in building keeps growing.
"Several factors are contributing to it," Swan said. "Manitoba's economy is still solid and interest rates are low, so those two factors alone are stimulating interest in building new. Other factors, such as a limited resale-home supply, are also prompting more people to look at building new.
"It's hard to blame them. The new technology found in today's new homes is more appealing, and you can build new for pretty close to the used prices of higher-priced resale homes."
Rob Hutchison, sales representative for A & S Homes at 26 Cypress Ridge in South Pointe, agreed that the demand for new homes isn't showing any signs of slowing down.
"There was recently a release of lots for stage five of South Pointe, and the response to it was amazing," he said. "Our lot allotment is already about half sold.
"I think factors such as Manitoba's steady population growth (via immigration) and a lack of good resale homes is also driving sales. If you can afford it, buying new just makes good sense. You can get exactly what you want, and you don't have to endure bidding wars to get it."
There's one other factor that routinely contributes to the high volume of traffic during the Parade, Brar said.
"A lot of people are doing renovations and are looking for ideas -- they want to see what's out there in terms of new design ideas. Show homes are an ideal place to get ideas."
Still, those people represent only a small percentage of the traffic that sales representatives see and converse with in-depth.
"Most people are quite serious about buying a new home, whether they're upgrading or want to buy new for the peace of mind it brings," Brear said. "Buy new, and you get a home you won't have to do anything to for 10 to 15 years. Plus, by the time we hand you the keys, the home's gone up $20,000.
"With all the great new designs, excellent subdivisions and the value new homes offer, it's not surprising that the traffic at Parade locations across the city has been so strong."
lewys@mts.net