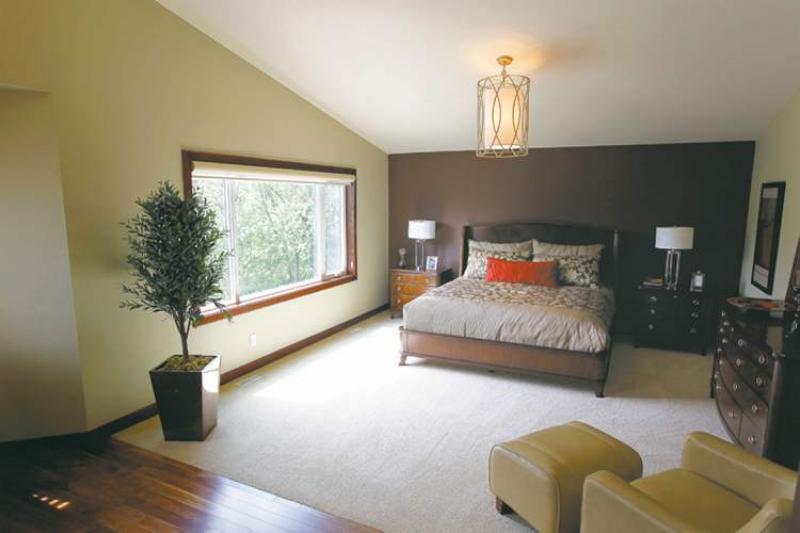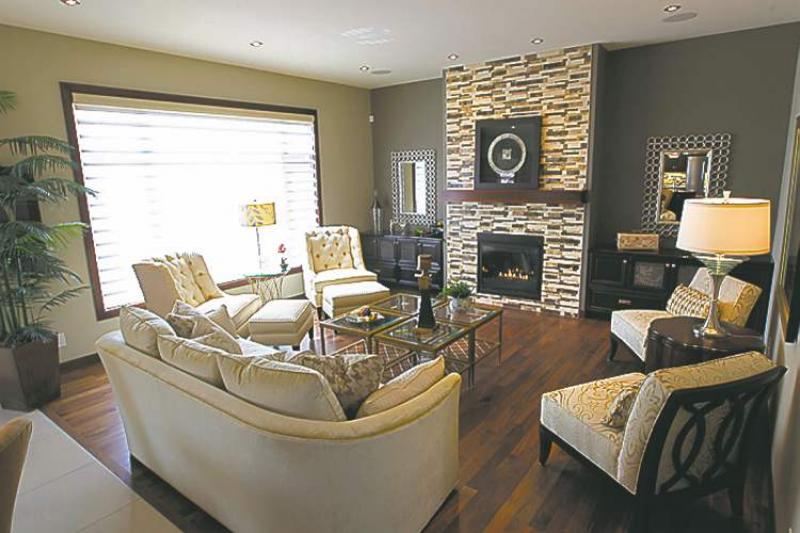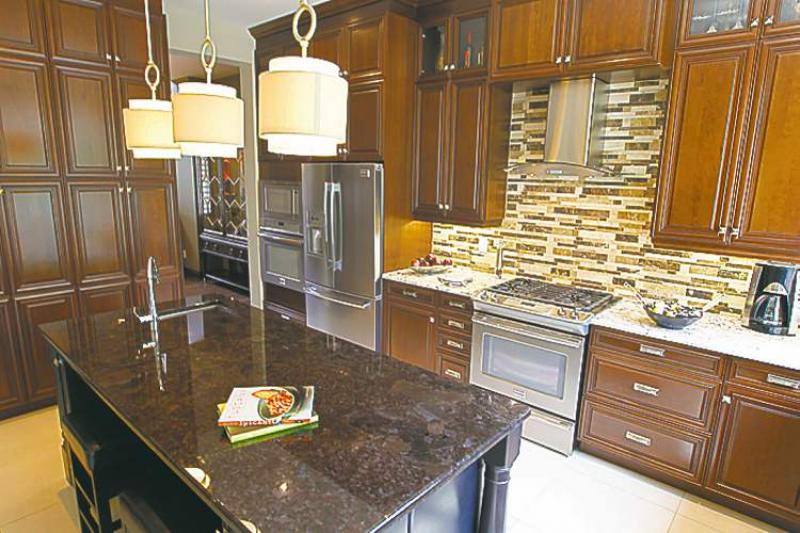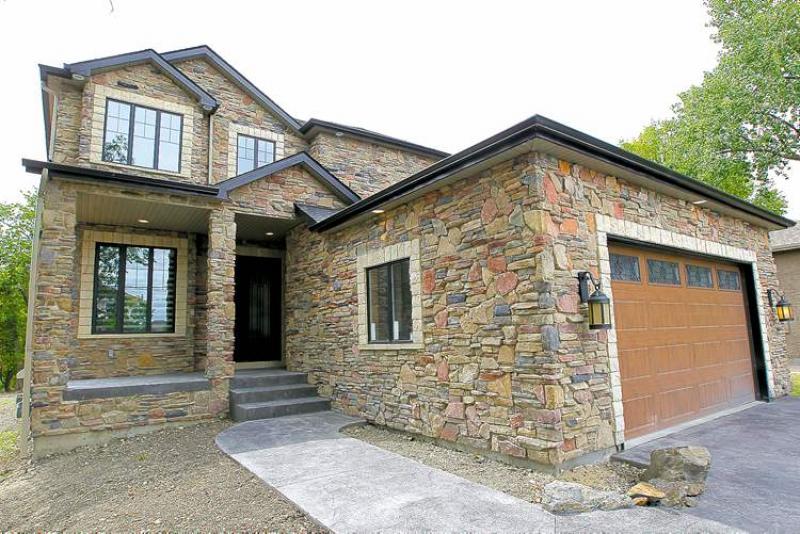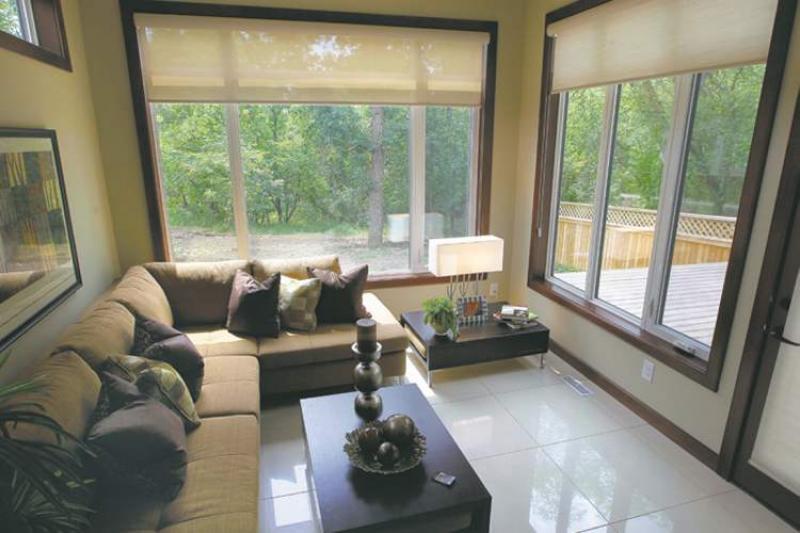 It's not often that builders need a ton of inspiration to come up with a new home design.
However, there are instances when they draw inspiration from a special setting. The 2,953-sq.-ft., two-storey home with cultured stone facade that now stands on a prime lot at 788 John Bruce in Royalwood is one of those instances, said Hilton Homes' Spencer Curtis.
"Let me show you where the inspiration came from," he said as he ascended the rich-looking dark walnut staircase (bordered by maple railing with tempered-glass inserts) to the expansive home's upper level.
"One look will tell you exactly where the inspiration came from."
A quick glance out the master suite's huge picture window made it immediately apparent where the impetus behind the home's design came from: the Seine River meandering along lazily amid stands of mature age old trees, and a colourful collection of flora and fauna.
"I'd say there are only six or so lots in Royalwood that back on to the river," said Curtis. "We'd actually had this lot for awhile, beckoning us to do something with it. It was time to develop it, and because it was so special, we decided to go all out in designing the home."
That commitment to going all out is showcased in the master suite, which, when you combine the bedroom, sitting area, ensuite and walk-in closet, is the size of a small apartment. Space aside, the bedroom starts and ends with the majestic view.
"To do it justice, we put in a huge window by the bedroom and another big window in the sitting area, which could also be used as an office," he said.
"To amplify the feeling of light and space, we put in a vaulted ceiling, which makes the area feel even bigger than it is. The bedroom is defined by beige carpeting, while the sitting/office area is defined by dark walnut hardwoods."
The next item on the design agenda was to provide a luxurious spot in which to relax. The result was an ensuite -- complete with its own vaulted ceiling -- that's steeped in luxurious finishes and features from top to bottom.
"It has everything you could want in an ensuite -- a five-foot tempered glass shower that has six body sprays, a five-foot jetted tub (with big window above for another river view), a tan (porcelain) tile floor and charcoal maple vanity with granite top and gorgeous under mounted iron sinks with an etched, copper-coloured floral finish," said Curtis. "I also love the huge mirror that's surrounded by glass tile, which was carried through into the shower."
While the master suite is unquestionably the upper level's crown jewel, the rest of the area wouldn't even remotely be considered anti-climactic. To the right of the stairs is a bedroom wing -- separated neatly from the master suite by the stairs -- that contains to huge bedrooms, a four-piece bath with an exceptionally deep soaker tub and the same finishes as the ensuite; the area is finished off with a large closet that offers storage for laundry items and sundry supplies.
Then, across the way, there's a feature to the left of the stairs that offers all kinds of possibilities.
"We put in a loft area that could serve as either a media area, sitting area or even a play area," he said. "It's a very flexible space that adds extra utility and style to the upper level."
Not surprisingly, the main level's great room area is dominated by -- you guessed it -- the gorgeous view out back.
"With a view like that, we wanted to put lots of glass along the back wall to not only maximize the river/forest view, but to also let as much natural light in as possible," said Curtis, adding that the ceiling on the main floor stretches to 10 feet in height.
"We also put in another feature that accomplishes those goals very nicely."
That feature is a four-season sunroom (complete with tan porcelain tile floor) that was placed off the rear of the great room.
"It's surrounded by big windows to maximize the view, and there's a door that takes you out to a nice big deck where you can enjoy a cold beverage and visit with friends and family. I know it's a space that I'd spend a lot of time in, it's so warm, bright and relaxing."
Meanwhile, the main living area could also be described in those terms -- warm, bright and relaxing, with one key addition: richly finished.
"We went with rich finishes like cherry cabinets, dark walnut hardwoods and tan porcelain tile floors to create a feeling of warmth which is important in larger homes," he said, adding that details like dark window casings and baseboards aid in creating that warm feel. "At the same time, you don't want to go with finishes that are too dark, so we went with lighter coloured (tan granite) counter tops and a beige colour palette to brighten up the interior."
By utilizing other rich materials in key spots -- a rich, multi-hued brown/tan marble for the gas fireplace's surround in the family room and kitchen backsplash, black granite to top the kitchen's eight-foot by three-foot island and dark-stained (eight-foot) solid core maple doors -- 788 John Bruce exudes exceptional warmth and style.
At the same time, it's a highly functional home.
"As important as style is, you have to be able to live in a home, so function has to be there," said Curtis. "With about 1,400 sq. ft. to develop downstairs, this home offers over 4,000 sq. ft. of living space on one of the best lots in Royalwood. We're pretty proud of how it turned out."
lewys@mts.net
DETAILS
Builder: Hilton Custom Homes
Address: 788 John Bruce Road, Royalwood
Style: Two-storey
Size: 2,953 sq. ft.
Bedrooms: 3 plus main level den & second floor loft
Bathrooms: 3
Lot Size: 46' x 168'
Lot Price: $230,000 plus GST
Price: $979,650 (including lot & GST, plus appliances)
Contact: Rick Mazur, Century 21 carrie.com @ 987-2100 or Kim Fyles, RE/MAX Executives Realty @ 987-9800