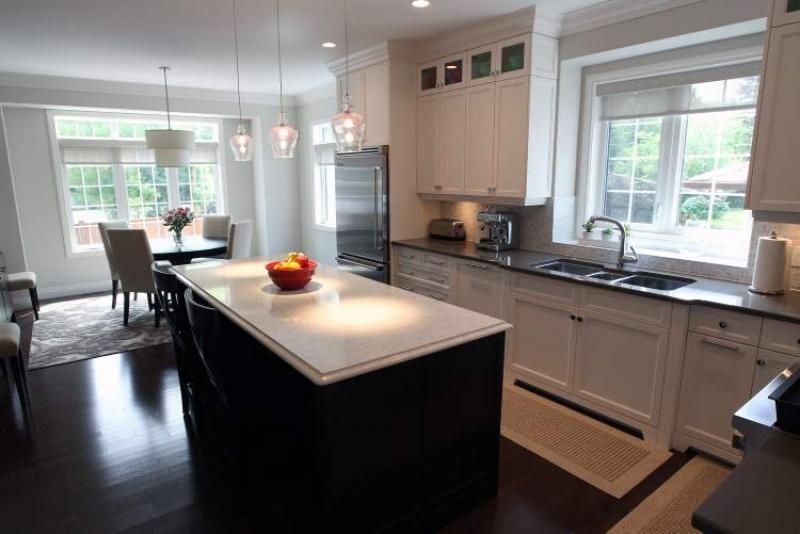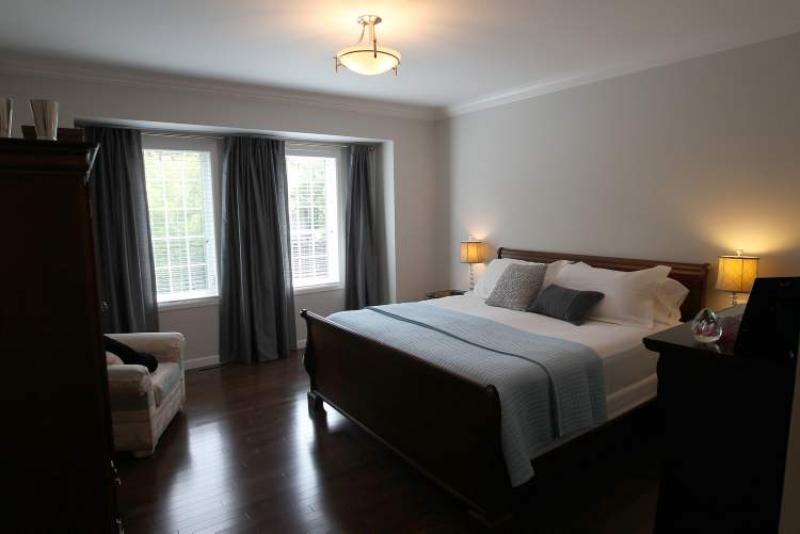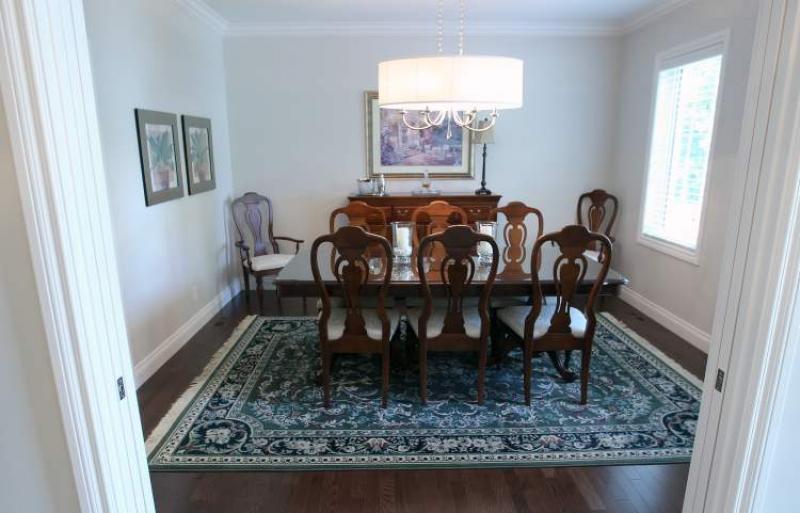 When the owners of a large infill lot on Grenfell Boulevard in old Tuxedo hired Huntington Homes' Rob Swan to build them a new home, he was confronted with a challenge.
First, the owners wanted the home to look like it had been there for 100 years. Second, they wanted an interior that combined modern and classic features.
After consulting extensively with the owners, the decision was reached to go with a traditional exterior.
"We went with a brick exterior," Swan said. "Doing that really gave the home a turn-of-the century look, along with traditional-looking windows (with lattice accents), and a traditional front entrance. The fact that the lot is 75 feet wide also helped, as we were able to build the home on a grand scale. That also helped it fit in with all the grand homes on the street."
At 3,500 square feet plus basement it's an expansive home like most of its neighbours. But while most of these are in the 75- to 100-year-old range, this interior is modern. Whereas homes designed in the early 1900s tend to feature floor plans chopped up into small rooms, the floor plan flows extremely well.
That said, it's not an out-and-out open-concept design.
"The owners felt the home should intrigue visitors -- they didn't want it too closed off or too open," Swan explained. "They wanted an interior that had a traditional feel, yet without the choppy floor plan that can disrupt traffic and light flow in classic homes. It took a lot of work to get that balance just right."
While the owners didn't want visitors to be able to take in the main living area in all in one glance, they did want them to see one thing as they entered the spacious, tiled foyer.
"They wanted to be able to see from the front door right through the sunroom doors into the backyard, but that was the extent of the view," Swan said. "It was important to them that everything wasn't on display from the moment you walked in the front door."
Once you get to the main living area, what's on display is impressive, in particular the abundance of light, space, style and its overall functionality.
"Light was very important to the owners, so we put in all kinds of large windows," Swan said. "This is an older, established neighbourhood with all kinds of mature trees, so an abundance of windows is required to let as much natural light in as possible. To accomplish that, we also went with a higher than normal ceiling in the main living area."
The high ceiling was put in for a particular reason, he added.
"It allowed us to put transom windows up high to let in even more light. Add in a south-facing kitchen (with a huge, low-silled window over the sink) and an east-facing sunroom, light is never an issue. An eight-foot by four-foot island and oversized dinette area add even more function."
Flow was enhanced by placing an eight-foot-wide doorway between the great room and kitchen; while the spaces are separate, access to either space is seamless. Likewise, the dining room can be accessed via a door at the back of the kitchen that contains a butler's pantry with prep area, sink and huge pantry.
Then there's the great room.
"The theme there is subtle elegance," Swan said. "We put in a coffered, beamed ceiling, a gas fireplace with (white) bookshelves and cabinets, and high baseboards.
"A huge three-part window on the rear wall lets in light, and gives you a glimpse of the huge four-season sunroom, which the owners spend a ton of time in. To soften the modern features, we put in oak hardwoods for a more traditional look to add character and warmth." Upstairs, the ambience remains one of space, light and style, with classic and modern features intertwined seamlessly.
"All three bedrooms are huge, and because of all the large windows, light floods the upper level. The hallway is wide to make for better flow. Our goal was to create an upper level that was functional and elegant."
That understated, functional elegance culminates in the master suite, which contains two huge windows, ceiling with crown moulding, oak hardwoods, high baseboards and a spacious, modern ensuite.
"The colours are modern, but not cold, with white cabinetry, grey quartz countertops, and (light) grey tile floor," Swan said. "A large window over the six-foot soaker tub lets in lots of light, while a five-foot tile shower and vanity with dual sinks add utility. When you close the door, it's a self-contained, private space.
"The bedroom is its own entity, as it's separated from the ensuite and walk-in closet by a 10-foot hallway."
Finally, the home's lower level doesn't even remotely resemble that of a turn-of-the-century Tuxedo home.
"Putting in four huge windows and a high ceiling made for a bright, liveable space," Swan said. "The open-concept rec room features a media room, games area, wet bar, exercise room and two massive bedrooms with a four-piece Jack-and-Jill bathroom in between.
"We call it a 'daylight basement,' there's so much light; it's also incredibly warm due to the structural wood floor. It's just another part of the home. This is really a three-storey home."
As for the reaction of the owners?
"They couldn't be happier. They told me the it turned out exactly the way they envisioned it -- a modern/traditional home that features functional elegance from top to bottom."