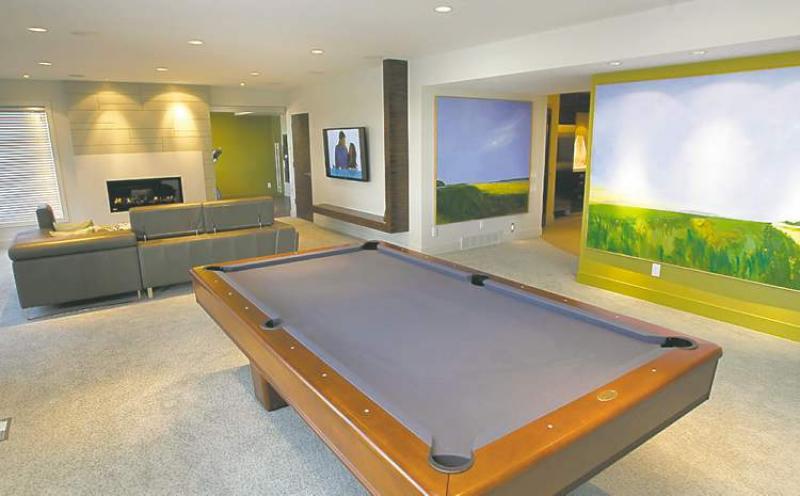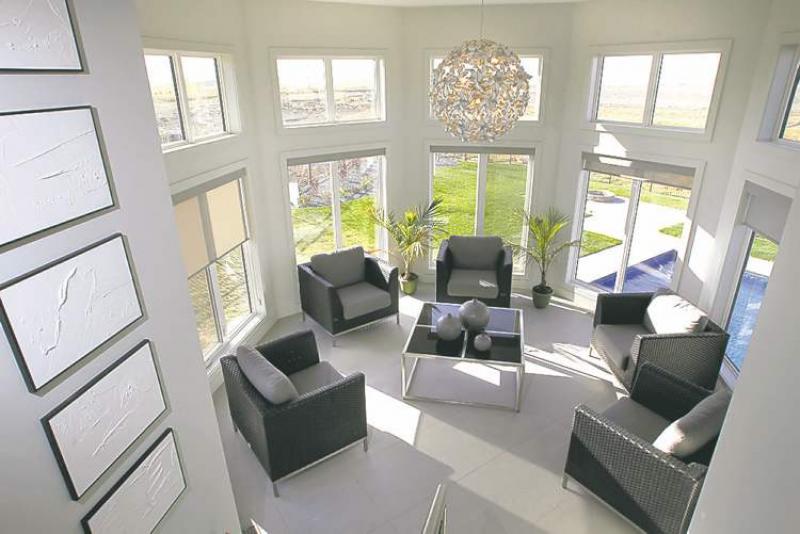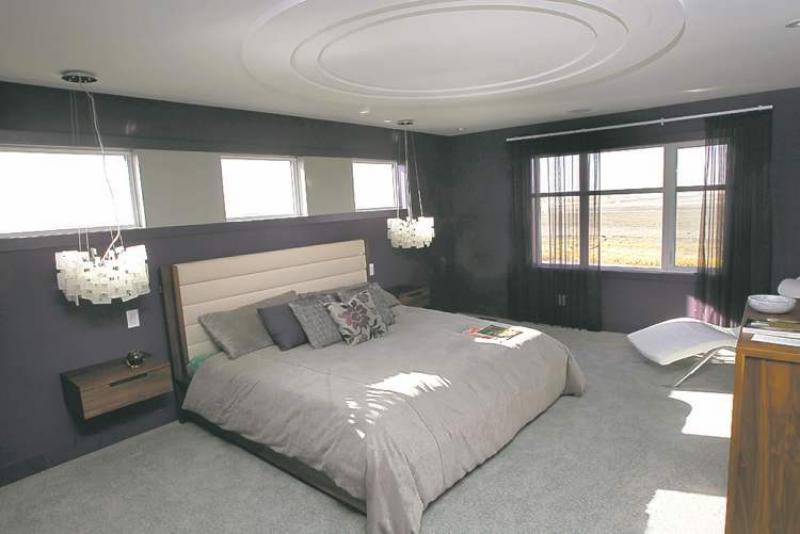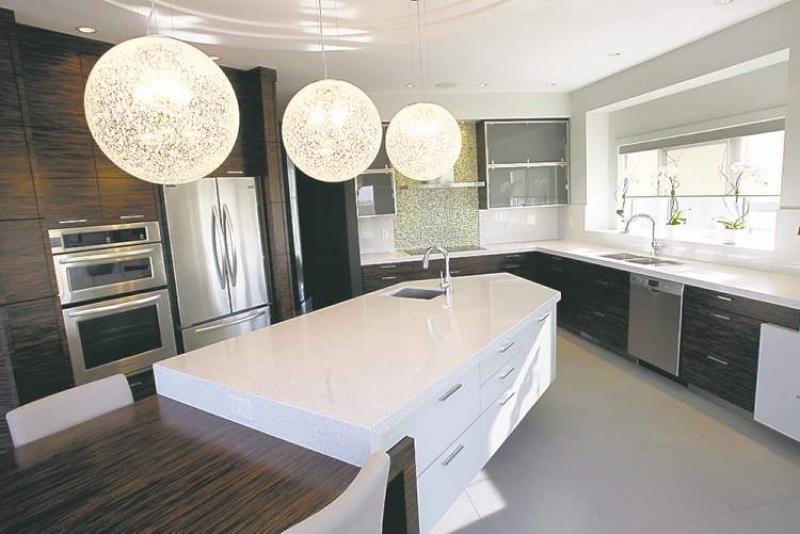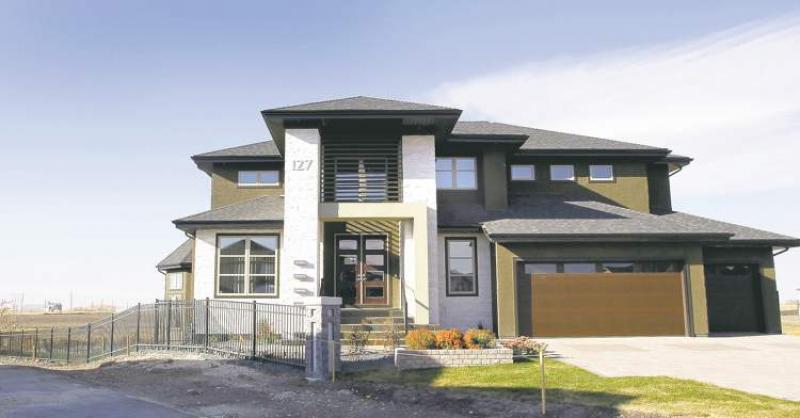 It isn't every day that a homebuilder gets to unleash their creative side in a show home.
All restraint went out the window when Gino's Homes acquired the largest lot in Bridgwater Forest, a piece of land at 127 Park Valley Road that occupies two-thirds of an acre with magnificent wetlands behind the backyard.
With a generous piece of land to built on, Gino's designers let their creative imagination run wild. The result was a two-storey home with more than 5,000 square feet of livable space spread out over three levels, and where creativity and fashion co-exist in perfect harmony with form and function.
"Everyone who's been in it just loves this home," said Phil Mosher, Gino's sales representative for 127 Park Valley. "The average visiting time is about 20 minutes, which is understandable. There's a lot to take in in this home. It's an incredible design from top to bottom."
Entry into the house comes via a supercool circular foyer defined by curved walls on its sides, a rich-looking beige porcelain tile floor with brown/grey/black inlays and a soaring 18-foot medallion ceiling that features a mod bubble-style chandelier.
As memorable as the entry is, it's only the start, Mosher said.
"You've then got a gorgeous, curved solid oak staircase in front of you that winds up to the second level along a curved wall with frosted glass inserts that contrast beautifully with the dark-grey wall," he said. "The foyer is opened up by a formal dining room to the left that features maple hardwoods, a bubble-glass chandelier and lit buffet niche with Tigerwood-style accents."
That seamlessly intertwined style and grandeur is kicked up another notch in the great room area, he added.
"Two words describe the great room - expansive and bright," he said. "With an 18-foot ceiling above and 14-foot-high windows on the rear wall, the feeling of space and sheer amount of natural light is amazing. The view of the wetlands, pool and sport court from the four windows in the family room isn't bad, either."
That view is also present from the gargantuan gourmet kitchen, which is surrounded by four huge windows, as well as deck doors that lead to an elevated deck overlooking the wetlands. Aisle width is ample, as is cabinet and countertop space, which is supplied by a huge pantry that's lined and defined by Tigerwood-style laminate panelling, Euro-style upper cabinets and white quartz countertops.
A nine-foot, white-quartz island with a seven-foot, built-in Tigerwood-style table seating six adds function and style to the design equation.
"The functionality delivered by this kitchen is incredible. Not only do you have the island/table, there's also a ton of storage space in the form of eight pot drawers," he said. "A very cool touch is the multicoloured backsplash, which frames the built-in cooktop and stainless hood fan. A grey porcelain-tile floor offers great looks and durability."
Then there's a very welcome bonus area seven steps down off the kitchen.
"How about a four-season sunroom that's surrounded by 14 windows?" Mosher said. "Because you literally get sun from every angle, it's always bright -- and the view of the wetlands behind is stunning. It's a great spot to relax in or chat with guests while entertaining," he said.
Another set of steps takes you down to the walk-out lower level, at 1,600 sq. ft. of livable space a home in itself.
"With a back wall that has seven windows (plus a door that takes you out to a covered trex deck), it's a naturally bright area that offers a games area (next to three windows), a media area with ribbon-style fireplace (adjacent to four windows), an exercise room (with another window, plus a mirrored wall with built-in TV) and a wet bar set off in its own curved nook off the rec room.
"You've got an area that's ideal for entertaining or relaxing," Mosher said. "With the view and all the light, it doesn't feel at all like a basement."
Add in a separate enclosed wing with a huge fourth bedroom (with a view through a huge window), a three-piece bath with grey tile floor, tile shower and Tigerwood-style vanity, plus a carpeted under-stair storage room, and the second home in the lower level is completed in secluded style.
Space and style also characterize the upper level, which is expansive like the rest of the home (and well-laid-out; sheer space is no replacement for a logical floor plan). One wing contains three huge bedrooms, each outfitted with massive windows and walk-in closets. One bedroom features a curved wall, another a picturesque water view.
The master suite is separated neatly from the bedroom wing by a huge landing for maximum privacy. The bedroom itself is huge, with a picture window for an elevated view of the wetlands and backyard. Three transom windows set over the bed capture sunlight streaming in from the south.
Add a humongous walk-in closet and a luxuriously appointed ensuite, and you have a space that offers a true retreat from daily life.
"The ensuite is spectacular with its six-foot jetted tub set in white/grey tile (same as the floor), six-foot glass-tile shower, dual sinks on a marble countertop perched on a Tigerwood-style vanity," said Mosher. "It's a big, bright and beautiful space ideal for taking a load off. In all, it's an amazing, well-designed home that offers a fabulous combination of fashion and function."
lewys@mts.net
DETAILS
BUILDER: Gino's Homes
ADDRESS: 127 Park Valley Road, Bridgwater Forest
STYLE: Two-storey
SIZE: 3,608 sq. ft. with walk-out basement
BEDROOMS: 5
BATHROOMS: 4
LOT SIZE: Two-thirds of an acre
LOT PRICE: $249,900
PRICE: $1,650,000 (including lot & GST)
CONTACT: Phil Mosher, Gino's Homes' Sales Representative @ (204) 333-5759