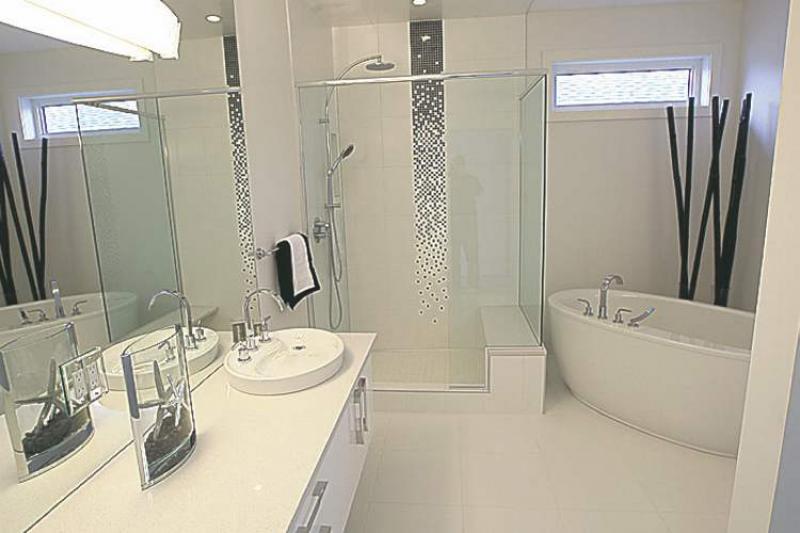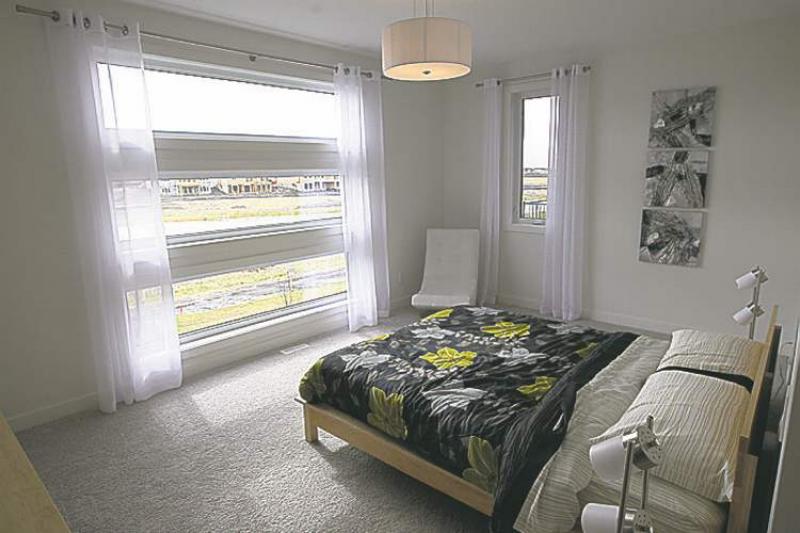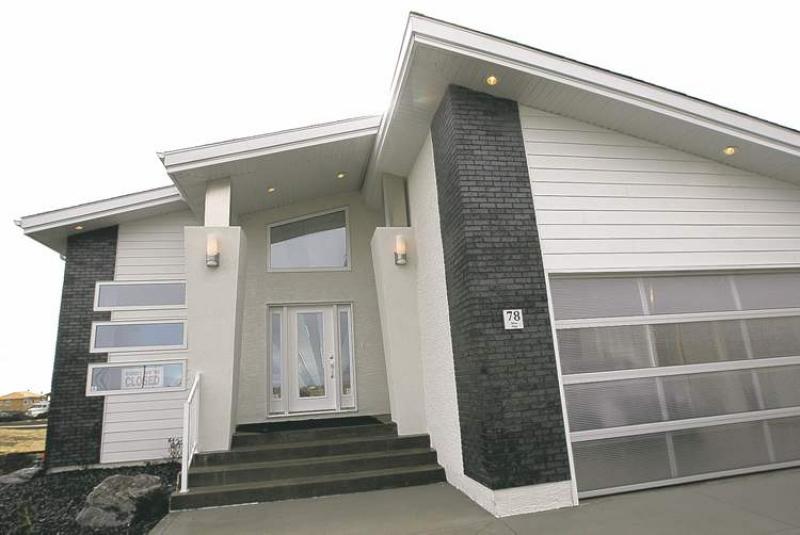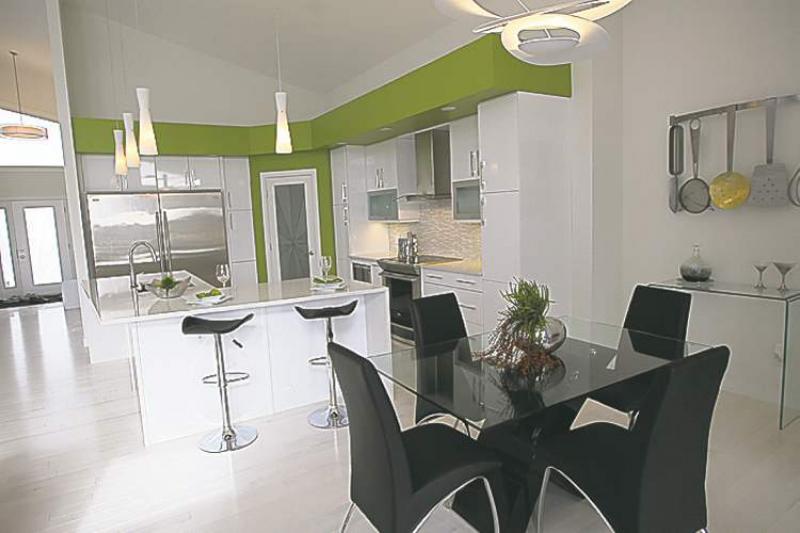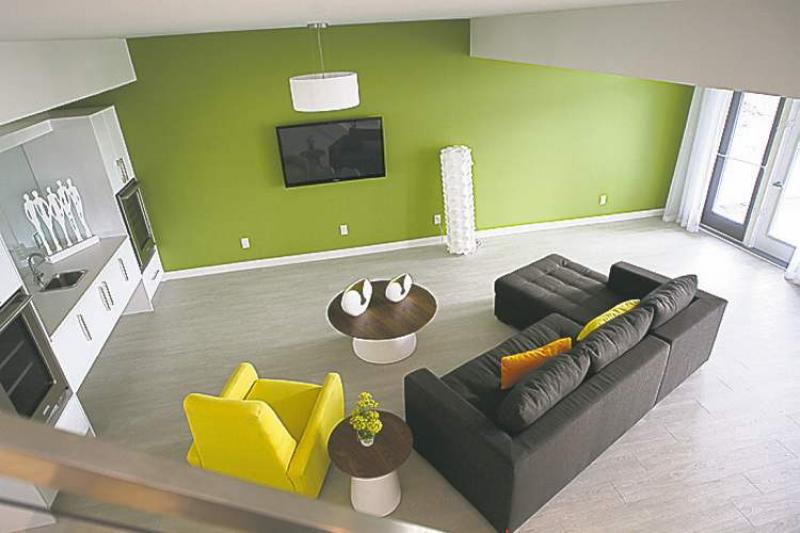 After viewing show home after show home that was afflicted with EIS (earth-tone interior syndrome), KDR Homes' Diego Vassallo knew what he had to do.
"So many show homes had interiors with dark colours," he said. "So I decided to do a home with a largely white interior, and with a bunch of different design ideas. I wanted the home to be a real departure from most show homes out there."
Mission accomplished: From the moment you train your gaze on 78 Silver Sage Crescent in Sage Creek, the home stands out. An angled, largely white exterior with punches of colour gives the 1,962-sq.-ft. bungalow a profile that quickly distinguishes it from the other homes on the street.
Head inside, and you find an interior with no traces of earth-tone interior syndrome (EIS) whatsoever, thanks to a level of creativity that ensured the home's main living area didn't fall victim to VIS (vanilla interior syndrome), a malady that can be equally as insidious as EIS.
"As I said earlier, I wanted to incorporate some different design ideas into the design of this home," said Vassallo. "The first thing I did was put in a vaulted ceiling that extended from the foyer right through the great room. The result is a ceiling that's over 16 feet high at its apex in the great room (over the family room). That ceiling height also allowed us to put more windows in up high to let more natural light in, as well."
Natural light is abundant in the great room thanks to six windows on the family room's rear wall, three of which are angled to match the angled ceiling above.
The colour palette is predominantly white, from the off-white paint on the walls, to the white stained (with silver accents) maple hardwoods that run through the living room, dining area and kitchen.
Thanks to the occasional punch of colour -- and texture -- the all-white theme works.
"For texture, I put in a white wave tile surround in the living room and then placed a black ribbon-style fireplace in its centre -- it looks great, and adds excellent contrast, while the wave tile adds texture," he said. "There's also a huge entertainment niche with shelving and glossy white thermo-foil cabinets that adds style and utility."
Next door is the kitchen, which features an L-shaped (white/grey) Caesar stone island with eating nook for two, a plethora of glossy white thermo-foil cabinets and a white/grey backsplash that goes magnificently with a stainless steel hood fan, stainless/glass Euro cabinets -- and a well-placed infusion of colour.
"We added a splash into the centre area of the kitchen to add punch and contrast," Vassallo explained. "Subtle shades like the backsplash and countertops also provide a nice colour counterpoint. That way, the white theme isn't overdone. I think the thermo-foil cabinets look cool, too, as does the pantry door with (glass centre) with its grey (starburst-style) film design."
Another standout is the dining area, which not only has room for a table for six, but a bonus area adjacent to it.
"People just love the three-season sunroom," he said. "We placed it off the kitchen/dining area to provide a space where the owners could go to relax, or entertain guests. It's a great spot where people are bound to spend a lot of time, with all the light and the wonderful (wetland) view. There's also an open deck next to it to enjoy, too."
While the great room is notable for its feeling of volume of light, intuitive layout and fabulous, understated finishes, it's the master suite that steals the show on the main floor.
"This is where we incorporated a different design idea -- we put three eight-foot, horizontally oriented windows on the back wall of the bedroom. Not only do they look different, but I think they capture the sun and the wetland view better than a normal set of windows," added Vassallo. "We also put a vertically oriented window to the right of the bed. The result is a bright, cheerful and generous space."
The same could be said of the expansive, elegant ensuite.
"It's a spa-like space with the white theme -- floating white thermo-foil vanity, heated (white) tile floor, stand-alone soaker tub and custom-tile shower with black tile accents that mimic a waterfall. We placed a large window high over the soaker tub to inject light, while retaining privacy," he said
A solid (white stained) maple staircase then takes you down to the walk-out lower level, which offers no less than 1,857 sq. ft. of liveable space.
Three huge windows make for a bright rec room (plus the spectacular wetland view), while a door on the rear wall leads to a covered patio. Light taupe, laminate flooring (placed over top a heated floor) runs through the games area and media room, the latter with its floating wet bar with bar fridge and wine fridge at either end.
Meanwhile, a private wing houses two big bedrooms -- one with three vertical windows for a wetland view -- and a beautifully finished four-piece bath with soaker tub.
"The bedroom with the water view would make for a great office," said Vassallo. "There's also an exercise room with white plank floor (plus three lockers), as well. We're very happy with the home. I think we've a achieved our goal -- to create a white home with clean lines that feels warm and cosy and has lots of character."
lewys@mts.net
DETAILS
Builder: KDR Homes
Address: 78 Silver Sage Cres., Sage Creek
Style: Bungalow with walk-out basement
Size: 1,962 sq. ft.
Bedrooms: 4
Bathrooms: 3
Lot size: 54' x 183'
Lot price: $189,000 plus GST
Price: $856,295 (including lot & GST)
Contact: Frank Zappia, Zappia Group Realty @ (204) 772-2100