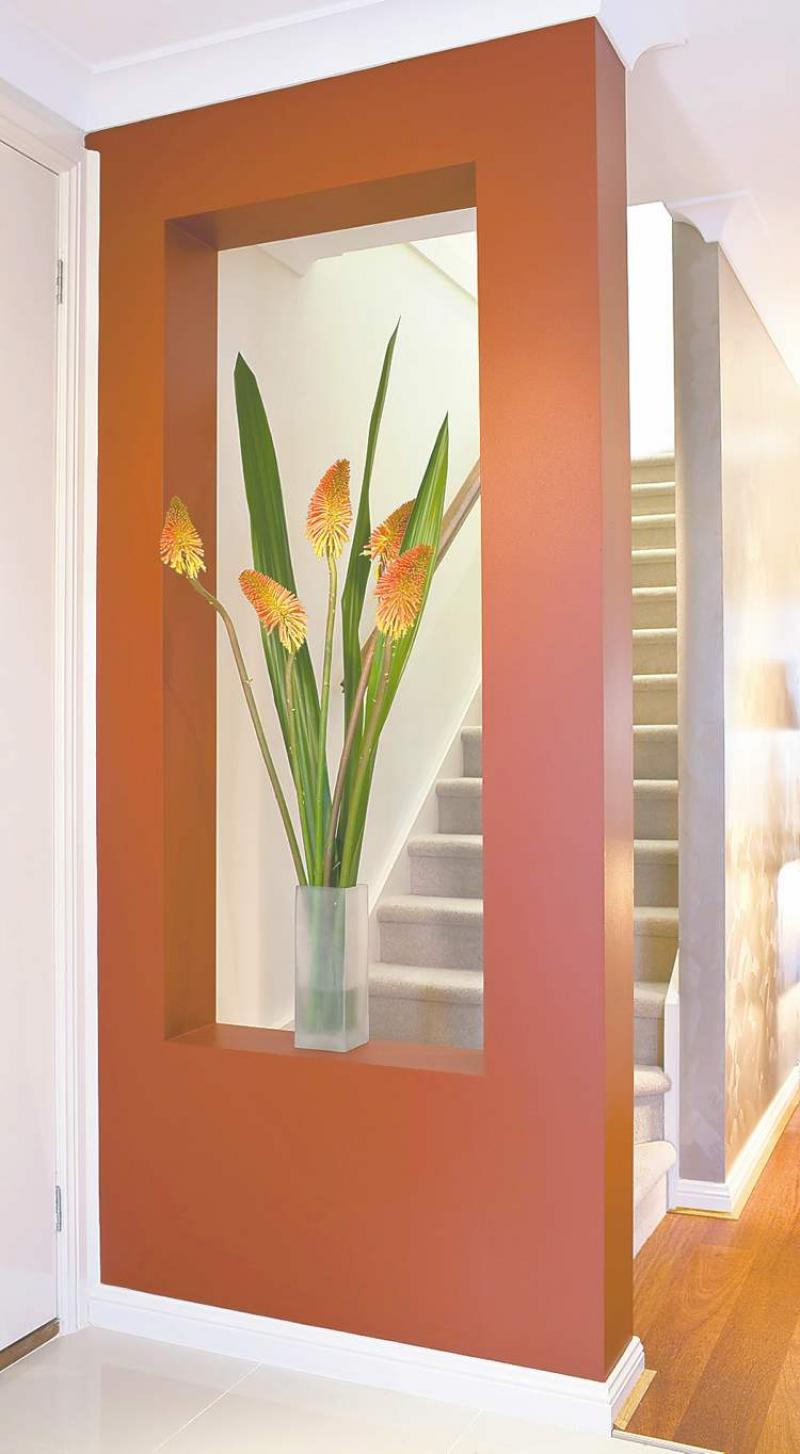 Addressing an unusual situation can be a fun prospect when planning your decorating projects. A unique space may seem daunting at first but by its very nature opens up design possibilities that can produce truly stunning results.
One such dilemma is how to decorate a partial wall. Partial walls are common in open-concept homes or can be the result of a renovation. Whatever the cause, the partial wall can seem to present a conundrum depending on its location, dimensions and relation to the rest of the room.
Our feature photograph, courtesy of Dulux Australia, shows a stunning treatment that addresses this quandary. The partial wall at the bottom of the stairway was no doubt a solid wall at some point. A solid wall at the bottom of the stairs would, no doubt, have resulted in a dark, confined landing to the staircase. As well, the stairwell would have been somewhat disconnected from the rest of the home because of this separation.
Most people would consider removing the wall altogether to open up the space; however, then one has to deal with patching floors and ceilings. Even turning the wall into a half wall would require ceiling work. So what could you do in this case?
In our feature photo, you can see how creating a large opening in the centre of the wall allows light to flow through and provides visual lightness and flow. This idea provides a great solution because not only does it open up the space, it allows the homeowner to retain the lovely crown molding and baseboards at the top and bottom of the wall. Maintaining the natural footprint makes sense and is a lot less work.
Once the wall is opened up, painting it in a feature colour provides focus and drama in the space. The large vase of flowers is dramatic, though not necessarily practical if you have pets or kids, as it could easily be toppled. Another idea is to install a glass panel, whether textured, clear or sandblasted glass, which would provide a lovely detail while making the space more user-friendly. You could also forgo the glass and simply hang a painting, stained-glass panel or other decorative item inside the wall opening.
If you need a place to display a small art collection, install large shelves in the opening to show off your collection. If you're a plant aficionado and the opening is near a natural light source, you could install glass shelves to house a small greenhouse display. You may even be able to have a custom fish tank installed in the wall opening. A display of hanging pendant lights at varying heights or even a slim, long chandelier in the opening would be romantic. There are so many possibilities.
A partial wall may very well house electrical or plumbing, so be cognizant of this before you take a sledgehammer to it. If this is a factor, you may be able to work around it by opening up a smaller section of the wall, like a window opening. This will allow wall space for a small desk or table beneath the opening, which can come in handy in an entryway situation. In our feature room, there's a door on the facing side of the wall, so there is no room for a desk or table. The final plan will depend upon your specific situation.
If you're not in a position to open up a wall like this, you could lighten up the area by installing large mirrors on both sides of the wall. The mirrors would visually brighten and enlarge the view from either side of the wall and reflect light as well. You could still paint the wall behind the large mirrors a rich accent colour for added drama.
Partial walls are great places for unique finishes such as brick, stone, textured paint or wood. Because the project covers a small space, you can afford to splurge on something decadent, such as marble or granite tiles. I can visualize the wall in our feature photograph covered in small brick pieces, floor to ceiling. You could even consider something really unusual like covering it in a faux suede or leather fabric, or even textured metal sheeting. Because it's a small project, you can change it frequently when using non-permanent finishes such as wallpaper, paint or fabric, so your decor is ever-evolving.
I hope you can see now that something that is currently an obstacle could end up being a real asset to your home. Think about the possibilities for your partial-wall dilemma then take the plunge.