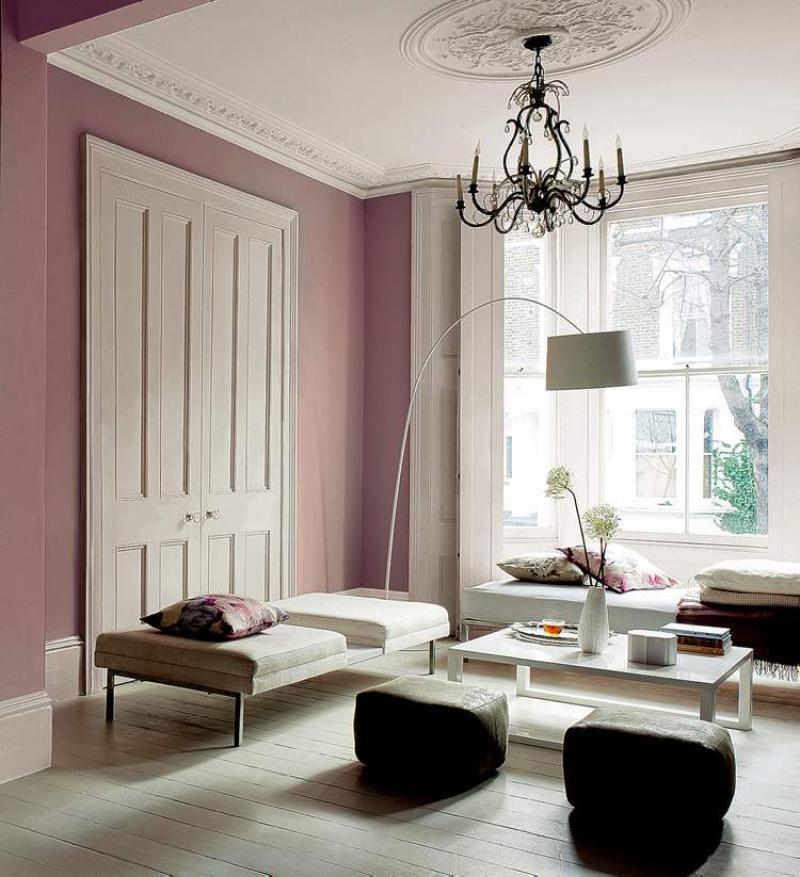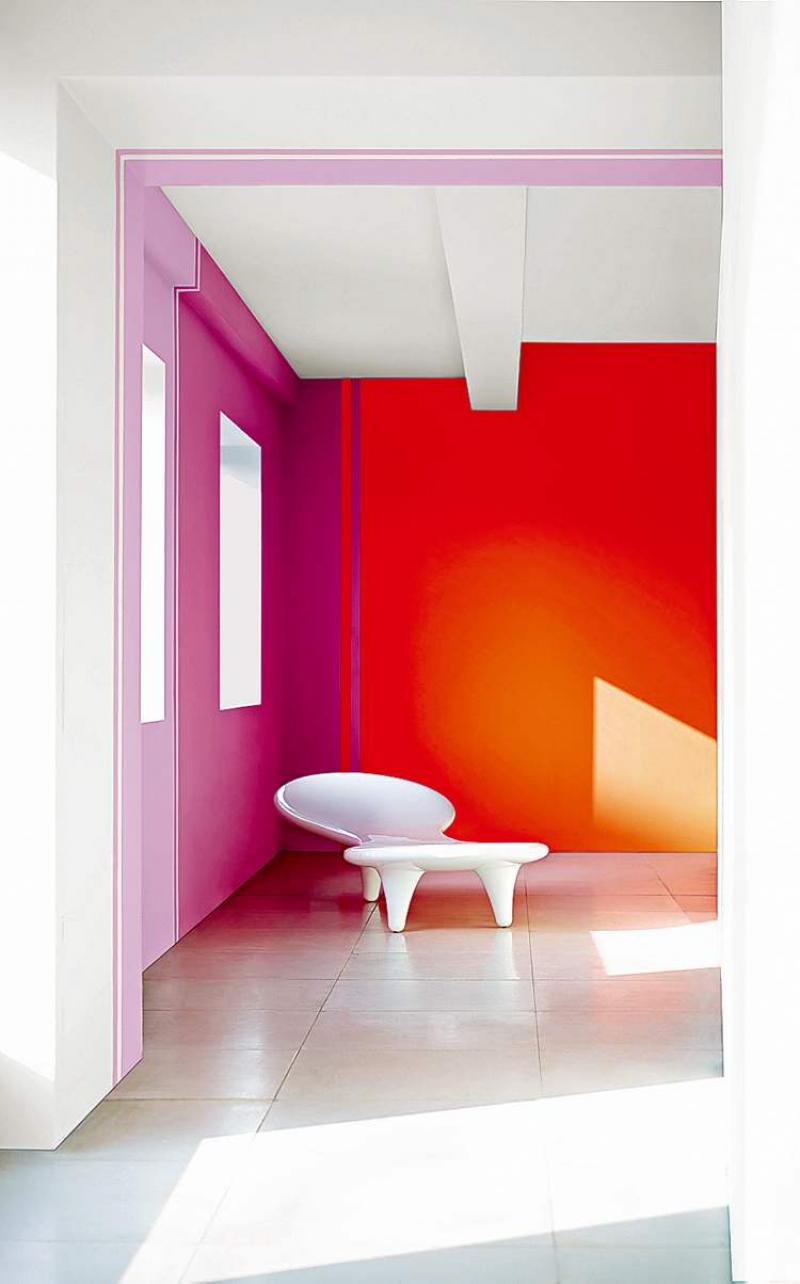 Pink walls aren't just for nurseries or little girls' rooms. This is a colour that can be stylish and a little off the beaten path. If you're looking for something truly different for your decor, then pink might just be the colour for you.
As you can see from our feature photographs, courtesy of Sico Paints, pink can used to create very different looks. The rustic living room, with its soaring ceilings and painted wood floor, is stunning in hues of soft pink and warm white. There is a feminine feel to this space, but it's certainly not girly. The inclusion of the leather ottomans and roughly finished floor (sans patterned area rugs) gives this room an urban flavour. The use of modern, low-profile furniture, versus, say, overly ornate French provincial furniture, makes this room feel fresh and youthful and also makes the high ceilings even more dramatic. A modern lamp and accessories juxtaposed with an ornate chandelier give this room a unique, non-traditional look. The finishing touch that says "we are a little different" is the use of pink wall colour. You want to meet the people that live in this space based on the decor. I love a room like that. It says a lot about the occupants.
These calming soft colours are from Sico's "visual solace" theme, which is inspired by gardens in bloom and paintings by the Old Masters. This theme is infused with floral pink, mauve, dusky violet, bronze and delicate neutrals.
Our second photograph is of a modern, vibrant space that uses a brighter pink and hot orange. This combination would be fabulous in a dark basement rec room or home office where a little verve is needed. The bright combination is energetic and unusual, which might be just what the decor doctor ordered. The vivid pink is Sico's fantasia violet, which reminds me of the colour of Thrills gum. I've seen a similar colour used on an entrance door with great success. Again, it speaks volumes to the creativity of the occupants of the home.
This palette is from Sico's "collective passion" theme, which represents the spontaneous behaviours brought on by online forums, where ideas spread like wildfire. Characterized by a visual feast of movement, collective passion showcases the use of colour on colour, from subtle layering of closely connected pastels and corals. Just as the sky and ocean are never a single shade of blue, this striking blend of colour creates the same inspiring effect. Emitting a feel of energy, joy and creativity, the colours also combine well with chalk whites and warm greys for a more subdued look.
Pink, in its various hues, can be paired with a number of other colours, such as brown, grey, black, red and orange. For a less feminine decor using pink, leave out floral patterns and opt for masculine fabrics like leather and suede. Mix up the furnishings to include unusual pieces over traditional ones. Go masculine on the window treatments by using textural blinds or shutters versus custom draperies. Replace conventional area rugs with textural, woven-grass rugs. Include natural touches in accessories, such as driftwood, large vases of dried branches and grasses and storage boxes made from rough-hewn wood.
More vibrant pink hues can be used in small doses on doors, small furniture pieces and accent walls. Hot pink on the small wall over a fireplace would make a dramatic statement, for instance. Hang a vibrant painting on the hot pink wall to add even more focus. Bright hues of any colour can be stunning in a small space. Consider using a vivid pink paired with dramatic black in a guest powder room.
If you happen to have a dated bathroom with vintage pink tiles or a pink tub, toilet and sink, use it to your advantage by pairing it with stunning grey, chocolate brown or black to give the once-dated room a new look.
Soft pink can be restful and calming, so it's a good choice for a spa-like bathroom, in the bedroom or any other room where solace is desired.
Pink can be romantic, calming, sexy or urban depending on its application and strength. If you're looking for something a little different, think pink.
connieoliver@shaw.ca