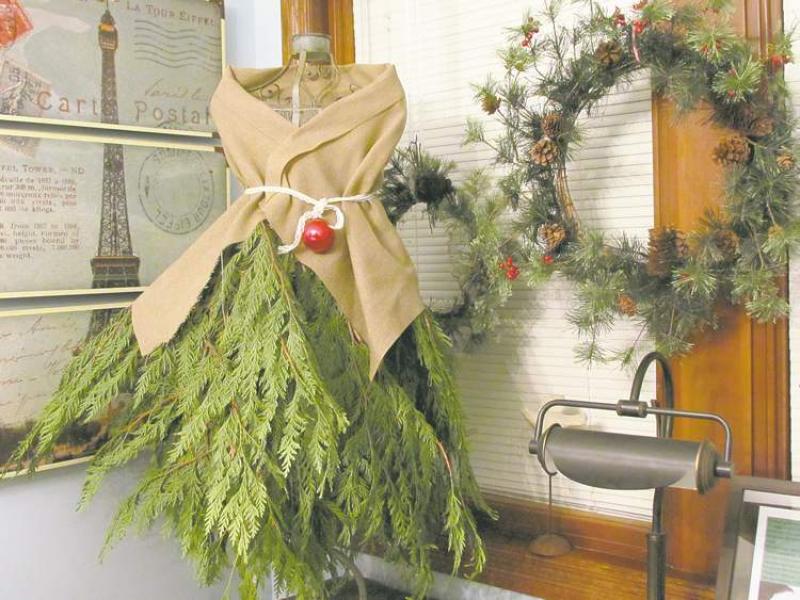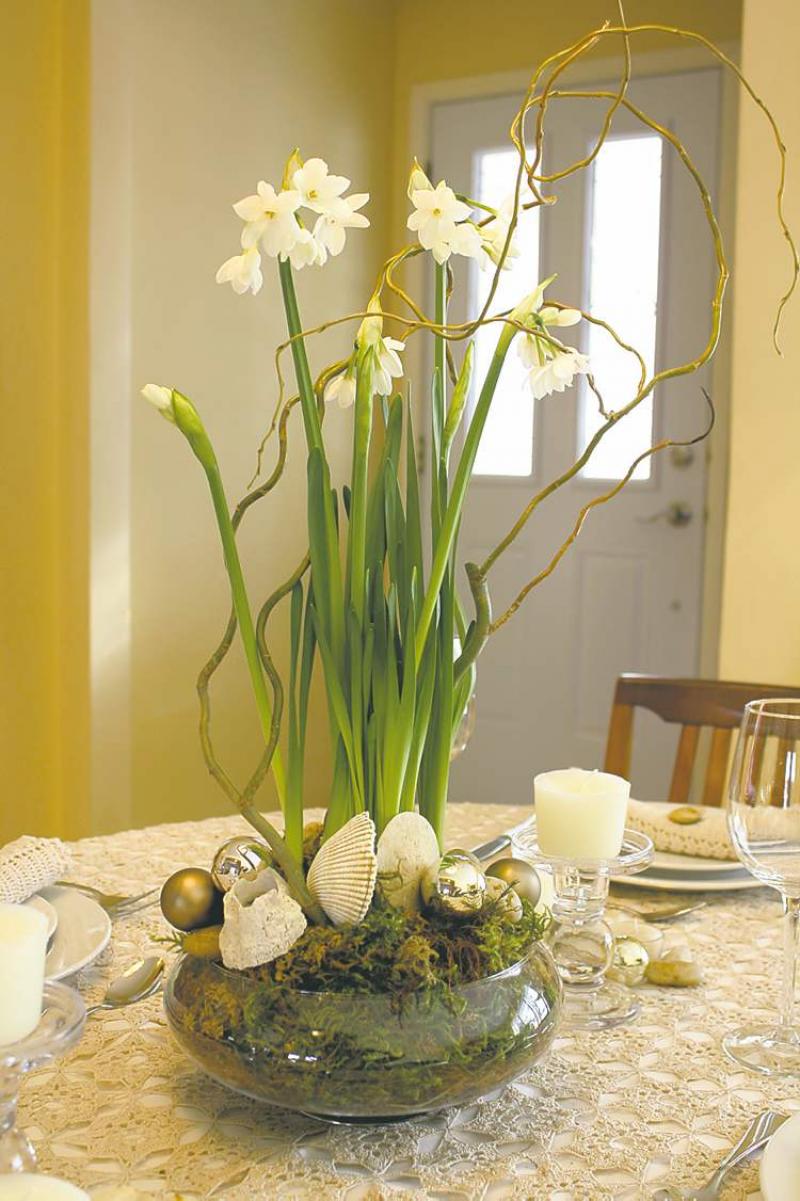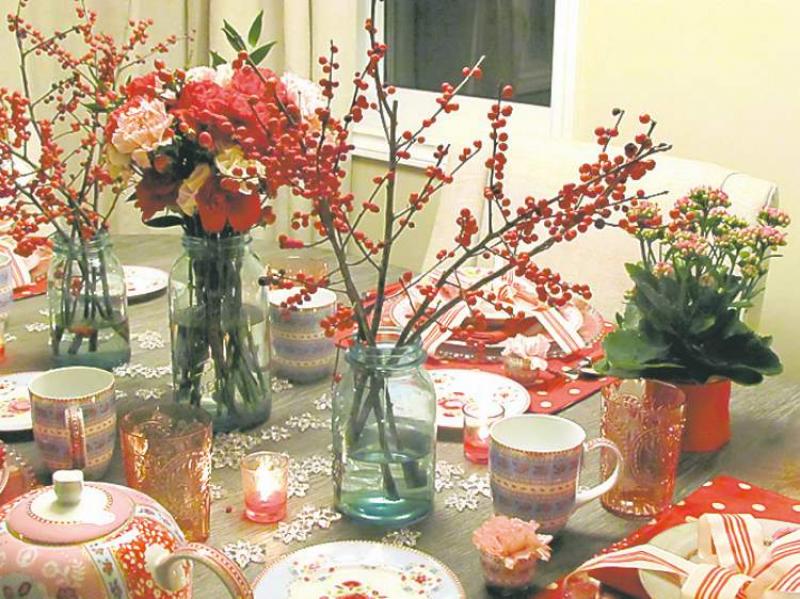 When company comes to visit during the holidays, it's a chance to gather around a table set with our favourite dishes and to enjoy a specially prepared meal. So much planning goes into welcoming our friends and family who are immediately captivated from the moment they walk through the door by all of the seasonal touches and aromas.
Why not create a memorable tablescape? Just as the garden landscape incorporates a multitude of components, including colours, scents, textures and artistic touches, a tablescape uses all of these same elements to create a holiday theme.
I had a chance to see some imaginative tablescapes recently during Pineridge Hollow's annual Home Tours. Created by Pineridge Hollow's Becky Brown and Katrina Klassen, the tablescapes in the various homes on the tour featured a kaleidoscope of colour and a potpourri of scents, transforming each room into something magical.
Red dominates the holiday season and was used to great effect in one easy-to-replicate tablescape that featured stems of crimson Ilex berries in vintage preserve jars on either side of a lush display of red and blush-coloured carnations. Mix and match dishes by Pip Studios, striped ribbons and polka-dot placemats all blended to create an utterly charming and inviting table.
On the cooler side, an all-white and silver tablescape was graced by two tall vases of ivory-coloured baby's breath.
Bonny Fraser, floral designer and owner of My Secret Garden (www.mysecretgardendesign.com) says your holiday tablescape can be whatever you want it to be, from shabby chic to formal elegance.
"Calling on ancient tradition, family traditions, or starting your own new trend, it's up to you," says Fraser. "Use flowers that startle you by blooming at this coldest time of the year such as parrot tulips and garden roses."
Fraser likes to combine fresh magnolia leaves with stems of fresh smoke bush and dried coneflowers, a few aubergine-coloured calla lilies and sprays of red-stemmed Jubilee Crown or Safari Sunset leucadendron for a dramatic display.
Linear arrangements are key for tables that must also accommodate table settings without crowding them. Julie Pritchard, owner of The Floral Fixx in Whyte Ridge, suggests expanding your centrepiece so it runs the length of the table rather than putting it in the centre.
"If you are seating 16 people or so for dinner, you want to have something attractive and eye-catching in front of everyone and not just in the centre," says Pritchard.
One way of doing this is to scatter balls along the table, interspersing with small four-inch-tall vases that can be filled with dainty arrangements of fir, cedar, a cluster of tiny berries, or a single flower such as a white rose or rice flower.
If you are doing a lot of entertaining, long-lasting displays are the most effective. "Rice flowers and spider mums are longer-lived than some of the more delicate flowers such as roses," says Pritchard.
"If you want something that will last for the whole month of December, try red proteas. They have a really neat fuzzy texture plus they dry almost exactly how they look when fresh. Combine them with lots of greenery, berries, twigs. And add something sparkly."
Pritchard adds that tablescapes can reflect not only the style or theme of your surrounding space but also the personal interests of your family or guests. For example, she recently created a tablescape for a hunting party that featured deer antlers nestled among copper-sprayed pine cones, moss and berries.
Jane Kesselman, a River Heights homeowner, displays a memory moss garden each year that is filled with elements of nature and memories gathered from the shores, lakes and islands near her birthplace, Sioux Lookout, Ont. Various moss and lichens, pine cones, twigs and bark fill an oblong-shaped antique carved dough bowl on her dining room table.
Amaryllis, of course, makes a stunning statement at this time of the year. Kesselman has filled an indoor tin picnic basket to overflowing with a majestic amaryllis in full bloom, complimented by huckleberry, cedar, curly willow, and juniper.
While fresh flowers will provide displays for only a short time, plants such as amaryllis can be enjoyed for much longer, even years. If you have received one as a gift, display it in a warm, light room. After flowering, remove the dead blooms but wait until the stalks shrivel before cutting them down.
Water regularly and fertilize once a month with half-strength liquid all-purpose fertilizer.
Many gardeners put their amaryllis outside in the summer in light shade. If you want it to bloom again in time for the holidays, just follow a few simple steps. Reduce watering in late summer to induce dormancy. As the leaves yellow, gently remove them and store the pot in a frost-free, dark, dry location. Maintain consistently cool temperatures. New growth will appear in about one to two months. Check regularly for emerging tips or begin watering in mid-November to encourage growth in time for the holidays.
Another holiday houseplant that can be extended into the seasons is cyclamen. Jordan Hiebert, co-owner of Lacoste Garden Centre, loves its bright colour. "We're used to seeing a lot of red and green for the holidays, but cyclamen has a range of colours — pink, lavender, bright fuchsia or white. It really stands out."
Native to the mountains of Persia where the climate is cool, florist's cyclamen should bloom all winter providing it is situated in a cool place. A warm location will reduce flowering time and prevent buds from opening. Keep the soil evenly moist during the active period of growth and mist the leaves to increase the humidity. Once the flowering period is over, store your cyclamen in a room with a temperature no higher than 15 C. Cyclamen can also go out into the garden once all risk of frost has passed. Situate in a shady spot and water sparingly. Do not allow the tuber to dry out completely.
By early August, repot the dormant tuber, replacing the soil with a fresh mixture of sterilized potting soil, compost or peat moss, and sharp sand. Position the tuber so it is half in and half out of the soil. Water the plant and replace it in its shady outdoor location. By early fall, it will begin to sprout. Return to the indoors before any risk of frost and it should be in full bloom in time for the holidays.
Sharlene Nielsen, owner of Front Door Stories, recommends grouping together indoor potted plants and making them part of a centrepiece.
"Mix in candles, silver or red balls, depending on your theme", says Nielsen. "Combine with materials that complement the rest of the room. For example, take balls off your tree to compliment your dinnerware, chargers or silverware. Jazz it up with glitter or gold or silver sparkle or use grapevine or pinecones."
Nielsen adds seashells are popular this year and she likes to combine them with paperwhites (Narcissus).
Paperwhites, of course, are a classic choice for the holidays. Be sure to rotate paperwhites daily so the stems do not lean strongly toward the light. If you forced the bulbs and the plant is only sending up leaves but no blooms, the room is likely too warm. Bright light, but not direct sun, promotes sturdy stems. You should be able to enjoy a bloom period that lasts for four weeks.
What would the holidays be without the poinsettia (Euphorbia pulcherrima)? Chad Labbe, Shelmerdine Garden Centre, recommends a relative newcomer, Polar Bear, a novelty poinsettia. More than half of all poinsettias sold worldwide have been bred in California by the Paul Ecke Ranch. A portion of the proceeds from sales of the Ecke Polar Bear poinsettia go to support Polar Bears International, a non-profit organization dedicated to the conservation of polar bears and their habitat.
Labbe also recommends using a succulent wreath as a tablescape. Simply lay the wreath in the centre of your table and add a trio of candles in varying heights.

Colleen Zacharias gardenfundamentals@gmail.com

For inspiration, visit the Assiniboine Park Conservatory. More than 500 poinsettias including varieties such as Christmas Feelings Red Cinnamon, Prestige Maroon and Wintersun White are part of a spectacular display with a mix of paperwhites, amaryllis and spruce trees. Open daily from 9 a.m. to 4 p.m.
Or drop by Dalnavert Museum, 61 Carlton St., to experience a Victorian Christmas. This gracious home, dating to 1895, is decorated throughout with traditional balsam, mistletoe and holly. Museum tours will be offered daily Wed to Sun. Call 943-2835.
Register for the Manitoba Horticultural Association Convention, January 17 – 19, 2013, Sokol Hall, Brandon. Theme: Out of Africa. Special guest Stefan Fediuk. Contact Dorcas Brown at m.h.a.@shaw.ca or visit www.icangarden.com/clubs/mha for full details.