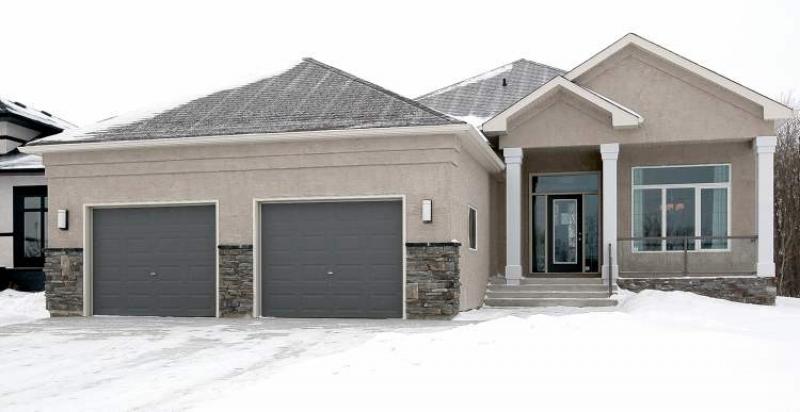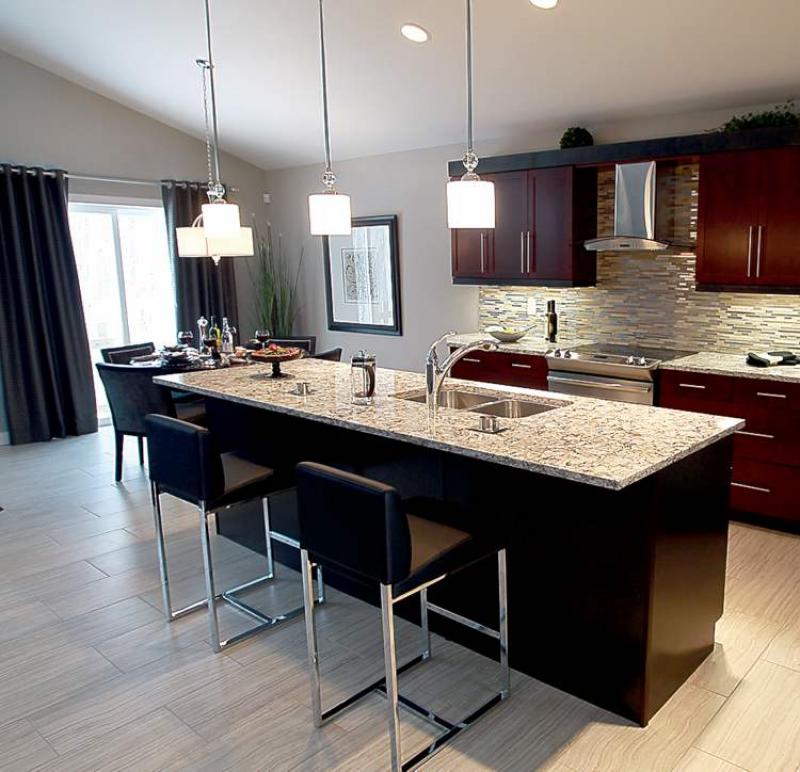 In day-to-day life, it's amazing the difference that a couple of inches — or feet, for that matter — can make.
Take a new home design, for example. Add a foot or two to a previously successful design and — voila — that design's efficiency can increase dramatically. That's the case with a newly-conceived show home by Hilton Homes that can be found at 8 Campbell Road in Stonewall's Stone Ridge Meadows.
"It's a new model that's based on a previous plan," said Hilton's Spencer Curtis. "Basically, we looked at the plan, then took it apart bit by bit to see where we could improve it. Eventually, we decided to make it two feet wider and to redesign key areas such as the great room to make the home more livable."
The first thing Hilton's design team did was augment an already soaring ceiling in the living room with a vaulted ceiling that spanned the adjacent kitchen/dinette area.
"Our goal was to create an even greater feeling of volume in the home, so we put a steeper vault on the edges, and flattened the middle area a bit," he said. "I think the change really worked. The great room feels even bigger than before. With the 12-foot ceiling in the living room and the vaulted ceiling in the kitchen, the great room, which is quite large, feels quite a bit bigger than it actually is."
Another key design feature then adds to that feeling of space: glass placed in strategic spots at the front and rear of the 1,749-sq.-ft. bungalow.
"As important as creating a greater feeling of volume was, we also wanted light to flow freely through the whole main floor. To accomplish that, we put in a big front door that featured a glass centre, glass sidelights that went down to ground level and a transom window above," Curtis explained. "To ensure the light came through, we made the foyer and entrance extra wide. Doing that also made it easy for traffic to flow nicely in and out of the great room area."
Then — thanks to a bank of oversized windows in the living room and deck doors off the dinette area — the great room is also filled with natural light.
"We put large windows either side of and above the gas fireplace. They not only look great framing the fireplace, but they let in all kinds of light. The deck doors then allow even more light to filter in to fill the dinette area and kitchen with light. The result is an open area that flows well and is filled with an abundance of natural light."
Maple hardwoods and a one-third-high bulkhead (which defines the lower level stairwell) define the living room, while a nine-foot island and gorgeous grey, textured porcelain floor demarcates the kitchen area. As large as the kitchen is, there's still ample room left to house a table for six in the dinette area next to the deck doors.
"The kitchen was redesigned with a nine-foot island, which adds all kinds of utility to the area," said Curtis. "We also put in an aisle between the island and stove that's four-and-a-half feet wide. Having that extra foot or so of aisle with is huge, as you can open up the oven door all the way and still walk past it easily. Even two big people can pass in the aisle without a problem."
Meanwhile, the finishing materials in the kitchen and living room are impressive, to say the least. Bordeaux maple cabinetry with a reddish tint are a welcome departure from espresso or cappuccino, while Corian quartz countertops — with a sparkle of silver and dramatic swirls of grey and black — complement the porcelain tile floor with its colour and texture. A backsplash that combines stone, glass and stainless steel finishes off the kitchen in subtle style.
"I also think the river rock surround that defines the gas fireplace in the living room adds a lot of punch, while the (optional) entertainment unit with its big TV niche, charcoal maple cabinetry (same as the island's base) and combination of open and closed shelving adds style and function," he said."
Duck into a secluded wing off the living room, and you'll find an efficiently designed area that contains three bedrooms and a well-appointed main bath. As big and bright as the two secondary bedrooms are, it's the master suite that's the show stealer.
"We really wanted to cap things off by creating a luxurious master suite," Curtis said. "We put in an extra deep coffered ceiling with beautifully angled sides, and then added to it with a hanging chandelier to showcase its depth. Next to the bedroom is a huge ensuite with vaulted ceiling, corner jetted tub, Bordeaux maple vanity with dual sinks, four-foot shower and a tile-framed mirror that we ran high up the wall. It's a great space to relax in."
Last but not least is a lower level with four huge windows that nearly doubles the home's square footage.
"With 1,500-plus square feet of livable space, you can easily put in two bedrooms, a flex room, rec room, bathroom and storage. This is a bright, functional home that offers great flow, beautiful finishes and a great colour scheme, and that meets the needs of anyone, from families to empty-nesters," he said.
lewys@mts.net
DETAILS
Builder: Hilton Homes
Address: 8 Campbell Road, Stone Ridge Meadows
Style: Bungalow
Model: The Elgin
Size: 1,749 sq. ft.
Bedrooms: 3
Bathrooms: 2
Lot Size: 74' x 132'
Lot Price: $128,900 (GST Included)
Price: $518,059 (including lot & GST)
Contact: Marie Livingston, Century 21 carrie.com @ (204) 232-2224