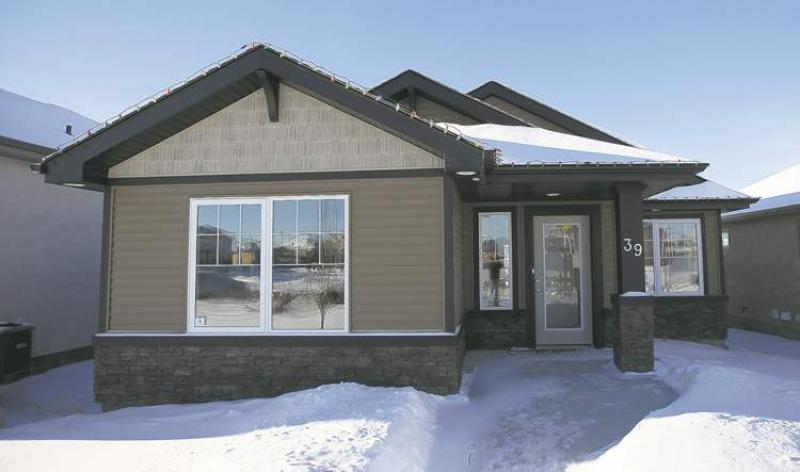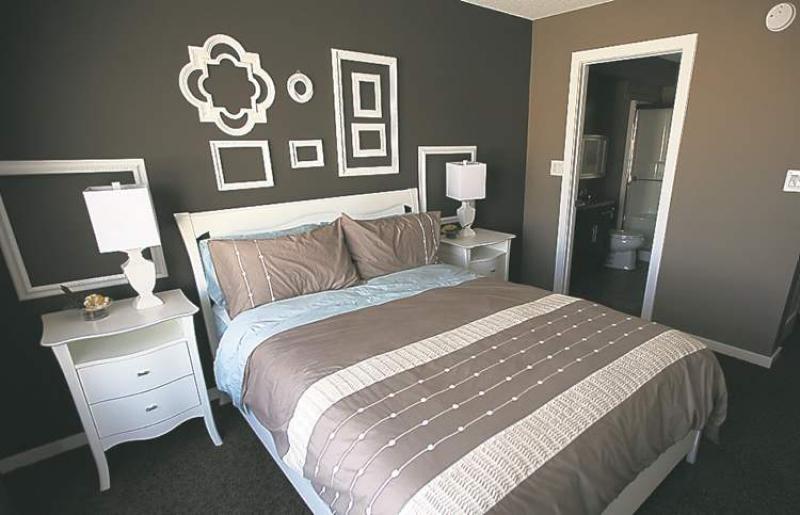 As exciting as it is for prospective new home buyers to look at show homes, the homes can be deceiving.
"That's because, as builders, we like to show off what we can do by loading a home with upgrades," said Sabie Brar, Kensington Homes' new homes sales consultant for 39 Bellflower Road, a visitable 1,115-sq.-ft. bungalow found in Bridgwater Lakes. "With all the upgrades -- including a finished basement, this show home is priced at $374,000. Go for the same home with more basic finishes, and the price tag comes down to under $310,000."
As it turns out, 39 Bellflower isn't your run-of-the-mill bungalow, either.
Instead of a "normal" floor plan that contains doorways, hallways and foyers of regulation width -- and bathrooms with compact layouts that would make it difficult for physically-challenged individuals to access them -- The Emerald has been infused with 36-inch-wide doorways, wider-than normal hallways and entrances as well as an extra-wide foyer and main floor bathroom with a five-foot turning radius.
"The visitable floor plan -- aside from offering ease of access for physically-challenged people -- provides beautiful flow from space to space," he said. "With a vaulted ceiling and large windows on every wall, the main living area feels bigger than its listed square footage, and is also nice and bright (due to deck doors off the dinette area, a huge picture window in the family room and two big piano windows either side of the entertainment niche). The foyer adds more light with two windows and a front door with obscured glass centre."
While there's no question that 39 Bellflower has been dolled up to show the difference that well-placed high-end finishes can make -- dark maple hardwoods in the family room, a glass tile backsplash in the kitchen along with pendant lighting over the peninsula counter and track lighting over the cooking/preparation area undeniably provide plenty of pinache -- the home (the one with the price tag of under $310,000) wouldn't lack in style, added Brar.
"Instead of the hardwoods, you'd get carpet. Maple cabinets are standard, so you wouldn't lose anything there, and this home has beautiful laminate countertops, so that wouldn't change. You would still get the cantilevered entertainment area in the family room and the peninsula-style kitchen with raised eating bar. Dark capping on the stairs and a dark (corner) pantry door would be white, and there would be no glass tile backsplash."
Features such as a six-foot-wide entrance into the kitchen - which which houses a generous dining area and U-shaped preparation/cooking area that maximizes flow -- combine to make you quickly forget about glitzy (but non-essential) options. Even without some upgraded finishes, The Emerald still offers plenty of style, while the visitable layout provides enhanced function.
Head over to the partially enclosed bedroom wing, the synergy of style and function becomes even more evident.
"Even though this isn't a huge house by today's standards, the bedrooms are plenty big," Brar said. "The second bedroom, which is immediately to the right of the (four-foot) entrance to the wing is 10.7 feet by nearly nine-and-a-half feet in size, and the visitable bathroom is huge, with a soaker tub, dark maple vanity and the same gorgeous faux tile (vinyl) floor that's in the kitchen and foyer. The bathroom also neatly separates the master bedroom from the second bedroom."
At 13.4 feet by 11.8 feet, the master suite is surprisingly large -- not to mention well-appointed.
"Even if you decide to go with basic finishes and features to bring the price down to under $310,000, you still get a master bedroom with a spacious three-piece ensuite with five-foot (low step-over) shower, dark maple vanity and his and her closets. It also comes with a big picture window to let in lots of natural light and earth-tone carpeting and paint. Features like that make for an entry-level home that doesn't feel at all like an entry-level home."
Ascend to The Emerald's lower level, and there's over 800 sq. ft. of space to finish to personal taste. In the case of 39 Bellflower, the area is fully finished, featuring a media area, games room, third bedroom and a mechanical room that offers tons of storage space -- but no laundry area. No problem -- it's contained in a closeted area to the left of the lower level staircase.
"All the space downstairs -- along with the great layout upstairs -- is one of the reasons why this plan has been so popular with young families," said Brar. "The third bedroom is absolutely huge, and if you need a fourth bedroom, the media area can be easily made into one. You could then make the games area into a combined media/games area and still have room left over for a computer desk. You could even put an private entrance off the stairs to convert the basement into a living space for one or two people."
With just under 2,000 sq. ft. of liveable space -- and an extremely reasonable price tag when equipped with basic finishes (upgrades and finished basement take the price up to $374,000) -- The Emerald is a home that young families and empty nesters should consider.
"It's a lot of house due to the excellent floor plan on both the upper and lower levels," he said. "It's a versatile home that offers great value, whether you're a family looking to move up to a bigger, better home, or empty nesters who want to downsize into a liveable home that offers space, style and an excellent location."
lewys@mts.net
DETAILS
Builder: Kensington Homes
Address: 39 Bellflower Road, Bridgwater Lakes
Style: Bungalow
Model: The Emerald
Size: 1,115 sq. ft.
Bedrooms: 3
Bathrooms: 2
Lot Size: 38' x 119'
Lot Price: $100,000 (GST Included)
Price: $374,000 (including lot, upgrades, appliances, finished basement & GST)
Contact: Sabie Brar, New Homes Sales Consultant @ (204) 990-5230