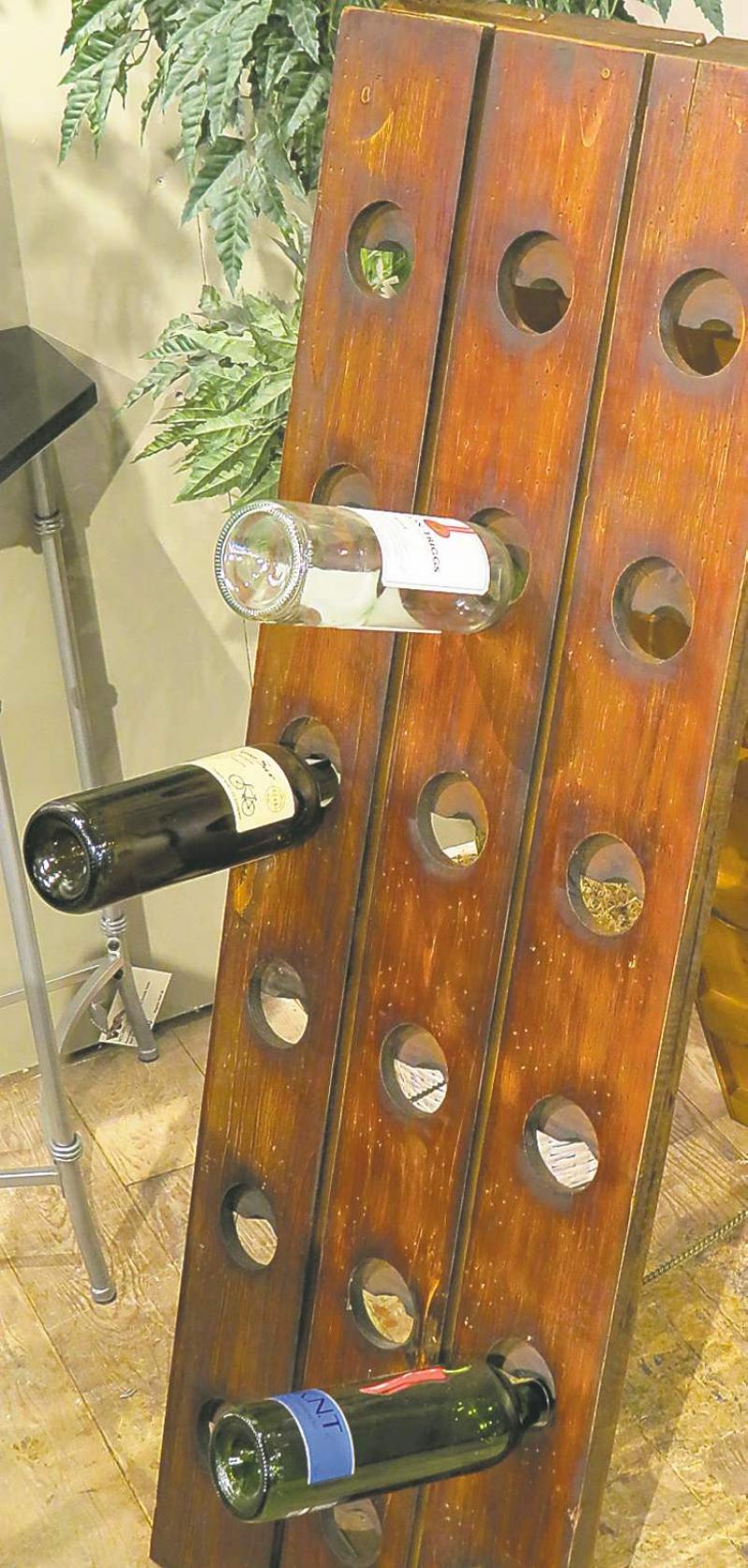 Whether or not you partake in the pleasure that is a good glass of wine, the offshoot of the wine industry can be great fodder for decor accents.
Interest in wine can encompass many things: romantic notions of bicycling through European vineyards, collecting rare vintages, the beauty of wine labels and bottles or bottling your own wine. The facets range from a passing interest for some to a significant pastime for others, but whatever your level of enthusiasm for fermented grapes, it makes sense to consider including elements of the vast wine industry to your home decor.
On a recent visit to Wicker World here in Winnipeg, I happened upon some great new décor accessories related to the wine trade I found both unique and inspiring. Whether you choose to include one or all of these items to your décor will depend upon your taste, literally and figuratively.
Wine bottle chandelier
My favourite new item at Wicker World was the wine bottle chandelier. What a unique and interesting piece to add to the decor! It's definitely a conversation starter, yet is subtle enough not to be too kitschy. The centre light of the chandelier will shine through the coloured glass of the wine bottles that hang around its circumference. The chandelier can simply be plugged in and hung wherever you wish. It does not come with the wine bottles so you can fill it with your favourite ones of any colour.
Wine racks
Wine racks come in many shapes and forms and can be a nice accent piece to add to your home. The sandwich board-styled rack pictured here is made from reclaimed pine. The warm wood tones and rough-hewn finish add an Old World charm to the decor. This is a great piece for the average wine connoisseur as it provides enough storage and display for intimate wine events but doesn't take up a lot of room. This item is easily transported from one room to another so it can move to wherever the party is.
Freestanding wine racks like this are a great option if you are renting because they can move with you. For tighter spaces there is also a much smaller wine rack made of wire, is freestanding and is shaped like a wine bottle, which is kind of fun.
Another great wine rack I saw was made to look like a roadie's trunk but is actually a wine cabinet. This piece would be great for musicians or music enthusiasts.
There were some fun tongue-in-cheek wine-related items, like wooden wall signs that read, 'Save water, drink wine,' or, 'Wine a little, laugh a lot,' that can add a sense of humour to a wine station or home bar. There are even wine drinking games available which can make fun gifts for new homeowners, newlyweds or as a hostess gift for your next wine gathering. Another unique item I found at Wicker World was a wine bottle stopper made from a vintage metal doorknob. Very different and decorative.
In researching the Internet for this article, I also found some great craft project ideas that use wine ephemera, like a corkboard for the home office made out of wine corks. If you happen to have a bunch of used wine corks that have piled up over time, consider using them to create decorative items for your decor. If you don't have corks, you can order kits online to make everything from the corkboard mentioned above to coasters or trivets.
Inexpensive, mismatched wine glasses can be used to enhance your wine vignette when entertaining. Put tea lights into wine glasses for unique candle holders. (I stress inexpensive wine glasses because they are usually made of a thicker glass that can withstand the heat of candles. Don't use your fine crystal glasses for these decor projects.) Invert larger wineglasses and sit a pillar candle on the bottom to create an interesting table display. Use varying sizes of glasses and candles to create more drama.
Not really decor related, but a neat item in the wine arena, is something called a corkcicle. I saw these wine-chilling accessories at Small Indulgence in Winnipeg. A great gift for the wine lover. Check out the company's website at corkcicle.com.
The world of wine and all of its trappings imbues a sense of romance, travel, history and fond reminiscences. From the rich soil where the wine grapes grow to the celebratory gathering where the wine is uncorked, the allure of the wine industry is something to consider when updating your decor.
connieoliver@shaw.ca