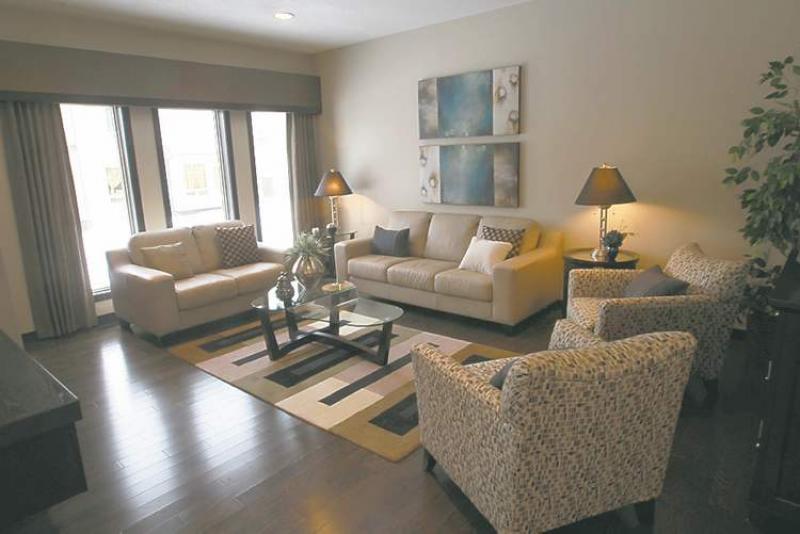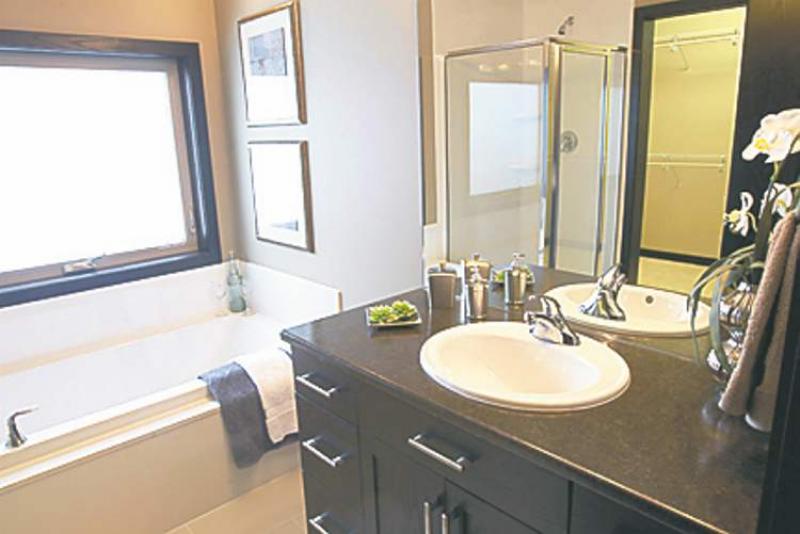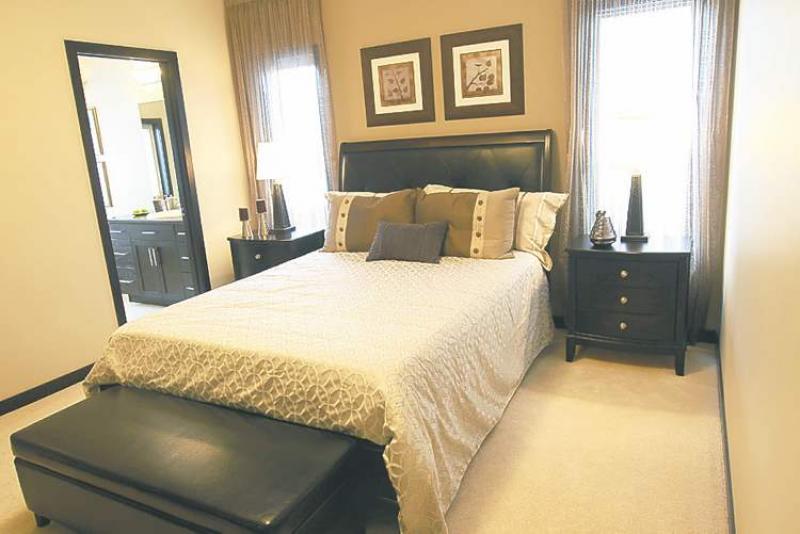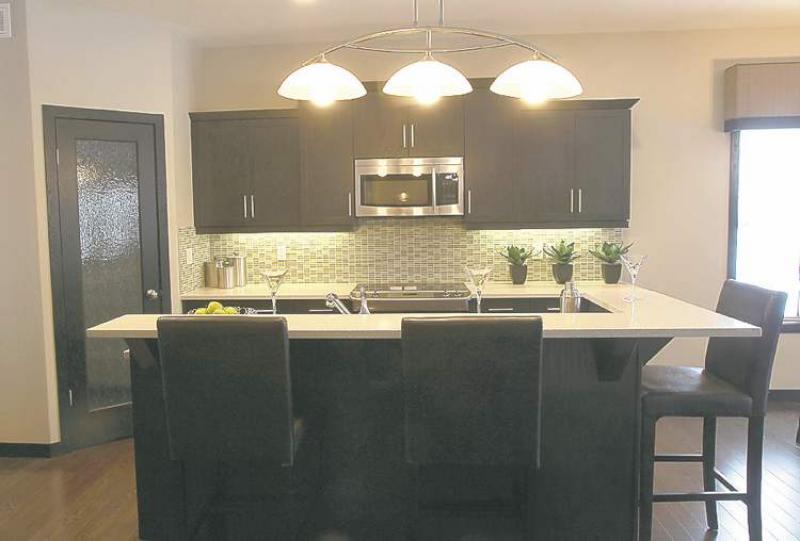 In an ideal world, the new home you buy would be imbued with equal parts style and substance.
However, that isn't always the case. Some homes -- for whatever reason -- are full of the wow factor. Sometimes, however, those good looks get in the way of function. When that happens, all the lustre associated with that wow factor tarnishes, often in a big way.
With that thought in mind, Parkhill Homes' design team set about designing a bungalow that was functional first. Once that function was assured, then style was plugged into key areas of the 1,700-square-foot home -- found at 30 Vestford Place in South Pointe -- in carefully calculated fashion.
"We tried to get all the little details right with this home," said Parkhill Homes' Lori Thorsteinson. "The home ended up winning a gold award in the Fall Parade of Homes. That told us, for the most part, that we succeeded in our goal of designing a home that struck just the right balance between fashion and function."
The first objective, said Thorsteinson, was to make the home's great-room area as functional as possible.
"Our goal was to create a space that was open yet had separate, distinct spaces contained within it. The fact that the home is 1,700 square feet really helped in that respect. The generous square footage gave us the room we needed to spread out each space so that the areas weren't crammed in," she said. "That and the nine-foot ceilings, which make the great room feel even larger than it is, made everything feel that much more functional."
That function starts at the front of the home, where a formal dining room that sports a pillared entrance with cutouts on either side opens onto a six-foot-wide foyer. Thanks to the foyer's ample width, a large window on the dining room's front wall and the aforementioned entrance, natural light and lebensraum abound -- a precursor of what's to come.
The great room is wide open, with an island kitchen, dinette area and family room. Because the home isn't, say, 1,400 square feet, the extra square footage allows for buffer space between each area. That provides the separation that's required for each area to be its own distinct entity.
"I particularly like the kitchen/dinette area," said Thorsteinson. "It was made for more than one person to use at a time, so one person could cook and another could pitch in. At the same time, it's an area that's good for informal entertaining with the seven-foot island's raised breakfast bar (seats four) and a large, bright dinette (seats four) that was placed by a big window and a door to the covered deck out back. In warm weather, the deck extends the entertaining area."
Adjacent to the kitchen/dinette area is a family room that's accessible, spacious and, thanks to a huge picture window, bright. It's also markedly different from most family rooms due to the novel design of its entertainment centre.
"We wanted to do something that was a departure from the norm, so we put in a floating (dark oak) entertainment unit with a dark brown backdrop," she said. "It gives you two options -- you can place your TV either on the platform or put it on the wall. What you do is entirely up to you. Next to it is a gas fireplace with a taupe tile surround, which we thought was a nice touch because it not only framed the fireplace beautifully but offered a colour contrast and texture."
Meanwhile, the three bedrooms are found in a private wing that minimizes wasted hall space and maximizes bedroom space. In all, the hallway leads to a four-piece bath and large laundry/mudroom (with garage access) in addition to the bedrooms.
"The two secondary bedrooms are good-sized with big, vertical windows and double closets with dark oak bi-fold doors and are set away from the master suite. We placed the main bathroom, which has a nice, big soaker tub, right off the great room so it would be easily accessible for guests," explained Thorsteinson. "I think the laundry/mudroom is a welcome bonus; it's huge, and offers a closet, cabinets and loads of space for a washer and dryer and to do laundry."
Like the rest of the home, the master suite is functional and features an understated style that's quietly elegant.
"I think it has everything you'd want in a master bedroom," she said. "The bedroom is just the right size, is nice and bright (thanks to large, vertical windows located on either side of the bed) and comes with an ensuite with off-white tile floor, six-foot soaker tub (placed beneath a huge, obscured glass window), four-foot shower and dark oak vanity with dark brown laminate countertop and white sink for contrast. The walk-in closet is also quite large with lots of built-in storage."
Seeing as it's a bungalow, 30 Vestford also comes with a big, bright basement that offers better than 1,400 square feet of liveable space -- space that can be developed into a rec room, bathroom, one or two bedrooms and storage.
"This home is ideal for families or empty nesters with its open layout, rich finishes (dark oak cabinets, hardwoods, glass tile backsplash) and all its space. It has a well-balanced design, which is why it won a gold medal in the Fall Parade of Homes," said Thorsteinson.
lewys@mts.net
DETAILS
Builder: Parkhill Homes
Address: 30 Vestford Place, South Pointe
Style: Bungalow
Size: 1,700 sq. ft.
Bedrooms: 3
Bathrooms: 2
Lot Size: 52' x 115'
Lot Price: $134,100 (GST included)
Price: $473,670 (including lot, appliances, window coverings & GST)
Contact: Cody Turple, Cornerstone Properties @ 204-228-1283