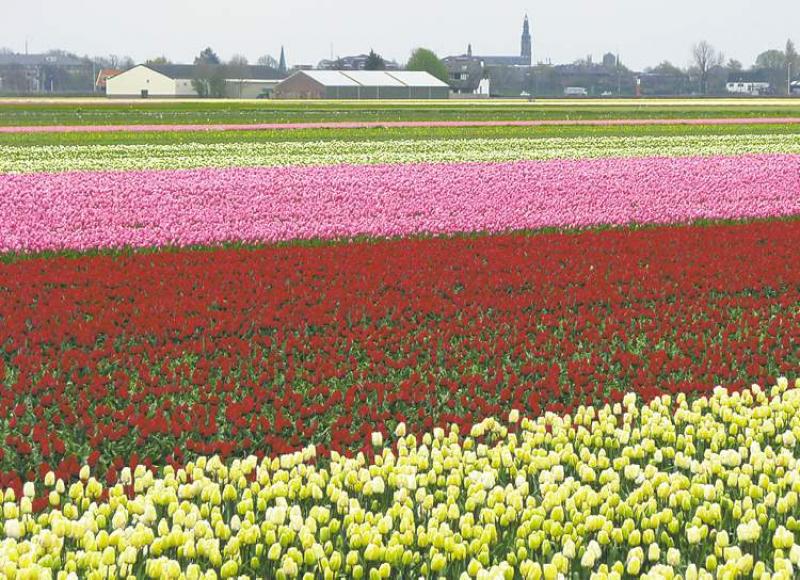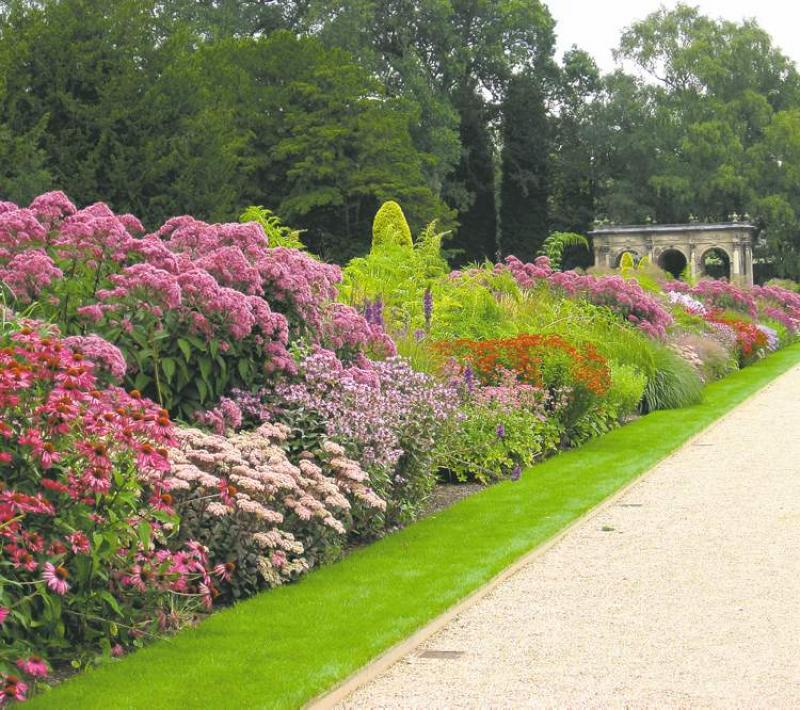 In this connected world of ours, virtual images of some of the world's most famous gardens are easily enough within reach -- Pinterest.com for example -- but are nevertheless only a substitute for actually strolling beneath a canopy of lush foliage and blooms, surrounded by rich scents and textures.
Across the pond, centuries-old European gardens created by legendary garden designers have been painstakingly and lovingly restored by legions of skilled gardeners who preserve their natural beauty for generations to come.
In 2012, Winnipeggers Linda Dietrick and Lenore Linton joined Sara Williams, an experienced travel guide and retired extension horticulturalist, on a small group tour for two weeks last April to Holland and Belgium. It was a chance to experience the once-a-decade Floriade World Horticultural Expo, held in the Netherlands since 1851.
The full itinerary included a visit to the Keukenhof Gardens, Aalsmeer Flower Auction, Mien Ruijs Gardens, Gardens of Appeltern, Arboretum Trompenburg near Rotterdam, a bulb farm, the Utrecht Botanic Gardens, as well as a private garden in Maastricht, Belgium and numerous other cultural highlights besides gardens.
Both Linton and Dietrick agree the Floriade Expo itself was not as plant- or garden-focused as they would have liked.
"It was more of a trade fair or world's fair with a general focus on agriculture, horticulture and ecology," says Dietrick, an associate professor at the University of Winnipeg.
Linton, a retired teacher, wanted to see the bulb fields for which Holland is renowned and those did not disappoint. The Tulip Fields tour features more than seven million tulips, daffodils and hyacinths in bloom.
Dietrick adds, "I don't think I could have organized such an intense and rich itinerary on my own. I also wouldn't have had the benefit of guides explaining things in-depth or the company of other gardeners sharing my appreciation of what we saw. You can't go wrong with fellow gardeners."
I'm always curious as to the inspiration travellers return home with and incorporate into their own gardens. Dietrick shares that she felt inspired to plant more spring bulbs and to attempt growing Hellebores again.
"I'd like to try Waldsteinia (Appalachian Barren Strawberry, zone 3 and widely used in European gardens) as a ground cover for shade," Dietrick says. "I was also inspired with ways to give more structure and flow to my own garden."
It is not uncommon to see many of our Prairie garden plants growing in European gardens. While you may not return home with a plant list, other subtle nuances such as the use of light, colour, texture and unity may be what inspires you.
Lenore Linton, a master gardener and member of the St. Vital Horticultural Society, travels to England regularly to visit family and each trip includes excursions to historic gardens. A favourite is Trenton Gardens at Stoke-on-Trent in Staffordshire. Piet Oudolf, Europe's leading plantsman and exponent of naturalistic planting, has designed long formal borders that feature many plants native to North America.
Linton was struck by the use of Joe Pye weed, Prairie grasses, Culver's root, coneflowers and monarda in a more formal setting.
"All of these are familiar plants used in very elaborate garden designs. They look beautiful even when they are not in bloom and after they come into their own later in the season, they die off beautifully."
A seasoned traveller, Linton takes advantage of short three- and four-day tours out of England (through Brightwater Holidays, a tour company in Fife) that take her to gardens in Paris and Spain. Fabulous tours were the Gardens and Architecture of Andalucia, Spain and a visit to Alhambra Palace in Grenada to see the Generalife Gardens, considered one of the most spectacular sites in the world.
Another memorable garden tour was that of the famed garden of Impressionist painter, Claude Monet, (1840-1926) in Giverny, France. Monet believed gardens are works of art and found inspiration for his paintings from the countless hours spent in the garden he created over several years
"We had enough time in the garden and arrived early enough in the day that we really had time to explore," recalls Linton.
Marilyn Dudek, an East Kildonan-area master gardener, also has family living overseas and takes every opportunity to combine garden tours with her visits. Dudek has been on organized garden tours to England, Ireland, France and northern Italy.
"I was very fortunate to connect with Thomas Hobbs, a superb Canadian plantsman of Vancouver's Southlands Nursery, for these tours," says Dudek. "My criteria for going on an organized garden tour is to always choose a knowledgeable plant person who has previously toured the gardens and countries. As there are so many plants in these gardens that are foreign, having an expert to answer one's questions and be acquainted with the location is essential."
Dudek's favourite garden is the glorious Villa Ephrussi de Rothschild, situated between Nice and Monaco and overlooking the Mediterranean Sea. Featuring nine gardens created in 1912, the rose garden is the ultimate experience for anyone who loves roses.
"It is here that you know why the French are famous for their perfumeries. The exquisite, delicate scents of roses permeate the air," observes Dudek.
Local travel adviser Dorothy Keizer (www.keizertravels.ca) says when planning an overseas garden tour, an important consideration is to book as early as possible. An ideal time to travel is in spring when the swell of vacationing tourists is at a minimum.
"Even for the experienced traveller, going on a customized tour works very well," Keizer says. "A travel adviser plans the entire itinerary -- all of your flights, transfers between cities, car rentals, or train travel. The key benefit is a stress-free holiday."
Keizer adds, "Europe's focus on gardening is a wonderful opportunity for Canadians to appreciate differentiated approaches, to drink in the peace and beauty of the gardens and their surroundings and to augment the garden experience with local sightseeing."
Close friends Fran Wershler and Sandy Venton, both avid Winnipeg gardeners and members of the Prairie Garden Committee (publishers of Western Canada's only gardening annual), planned a trip last May to England where they visited about a dozen gardens.
The planning process took place over a few enjoyable months as they met to discuss, look at maps and decide which gardens they would visit. Ultimately, they decided to visit some of the most famous gardens in the English countryside: Hidcote in Gloucestershire, Blooms of Bressingham and Foggy Bottom in Norfolk and Sissinghurst Castle.
"We flew into Heathrow, rented a car and circled England," says Wershler. "We spent nearly a full day in each garden, plus visited some historic sites and took in a Royal Horticultural Society show at Great Malvern."
Visiting overseas gardens fulfilled a lifelong dream of Venton's. Her favourite experience was the visit to Blooms of Bressingham Nursery, which features seven hectares of gardens. Founded by the late Allan Bloom, one of the best-known plantsman of his generation, the nursery has introduced hundreds of perennials to gardeners worldwide in its 100-year history. Venton and Wershler also visited the famous year-round garden at Foggy Bottom created by Adrian Bloom, who is now in charge of Bressingham.
Their trip included a visit to Wilton House (1650) in Wiltshire, which provided the most memorable image: a long archway dripping in golden yellow, flowering laburnum blooms at their peak.
"Garden and other entry fees varied, but having a membership in the Royal Horticultural Society provided free admission to affiliated gardens," says Wershler, who adds it would have been helpful as well to have had a membership in the National Trust for historic sites such as castles.
Both gardeners were intrigued by the wide use of bronze fennel (Foeniculum vulgare) and are hoping to find a Canadian mail-order nursery that stocks it.
Coming up is a 16-day group tour of Turkish gardens, May 5 to 21. Escorted by Sara Williams, the tour sold out in three weeks. An excited participant is Morden resident Lynda Oakes, president of the Miami Horticultural Society. This will be Oakes' first trip to Europe.
Sara Williams is also finalizing the details of a group tour to Wales, Sept. 4 -17. Highlights will include a visit to a cottage garden in the medieval village of Abergwyngregin, the National Botanic Garden of Wales and the restored gardens of Aberglasney.
"I try to achieve a balance between garden visits, history and heritage, and life as it is lived today," says Williams. "Personal touches (such as a visit to a working farm, smaller private garden, listening to a Welsh Men's Choir, coastal walks) make all the difference."
For a brochure, itinerary and to register, please call the University of Saskatchewan's Centre for Continuing and Distance Education, 306-966-5546 or email master.gardener@usask.ca .
Colleen Zacharias is a master gardener and certified Prairie horticulturalist.
gardenfundamentals@gmail.com
Other destinations
Chelsea Flower Show -- 100th Anniversary, London, England May 19 to 26.
Lavender fields and vineyards of Aix-en-Provence, France.
Bagatelle Gardens, Bois de Boulogne, Paris.
Powerscourt Estate and Gardens, south of Dublin, Ireland.
Isola Bella Gardens, Lake Maggiore, Italy.
Shangri-La Gardens, Amalfi Coast.