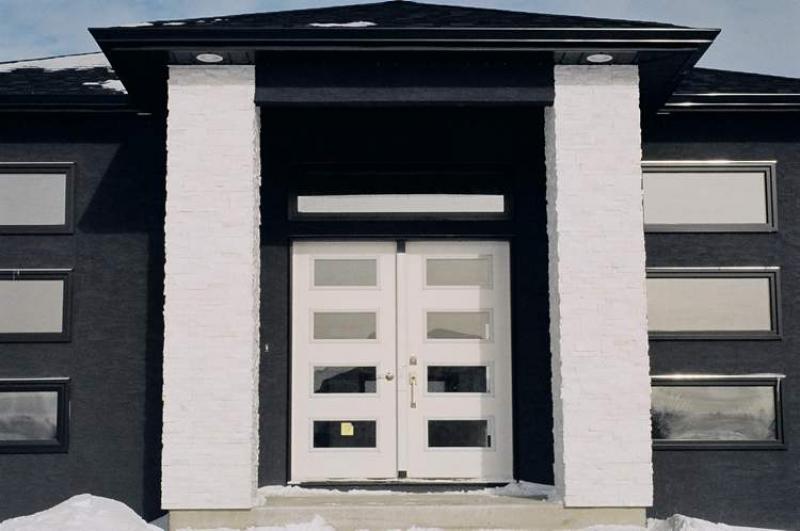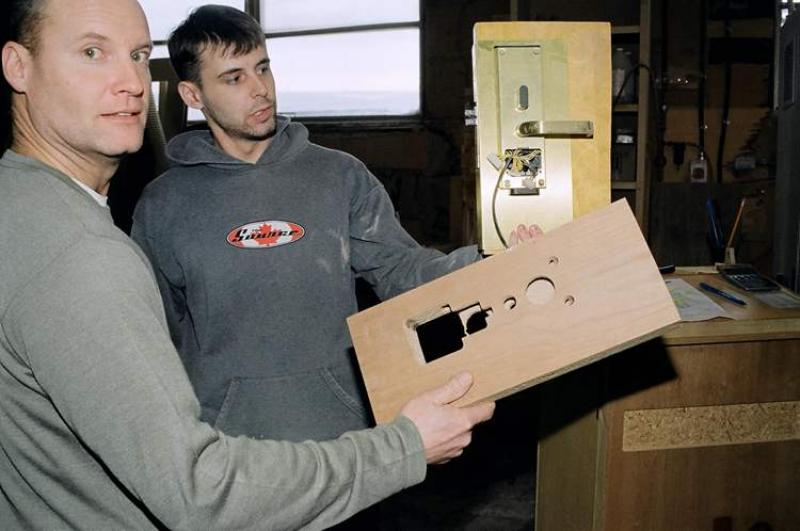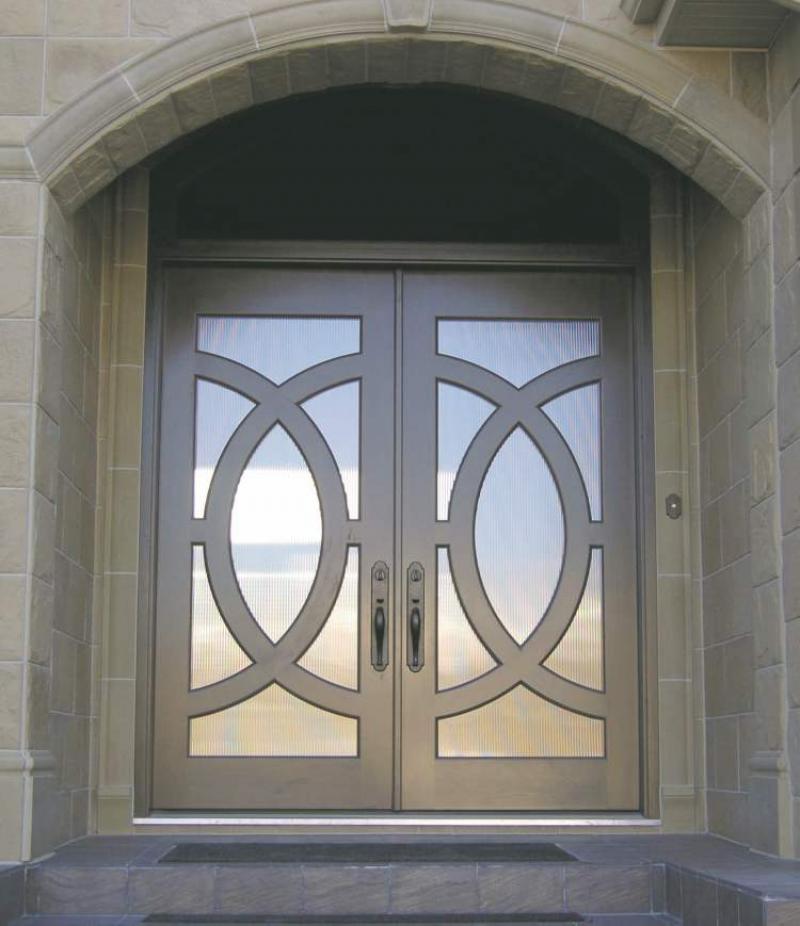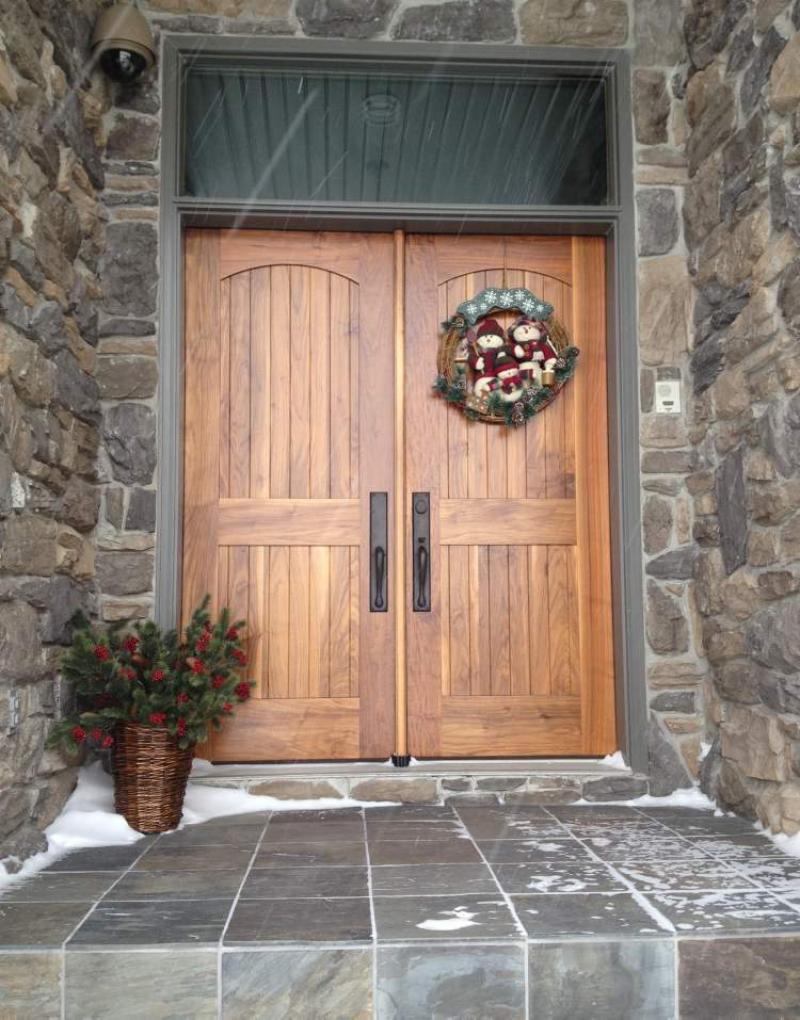 The curb appeal of a house can be enhanced by a single design element homeowners often overlook -- the entranceway door.
As a one-of-a-kind furniture maker with 30 years of experience, I'm partial to wood doors; however, there are other choices, including fibreglass and steel.
Wood is beautiful. And no matter how hard we try to emulate the natural figure, colour and texture of this remarkable material in polymers and metals, the human eye detects the forgeries immediately.
In some older Winnipeg homes, there remain examples of solid oak entrance doors nearly eight feet tall. They're fitted with individual panes of bevelled glass or constructed of solid stiles and rails, framing decorative book-matched or quarter-sawn oak panels.
It's disconcerting to think many of these lovely treasures ended up in landfills or were cut up for firewood.
The good news is that wood doors have never gone completely out of style. In Winnipeg, Michael Neufeld of Yarrow Sash and Door has been designing, building and installing wood entranceways since he purchased the 67-year-old company in 1989.
"The wonderful thing about wood is that it allows us to create oversize doors that fit the scale of many modern homes with large overhangs or massive columns at the entrance," he said.
Astandard 36x80-inch door looks puny in the midst of so much mass, he said, "but a door that is four feet wide and eight feet high makes a remarkable and memorable statement about the home."
Neufeld said he recently showed a client with a budget of about $5,000 what he could get for an extra $2,000.
"When he saw a standard-size $5,000 door compared to a wider and taller $7,000 unit -- it dwarfed the less-expensive door -- the guy purchased the larger door, no questions asked."
Though the R-value of wood doors has usually been considered low (R-2), Neufeld said many older wood units were constructed with 11/2-inch-thick stiles and rails that framed large panels that were 1/2 inch or less in thickness.
"Of course they had a low R-rating," he said. "A 1/2-inch-thick piece of wood is rated at R-.5."
Neufeld said his solid wood doors are manufactured of two 1/4-inch hardwoods or softwoods, and, in many cases, include high-efficiency tri-pane glazing that increases a door's R-value to about five, similar to that of a fibreglass unit.
Neufeld's doors are available in many species including fir, mahogany, walnut, cherry and red or white oak -- the oak can be ordered quarter-sawn to enhance the wood's figure.
One problem associated with solid wood doors is they can warp or twist if exposed to direct sunlight. The wood will turn grey and the finish will peel if unprotected from rain and melting snow, so repainting or re-staining is recommended every five years.
"I suggest that people install my doors in an entranceway that has a large overhang or open-porch concept," Neufeld said.
Dormond Industries Limited of Winnipeg specializes in fine-quality wood doors and panelling. President Richard Schmidtke said although he deals with commercial customers, his company also manufactures one-off residential doors for clients who want an old door replicated or require an off-size door for a renovation.
"We're looking to expand in the reno market in Winnipeg and Manitoba," he added. "It's growing as people decide to retrofit their existing homes rather than spend a lot of money on a new or larger house."
Schmidtke said if a veneered door is kept out of the elements, it will last as long as solid wood, steel or fibreglass units.
The stiles and rails of Schmidtke's doors are constructed of an engineered, laminated material used for rafters, floor joists and high walls in commercial buildings.
"We utilize this product because it is stronger than most solid wood and will not warp, twist or bow," he said.
The door's core is dense fibreboard that is manufactured for rigidity, stability and as a smooth substrate for wood veneer. One-inch-thick hardwood stiles are joined by mortise and tenon to the engineered stiles to match the veneer that is hydraulically pressed onto both sides of a door slab.
"The veneers a client can order are almost limitless and are book-matched or slip-matched to enhance the natural beauty of the wood," Schmidtke said, adding veneered designs can also be inlaid into a door's surface.
A small sample of veneers available include walnut, mahogany, cherry, maple, eucalyptus, lacewood, Macassar ebony, wenge and zebrano.
"We manufacture hardware-ready, paint-grade maple doors that sell for about $200. We can also add glazing at extra cost to meet an individual's requirements."
One-of-a-kind, special-order doors do not come pre-framed, he noted, so it's up to the client to hire a contractor to install them, or "if he's a real handyman, he can do it himself."
Bob Tait, of Polar Ray Windows and Doors in Winnipeg, said his company manufactures a complete line of custom fibreglass doors for the residential market.
The advantage of a fibreglass compared to other materials, he said, is the door's R-15 core, as well as resistance to dents, splintering and corrosion. Doors can include argon-filled tri-pane glass that is heat-tempered so it won't shatter into sharp or pointed shards, and is about five times stronger than ordinary glass.
"It's much like a car window, which crumbles into harmless little bits when broken."
A no-maintenance aluminum sill is included, with an optional acrylic-bonded PVC cladding, Tait said. An R-value of 15 is achieved by filling the interior of the fibreglass skin with polyurethane foam. Solid fir blocks laminated between the fibreglass provide extra security when combined with Weiser brand hardware.
The doors are pre-hung on composite frames so the units can be fitted directly into a rough opening in a house. "This eliminates the fussy and time-consuming work required to fit a door into a finished frame."
Tait said Polar Ray installs doors throughout Winnipeg and Manitoba in residences that range from average to palatial.
"We'll provide free estimates to clients who want to replace an old wood or steel door with a maintenance-free fibreglass one," he said, adding a baked-enamel factory finish in any colour is guaranteed for 20 years. Though prices vary with the door size and the bells and whistles a customer desires, a basic entrance unit can be installed for about $1,000, he said.
Fancier units that include lights either side of the door and/or a transom on top can run $5,000 to $6,000 or more, depending on the type of glass and hardware selected. He said customers can also choose from doors with 1/2, 2/3 or full glass, as well as other features such as grilles that imitate individual panes.
Problems with fibreglass doors are few, though the stiles and frames are occasionally known to warp, especially when exposed to the south or west. Fibreglass has been known to crack in extremely cold temperatures, and even factory-applied paint will fade under high-UV conditions.
On the plus side, a fibreglass doors with no windows and a polyurethane core does have a high R-value, and if high-efficiency windows are installed in the door, the R-value remains substantial.
Steel doors are the least-expensive option on the market, costing about $144 for a 32x80-inch door and about $154 for a 36x80-inch unit, according to Kelvin Stewart of Rona on Kenaston.
He said the doors include a wood jamb to fit a two-by-four or two-by-six wall, a door sweep, pre-drilled holes for the handle/lockset and weatherstripping. However, the handle is not included in the cost.
"Door sizes that were common in the '50s through '70s, such as 34x82-inch can be special-ordered," Stewart added. "But the price can rise to $500 or more, depending on the type of glazing selected and whether a custom-width jamb is required."
Steel doors are pre-primed, but must be painted within three months of installation to be eligible for a limited lifetime warranty, he noted.
Knocks on steel doors are that steel acts as a conduit for both cold and heat, and dents easily. They're not maintenance-free, as repainting is recommended every five years.
Manitoba Hydro's Power Smart program offers a maximum loan of $7,500 per residence at 4.8-per-cent interest over five years to replace exterior doors. It's best to talk to a contractor or manufacturer before applying, as some restrictions apply.