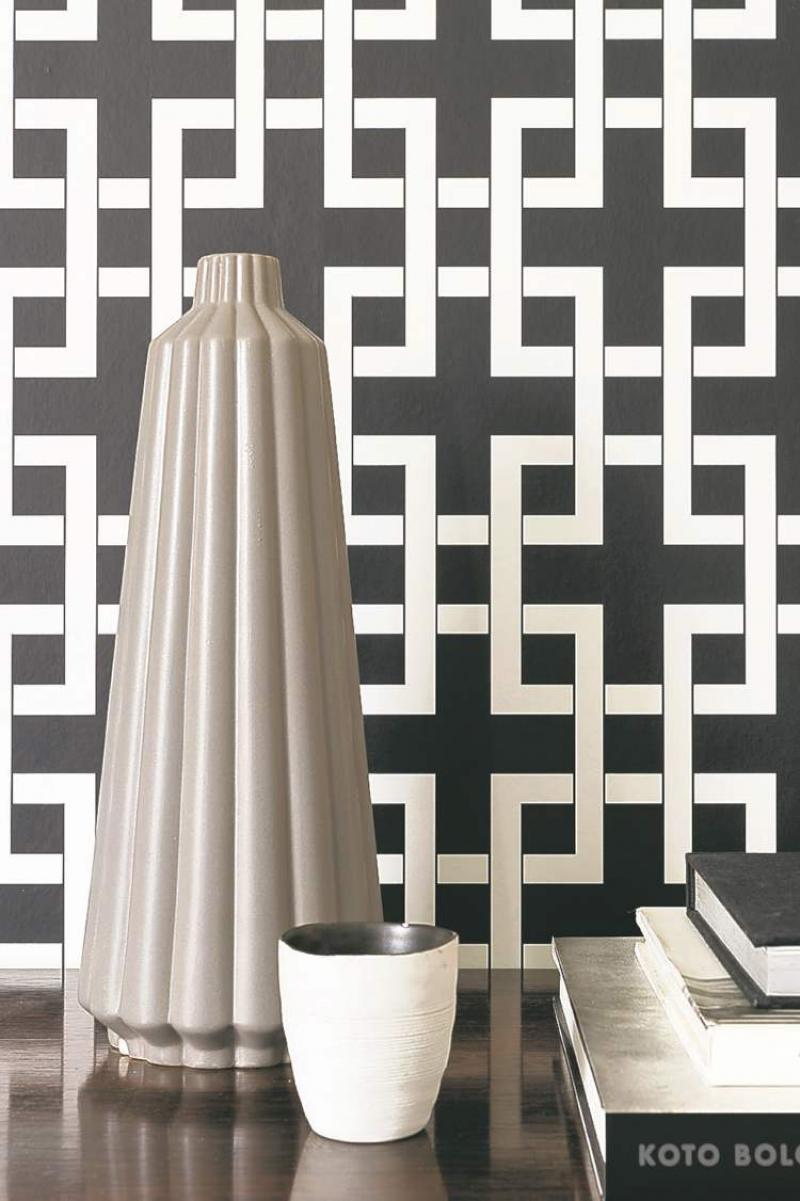 The wallpaper craze of the '90s tapered off in the early part of this century but wallpaper is making a comeback as a popular and easy way to update your decor.
We're definitely in the midst of a wallpaper revival. According to the Wallcoverings Association, current consumer behaviour patterns, style trends and economic factors are all overlapping to create renewed interest in wallpaper.
The experts at Crown Wallpaper, a leading supplier of wall coverings in Canada for over 75 years, advise that the current design trend is bold graphics, pretty florals and large murals. People are moving away from minimalist interiors and are opting for a more fanciful and stylized look. Consumers have grown more confident about design and are willing to experiment, mixing styles and eras to create truly personalized interiors.
As you can see by the dramatic feature photograph, courtesy of Crown Wallpaper, a bold pattern can do wonders for a lacklustre room. Strong patterns can offer architectural interest, set a daring mood and is definitely eye-catching.
I've always loved wallpaper. The choice in colours, patterns and textures provides so many possibilities. I like hanging it and yes, even removing it. It's cathartic to rip large sheets of paper off the wall to get to a clean palette beneath, then create a new backdrop for an updated decor.
To me, wallpaper is like art for your wall. In one day you can transform a room and give it a totally new look and feel. With paint techniques, a similar project could take days or even weeks to complete. Wall coverings can also be a great alternative to paint during winter months, when you can't open doors and windows to let in fresh air. Wallpaper is also a great option if you're renting or like to change the look of your decor regularly because it's removable.
Defining spaces
The fast-and-furious construction boom of the last decade left us with a mix of open-concept floor plans and boxy rooms lacking in architectural detail. Wallpaper can offer visual structure, depth and character to cookie-cutter rooms. You can create focal walls, provide visual definition in large rooms, change the visual height or length of a room with the right pattern and add texture to a bland space.
Other uses for wallpaper
Unique wallpaper projects are a fun way to create a truly distinctive look.
Create faux wall panels by cutting wallpaper into appropriately sized squares, install them and frame then with decorative wooden trim. This project works well with highly textured paper and is a great way to use up end-rolls of wallpaper.
Wallpaper the ceiling. In the right room, it can be dramatic and appealing. A small powder room might be a good place to try this specific project, but it can work in a dining room or a bedroom as well.
Wallpaper the inside of a closet to give it a romantic, soft appeal. Cover small items such as trash cans, book covers and decorative containers in co-ordinating wallpaper to freshen them up and give them new life.
Create a decorative screen by covering heavy cardboard, plywood or what-have-you in wallpaper. Cover the inside backs of open shelving, such as bookshelves or entertainment units with wallpaper to update their look. Recover a boring headboard in wallpaper or create a new headboard using a similar technique to the decorative screen project. I covered the writing surface of a dated office desk with plaid wallpaper years ago and love the way it looks and it's easy to update any time.
Boring interior-slab doors can be transformed with wallpaper or faux wallpaper panels to give them depth and visual interest. Update a bathroom vanity with wallpaper to give it new life and a new look.
Cut out the wallpaper pattern (flowers, vines etc.) and use the cutouts as decals on decorative containers, furniture, mirrors, as wall borders or to accent cabinet doors.
Frame a section of a great wallpaper and use it as art or create your own collage from a collection of leftover wallpaper cuttings and display it proudly in your home.
Simply covering them with wallpaper can renew tired or dated lampshades. Adorn the shades further with decorative trim, such as braided cording, lengths of strung beads or whatever catches your fancy.
Once perceived as labour-intensive and an irreversible decorating commitment, wallpaper today is simpler to hang and remove. The new easy-hang wallpapers are known as non-wovens and are high-performance wallpapers. On average, residential wall coverings have a lifespan of 10 years, which makes the upfront cost palatable.
connieoliver@shaw.ca