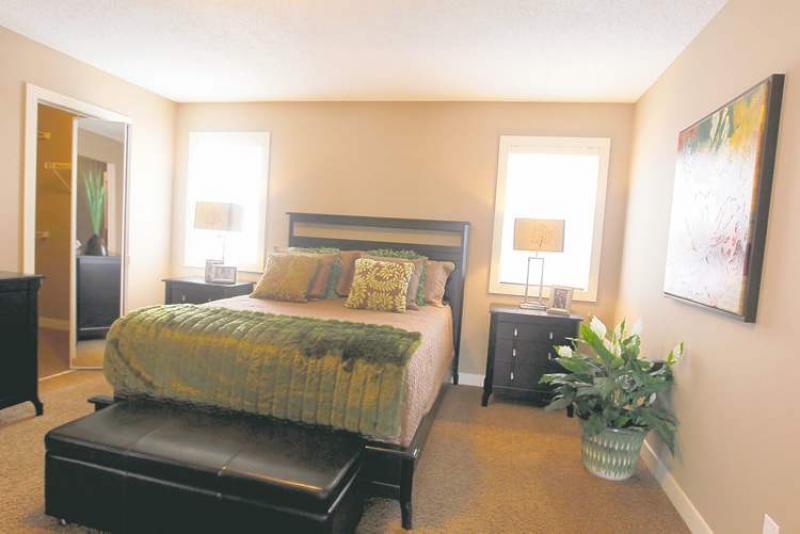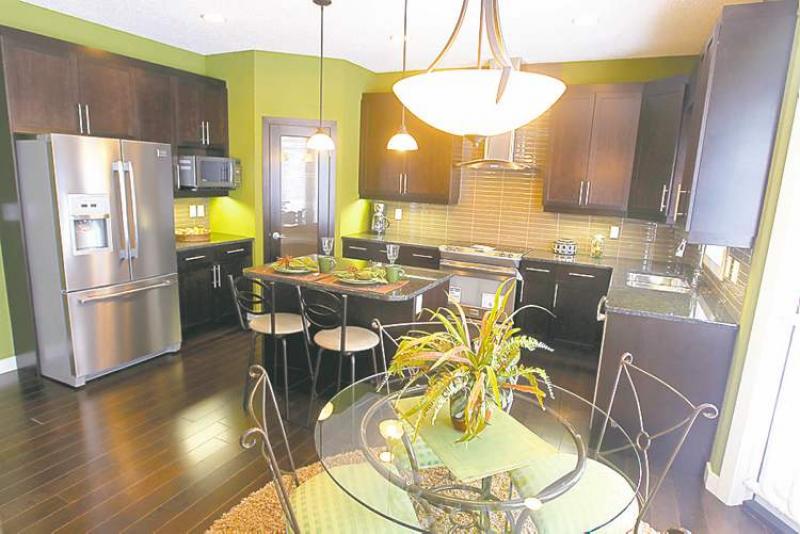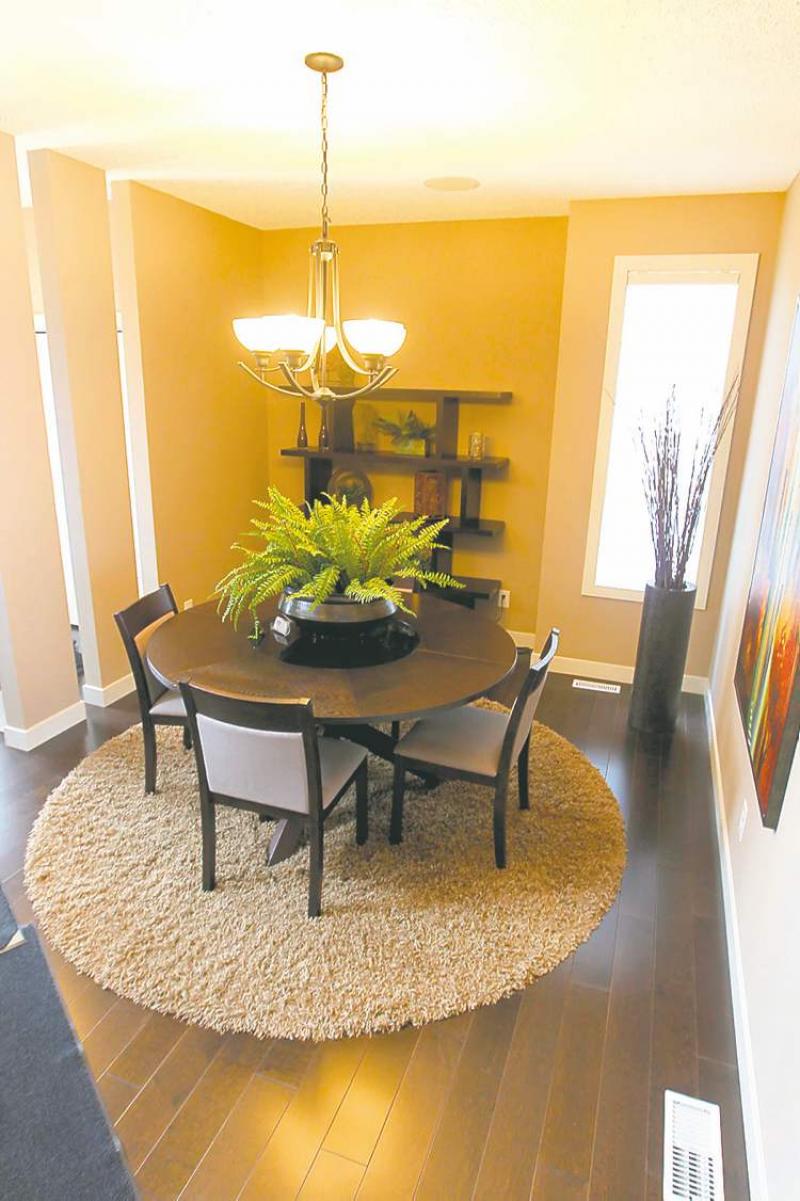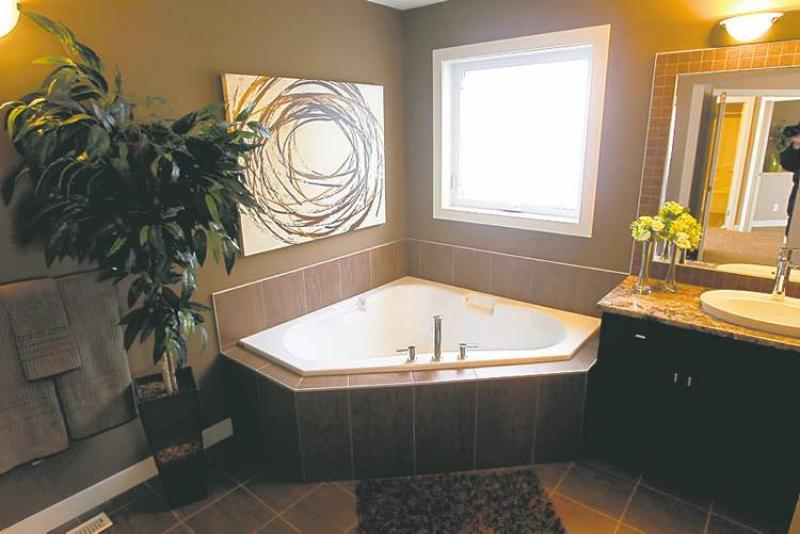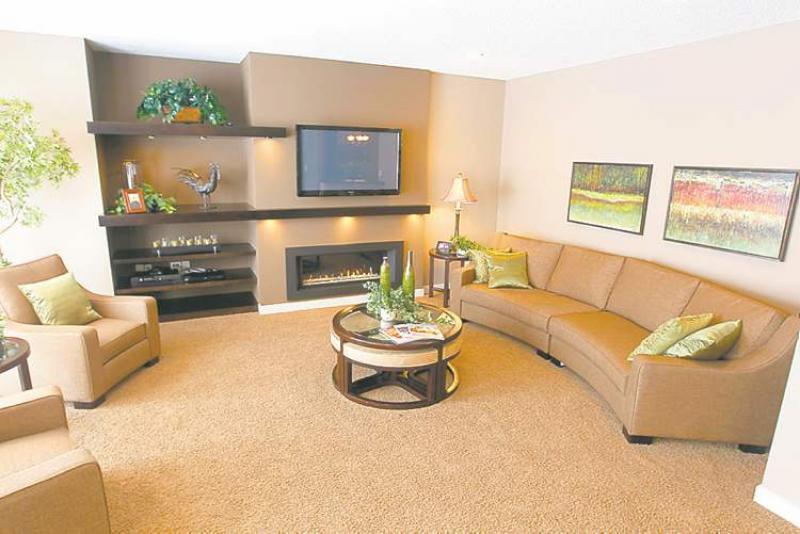 One of the problems -- albeit a minor one -- associated with viewing show homes is that most are dressed to the nines.
Consequently, key areas such as the kitchen, family room and master bedroom's ensuite might come with options that would not be available were you to -- due to budgetary reasons -- opt for a more stripped down version of the show home. That's not the case with Sterling Homes, said new homes sales consultant Brenda Johnson.
"Take this home," she said of The Molise, a newer 2,164-sq.-ft., two-storey design found at 115 Sidebottom Drive in River Park South. "In the kitchen, a choice of oak, maple or thermofoil cabinets is standard. Move over to the family room, and a gas fireplace is standard; you don't just get a blank wall in a more basic version of the home."
Last but not least is one of the most important spaces in the home -- the ensuite.
"A deluxe ensuite with corner soaker tub (set in tile) is also a standard feature. Those are three pretty big features for a standard price. That reflects our commitment to providing great value -- and style -- to our customers," said Johnson. "With a basic finish package, you get those features and a nicely finished home for just over $404,000 on a 40-foot-wide lot in a great area (River Park South)."
While top-quality finishes can be found throughout The Molise, the first priority was to design a home that was livable.
"One of the things people comment on quite often is just how spacious the home is," she said. "That not only comes from the generous square footage, but from the way the home has been laid out. It's an open-concept design, but it still offers enough segmentation so that it doesn't feel like a big, open box, particularly in the great room area."
True enough, as several subtle design features enhance flow while simultaneously adding character to the great room.
Exhibit number one is the dinette area. Instead of being jammed in next to a straight, featureless wall, it was placed next to a bay window and deck doors. The angled window adds room to move around the table for four, while the deck doors not only provide access to a future back yard deck, but also inject extra daylight into the area.
Exhibit two is the kitchen itself, which owes its exceptional flow to the fact that its island -- at four-and-a-half by three-and-a-half feet is size -- is big enough to offer food preparation space plus an eating nook for two -- yet isn't so big that it clogs up the area.
At the same time, the feel in the kitchen is rich and warm thanks to an ample collection of cappuccino maple cabinets, grey granite countertops, a taupe glass tile backsplash and dark maple hardwoods underfoot. A different colour scheme -- a brightened version of olive green -- is refreshingly different, providing a welcome contrast to the dark floor and cabinets.
The final exhibit is the family room, accessed seamlessly via a 15-foot-plus wide entrance that defines a surprisingly large (13.9 feet by 19.6 feet) space in novel style.
"It's defined by an arched entrance with drywall pillars on stubwall bases on either side -- it dresses up the entrance, yet doesn't do anything to hamper flow," said Johnson, adding that taupe short shag carpet also defines the area from the kitchen. "People always comment on the size of the family room, as well as the three huge windows on the back wall that let in all kinds of natural light. In this case, the (five-tiered maple) entertainment unit is optional, but the gas (ribbon-style) fireplace is a feature that's always included."
Thanks to a four-foot-wide staircase (bordered by maple railing with tempered glass inserts, which is optional), the ascent to the home's upper level is effortless (two people could pass easily). Rather than hallway, there's a seven-foot-wide landing at the top of the stairs around which three bedrooms, a loft (placed to the right of the stairs) and four-piece bath revolve.
"It's a very bright area because it's so open," she said. "The brightness comes from a big window over the stairs, as well as another large window in the loft. About half our customers keep it as a loft, which could function as a media room, office/study area or play area. The other half of our customers, ones who have large families, close it off to make it into a fourth bedroom."
While all three bedrooms and the loft are generously proportioned (the smallest bedroom is 10.7 feet by 9.6 feet), it's master suite that's the standout.
"At 13.9 feet by 16.6 feet, it offers plenty of room for a king-sized bed and accessories, while big windows either side of the bed let in lots of light," Johnson said. "There's a mid-sized walk-in closet (behind mirrored doors) to the right of the bed, while a four-and-a-half foot wide entrance opens the ensuite up to the bedroom. With its triangular soaker tub, four-foot shower, brown tile floor and earth tone palette, it's a great place to relax."
With another 800 or so square feet of space to develop downstairs into a huge rec room, fourth bedroom, four-piece bath and storage, The Molise offers growing families the space, style and separation required to live in relative harmony.
lewys@mts.net
DETAILS
Builder: Sterling Homes
Address: 115 Sidebottom Drive, River Park South
Model: The Molise
Style: Two-storey
Size: 2,164 sq. ft.
Bedrooms: 3 plus loft
Bathrooms: 2.5
Lot Size: 40' x 115'
Lot Price: $103,429
Price: $467,936 (includes land & GST)
Contact: Brenda Johnson, New Homes Sales Consultant @ (204) 946-2740