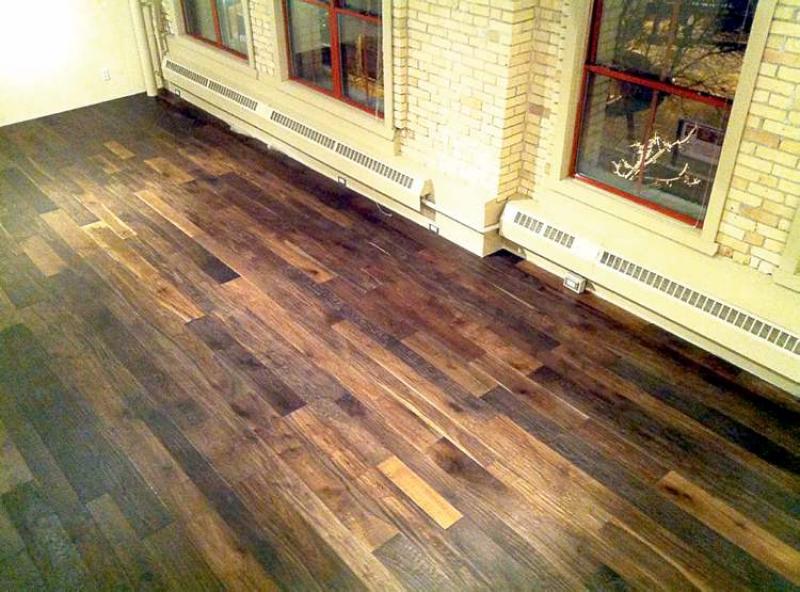 Someone told me floors are polished in the Philippines by strapping a piece of coconut husk to each foot, then skating across the floor until the entire area begins to gleam. Final buffing is accomplished by dragging a sheet with a couple of youngsters sitting inside back and forth until the floor shines like the faceted face of a gemstone.
I've asked many Filipino friends about this technique and they've all answered, "Yes, that's the way it's done." And yet, they've all had a sparkle in their eyes, suggesting the story has been embellished for incredulous foreigners like me.
No matter what, it's an intriguing piece of Filipino culture that leads directly to the topic of flooring.
Aside from traditional wood and linoleum, today's flooring market offers laminates, engineered wood, cork, stone, marble, porcelain and luxury vinyl tile/planks, to name a few of the most popular products.
Many big-box retailers and smaller building-material outlets sell a relatively inexpensive product called laminate flooring, which is a synthetic material fused together under heat and high pressure. The flooring simulates anything from wood to stone, as it is a photo appliqué protected by a clear layer of resin. It is marketed as a DIYer's delight because it is easy to install by "clicking" the tongue and groove boards together, and it can be cut with a fine-tooth carbide blade on a skill or chop saw.
For applications over concrete, a six-millimetre vapour barrier is required, followed by a resilient backer pad on which the flooring floats. For upper-storey applications, a backer pad is sufficient, as long as there is no moisture seeping up through the subfloor. Because the floor floats, a gap of five to 10 mm is required between walls and solid objects to allow for seasonal expansion and contraction of the material.
On sale, laminate flooring can cost as little as 84 cents per square foot, but as with most products, you get what you pay for. Higher-quality laminates sell from about $1.20 to $6 per square foot, depending on the finish and length of warranty. Underlay also varies in cost from about 23 to 65 cents per square foot.
Problems with laminates include off-gassing of formaldehyde from the melamine resin core, a life expectancy in high-traffic areas of less than five years (especially with cheaper products), as well as poor resistance to dampness in kitchens and other high-moisture areas. Laminate floors cannot be refinished because of the composition of the decor layer.
DIYers may find inexpensive laminates difficult to "click" together; however, newer and more costly laminates incorporate a "drop-lock" system that eliminates the hand- or rubber-hammer-pounding associated with the old, "click-together" technology.
A slightly more expensive but much longer-lasting alternative to laminates is engineered hardwood flooring. This product consists of 1/16- to 1/8-inch-thick hardwood veneer glued to a substrate such as Baltic birch plywood or high-density fibreboard. While solid hardwood is usually manufactured in 3-1/4" tongue-and-groove strips because wider boards tend to cup, twist and even crack, engineered flooring can be eight inches wide because of the stable material to which the veneer is bonded.
The selection of woods available is enormous, as any hardwood that is commercially cut for veneer can be used as the top layer of engineered flooring, which is usually pre-finished at the factory.
"Because of the thickness of the veneer (two to 4.5 mm) on high-end engineered planks, a floor can be refinished up to two times," said Paul Rivington, sales manager of the retail and builder division of the Floor Show, adding that many factory finishes come with 20- to 25-year warranties.
Rivington said people are beginning to accept engineered planks as an alternative to traditional solid-wood flooring, noting recent stats from the Floor Show indicate a "50/50 split in sales between the two products."
Rivington added that 30-year-old homes in Whyte Ridge and 50-year-old homes in River Heights represent a large market for both types of flooring.
Solid hardwood still appeals to people who grew up in older homes in areas such as River Heights where 31/4-inch T&G maple or oak flooring was the norm, according to a designer.
Today, there are more solid-wood species available for flooring including cherry, walnut, elm and birch. Exotics can also be purchased, but the price may be prohibitive to consumers with a limited budget.
"Hardwood can cost from $5 to $25 per square foot, but right now I've got some good prices on solid flooring manufactured from Canadian woods that are more than cost-competitive with some engineered products," Rivington said.
One designer said black walnut is becoming popular, as it is softer and easier on the feet than maple or oak, and it can be purchased pre-finished, or finished with a good-quality urethane after it is installed.
She added that some companies are producing novelty hardwood floors that feature round or hexagonal pieces of wood that simulate the pattern of stepping stones or a bee comb.
Installing T&G strip flooring is a job that can be accomplished by most DIYers. A suitable substrate such as æ-inch plywood that is smooth and level is sufficient to hold the staples or nails that secure the strips in place. Many lumberyards rent pneumatic nailing guns that are designed to drive a fastener into the tongue at the correct angle. It's suggested a small gap be left between walls and unmovable objects to allow for expansion and contraction.
The pros for solid hardwood are it can be refinished many times by either a professional or DIYer with a rented industrial sander, and it makes a lovely, eye-catching floor that will last as long as the house in which it is installed. Depending on the grade, prices are similar and in some case lower than high-quality tile or top-of-the-line vinyl products.
One con is in-floor or radiant heat is not recommended as the heat will cause the wood to become dry, brittle and prone to cracking.
If you've ever pondered where wine-bottle corks go, look no further than the flooring industry. Most of this natural, renewable material is hand-stripped from oak trees growing in Portugal and surrounding South European countries and made into flooring.
The harvested cork is baked into tiles with a snap-together edge that allows for easy installation by DIYers, according to several manufacturers.
I've had personal experience with this flooring and I don't recommend it. If installed in a new or moist basement, the so-called water-resistant product will suck up enough moisture to water your houseplants for a month. In high-traffic areas such as kitchens and entranceways, spills that are not cleaned up immediately will permanently stain the cork, while sharp edges or high heels will gouge the material. Heavy furniture should have padded feet to prevent unsightly depressions in the cork that will not disappear if the furnishings are moved to another location.
And if you're unfortunate enough to suffer a flood caused by an overfilled sink, cork tiles will curl up like autumn leaves, resulting in an unsightly mess that will need to be removed and replaced, hopefully with good-quality vinyl, porcelain or linoleum flooring, which is waterproof.
The best place for cork is on a wall where it can be used as a family notice board.
Robyn Goldstine, sales manager of Bill Knight Flooring & Carpets, said luxury vinyl tile and planking (LVT/LVP) is gaining a reputation as a durable flooring material that can be two to three times less expensive than solid wood.
"It's an improved vinyl material that is exploding in popularity. LVP is sold in 'drop-lock' pieces that look just like wide hardwood boards, and LVT is marketed in 18-by-18-inch or larger tiles, some of which can be grouted to simulate ceramic materials," she said, adding both products are softer and warmer to the touch than ceramic or porcelain.
"Other desirable features of luxury vinyl are that it doesn't require an underlay to install, and it is flexible, so it can be laid over an existing floor or substrate that has been levelled with a smooth product like ü-inch pro board," and no adhesive is required, Goldstine said.
Both LVT and LVP are recommended in homes with a large family dog, she added. "A wood floor will show claw scratches within a year or less, while vinyl will stand up indefinitely to high-traffic pooch areas."
Unlike wood, luxury vinyl products are waterproof, making them an ideal choice for kitchens, laundries and porches where water staining can be a real problem. The material can be laid by a DIYer or installed by a professional -- cutting can be accomplished by scoring it with a sharp knife and snapping off a piece.
Prices for LVT and LVP average about $4.49 to around $5.99 per square foot uninstalled, Goldstine said, adding linoleum is still available for those who prefer a product made of recyclable material.
High-quality area rugs are another flooring choice that is becoming more common in new homes and renos.
"Although people may already have an eye-catching LVP, wood or porcelain floor, they still appreciate the warmth, colour and design that an area carpet can add to a room," Goldstine said.
One example she exhibited was a hand-tied, pure-wool carpet lovely to behold and a pleasure to touch. Though pricey, wool is known for its durability and beautiful sheen, which increases with use.
Goldstine added wall-to-wall carpet is still in vogue, although it is more commonly seen in basement renos or in upstairs applications such as bedrooms and hallways.
Vanessa Molinski, operations manager of Julian Ceramic Tile Inc., said porcelain tile is a much better flooring material than ceramic tile.
"Ceramics are fine on a feature or bathroom wall, but they're not a good choice for an awe-inspiring show floor," she said.
Ceramic is made from fine red or white clay that remains porous to liquids even after it has been baked and glazed, she said, adding the colour of the clay will show through the glaze if the tile is chipped.
Porcelain, on the other hand, is produced from a finely powdered material containing quartz, clay (kaolin), feldspar or flint, which is fused together under much higher heat than ceramic tile. Though it is non-porous and durable on its own, porcelain is often glazed with a mixture of silica, alumina and calcia to prevent staining and dirt accumulation.
Traditionally limited to bathrooms and high-moisture areas, porcelain tile is now used in all areas of the house, Molinski said.
"In the past dozen years, we've seen the size and style of tile grow with the increased size of homes. Standard format used to be 12-by-12-inch with a few basic patterns. Now we're seeing 12-by-24, 24-by-24 and 18-by-30-inch formats with multiple patterns, some of which emulate the look of natural stone, including the pit marks."
Julian Ceramic Tile has a showroom at the corner of Church Avenue and Keewatin Street that is open to the public for product viewing, although sales are restricted to designers, contractors and other professionals.
The showroom includes displays of many other materials suitable for flooring including slates, marbles and natural-stone travertine tiles with laser-cut edges that allow an installer to use less grout in the joints, providing "the clean look that many people want."
Molinski said the average price of tiles in the showroom is $4 to $6 per square foot, but the cost can range from a low of about $2.70 to a high of $30 or more per square foot uninstalled.
"I really love travertine limestone because of its imperfections. I call it the 'beauty in the flaw of natural stone,' " Molinski said.
One problem with stone or porcelain is weight. Some manufacturers suggest a supporting floor should consist of 2x10-inch joists covered with two layers of staggered æ-inch T&G fir plywood. The plywood substrate (cement backer board is also used) should be completely level, smooth and swept clean of bits of debris before the tiles are laid.
This is not a job for a DIYer, Molinski noted, unless he or she has previous experience laying tile, or "lots of patience."