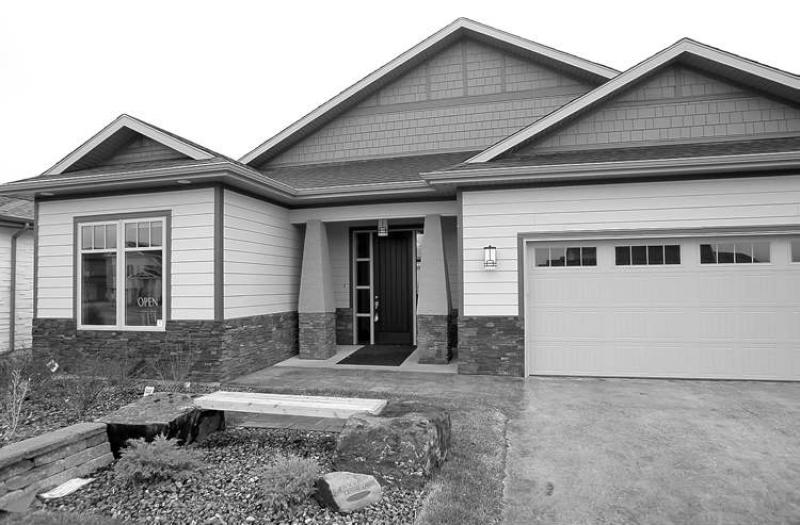 The timing of the 2013 Spring Parade of Homes -- which runs from March 2-24 -- couldn't be better, says Huntington Homes' Rob Swan.
"I think someone had their crystal ball out when they came up with the dates for the Spring Parade," he said. "Show home activity has been up substantially of late due to all the cold weather we've been experiencing, so when the Parade hits for real, I think we're going to see one of the biggest turnouts ever. There's also going to be a ton of show homes to go through, so there will be lots of opportunities to view homes to get design ideas, or even buy one."
Mike Moore, president of The Manitoba Home Builders Association, the driving force behind the Parade, said the 2013 edition promises to deliver more viewing choices than ever before.
"As huge as the Fall Parade was -- it featured 104 show homes by over 30 builders -- the Spring Parade is going to be even huger, with 124 show homes by 37 builders," he said. "And those homes will be spread out over no fewer than 30 different neighbourhoods. Viewing options promise to be great with all the communities, both inside and outside the city. It's all about choice; this spring, people should be able to find a home in the exact area in which they'd like to live."
Not only is there going to be a variety of communities to choose from, but there's also going to be a wide variety of new and innovative home designs to choose from, as well.
"The builders have really stepped up -- they've delivered all kinds of great new designs," said Moore. "There will be old favourites along with new designs to choose from. It doesn't matter if you want a home with a traditional or modern design, or something in-between -- there will be something out there to fit your needs. The designs are imaginative, yet practical across the board."
It goes without saying that the builders can hardly wait to unveil their show homes. In many cases, they've gone that extra mile to design homes that are liveable, yet offer features that give them distinct personalities. One such home is 23 Bridge Lake Drive, a 1,862-sq.-ft. bungalow built by Southwynn Homes.
"We wanted to something that really went outside the box design-wise, so we put a 15-foot barrel ceiling over the kitchen/great room area," said Southwynn Homes' Gerry Trottier. "It's not an easy feature to construct, but it was worth the effort. It really gives the area a feeling of volume, as well as a look you don't find in many homes. Everyone who's been in the home just loves it."
That unique design feature then blends beautifully into a transitional floor plan that combines modern and traditional concepts.
"The design is modern in the sense that there's a wide-open floor plan with a huge (10-foot by 11-foot) foyer, open staircase and a spacious island kitchen. There are lots of bulkheads and cantilevered areas, as well as all kinds of big windows, including transom windows over doors to increase light flow," he said. "And there's a fully-finished, 1,500-sq.-ft. walkout lower level that people are going to love, too."
Maric Homes' sales representative Garrett Parker added that Parade-goers can expect something different from their 2,080-sq.-ft. bungalow just down the road at 27 Bridge Lake Drive.
"It's a beautiful design that's completely different from other Maric designs -- I think it's one of the best we've ever done," he said. "That's because the materials are so different and rich, such as hand-scraped oak hardwoods, rift oak cabinets that have a grain that goes horizontal rather than vertical, the usual pattern. Maric's designers also used earthy materials to bring nature inside, and to create a nice, warm interior."
The unique features don't end there, said Parker.
"Polished concrete was also used in several areas -- for countertops, the fireplace surround, even in the garage, which was a nice touch," he said. "And the home's exterior is gorgeous, too. It's low-profile with an entrance framed by fir pillars with a natural stain. It's a great way to enter the home, which is also a visitable design."
Swan said his show home at 55 Bridge Lake Drive is also loaded with user-friendly, fashion-forward features.
"We enlarged the back of the home to accomplish two things -- put in a less-formal, yet larger dining area, and take advantage of the view (which is showcased through all kinds of glass on the back wall)," he said. "There are going to the lots of new, fresh design ideas to take in during the Parade, which is going to happen at a perfect time. It's going to get spring off to a great start for both builders, and people looking for design ideas or a new home."