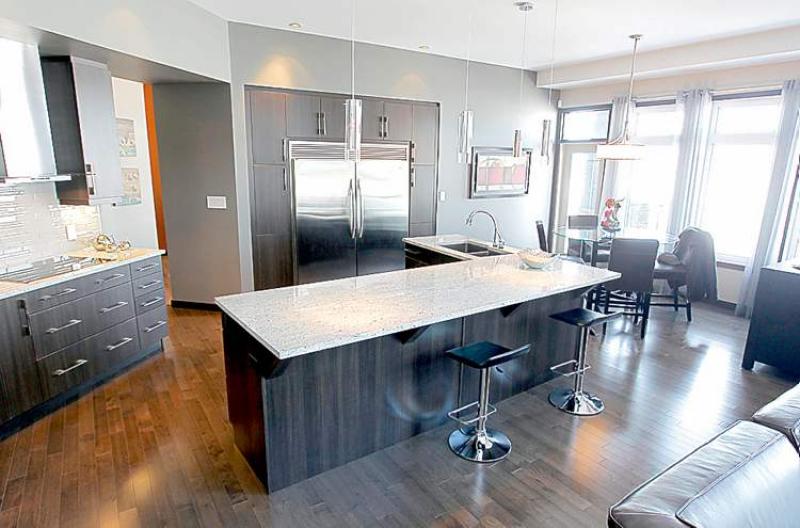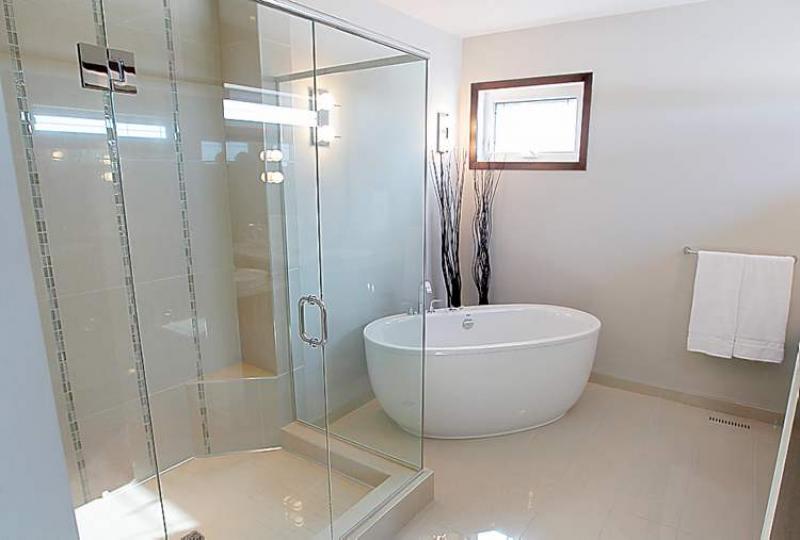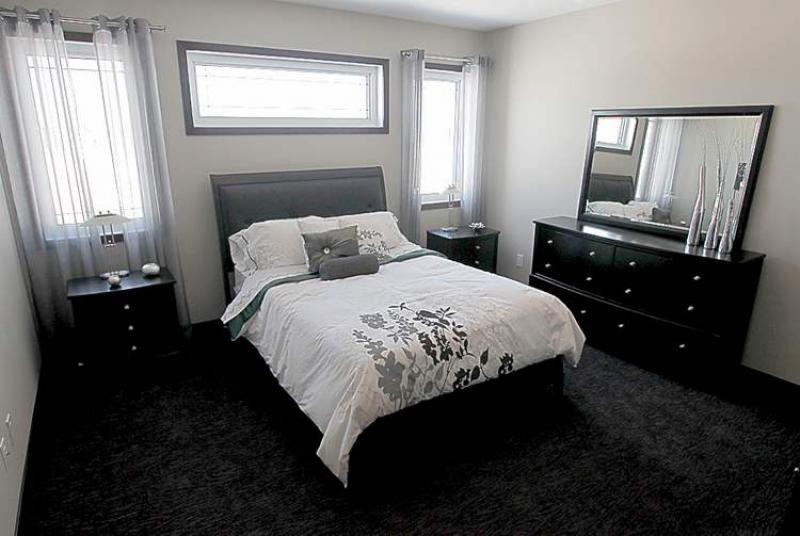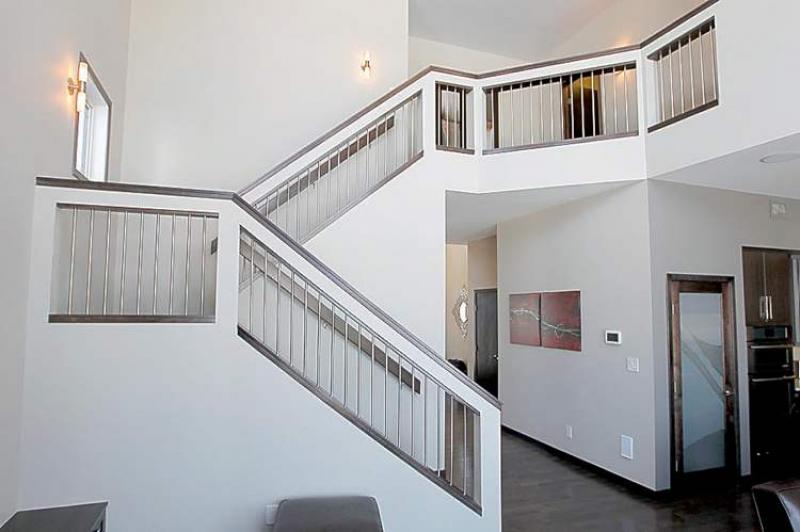 The moment you walk up to the front entrance of 39 Bridge Lake Drive and then into the foyer, you get the feeling the builder was trying to make a statement.
That feeling is correct, said KDR Homes' Diego Vassallo.
"We wanted the home to have a grand, expansive feel," he said. "That feel starts with an entrance that's not only extra wide (and at grade, this being a visitable home), but has a curved arch above that's supported by pillars with brown hardy-board siding and (bronze-coloured) cultured stone."
The foyer is extra-wide (about 10 feet), with a stylish grey tile landing. Once inside the house, that grand feel becomes even more perceptible.
"We really wanted people to feel like they were in a grand home, so we put a 20-foot ceiling over the foyer along with a (pillared) dining room to the right," Vassallo said. "When you combine that spacious feel with all kinds off glass -- the front door is surrounded by glass, and there's a huge window in the dining room -- your initial impression is that the home is big, bright and well-finished."
Turns out, the foyer is only a prelude for what's to come in the open-concept great room, which shares a design feature with the foyer.
"In the great room, our goal was to maximize the lake view, so we put in another 20-foot ceiling. All that ceiling height allowed us to put four huge windows on the family room's rear wall, as well as a huge window high over top the fireplace," he explained. "The result is you can enjoy the incredible view from ground level or up on the second-floor landing. The windows also make for a very bright living area, both upstairs and on the main level."
Make no mistake, the 2,621-square-foot, two-storey home has style in spades, with features such as a soaring, cultured-stone (ribbon-style) fireplace in the great room, espresso thermofoil cabinets in the kitchen and a massive, L-shaped island that seats six in the gourmet kitchen.
But as much as KDR's design team enjoys infusing its homes with heaping helpings of style, the priority was to build a functional house.
"As much as anything, we wanted this to be a contemporary, practical family home," Vassallo said. "So we made sure each area contained as much function as it did fashion.
"For example, the granite island was angled to open up room in and around the kitchen, and the dinette area is in an extra-large space next to three windows and a deck door. You get the best of both worlds -- the lake view and room to move."
Meanwhile, an angled, deceptively large wing off the kitchen adds function in the form of a powder room, huge mud room with lockers and garage access. There's also a room with a huge window and door to a covered deck.
"In this case, it's a wine room, but it could be a bedroom or office," he said. "It's a space that offers all kinds of possibilities."
Head upstairs via a stylish, flared tricolour staircase (espresso maple trim/capping, stainless steel spindles and beige-trimmed walls with cutouts that show off the spindles) and the emphasis is squarely on livability and luxury.
"The first thing we did was make sure the two secondary bedrooms were larger than normal, with big windows and deep double closets," Vassallo said. "Both bedrooms also have their own four-piece bathroom, so there won't be any lineups to use the main bathroom on school/work days."
Given the fact the master suite is so private and well-appointed, it's quite possible parents might linger there before emerging to throw themselves headlong into the work day.
"We're extremely pleased with how the master bedroom turned out," he said. "The room itself is nice and big, while windows over top and either side of the bed let in lots of light, yet maintain a private feel. The ensuite is a nicely appointed, big space that can be closed off with a sliding (espresso) barn door."
"Nicely appointed" doesn't come close to doing the ensuite justice. Its heated (beige) tile floor, free-standing soaker tub, custom tile shower with seamless glass doors and dual sinks on granite over top of an espresso thermofoil vanity combine to create an ambience that invites you to exhale the day's tensions.
"I think we accomplished what we were after -- to create a space with a nice, relaxing feel. A big window over the tub and transom window over the sink also let just the right amount of light to filter in," Vassallo said.
Speaking of light, the home's rec room is awash in it.
"This is, after all, a walkout basement, so we put two huge windows in the media area across from the wet bar and another three on the games area's back wall (along with a door to a covered patio).
"There's also a big office with a lake view as well as a gym with a huge window, plus a huge storage/mechanical room," he said. "I think we accomplished what we were after -- creating a contemporary yet practical family home that offers substance, style and space."
lewys@mts.net
DETAILS
Builder: KDR Homes
Address: 39 Bridge Lake Drive, Bridgwater Lakes
Style: Two-storey with walkout basement
Size: 2,621 sq. ft.
Bedrooms: 4
Bathrooms: 4.5
Lot Size: 52.5' x 118'
Lot Cost: $178,900 plus GST
Price: $889,900 (including lot & GST)
Contact: Josie Garofoli, Zappia Group Realty @ 204-999-6615