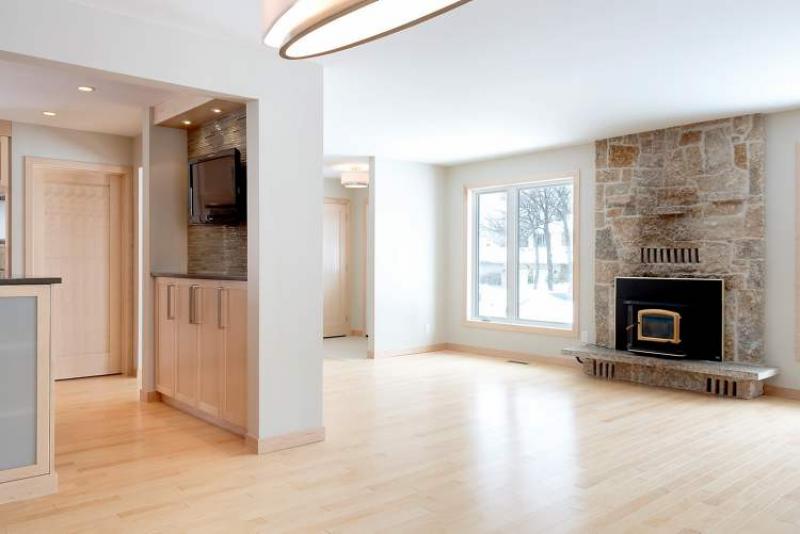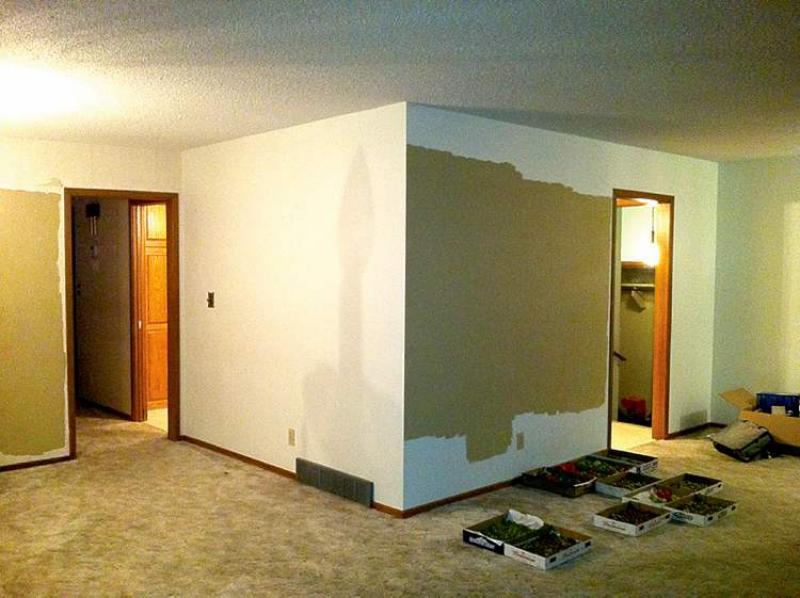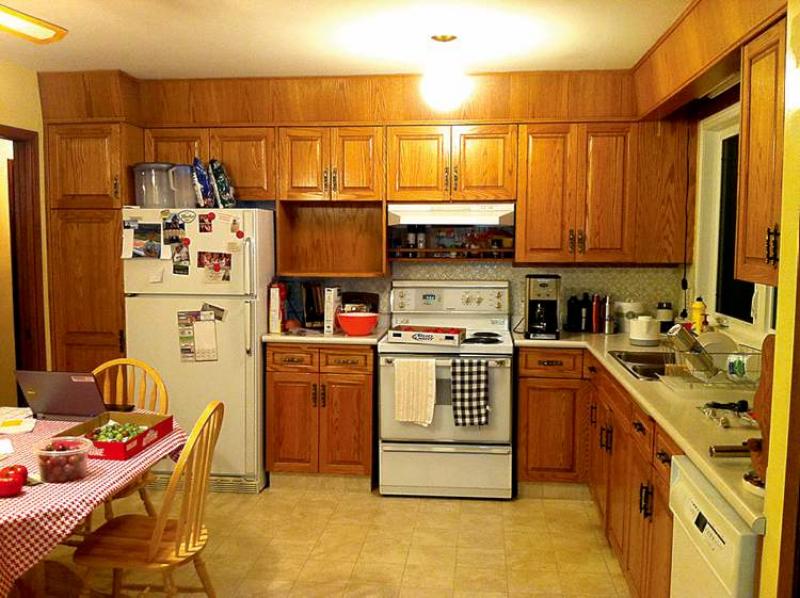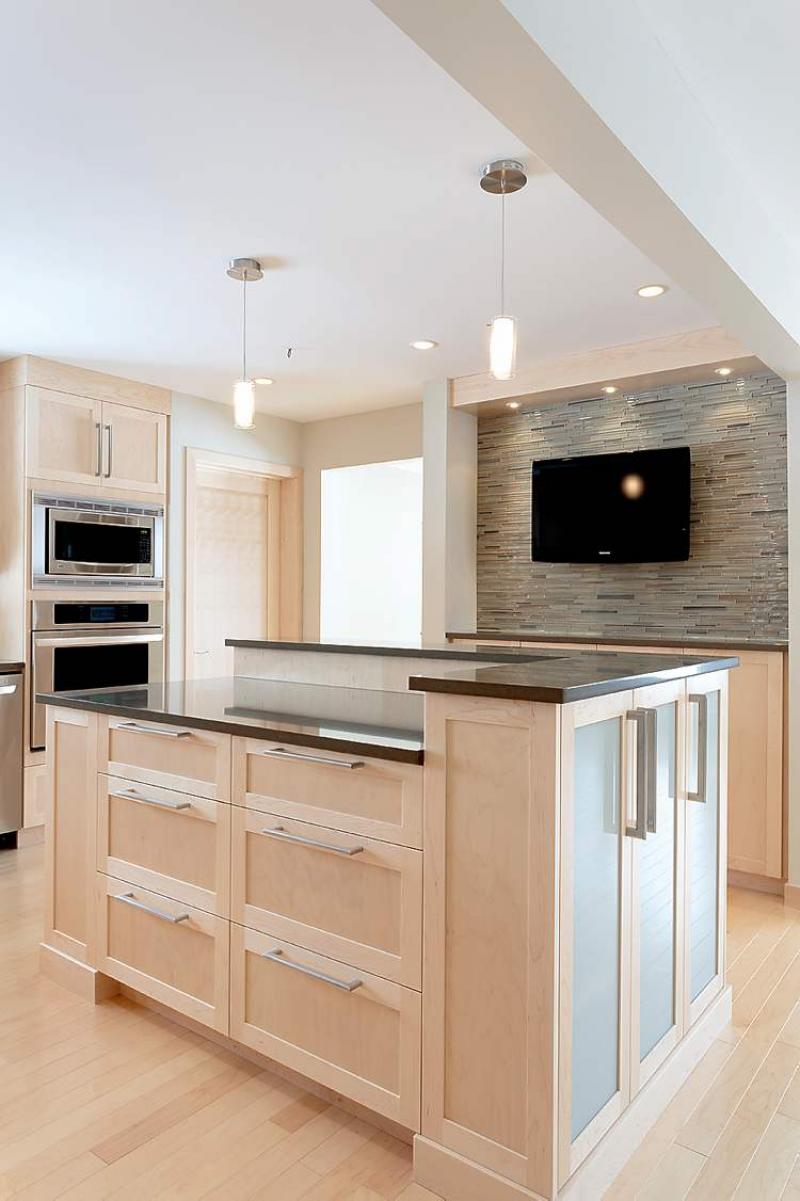 When you look at the pictures that accompany this article, you might get the impression that minimalist home renovation design has reached a point where furniture has been excluded to enhance the "less is more" concept that underscores minimalism. Although a future post-post-modern reductionist philosophy of design may in fact adopt a furniture-less approach to interior remodelling, the sparse after-reno-photos were taken with the old furniture removed, the new pieces yet to be selected.
Having cleared up this possible misconception, we are free to examine and appreciate this newly renovated home built in Charleswood in the 1970s. As you will note, the before-renovation pictures suggest a "more is more" approach to design was popular during that decade of shag rugs (they're making a comeback), lava lamps, foil wallpaper and -- earplugs and blindfold please -- disco and its twirling mirror ball lights.
Bold colours were also in vogue, as was red oak cabinetry, dark-stained doors and trim, tear-drop chandeliers, stipple ceilings and small enclosed spaces sufficient to cause a minimalist death by mauvaise conception.
Minimalists, I've been told, dislike clutter, small rooms, bold colours and flo-form countertops. Many of their concepts were inspired by classic Japanese design that emphasized clean lines, open areas and pillows or drapes with simple designs, as well as furniture that showed restraint and economy of construction. The Scottish architect, designer and artist Charles Rennie Mackintosh (1868-1928), was one of the early pioneers of Japonism, as it was then called, in his furniture and other designs, which subsequently spawned the modernist Art Deco movement, which emphasized minimalism.
The renovation featured in this article was designed and executed by Doreen Gauthier, president of Make It Home Ltd. of Winnipeg. Gauthier operates a full-service company including designing and renovating expertise, and will also provide decorating advice for furniture, draperies and other materials.
"I think of my business as a one-stop shop in which clients have access to every service required to provide them with an elegant renovation without having to rely on other sources," she said.
Although she doesn't advertise herself as a minimalist, her emphasis on clean lines, open spaces, a limited and a subdued colour palette as well as subtle and few accessories, suggest many minimalist design concepts.
Gauthier and her client started the design process about a year ago, each having a say in how the final project should look.
Says Gauthier, "I don't attempt to impose my preferences on clients because then all my renovations would look the same. I want to my work to reflect a variety of styles, though I do like open spaces, sharply-defined lines that don't overwhelm the eye and I prefer grays, taupes and earth-tones to bright, splashy colours."
For his part, the homeowner said Gauthier was "very pleasant and easy to work with even when we didn't agree on some aspect of the design," adding that she took care of everything from ordering materials to obtaining building permits and organizing sub trades.
The main floor of the 1,300 square foot bungalow was gutted, including the removal load-bearing walls that were replaced by overhead beams, later covered by drywall. At the same time, the stipple ceilings were removed and replaced with drywall.
The existing wall-to-wall carpet in the living and dining rooms was torn up, along with an OSB subfloor replaced with æ-inch tongue and groove plywood after the floor joists had been levelled by a combination of planning and shimming.
An engineered floor of approximately five-inch wide natural maple was laid on the plywood substrate. The bright maple covers the living room, dining room, main hallway, kitchen and reaches to within several feet of the entranceway.
"Porcelain tile was used at the entrance because it is nearly waterproof, hard-wearing and lovely to behold," said Gauthier, adding that the tile has a subtle wood grain figure.
The red oak kitchen cabinets were replaced by unstained birch cabinets with smooth gliding drawers and cupboard doors with European-style hinges and long stainless steel handles. An olive green countertop by Cambria runs the length of two walls, which feature a glass mosaic backsplash composed of a variety of gray, beige, dark taupe and olive green rectangular tiles. Cabinets above and below the countertop have plenty of storage room and include two illuminated niches to display art or memorabilia pieces. All the stainless steel LG appliances are built in, including a gas-fired chef's range.
By removing a kitchen wall, Gauthier says sufficient space was created to install an island in an area that had formerly contained a small dining table. The island features birch cabinets with drawers and frosted glass, birch-framed doors with plenty of storage space and an olive coloured countertop to match the rest of the kitchen. The top of the island has a lower working counter and a raised L-shaped bar-style eating counter, behind which is a large-screen TV mounted on a show wall covered with glass mosaic similar to the kitchen's backsplash. Pot lights throughout the room and two hanging cylinder-shaped lights over the island provide lots of illumination.
"The door jambs and casings throughout the main floor were replaced with natural maple to complement the birch doors," says Gauthier.
At the end of a hallway, a door to a linen closet was replaced with bulkhead with a built-in pot light to illuminate a hutch with a dark-painted niche on top and a storage cupboard bellow, fronted by two birch-framed, frosted-glass doors and an olive-coloured countertop
The bathroom is chock-a-block with the same natural birch cabinetry that graces the rest of the house, including large cupboards in which to store towels, linens, and a myriad of other household products. The vanity has two sinks set in an olive countertop backed by glass tile and a large mirror. Six shaded-lights are mounted above the mirror and pot lights are generously distributed throughout the ceiling. The walls are ceramic and the floor is porcelain laid in six-inch-wide random lengths grouted to resemble planks. A deep bathtub with compressed-air massage outlets sits to the left of the vanity; a glass shower by Shodor with a highlight of dark glass tiles adds refinement to an area behind the vanity.
Two bedrooms have wall-to-wall carpet containing a mixture of the muted colours used throughout the home. A third bedroom was reduced in size at allow for an increase in the size of the master bedroom. The small room has sufficient area for an office and a state-of-the-art washer and dryer combination.
"Doreen suggested I move the washer and dryer to the main floor so I could eliminate running up and down the basement stairs when doing my laundry," said the homeowner, adding he's delighted with the lovely renovation.
"The light colour of the birch doors, cabinets and maple floors along with the brightly painted walls and ceilings has re-energized the entire main floor," he said. "I do a lot of entertaining and when my friends see this reno, they're going to be speechless."