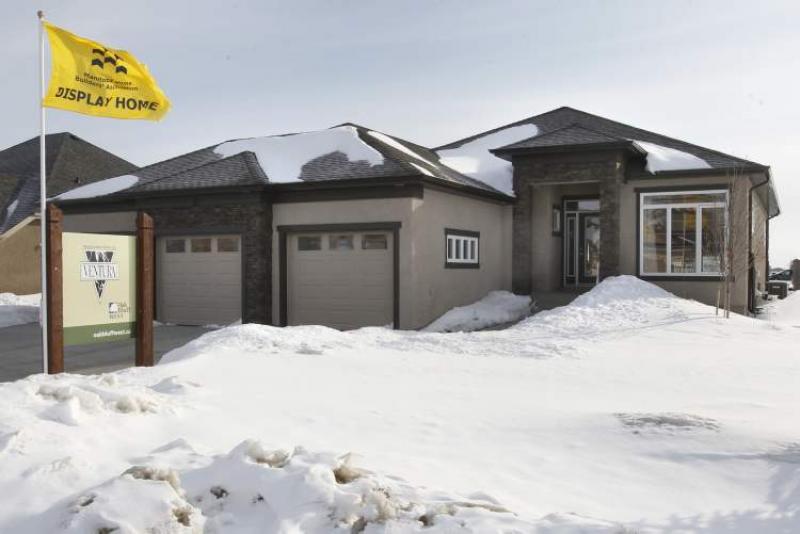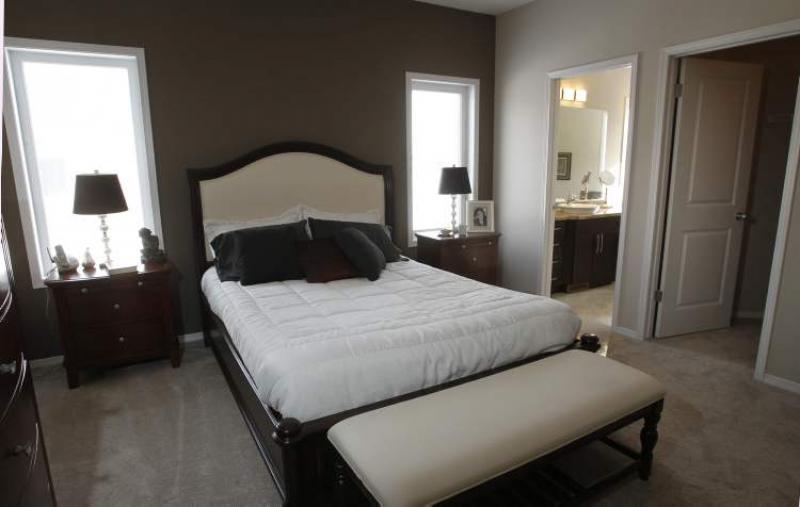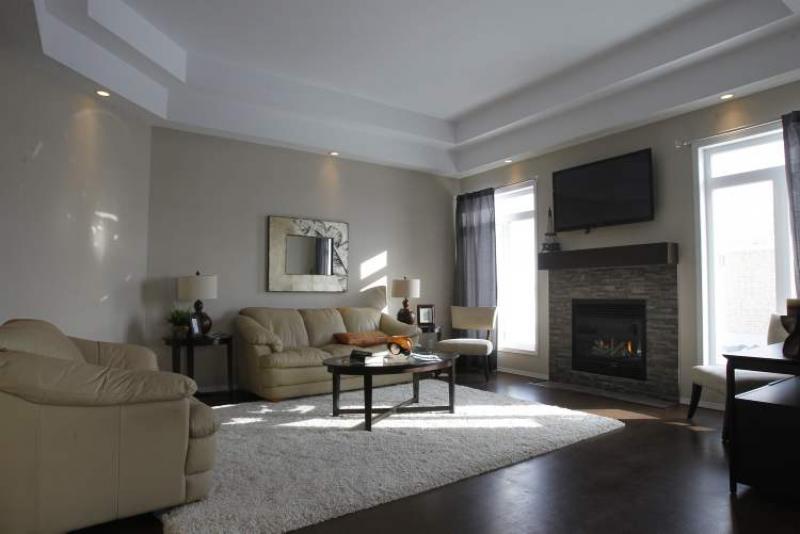 It's something you just don't find in the city (unless you pay a premium for it): a lot that's 84 feet wide.
That width is one of the first things that Spring Parade of Homes patrons have noticed about 32 Benson Boulevard, a 1,863-sq.-ft. bungalow designed and built by Ventura Custom Homes.
"Right away, people notice the bigger lots here (in Oak Bluff West)," said Ventura's sales representative for 32 Benson (a.k.a. The Newbridge Plus-12), Trinkl Realty Ltd.'s Elliot Tardiff. "You get more space with 10-foot side yards, which separates you nicely from your neighbours. With the extra depth, you've got lots of room to spread out."
The same applies to the home's interior, which feels bright, airy and spacious from the moment you step inside. A wide foyer -- off which a dining room runs to the right, and a laundry/mudroom to the left -- is filled with light courtesy of the front door with glass centre (and adjacent sidelight).
A delightfully enormous amount of daylight also pours in from a huge picture window on the dining room's rear wall -- and a four-piece piano window on the side wall. Even the laundry/mudroom contains a big window (the more natural light, the better), along with a double closet and door that provides access to a humungous three-car garage.
Add in an 11-foot ceiling overhead, and the interior vibe -- of space, light and function -- is a good one.
"The other thing people notice is the flooring -- Ventura's designers went in a bit of a different direction by putting down dark cork," said Tardiff. "I think it was a good choice for several reasons -- it provides a warm look, feels good underfoot, and is very durable. It not only looks great and has a good feel, but it also tones down the brightness just a bit."
While the front portion of the home is loaded with function (and understated style), those elements are amplified in a great room that's not only bright and spacious, but features an intelligent floor plan that makes the most of the space available to inhabit.
Instead of putting in a standard, linear island in the kitchen, Ventura's designers chose to put in an angled island. Doing that accomplished two things: first, it opened up valuable space in the kitchen's centre, providing plenty of room to move and prepare meals.
Second, the island's doesn't extend too far into the dinette area because it's furthermost portion -- an eating nook for two -- is angled. The result is a spacious dinette area for four that measures in at an impressive 11 feet by 10 feet.
"It's not only a big area, but a bright one," he said. "A big window and deck door on the rear wall let in lots of light, and even more light comes in from another four-piece piano window on the wall next to it. The deck is covered, and is a nice size (11 feet by seven feet). It's big enough for a barbeque, and a couple of chairs."
Finishes in the kitchen/dinette area -- the show home version of The Newbridge Plus-12 is loaded with options -- are impeccable. Chocolate-stained shaker maple cabinets, brown countertops and the dark cork flooring combine to a cozy feel takes down the great room's natural brightness a notch or two, which is a good thing. Had lighter cabinetry, flooring -- or a paint palette, for that matter (walls are taupe in the great room) been employed, the great room may well have been too bright.
That's because the family room -- with it's two large windows and 11-foot trayed ceiling with double bulkheads -- is also an exceptionally bright space. Again, the finishes in the area -- dark cork floor and gas fireplace set in grey/taupe cultured stone tone down the natural brightness to a tolerable level. And at 15.7 feet by 17.2 feet, the family room has the space required to host animated dinner parties or quiet family gatherings.
Meanwhile, the two one-third walls that define the lower level staircase serve dual purposes. First, the wall next to the family room makes it into a totally distinct space. Second, the wall nearest the foyer clearly demarcates the bedroom wing, taking its privacy quotient up a level or two.
Use of space in the wing is nothing short of excellent. There are not only three large bedrooms (master suite 15 feet by 13.6 feet; bedroom two 12 feet by 10.9 feet; and the third bedroom 13 feet by 11.6 feet), but a big a four-piece bath with soaker tub, as well. Both secondary bedrooms come with big, recessed (vertical) windows that have window seat/display areas -- and double closets.
Still, the master suite is the piece de resistance due to its space, bright interior -- and spa-like ensuite.
"The ensuite is an incredibly bright space due to the two large windows over the corner jetted (six-foot) tub, which is set beautifully in taupe tile," said Tardiff. "Because the tub is angled, there's lots of space between it and the five-foot shower, while the chocolate maple vanity offers lots of style along with tons of storage space."
With another 1,600-plus sq. ft. of liveable space downstairs -- ideal for two bedrooms, a four-piece bath, rec room and tons of storage for family chattels -- The Newbridge Plus-12's offers all the space and style that growing families need -- and then-some.
lewys@mts.net
DETAILS
Builder: Ventura Custom Homes
Address: 32 Benson Blvd., Oak Bluff West
Style: Bungalow
Size: 1,863 sq. ft.
Model: The Newbridge Plus-12
Bedrooms: 3
Bathrooms: 2
Lot Size: 84' x 140'
Lot Cost: $131,355 (Including GST)
Price: $509,183.29 (Including lot & GST)
Contact: Elliot Tardiff, Trinkl Realty Ltd. @ (204) 794-8205