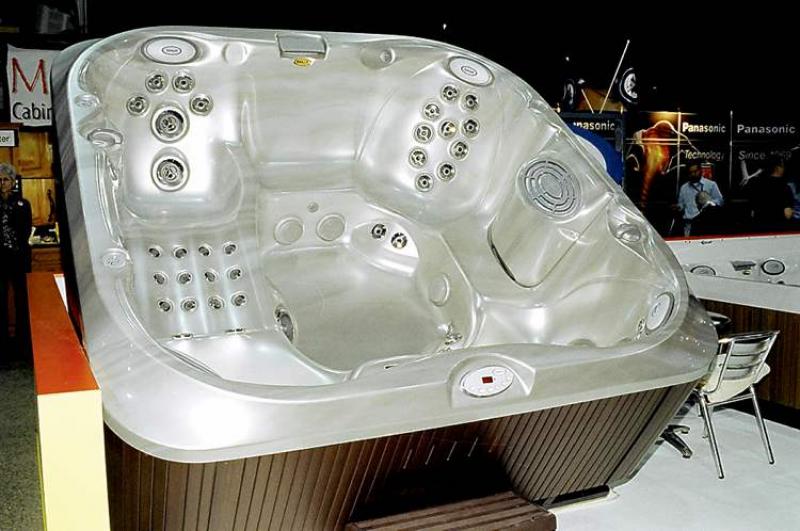 The Manitoba species of the naked ape enjoys a good soak in a salus per aquam even in the midst of a bitter winter.
This is likely because of the relaxing and health-giving properties of an outdoor spa, coupled with the relaxing and health-giving properties of an amber distillate that is often consumed while deriving health from water.
Speaking historically, the Romans were savvy to the healing properties of heated water, as likely were the earliest bipeds to live in Canada, who probably healed their wounds and muscles in natural hot springs after an exhausting hunt of an aggressive mammoth.
Call them spas or call them hot tubs, modern, man-made plastic and acrylic pools that can include multiple water jets, comfortable seating, TVs, stereos and, yes, covers with the Winnipeg Jets' logo printed on top, have become one this province's most coveted home accessories.
Jay Breckamn, general manager of LCL Spas, said "110-volt systems in the $6,000 to $9,000 range are very popular because they can be plugged directly into an existing outdoor outlet."
These tubs have the option of being converted to a 220-volt system to reduce the time required to heat the water, but an electrician must be hired to install the new wiring and a 50-amp breaker, he added.
Breckman said 'plug 'n' play' plastic hot tubs can be purchased for $2,500 to $3,500, but are considered a throw-away item as the plastic shell will crack after a couple of years.
"A person is better off to spend a little more money on an acrylic-shell spa that is wrapped in fibreglass to increase the tub's durability and life expectancy," he advises, adding well-built, properly insulated spas can be operated for an electricity cost of about $10 to $15 per month, depending on the water capacity.
Acrylic spas are available in a palette of colours and the surrounding cabinets can be made of almost any material from vinyl to faux-rock to wood, Ten-year warranties on materials and some parts are not uncommon, Breckman said.
Spas can include a variety of accessories. At the recent Home Expressions Show, Breckman demonstrated a pagoda-like cover that can be raised by the push of a button to become a roof, including side screens to keep out bugs or curtains for privacy.
Mike Sudoski, owner of Crown Spas, said his company is the only one in Manitoba to custom-build hot tubs.
"Clients can choose from eight different shell designs with lots of colour options," he said. "Once they've made that decision, we'll help them decide on the cabinet material, number of jets, motors and other options that best meet their needs."
For hockey fans, tub covers can be ordered with Winnipeg Jets or Montreal Canadiens' logos, but some of the lesser-known teams, and even some of the original six, are not yet available.
Sudoski has launched a new line of tubs called the Dream Series that will include four different types of spas, each with a distinct look, ergonomically designed back and neck rests, multiple jets, two or more motors, custom cabinetry and other additions.
The name Dream Series reflects Sudoski's dedication to the Dream Factory (formerly the Rainbow Society) that makes wishes come true for kids battling life-threatening illnesses. "Five hundred dollars from each sale of our Dream Series spas is donated to the charitable organization," he said, adding one of his tubs will be a grand prize at the Dream Factory's spring fundraiser.
Custom-building allows Sudoski to use quality materials in his tubs such as top-of-the-line motors, pumps and filters, as well as high-density foam insulation with reflective foil backing to retain heat.
He says one of his newest cabinets features a combination of faux-stone facing and a six-inch wide ledge of Ipe, an olive-brown Brazilian hardwood with a 40- to 50-year outdoor life expectancy. Sudoski said he's also talking to Barkman concrete about building cabinets from their stack-stone and other landscaping products.
Krevco Spas sells tubs manufactured by several different companies including South Pacific, Dream Maker, Master Spas, Krevco, Michael Phelps Series, as well as used hot tubs at Used spas generally retail for about half to one third of the original selling price.
"Prices for new spas are from $4,000 for a starter tub to over $35,000 for a Michael Phelps exercise tub that is a spa and swimming pool combined," a Krevco spokesman said. "We also sell a deep exercise spa and pool with a base price of $22,000 for which an in-tub treadmill can be purchased as an accessory.
He says Krevco is the first in Manitoba to offer built-in spa theatre systems for about $2,000. "With an outdoor stereo, it's difficult to hear music when the tub's jets are running. But this system transmits sound through the water, which amplifies it."
Chemicals generally used in hot tubs to keep the water clear and sanitized include a granular form of chlorine in combination with ionizers and ozonators. Krevco's tubs are equipped with both an ionizer, that uses traces of copper and silver to generate ions that kill organic substances, as well as an ozonator that produces ozone gas to oxidize soap, deodorant, hair spray, perfume and many other substances including saliva and urine.
Maintaining correct calcium and pH levels is crucial to the performance of a spa, so it's a good idea to have your water tested before you purchase a hot tub.
If you are planning to put a hot tub on an existing deck, have it inspected by a structural engineer as the weight of a spa with water and people can exceed 2,700 kilograms (6,000 pounds), equal to a large SUV. Most decks are rated at 40 pounds per square foot (psf), enough to hold up a group of people, but far short of the 120 psf required to support a three-ton hot tub.
"Not only should a spa be level, but more importantly it should not bend or sag in the middle as this can crack the acrylic," said Sudoski, adding buyers should stay away from a product called an EZ Pad as it is not durable enough to withstand Manitoba winters.
"It's a cheap alternative designed for California's warm climate, but certainly not ours."
With this in mind, I contacted a building inspector about how to construct a deck with a 120 psf rating. His answer was, "That's a very complicated question. I'll get back to you." A week later, I'm still waiting for a return call.
The best answer I received was from a contractor who suggested the portion of the deck supporting the tub be constructed of two foot-by-10 foot joists on 12-foot centres, supported by three two foot-by 10-foot beams bolted together. He said there should be a maximum six-foot span between the beams and six foot-by-six foot support posts, and a maximum joist span of five feet between beams. The posts should sit on rebar-reinforced concrete foundation piers belled at the bottom or seated on a 40 foot-by 40-foot-by-12 foot footing, extending below frost level (six feet). All the lumber should be pressure-treated, including the two foot-by six-foot deck planking, he said.
For DIYers, even if sweat equity is used, the cost of the concrete, sono tube and rebar required to build such a foundation would be exorbitant. In this case, metal posts with auger heads screwed into the ground by machine are a more cost- and labour-efficient choice.
Techno Metal Post of Ile des Chenes provides this service for about $190 per post installed. "Our smallest post will support about 6,000 pounds and comes with a polyethylene cover so frost can't affect it," said company manager Emile Desrochers, adding that if more than two posts are required the price decreases.
Another possibility is to build a concrete pad on the ground large enough to support, for example, an eight foot-by-eight foot hot tub, then construct a deck around it. Or, as is more common nowadays, let the spa stand alone because the controls are easier to access that way.
I was quoted from $1,000 to $2,000 by several concrete companies to install an eight foot-by-eight foot pad four inches thick, including a six-foot-thick quarter-down base with rebar or wire mesh reinforcement in the concrete.
I calculated that a DIYer could build the same pad, all materials included, for about $100. The sweat equity would be considerable but, on the bright side, the exercise would be health giving, just like the water in your new hot tub.