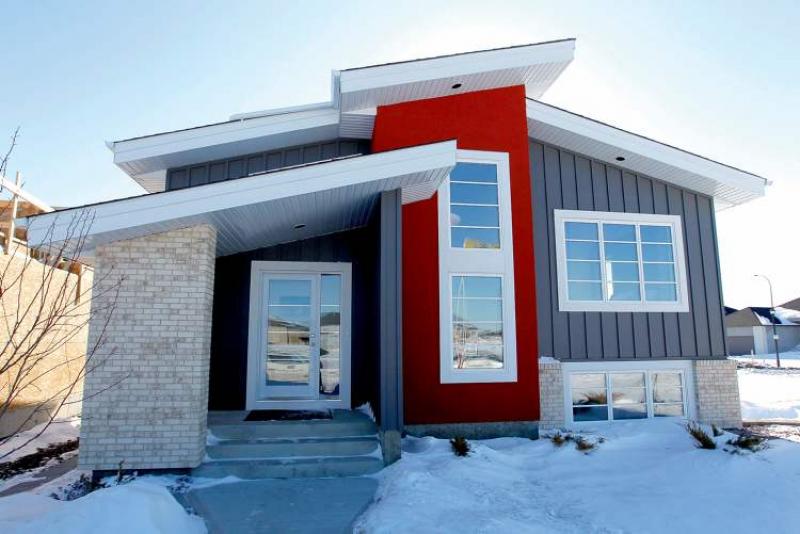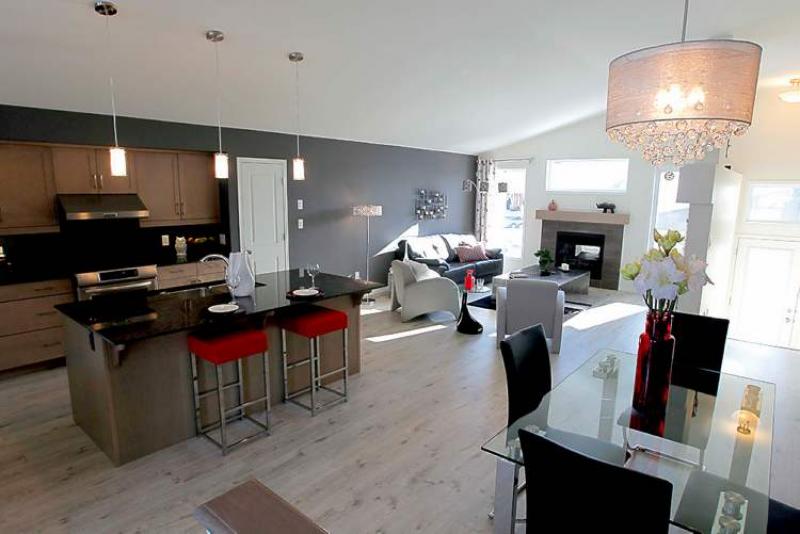 As every homebuyer knows, there's often a big difference between what you want and what you can afford.
Consequently, when choosing a new home, there's a good chance a much more expensive home with a walk-out basement on a lake will finish second to a more affordable house with a conventional basement.
This buying quandary was duly noted by the design team at Hearth Homes, who believe they've come up with a new plan -- The Kendal, a 1,408-square-foot raised bi-level -- that allows people to have a bright, livable basement and well-finished, thoughtfully laid-out main level for a fraction of the cost of a larger home with a walk-out basement.
"We've positioned this home as an alternative to gigantic luxury homes with walk-out basements," said Liam Milne, Hearth's sales manager. "It's been designed to fill a niche market that's needed to be filled for a long time -- a mid-size home with quality finishes and imaginative layout for an affordable price. With a finished basement, this home comes in at $459,900. A larger home with walk-out basement would cost significantly more."
While The Kendal doesn't have a walk-out basement, its lower level feels much like one due to the raised bi-level design. Two huge windows -- a three-piece window on the rear wall and two-piece window on the left wall -- were placed up high to let natural light flow in freely. An eight-plus-foot ceiling gives the rec room and two bedrooms an expansive feel.
"This basement rivals walk-out designs in its brightness," Milne said. "The big, high windows provide you with a bright basement at a fraction of the cost, and the layout makes it extremely user-friendly.
"The rec room has plenty of room for a media area and games area, and there's also two bedrooms, both with huge windows and tons of closet space.
"There's also a four-piece bath with soaker tub, laundry room and under-stair storage. In all, there's 906 square feet of livable space."
Ascend to the main level, and there's an extra-wide foyer that offers plenty of room to discard coats and shoes without feeling hemmed in. Defined by smart taupe vinyl flooring that beautifully replicates the look of tile, the foyer, positioned under a 16-foot ceiling, is just as bright as the lower level, thanks to a front door with glass centre and sidelight, an angled window set high over the door, and two large windows on the wall across from the lower-level staircase.
A brief set of steps, topped by the same wide-plank distressed oak flooring that runs throughout the great room, takes you up to an open-concept main living area.
"We thought of putting the vinyl flooring on the steps, but just thought the laminate hardwood would provide contrast and an extra bit of texture," Milne said. "We also went with the laminate hardwoods because they're more durable, cost less and look great."
Although the main living area is plenty big, Hearth's design team wanted to make it feel even bigger, so they put in a 12-foot vaulted ceiling to create a greater feeling of volume. Add to that a series of well-proportioned spaces -- the island kitchen, dining area and family room each offers ease of movement and seamless access from one space to another -- and you get a great room with an extremely high livability quotient.
That inherent livability is ratcheted up another notch or two by two other factors: finishing quality and the undeniable presence of glass.
To say the least, finishing quality is impressive. Flint-maple cabinets (a lighter stain similar to portobello) and pot drawers, black granite countertops and a smashing charcoal-grey glass tile backsplash offer style, while a corner pantry and the four-foot-by-seven-foot island offers eating space for three, a double sink and preparation space. The dining area, demarcated by a stylish suspended light fixture, easily holds a table for six to eight and has an adjacent alcove for a buffet display unit.
The rear of the home features a big family room surrounded by windows, the most notable being a collection of three that surround the gas fireplace (framed by taupe tile trim).
"I just love how everything comes together in this space," Milne said. "You've got the high ceiling, all kinds of light, the fireplace, the distressed-oak floors with their beautiful texture and a grey feature wall that defines the room and tempers the brightness to just the right degree."
Thanks to an intelligent floor plan -- The Kendal has been designed as a family home or move-down home for empty-nesters -- the master suite, placed up by the front door, is well separated from the second bedroom, something young parents will appreciate.
"It's a big, bright space that offers a vaulted ceiling, massive picture window, three-piece ensuite with three-foot-by-five-foot shower and mid-size walk-in closet," Milne said. "It does have a flint-maple vanity, but to keep costs in line, we went with a cultured-marble countertop. Extravagant finishes are nice, but they can eat up a lot of cost in a home, so we used materials like laminate hardwoods and cultured marble to keep costs down while not sacrificing style."
With its daylight basement, triple detached garage, thoughtful floor plan and high level of finish, The Kendal is indeed an affordable alternative to huge homes with walk-out basements.
lewys@mts.net
DETAILS
Builder: Hearth Homes
Model: The Kendal
Address: 7 Water Lily Lane, Sage Creek
Style: Raised bi-level
Size: 1,408 sq. ft. (main floor); 906 sq. ft. (developed lower level)
Bedrooms: 4
Bathrooms: 3
Lot Size: 40' x 100'
Lot Cost: $105,900 (not including GST)
Price: $459,900 (including lot, GST, landscaping, window coverings & appliances)
Contact: Linda Frenz-Cove, sales consultant @ 204-487-4122