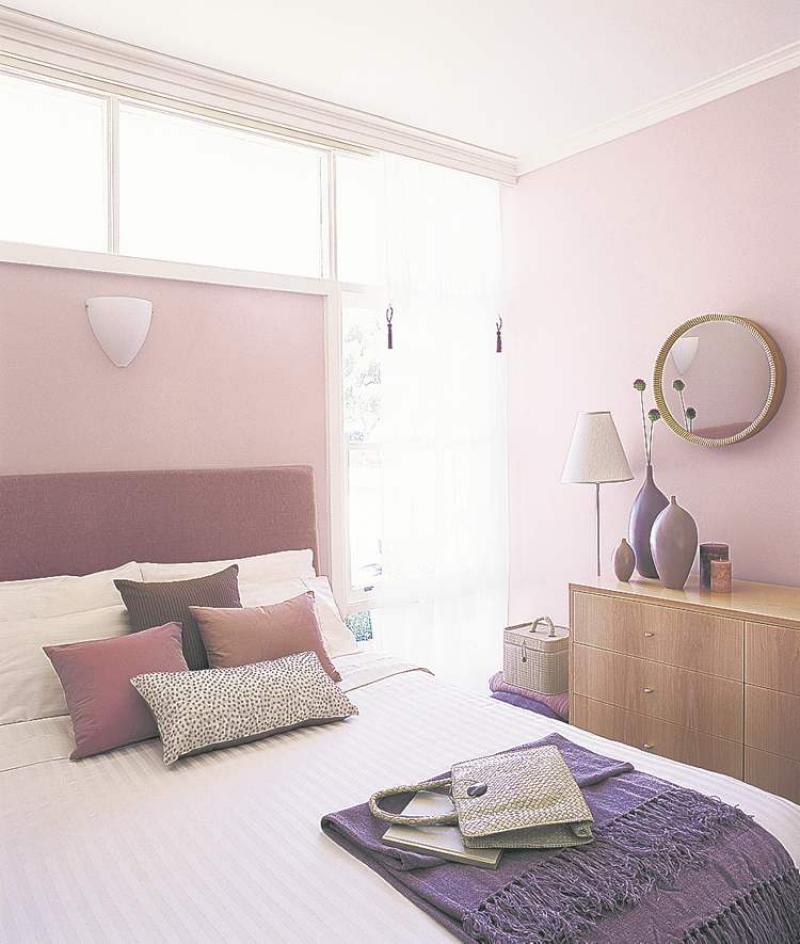 Most little girls dream of a princess bedroom, a soft feminine, Jeannie's bottle, girly space. Sometimes, grown-up girls need a little princess magic, too, perhaps with a more mature esthetic.
This lovely lavender bedroom is restful, pretty and yes, pink. Not a colour that first comes to mind when redecorating but it certainly has its place and is worth consideration when you can see how stylish and soothing it can be.
You wouldn't think pink would work with warm wood tones, but the wooden dresser has a purple undertone to it, so it really works with the violet walls. Sometimes it's difficult to see undertones in wood (flooring, carpeting) but a good way to try to unearth the undertone is to use a larger swatch of fabric in the colour you'd like to use (small paint chips just don't do it for me) and hold it up against the wood to see how it works. In our feature bedroom, for example, if you placed the purple blanket on the dresser you might be able to see the undertones come through. It takes a bit of practice and experience, but once you get the hang of it, it gets a little easier.
The accessory colour palette runs from soft violet to an almost brown purple and really enriches the space. It's the accents that give this room personality and depth. Not only through the graduated colour scheme, but also through the mix of items. Three stylish vases in varying shades of purple and varying sizes are the focal point on the dresser. This set of vases may very well have been the inspiration for this room. The rounded shape of the vases is eye-catching yet soothing because they have visual flow -- especially as a grouping of three. The round mirror is a nice departure from a square one and both elements help soften the hard lines of the dresser below.
The eye follows the line of the vignette from the short, chunky candles, up toward the floor lamp, then to the dried flowers and finally the mirror. This is an exceptional table-scape. The play of natural light on the asymmetrical grouping is really stunning.
The window treatment is simple but effective. The sheer curtain provides privacy but allows tons of natural light to filter through. The purple tassels are a nice touch just to give the plain curtain panel a little bling.
The padded headboard, in yet another shade of purple, provides that focal punch at the head of the bed. This plain, square headboard is an easy one to make if you want to change the look of your space. Cover plywood or heavy cardboard with batting and fabric using hot glue or a staple gun and you've got an instant new look. The headboard can just sit between the bed and the wall and can be easily updated with new fabric, braiding, buttons or other decorative trim.
Opting for light bedding in this particular room keeps the look of the space light and fresh. As well, the bedding has a very subtle pattern, which is also a good choice because it lets the accessories take centre stage.
Adding punches of colour with a throw blanket and decorative pillows finishes the look. You don't have to spend a lot of money buying ready-made cushions. You can make your own cushion covers using flat pillowcases, pillow shams or fabric remnants. Include a few decorative tassels, braiding or buttons to adorn plain cushions to your taste. You can also make different shapes of cushions simply by sewing together the form you want and stuffing it with inexpensive batting. These pillows are purely decorative so they don't need to hold up to being slept on.
Balancing all of the punches of colour and the wall colour with a white ceiling and trim makes the space feel larger than it would if the trim were painted in a co-ordinating colour, so keep this in mind when planning your next project.
Pink is also a great colour because when you're in a pink room, it makes the skin look fresher and younger. That's why it's also a good choice in a powder room.
Think pink the next time you're planning to redecorate. It might just be the right colour for you.
connieoliver@shaw.ca