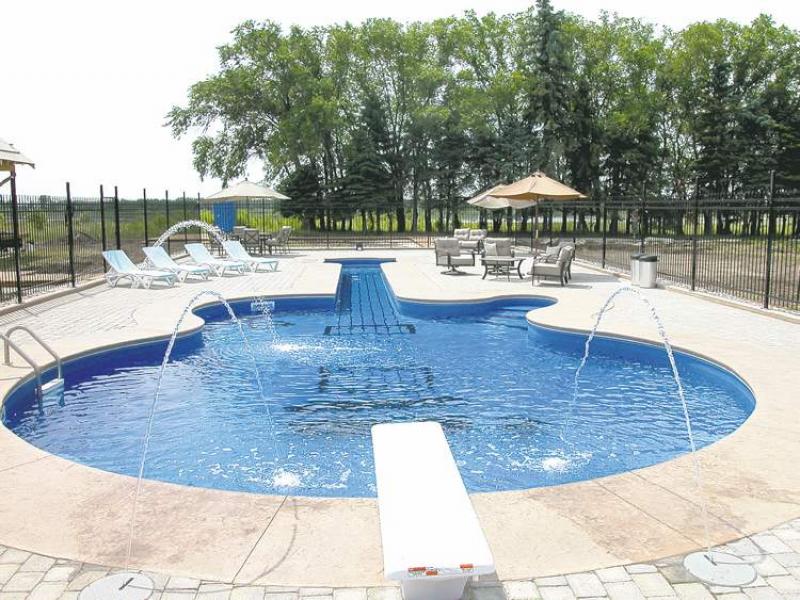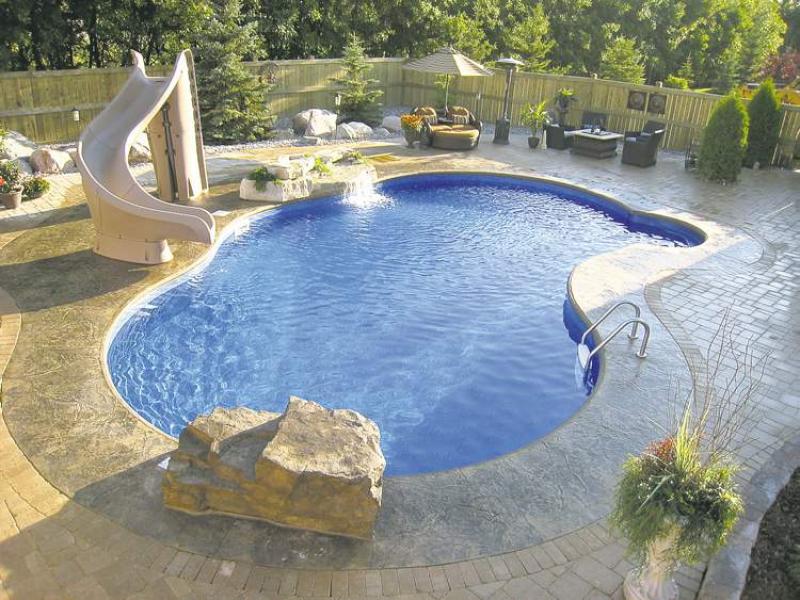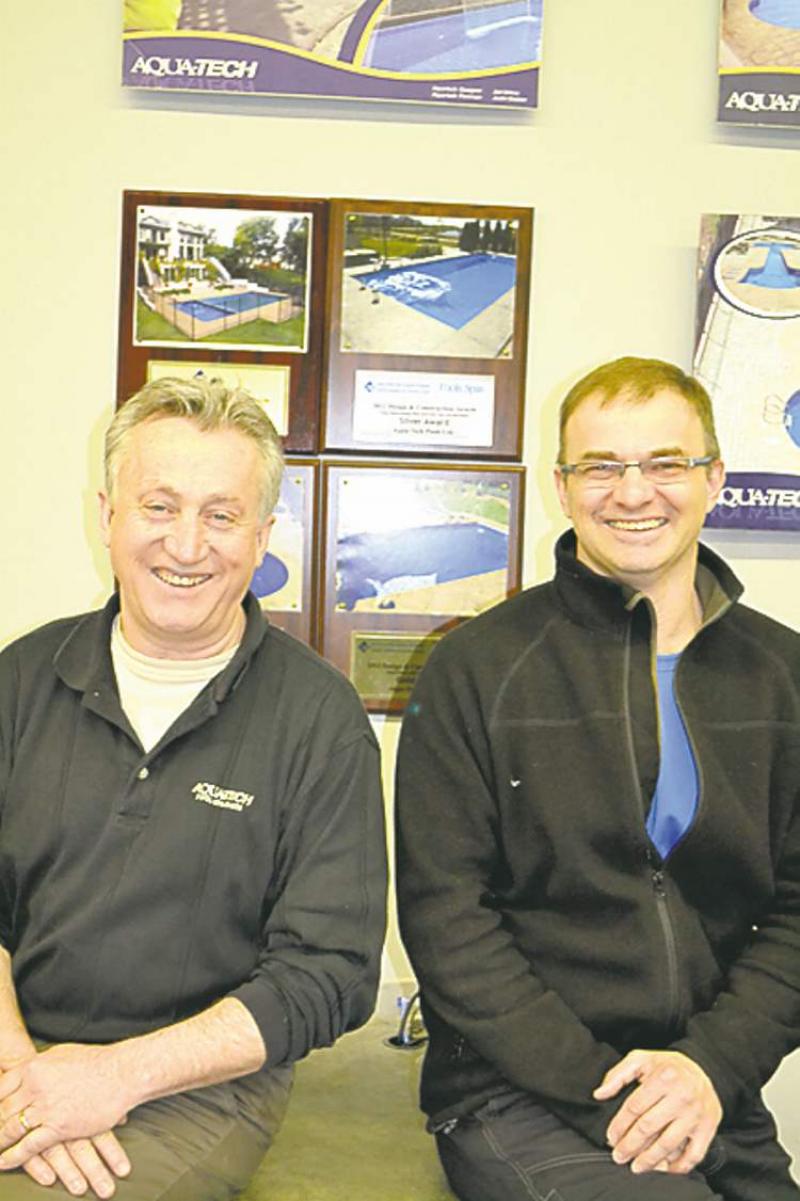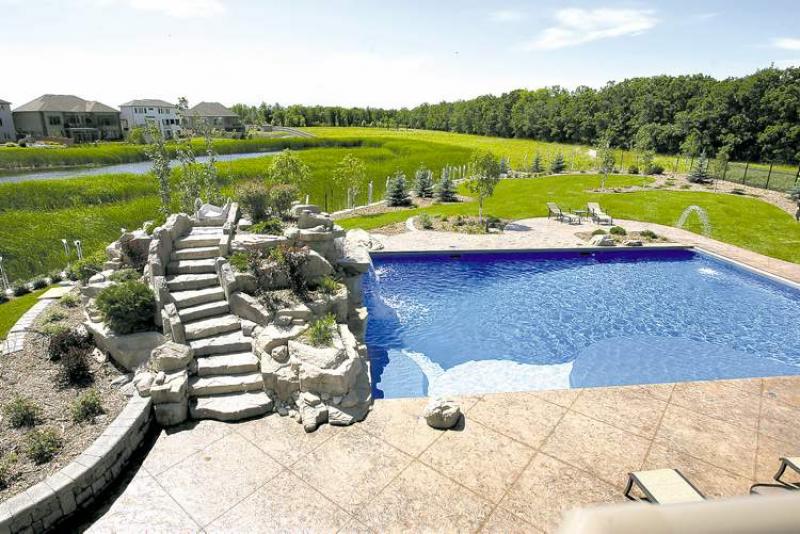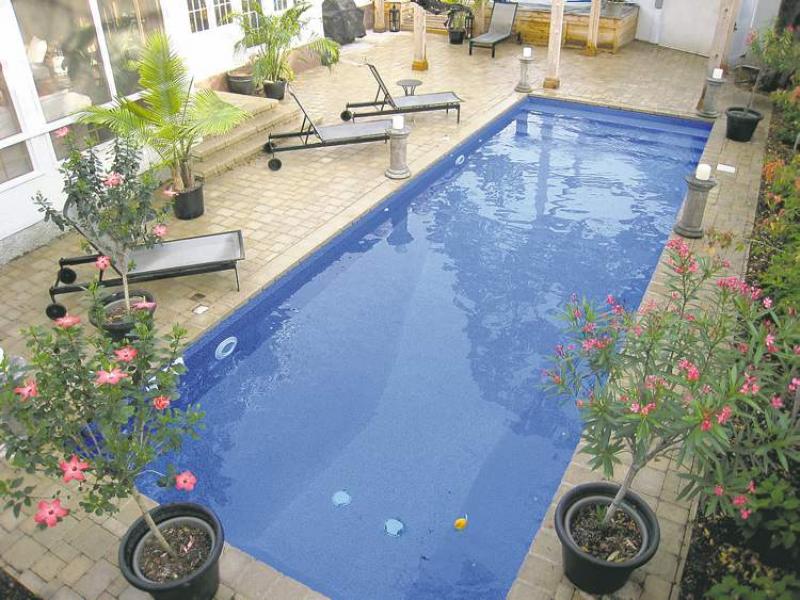 Some folks love them and some folks bury them in the backyard. No matter how you feel about in-ground swimming pools, they're not about to drain away. Despite comments about pools lowering the resale value of a home, installers have been doing a booming business in Manitoba in the last few years.
"Pools are a reasonable alternative to a cottage when you consider costs associated with owning a vacation home," said Glen MacGillivray, owner of Aqua-Tech Pool, Spa and Bath in Winnipeg.
Costs include taxes, maintenance, gas and vehicle mileage, commuting time and dollar investment, he said. "In today's market, an investment of $400,000 to $500,000 can be required to purchase a cottage. If you're thinking of building a new one, you could pay hundreds of thousands of dollars just for the lot, especially if it's waterfront property."
But an in-ground pool with loads of special features can be constructed for around $200,000, while a basic model can cost as little as $40,000, MacGillivray said, adding a person can create a masterpiece.
"When I started in this business 35 years ago, pools came in four basic shapes and were generally plunked in the middle of a yard with no attention paid to the surrounding area."
Today, a person can get almost any shape, from a guitar to a multi-pointed star and, if desired, add lovely details to a yard, he added.
Joe Urmos, a designer who has worked at Aqua Tech for many years, said the trend is to create a seamless environment in which a pool is integrated within a landscaped area that includes waterfalls, trees, plants, stone or stamped-concrete patios, natural-looking rock features.
In short, "whatever the imagination can envision," he said. "We can create amazing visual effects with hollow-form boulders moulded from natural stone that are difficult to discern from the real thing."
One of Urmos's designs includes a stone walking path that leads up over a group of boulders to a waterfall that cascades into the swimming pool below. A slide built into one side of the faux-boulders provides a thrilling ride down to the water for children and adults alike.
Aqua Tech and Urmos won gold awards at the 2012 Design and Construction Award competition sponsored by the Pool & Hot Tub Council of Canada in three categories: Outdoor Vinyl Pool over 700 square feet with water features; Vinyl Swimming Pool and Hot Tub combination, all sizes; and Vinyl Lined Pools with Automatic Covers, all sizes and installations.
Urmos said he's proud that a Winnipeg-based company has brought home medals from the prestigious competition that includes pool and hot tub companies from across Canada.
"I think it's important for people to be aware that Winnipeg is recognized as a top contender in the country in pool and spa construction and design."
Urmos said today's designers have more flexibility because of technological innovations such as bendable steel walls that can be made into almost any shape, vinyl liners with welded seams that conform to odd configurations and bottoms composed of a sand-cement slurry that is pliable and not prone to cracking like solid concrete.
"We can build tanning ledges into pools, add shallow areas on which kids can play, or create wide, sweeping stairs that lead conveniently into the water," he said.
Urmos added that more people are building shallow pools because there is less worry about youngsters, they can still do laps for exercise and they are less expensive to heat. Electrically-operated covers that keep bugs out and heat in at night are also increasingly popular. Maintaining a pool has also changed dramatically in recent years. While it used to require a small chemistry set to test and adjust pH levels and to detect bacteria and other unwanted substances in pool water, nowadays the process has been simplified.
Water-quality specialist Kathi Belcourt said clients can bring a sample of their water to Aqua Tech for a free test or do it at home in a couple of minutes with a kit available at pool stores. She said pools should be pH-balanced in the spring and checked about once a month until the pool is shut down for the season.
"If water is too acidic, it will burn your eyes and can corrode metal equipment," she said. "If it is too alkaline, it will leave a dry feeling on your skin, look cloudy and cause scale to form on surfaces it contacts. A pH level of 7.2 is ideal, but anywhere from 7.0 to 7.6 is satisfactory."
Belcourt said the level is easy to adjust by adding a pH increaser if the water is too acidic and a pH decreaser if it's too alkaline. (Both products can be purchased at pool outlets.)
Many of today's pools use a combination of a slow-release chlorine sticks in a skimmer basket and ultraviolet (UV) light to rid water of bacteria and other contaminants, she added.
"Several years ago, it was trendy to add salt to a pool to keep it clean, but it soon became apparent that the saline solution was corroding heaters, motors and other machinery required to circulate water," she noted.
The advantage of UV light is that it will kill about 99 per cent of harmful microorganisms, requiring "less chorine than there is in drinking water" to keep a pool clear and disinfected, she said.
Belcourt also recommends using a borate compound to stabilize pH levels, reduce chlorine usage, eliminate some types of algae and impart a silky feeling to the water, which will look clearer and more sparkly.
Jason Lawrence, operations manager of Oasis Leisure Centre, said his company sells most of its in-ground pools to average income-earners.
"You don't have to be rich and famous to afford a backyard pool," he said, adding that Oasis installs 35 to 40 per cent of the in-ground pools in Winnipeg.
The cost of a residential installation is from $40,000 to about $70,000, including a salt-water sanitation system, Lawrence said. The first three feet of concrete surrounding a pool are provided by Oasis, but most people will spend an extra $2,000 to $20,000 to create a patio of stamped concrete or stone, as well as add some bells and whistles like a slide or retractable walk-on cover, he added.
A city bylaw requires that a fence enclose an in-ground structure.
"If a person can give us a site survey or something similar, we can scan it into our computer and provide them with a free 3-dimensional design of their dream pool," he Lawrence said.
Almost all of the-ground pools installed by Oasis are salt water because it eliminates the hassle of remembering to put chlorine pucks in the pool on a weekly basis, he noted, adding that the salt cell generator will need to be replaced after five to eight years for about $1,500.
Salt can be purchased at big-box or pool stores at half the cost of pucks, while the generator can be adjusted to automatically release the correct amount of salt at the same time every day to keep the pool sanitized even if it's not used for a week, Lawrence said.
"New pools are designed to include liners and equipment that cannot be corroded by salt. However, if a person owns an older pool and wants to switch to a salt system, I would suggest he gets it inspected to ensure its components will resist corrosion."
He said natural-gas heaters are generally favoured by pool-owners because they can heat a pool to a comfortable temperature in about six hours, compared to a day or so for an electric heat pump.
"Kids love pools, and more and more families are installing them because they are much less expensive than a cottage and virtually maintenance-free."
Mike Sudowski of Crown Pools and Spas said he prefers to use UV light and ozone to keep pool water pure and clear.
"With this setup, chemicals such as chlorine are kept to a bare minimum, saving money and the deterioration of a pool's liner that can become brittle when exposed to some compounds," he said, adding that the city is cracking down on pool owners who discharge chemical-laden water into the sewer system.
The cost of a discharge licence is $250 for the first year, and $75 annually for each succeeding year, renewable after five years, according to a source. (The City of Winnipeg lists pool-water disposal FAQs on a website, but despite repeated requests had not confirmed the licence fee before this article went to press.)
So, how does an in-ground pool affect the selling price of a home? It all depends on the buyer, Sudowski said. If the buyer has no intention of using the facility, it could negatively affect the home's value. On the other hand, if the buyer has a young family that will make use of the pool, it could boost the home's value.
A prospective home buyer should inspect a pool when it's in operation before taking the purchase plunge, he added. Since it's impossible to determine the condition of a pool in winter, he recommends waiting until spring to do a thorough inspection.
"Otherwise, the purchaser must rely on the homeowner's word, and no one wants to end up in court bickering over a real-estate agreement," he said.
Another caveat: Inspect the liner closely as some companies will install liners that look good (no wrinkles) because they are stretched to fit within the walls of the pool. This thins the vinyl and reduces its lifespan, which should be around 15 years, Sudowski said. Tim and Pat Nosworthy have owned a house with an in-ground pool in their backyard for many years.
"When we bought the home, our kids were young and we were concerned about them falling into the water if we were distracted," Tim said, adding that the pool consisted of two areas, one 16 feet by 32 feet and the other 12 feet by 14 feet, both eight feet deep.
When the liner wore out, the couple filled in the smaller pool and decreased the depth of the larger one to 3-1/2 feet at the shallow end and 4-1/2 feet at the deep end. "We're really happy we did it because, even though our children are now grown up, they can still have friends over for pool parties without the worry of a non-swimmer getting into trouble," Tim said.
At the same time, the Nosworthys switched from a chlorine-based water purification system to a salt-based system. "We enjoy the salt because it's less expensive than chemicals, keeps the pool clean and makes the water feel soft," Tim said.
As for being a detriment to the selling price of their home, he said having a pool in the backyard would likely not make much difference either way.
"In the area of the city where we live, we see more and more people installing in-ground pools."