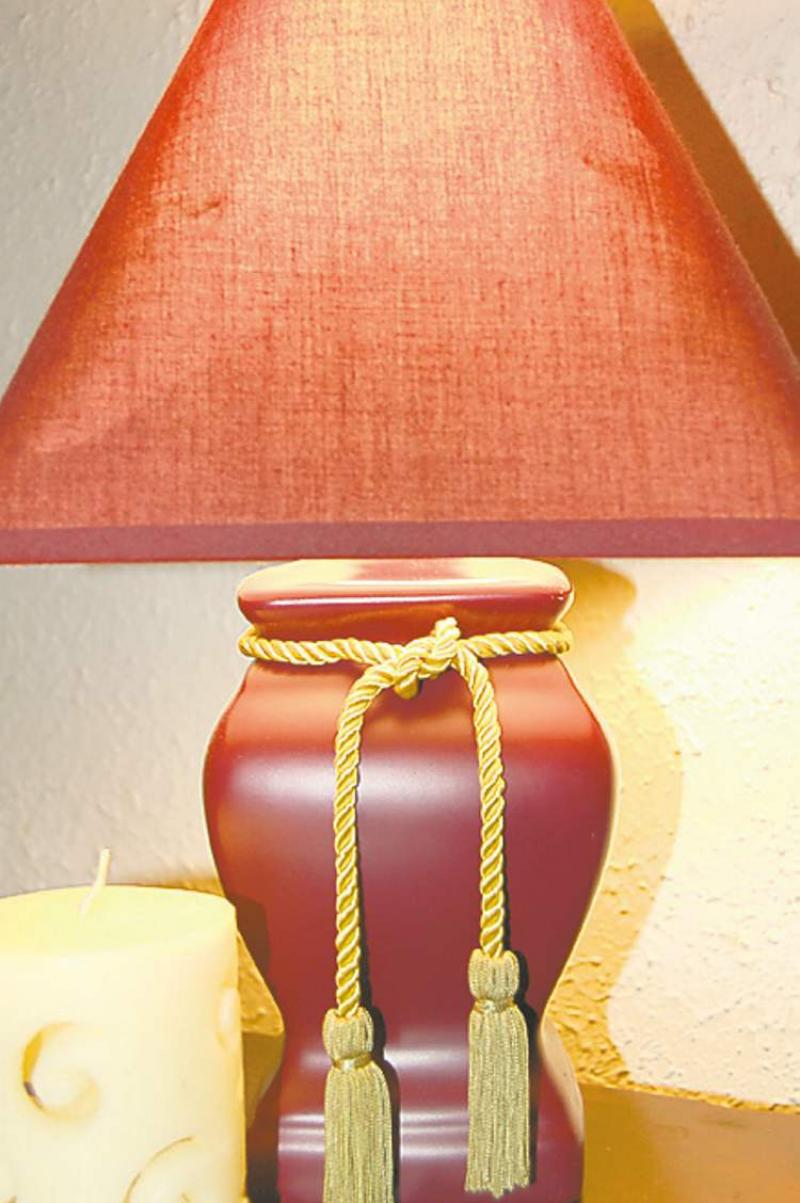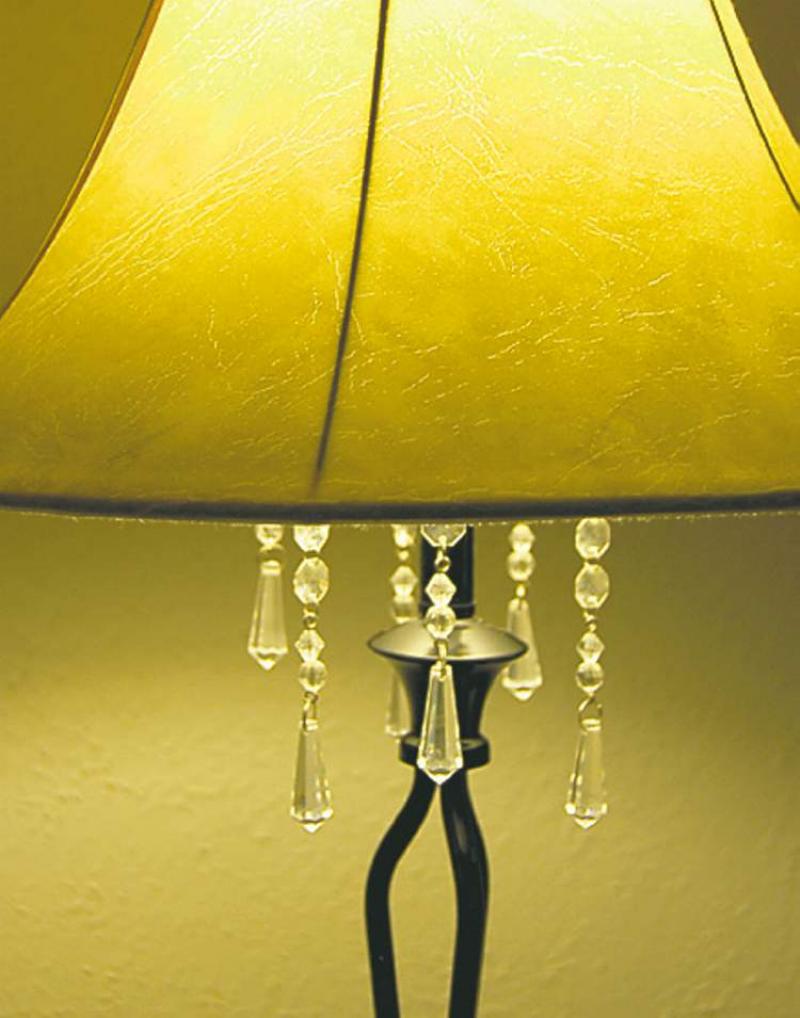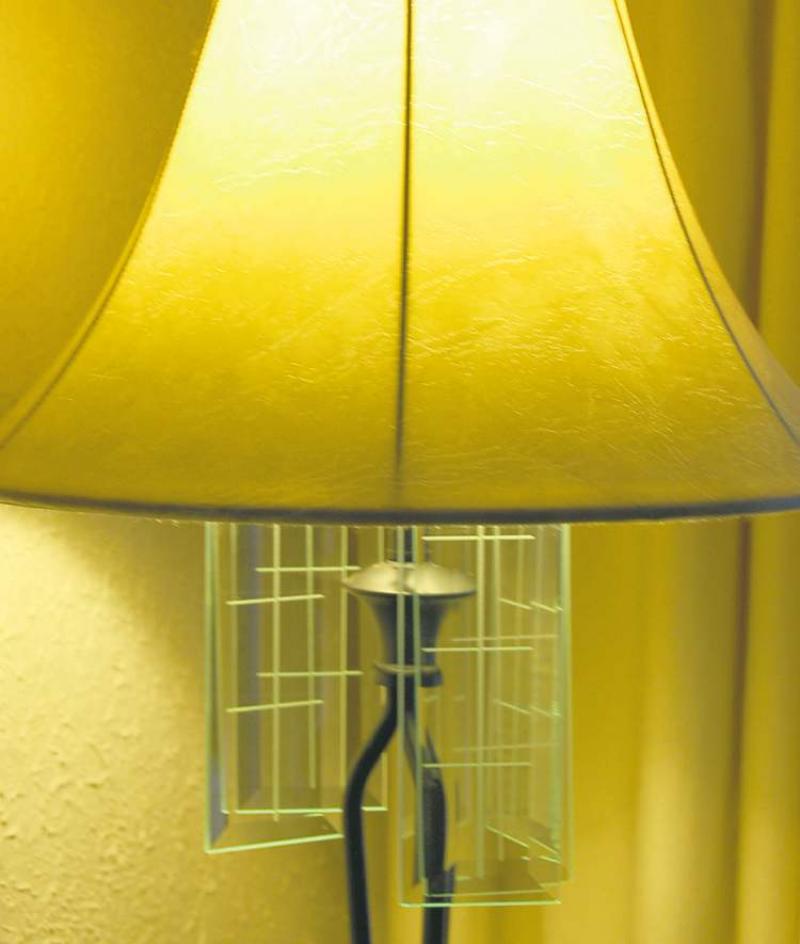 I happened upon some stunning new lighting at a local furniture store recently that really piqued my interest and imagination.
This new trend in lamp and lighting design adds a little bling to standard table and floor lamps as well as ceiling fixtures. The basic concept of the design is to add hanging adornment from the inside of the lampshade that hangs down around the top of the lamp base.
The dangling lamp jewelry can be anything from glass beads to strings of metal rings. The effect is unique and adds a third dimension to lighting.
I certainly can't take credit for the idea of adding bling to lamps but the basic concept set my mind in a new direction. I love new ideas and found myself digging through my craft supplies to find things I could use to enhance table and floor lamps in a similar fashion.
I picked up a dated chandelier at a thrift store for five bucks and went about removing all of the glass panels and glass rods to try out on my own lamps. As you can see from the photo, the glass panels add dimension, style and a little sparkle when the lamp is turned on. The glass panels are quite lovely and have a sandblasted grate pattern and beveled edges. I'm sure if they were on a designer lamp in a high-end store you'd pay big bucks for a similar item.
I also found inexpensive, plastic chandelier-style beads at a dollar store, which also look marvellous and were lightweight and easy to hang. I happened upon some old dominoes in a junk drawer and tried them as well.
Of course, specific items such as game pieces need to be used on the right lamp and in the right setting but they still looked great. In a child's room you could use board-game pieces as lamp bling, for instance. I even thought of a deck of cards for a games-room lamp.
Other things that might work are beads, jewelry (thin, hooped bracelets), lengths of lightweight chain, puzzle pieces or a collection of key chains. I used craft wire to hang the bling and hung the items from the lampshade supports and the lampshade itself.
You want to be mindful of safety issues. Be sure you use products (such as wire) that are non-flammable inside the lampshade that would sit anywhere near the light bulb. The items you hang should be clear of the light bulb and socket as well. Use light items as adornment so as not to damage the lampshade supports or make the lamp top-heavy.
In order to get an even display of whatever you're planning to use, you may have to create a support ring from craft wire that can be attached to the lampshade supports. This will allow an even surface from which to hang your bling all around the inside of the lampshade and will help keep the items away from the light bulb.
Other lamp adornment ideas include updating the lampshade itself. Depending upon the shade, you could paint it with craft paint and stencils, cover the outside of it with co-ordinating fabric or wallpaper, paint the inside of the lamp shade black or gold for a regal design (using appropriate paint that can withstand the heat), gold leaf or silver leaf the outside of the lamp shade and add dangling beads or decorative trim to the perimeter of the shade base.
In a child's room, you could glue small toys, puzzle pieces or game pieces around the lampshade edges for a fun update.
A dated ceramic lamp base could easily be transformed with the right paint. There are many wonderful spray-paint products that offer you tons of options. Stone, suede and metal finishes are a few of the products available. Metal lamp bases could be updated with rust finishes or even black barbecue paint, which provides a slightly textured, coal black finish.
Simple updates such as adding a braided tassel to the lamp, either around the base or from the shade can provide a quick, non-permanent update any time.
Lamps are not only a necessary item in the décor, then can also be attractive, decorative elements and can stand alone as artwork.
connieoliver@shaw.ca