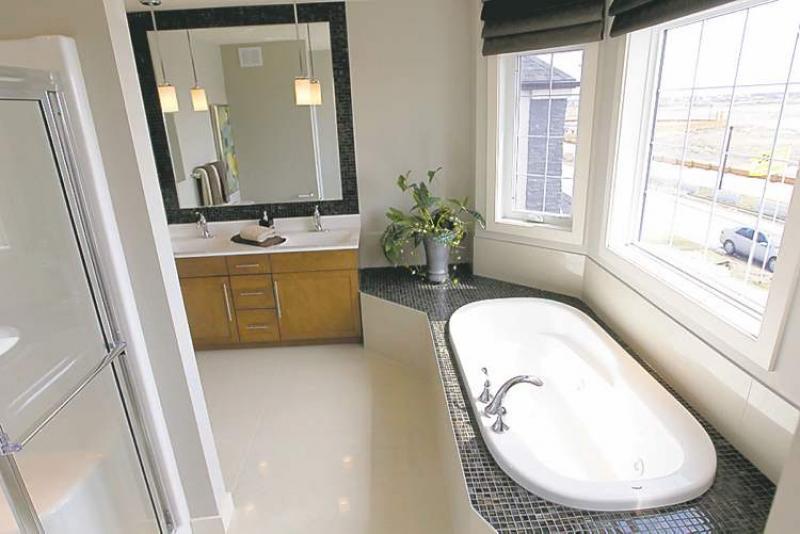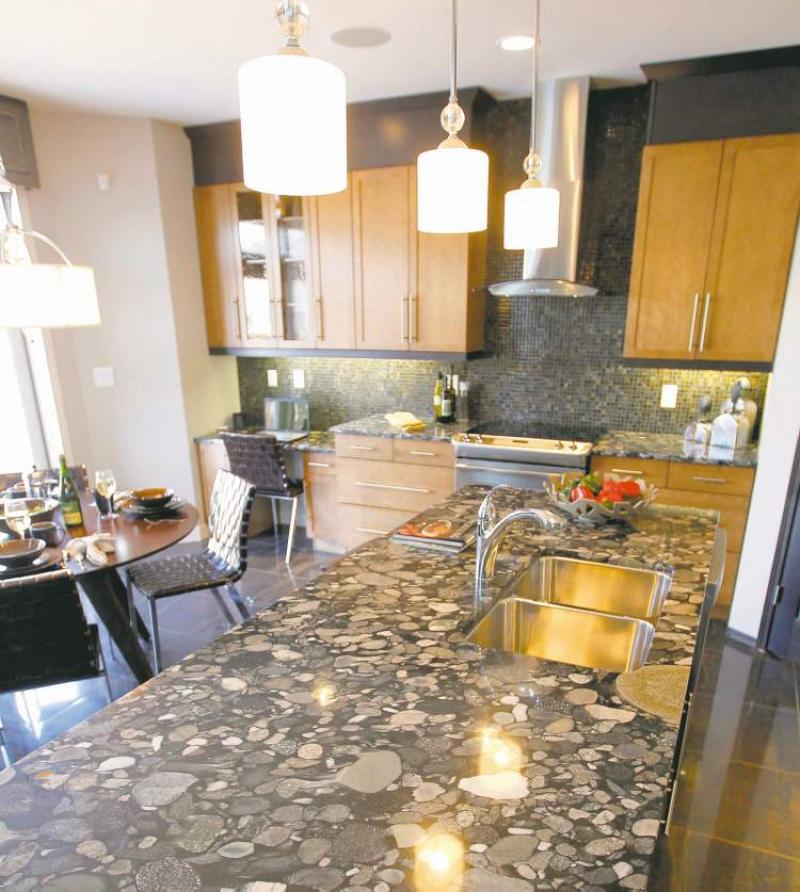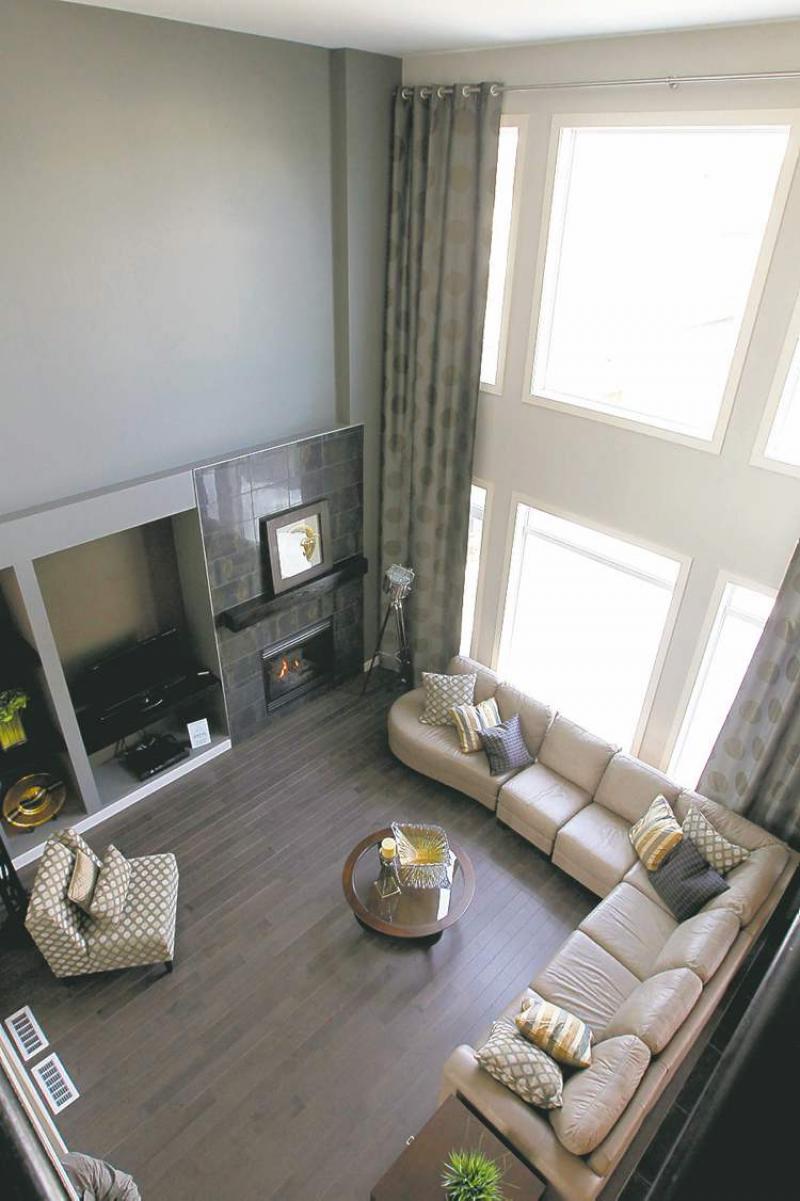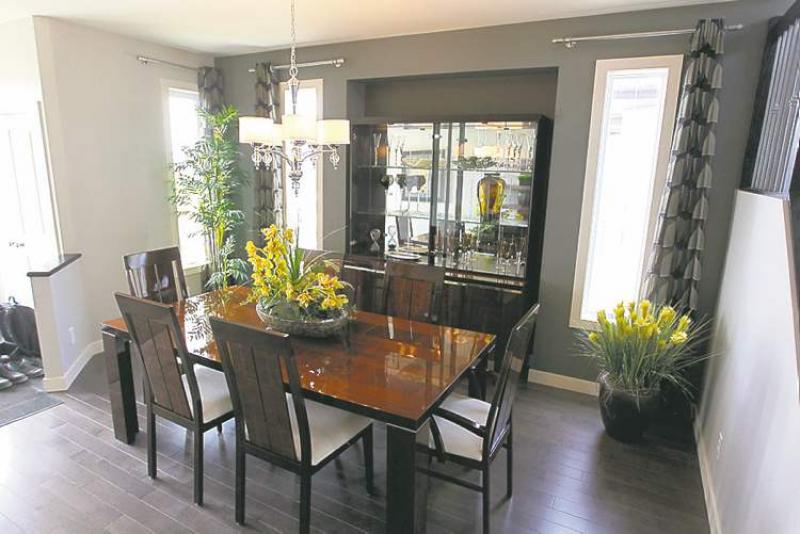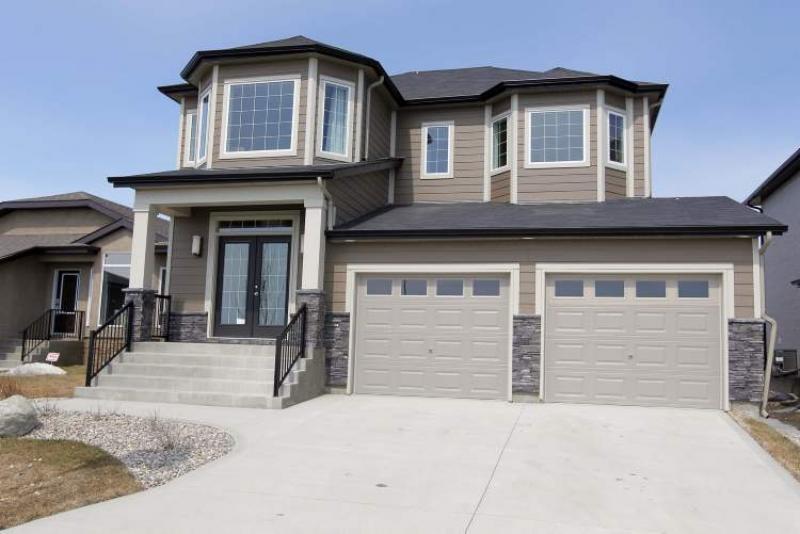 Oh, the difference an extra bit of width can make.
A prime example is The Eva II, a two-storey Hilton Custom Homes show home found at 115 Southview Crescent in South Pointe. Designed to be built on either a 42-foot or 46-foot lot, this incarnation is positioned pristinely on the wider of the two lots.
And that additional four feet of frontage makes a big difference in one key area, said Hilton's Spencer Curtis.
"That extra bit of room to work with helped us make the home that much more functional," he said. "All the spaces on both floors are generous, and flow throughout the home is excellent. That's important, because this is a home aimed squarely at family living."
The great room, encompassing the kitchen, dinette and family room, is as spacious and well-laid-out as they come. Curtis said the home's design started in the kitchen and then spread out from there.
"Families tend to spend a ton of time in the kitchen, so our goal was to design a distinctive, roomy space," he said. "The kitchen offers all kinds of space and function with a large dinette area placed next to a bay window, loads of maple cabinets and an eight-foot island with double-sink and eating nook for two to three.
"A walk-through pantry -- you can bring groceries directly into the kitchen from the garage -- and computer desk add even more function."
The kitchen's distinctive look comes from it's finishing materials, which were picked for their unique qualities, he added.
"We really wanted the kitchen to be unique, so we searched long and hard to find different finishing materials. First of all, we found granite countertops that replicated a sort of river rock look -- I think they look really cool. Next, we found a black/grey/copper (18-inch) porcelain tile that had a nice, rich look, so we put that in play for the flooring.
"Finally, we put in maple cabinets with a kind of cinnamon stain and dark trim and a tiled backsplash. The result, I think, is a very distinctive-looking kitchen."
The adjacent space, an 18.2-foot by 15.6-foot family room, is as dramatic as the kitchen is unique, thanks to dark hardwoods, a gas fireplace with porcelain tile surround and a pair of other features -- height and light.
"It's size makes it a very functional space while its soaring ceiling and rear wall of floor-to-ceiling windows gives it a nice helping of 'wow' factor," Curtis said. "When you combine the 18-foot ceiling with the windows, you not only have all kinds of light pouring in, but you also feel like an already big space is much bigger than it is.
"Light enters the home from everywhere -- the family room, kitchen and from the foyer, too. An extra-wide entrance into the great room allows that light to come in, while enhancing flow."
The home's upper level is very family-friendly, with a generous landing that promotes seamless traffic flow on chaotic mornings. It's also exceptionally bright due to the presence of all kinds of well-placed windows: the family room's floor-to-ceiling windows on the opposite wall, a huge window over the stairs on the left-hand wall, and a large window in the master suite that radiates copious amounts of light through its double-wide entrance.
"We thought having that crossfire of light would be a great way to start off the upper level," Curtis said. "The master suite faces south, so we wanted to take advantage of that exposure. We put in the double doors, and then the large window over the stairwell to amplify the sunlight as much as possible. The view down into the family room is pretty spectacular, too."
Next is the master suite, which is absolutely monstrous at 14.1 feet by 20.4 feet, including a bay window on its rear wall that carves out a nice little niche for a reading area. A brief hallway, off which a mid-sized walk-in closet runs (with a thoughtfully-placed window on the opposite wall), neatly separates the bedroom from the exceptionally spacious and bright ensuite.
"I think both the master bedroom and ensuite are killers with all the space and light that they offer," Curtis said. "We really went to town with the ensuite. It has a big bay window by the (jetted soaker) tub that not only lets in all kinds of light, but opens up more space.
"There's a beige porcelain tile floor, and the tub features a beige tile front with a black/copper/grey glass-tile top, a five-foot shower and cinnamon maple vanity with dual-sinks and glass-tile backsplash around the mirror."
Curtis said he's also pleased with how the secondary bedrooms turned out.
"Both are nice and big, come with walk-in closets and big windows, and are set well away from the master suite. Parents will appreciate the privacy, while the kids will appreciate the room, storage space and natural light."
With additional design features such as a main-floor laundry, nine-foot ceilings and a lower level that offers about 750 sq. feet of space to develop into a rec room, one or two bedrooms, a four-piece bath, and storage, you have a well-appointed family home that fosters function and connectivity on the main level while providing privacy and luxury upstairs.
lewys@mts.net
DETAILS
BUILDER: Hilton Custom Homes
MODEL: The Eva II
STYLE: Two-storey
SIZE: 2,170 sq. ft.
BEDROOMS: 3
BATHROOMS: 2.5
ADDRESS: 115 Southview Crescent, South Pointe
LOT SIZE: 46' x 118'
LOT COST: $126,600
PRICE: $849,900 (Includes land & net GST)
CONTACT: Roland Lacroix, Quest Residential Real Estate @ (204) 792-9805