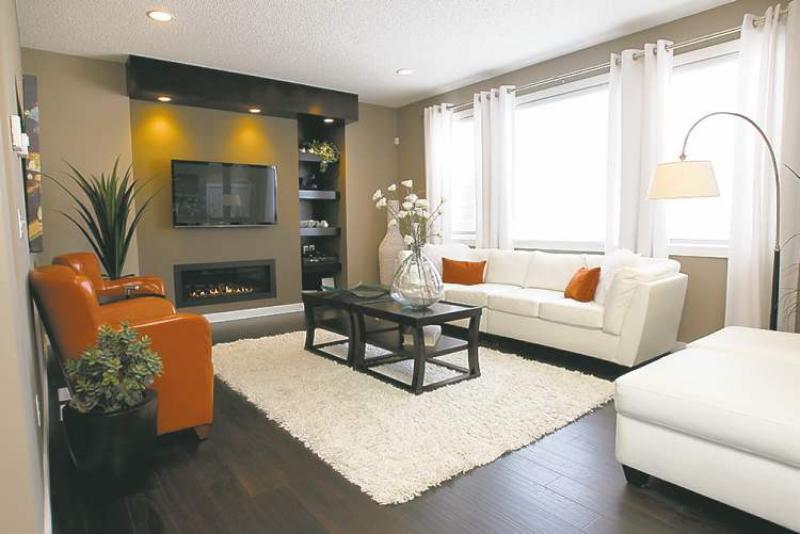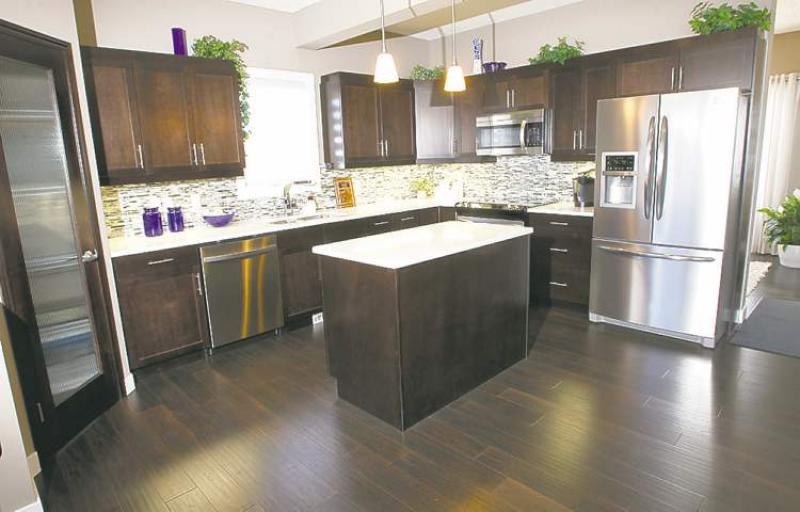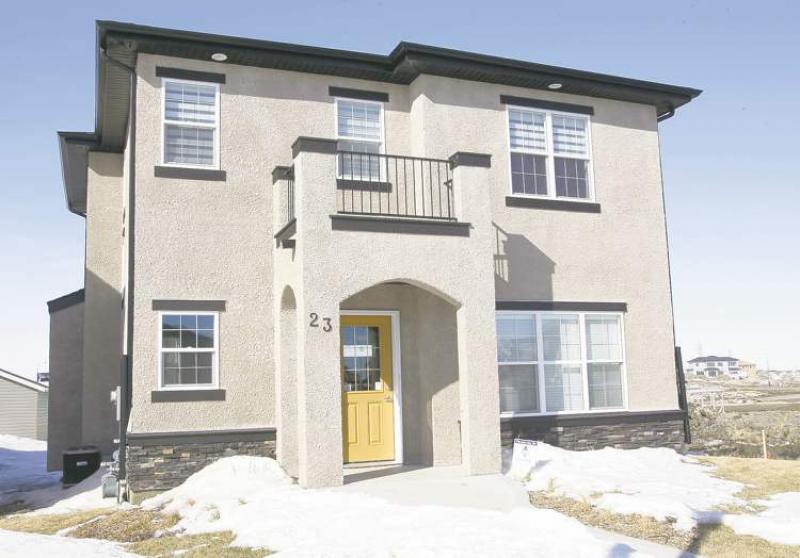 Sometimes, the selling price of a new home -- in this case a show home -- can be deceiving.
In many instances, items such as window coverings, appliances and a desirable upgrade such as a built-in sound system aren't included in the price. Those options -- plus a host of upgrades and extras -- are included in The Santiago, a 1,680-sq.-ft., two-storey Qualico Homes' show home found at 23 Bellflower Road, said Qualico's new home sales consultant, Wendy Janssen.
"This home has actually been outfitted with about $111,000 in upgrades and extras," she said. "You get a big Panasonic flat panel TV in the family room, high-end (stainless steel) Frigidaire appliances in the kitchen (including a flat top range and double door refrigerator with bottom-loading freezer), and an audio system wired into both the family room and master suite. Not only that, the home also comes with blinds and draperies."
While there's no arguing that The Santiago is loaded with upgraded options and finishes, the home is distinctive for more than just its wealth of opulent touches. Right from its exterior -- which is distinctly Mediterranean with its high, arched entranceway and terra cotta stucco exterior (with cultured stone trim) -- it's a unique design that's as functional as it is fashionable.
"The first thing that attracts people to the home is its Mediterranean exterior styling. It's different than what you normally see with the arched, covered entrance with a faux balcony above," said Janssen. "It's also different inside, as well."
Different in the sense that with "only" 1,680 sq. ft. of space to work with on the main and upper levels -- plus 500 sq. ft. of liveable space downstairs -- Qualico's design team was confronted with the challenge of wringing efficiency out of every square foot of living space.
Instead of going with an open-concept floor plan, they opted to go with a staggered design that allowed for seamless traffic flow and infiltration of natural light, while keeping spaces (dining room, kitchen and family room) distinct.
"The home's entire floor plan is very efficient," she said. "The dining room, which was placed to the right of the foyer, is a big space at 12.6 feet by 10 feet, and there's a powder room to the left of the foyer. A six-foot-wide entrance then takes you into the great room area. Both the upper and lower level stairs were set off to the left to save space. Not a foot of available space was wasted."
Although the aisle way into the great room area is wide, by no means do you enter into a box-like area. The family room -- set off to the left -- is defined by a wall to the left with a cut out to provide a glimpse of the area. Meanwhile, the kitchen -- set out on the right-hand side -- is defined by a compact four-foot by three-foot island that's perfectly proportioned for the available space.
The great room's high degree of flow and function is complemented perfectly by a host of rich, upgraded finishes: dark (wide-plank) distressed hardwoods, cappuccino maple cabinetry, white quartz countertops and a multi-hued glass tile backsplash in the kitchen, and features such as a ribbon-style fireplace set beneath a TV niche next to a five-tiered maple entertainment unit next to the TV.
"A huge three-piece window in the family room -- which is a nice size (at a generous 15.7 feet by nearly 14 feet) also injects lots of natural light into the area," said Janssen. "It's an area that's ideal for entertaining or spending time with the family."
Not surprisingly, The Santiago's bright upper level doesn't waste any space either.
"The landing was deliberately kept small so that the size of each room (three bedrooms plus a main bath) could be maximized. Both secondary bedrooms are larger than normal with huge windows, while the master suite is quite large (12.1 feet by 14.2 feet," she said. "The big windows in all the bedrooms plus two windows over the stairs make for an incredibly bright area."
With its oversized bedroom -- it can easily contain a king-sized bed, with room left over -- the master suite is spacious, sufficiently bright and well-appointed with a three-piece duraceramic tile ensuite, four-foot shower and huge walk-in closet. Bedroom number two even has a walk-in closet to go with its massive window. The main bath, while its taupe duraceramic floor and cappuccino maple vanity, also comes with a deep soaker tub.
Head down to the home's lower level, and you find a very pleasant surprise -- it's framed in for development.
"It's laid out for a fourth bedroom, rec room, four-piece bath, laundry room and storage/mechanical room," said Janssen. "In all, there's about 500 sq. ft. of space to develop. Once again, the floor plan is very efficient, so there's no wasted space. As a result, each space is a good size and will function beautifully once finished."
Janssen said prospective home buyers will have to look far and wide to find a home that will beat the value that this version of The Santiago offers.
"It comes complete with upgraded finishes throughout, appliances, window coverings and a roughed-in central vacuum system. The home also comes with landscaping done out front, as well as a security system," she said. "It's offers great value from top to bottom."
lewys@mts.net
DETAILS
Builder: Qualico Homes
Address: 23 Bellflower Road, Bridgwater Lakes
Style: Two-storey
Model: The Santiago
Size: 1,680 sq. ft.
Bedrooms: 4
Bathrooms: 2.5
Lot Size: 38' x 115'
Lot Cost: $96,425 (GST not included)
Price: $401,500 (Includes land & net GST)
Contact: Wendy Janssen, New Home Sales Consultant @ (204) 504-0793