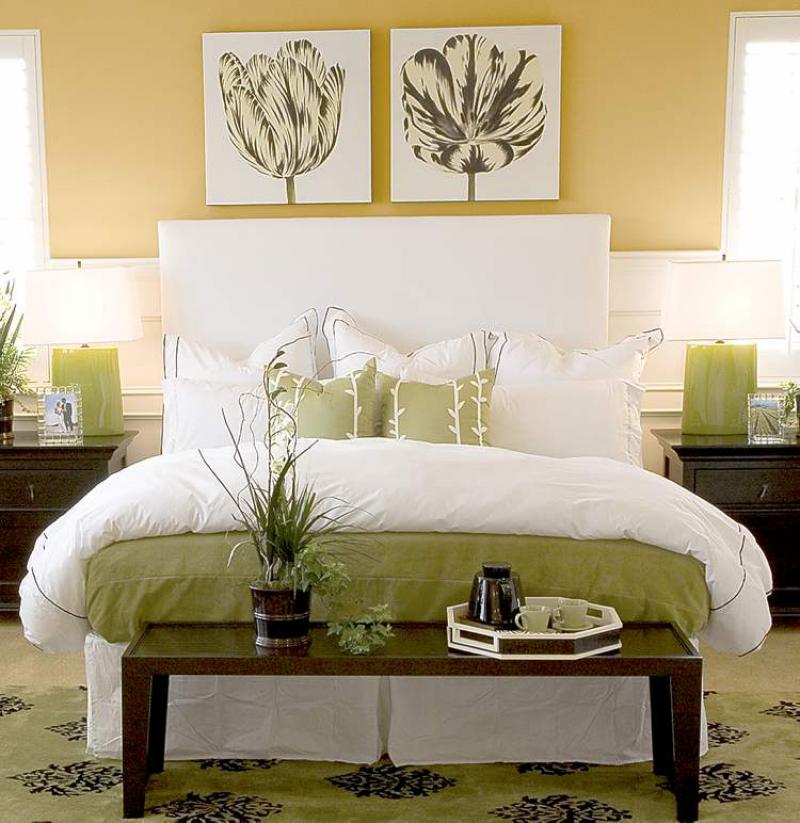 It may not be our favourite colour in general, but when it comes to painting our walls, yellow is the No. 1 choice worldwide.
That's the finding of an international survey conducted on behalf of leading paint brand Dulux. The study shows that while blue is the most popular colour in the world, preferred by 36 per cent of people, the picture changes when you look at actual sales volume of paint colours.
"For every can of blue wall paint sold, you can almost fill an Olympic-size pool with the yellow paint that's purchased over the counter," said Martin Tustin-Fuchs, brand director for Dulux, pointing out that yellow is actually cited as the least favourite colour worldwide, with only five per cent of people favouring it.
"When presented with paint swatches, however, most people seem to like yellow -- as long as it's called something other than yellow, that is. Paint names like buttercup, vanilla and champagne are more attractive to consumers," Tustin-Fuchs said, listing Dulux's Sugar Cane (50YY 83/143), Daisy Chain (45YY 79/376), Prairie Grass (35YY 61/431) and Kansas Corn (30YY 63/231) as the brand's top-selling yellow paints.
Yellow works well in the home because it's a warm, happy colour that represents renewal and brightens spirits, he explains. Think sunshine, daffodils and the trademark smiley face. While all kinds of yellow shades adorn Canadian walls, studies show off-white yellows take top spot in our homes.
Tustin-Fuchs offers these tips on how to pick the best shade of yellow for your rooms:
Sunny yellow: Infused with a tinge of orange, sunny yellow does wonders in lighting up a poorly lit room. Try painting this bright shade on both walls and ceilings and it will appear to mimic sunlight -- even on cloudy days. Sunny yellow is said to increase awareness and stimulate creativity, spontaneity and the mind, making it an ideal choice for a children's playroom, study area or home office.
Mellow yellow: Cream tones tinted with yellow create a relaxing retreat in any living space. Soft and light, earthy yellows warm up smaller spaces, such as bathrooms and vestibules, without overwhelming them. Warm yellow is also a good option for a master bedroom depending on the mood you want to create. While red stimulates passion in a bedroom, yellow delivers a calm, spa-like atmosphere, which may provide a welcome sanctuary after a long day.
Citrus yellow: Known to energize and increase the appetite, cheery lemon yellow is a good option for eating areas. Reflecting a high amount of light, this shade works well in any kitchen or as an accent wall in a dining area. Framed in white moulding, bright yellow also brings an inviting feel to an entrance hall. Combine citrus yellow with black and white tones to create a stylish, uplifting colour scheme in any of these spaces.
Banana yellow: Warm tropical yellows work particularly well with neutral or wood furnishings. Best used in a family room or living area, banana yellow emits a welcoming, upbeat feel that wraps a person in warmth. To keep a yellow room from feeling too warm, add bold accent colours, such as green, turquoise or orange, through accessories.
"At times, a specific shade may become fashionable or unfashionable, but yellow, in general, never goes out of style," Tustin-Fuchs said, adding yellow paint -- no matter what the shade -- is a fail-safe way to bring a sense of renewal to people's lives.
I am currently choosing paint colours for several rooms in my home and yellow seems to be the winning colour for me as well. In our loft bedroom, a yellow ceiling and angled walls paired with reddish wood finishes on the bottom half of the dormer space looks warm and inviting. The angled walls and ceiling were previously white but I found it too stark with the warm wood tones. Years ago I also painted my hallway on our main floor in a warm yellow which goes very well with the reddish wood trim. Yellow can be a very calming colour and opens up dim spaces by reflecting light and brightening the area overall.
The gorgeous bedroom featured here boasts a Dulux colour called Prairie Grass. Paired with the white wainscoting, the rich, golden yellow is warm and vivid, but not overpowering.
If you're planning on selling your home, yellow inside and outside can help with the sale. The infamous yellow front door is a popular choice as is yellow on the exterior of the house. It's a welcoming exterior colour that will entice buyers inside.
Simply put, yellow paint is sunshine in a can.