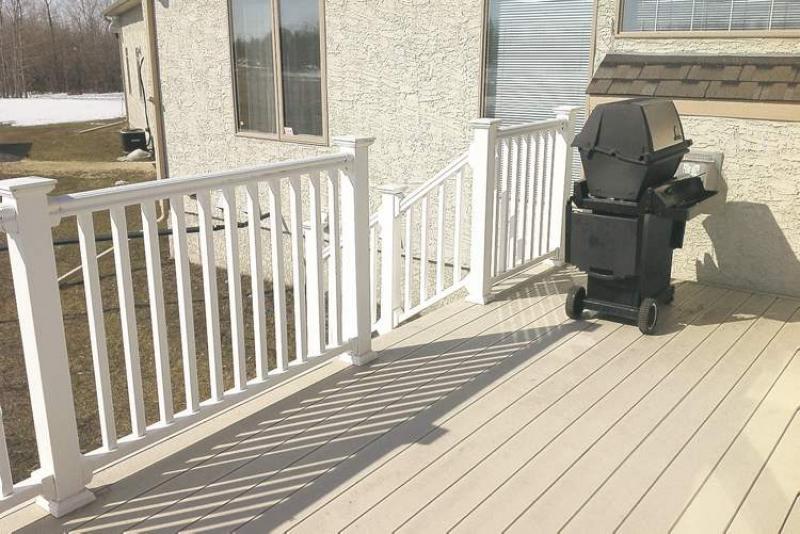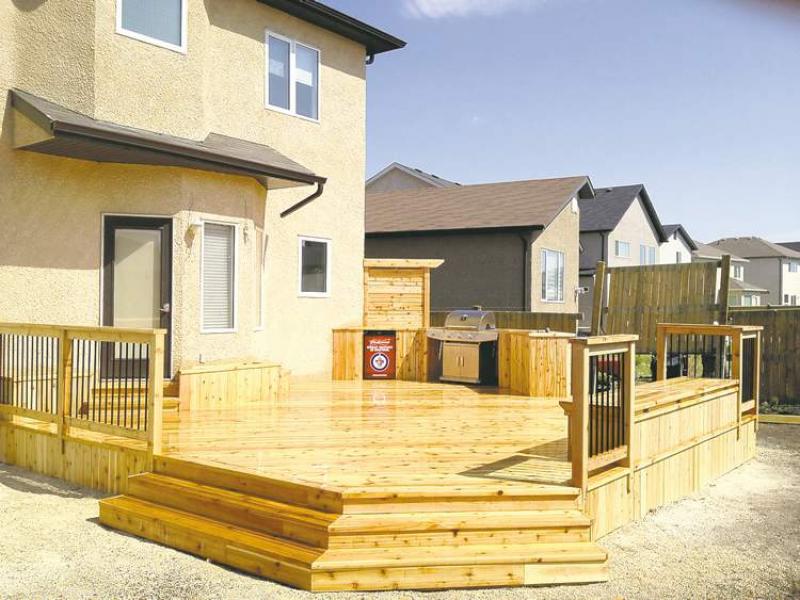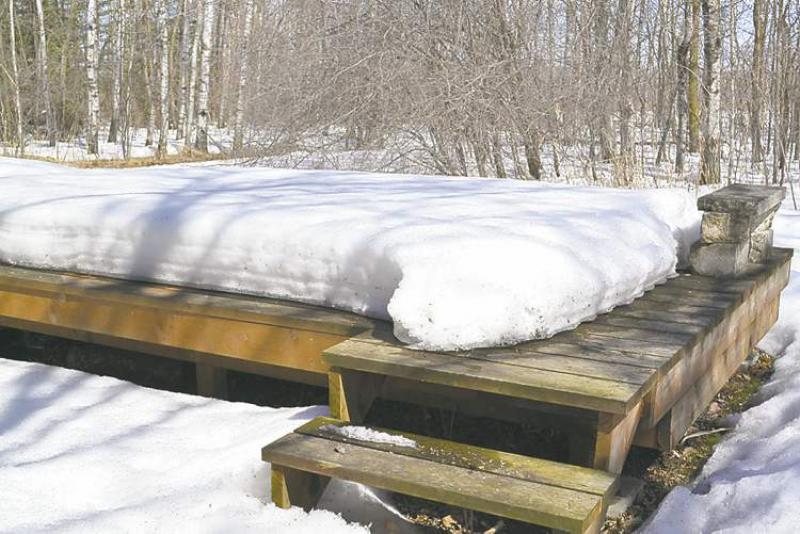 Decks have become so ubiquitous that it's difficult to find a house or cottage that doesn't have some elevated appendage jutting into the back or front yard. Scientists suggest our need to dwell above the earth may be related to our distant ancestors who hung out in trees because many carnivores were ground dwellers.
Be this as it may, decks are de rigueur in the modern world and, as with many building materials, come in a prism of products.
Let's look at the most commonly used deck planking from treated and natural lumber to composite materials.
Green and cedar-tone pressure-treated (PT) lumber outsell composites by two to one, according to Nathan Back of Windsor Plywood.
"One reason is that treated lumber is at least one-third the price of most composites," said Back.
He quoted a price of about $1 per linear foot for 2-inch by 6-inch cedar-tone planks (green is about 10 to 15 percent cheaper), compared to $3 to $4 per linear foot for 5/4 (1.25-inch) composite decking, not including 60 cents per clip to hold the composite boards in place.
He added that green-treated lumber is used to build the under-structure of the majority of decks as it less expensive than cedar-tone, while composites lack the structural integrity to carry heavy weights.
The use of stainless steel screws at $10 per pound is recommended because the copper compound in PT wood corrodes zinc or ceramic coated screws within a few months, he said.
"Some folks will build an entire deck out of green pressure-treated lumber. When properly dry (about two months after construction if the weather is sunny and warm), it can be stained almost any colour," Back said.
He recommended Sikkens Cetol Dek Finish, though most paint manufacturers have their own brand of finish.
"Any new lumber should be sanded with 80-grit paper prior to the application of stain to remove the mill glaze, caused by high-speed planer knives sealing the wood pores," he said, adding that for a large deck it saves time to rent a square-pad flooring sander from a lumber store with a tool rental department.
A spokeswoman for Western Paint said a green PT deck should dry for a year before a stain is applied.
"Sanding is not necessary, but a solid stain is required to cover the green colour of the decking," she added.
I know from personal experience that "solid stain" is pretty much a euphemism for "paint." The difference being that the stain contains slightly less pigment than paint, but both sit on the surface of wood rather than soaking into the fibres like a penetrating stain that contains less pigment and more oil. Instead of using a solid stain, you'd be better off to apply a good quality outdoor porch and floor paint with a low sheen, which will require less maintenance than a solid stain.
That being said, a person can also use pre-stained cedar-tone PT lumber.
The colour is very close to the warm brown of natural cedar, though it lacks the creams, reds and other earth tones of the real wood.
Arvin Nejad of Arvida Construction said cedar-tone is a favourite of his customers because the colour matches fences made of the same lumber, and it will last as long as composite materials "if properly maintained."
"Like any wood, it will turn grey within a few years unless it is cleaned and re-stained every two to three years," he said, adding that rain, wind and snow combined with dust, pollens and air pollutants all contribute to the deterioration and discolouration of wood.
He estimated the cost of a 12-foot by 12-foot deck built with a green PT undercarriage and cedar- tone decking, including railing and steps, at $3,000 to $4,000, or about the price of a large-screen TV.
Dostin DeHart, owner of DeHart Construction, said Western Red Cedar (WRC) is the perfect choice for decking as it contains oils that act as a natural preservative.
The ancient totem poles on Canada's West Coast carved from this lovely wood are a testament to its durability, especially impressive in a part of the country that receives over 45 inches (almost four feet) of precipitation per year.
The knock on WRC is that people seem to think it is expensive compared to PT or composite decking.
But DeHart said the cost of a 2-inch by 6-inch cedar deck board with tight knots is about $1.25 per linear foot, inexpensive compared to composites at $3 to $5 per linear foot and not a great deal more than cedar-tone at about $1 per linear foot.
He added that WRC is renewable resource that does not require chemical treatment for preservation and is not derived from non-renewable petroleum products, as are some composite deck boards.
When the colour fades, as it inevitably will in Manitoba's capricious climate, cedar's natural earth tones can be renewed by hosing it down or giving it a light pressure washing, followed by the application of a good quality water-based oil such as Para, he said.
"There's no such thing as a maintenance-free deck so be prepared to scrub it each fall, removing leaves, small branches and other material that becomes stuck between boards. If not removed, the organic matter will retain moisture, allowing rot-causing microorganism to grow," DeHart said, adding that for $200 per year his company will professionally clean a deck.
He said that wood decks that have turned completely grey can be restored by sanding with 60-grit paper and then brushing (not spraying or rolling) a fresh coat of an approved water-based oil product onto the wood.
"A sanding with 60-grit will remove the grey faster than 80 or 120-grit, opening the wood's pores so it can absorb more finish. The result is a smooth surface that holds its colour longer," he said.
He added that WRC can be face-screwed with brown ceramic screws that are difficult to discern among the earth colours of the wood.
There are several South American hardwoods used for decking that have recently appeared in the U.S. and are slowly making their way to Canada, including Ipe, Pedra, Camaru and Tigerwood.
The pros for these so-called exotic species are they are durable and beautiful. The cons are they are expensive, require pre-drilling for screws and tend to cup if attached with hidden fasteners. Moreover, like any wood, they will turn grey if not maintained yearly.
About ten years ago, composite decking was considered the new wonder child of the industry. Since then problems with this recycled material have surfaced, and in the U.S. two class action suits were launched against manufacturers, ultimately forcing several big name companies out of business.
Deck designer Paul Cayer of Star Lumber said his company stocks two composite products, Reliaboard and Fiberon.
"We've been selling Reliaboard for several years without complaints from clients, though we did receive a bad batch from the manufacturer that had surface discolouration.
As composites go, Cayer said Reliaboard is inexpensive at $2.50 per linear foot and has exhibited none of the surface staining, cracking or structural failure associated with other composites.
"When I design a composite deck, I place the joists on 12-inch centres, though manufacturers usually recommend 16-inch centres. I also use 2-inch by 6-inch boards because 5/4 material can sag, even when laid on 12-inch centre joists," Cayer said.
Composite decking requires the use of colour-matched screws ($25 for 275 pcs) if face-mounted or, as mentioned, expensive clips if hidden-mounted, he said.
He added that Fiberon is a new-generation composite that is wrapped in vinyl to prevent the problems caused by severe weather conditions to older composites.
"We've carried Fiberon for less than a year so as far as we're concerned the jury is still out on this product. A product that lasts indefinitely in California's stable, sunny climate may not do as well in Manitoba's severe, erratic climate," he said.
About ten years ago, Jochen and Ginny Jahne added a vinyl plank deck manufactured by Royal Building Products to their home.
"We've been very pleased with the deck," said Jochen. "The vinyl has lost a little of its original brightness, but otherwise we have no complaints about the quality of the material," he said, adding that he hoses down the vinyl in the spring to remove dust and dirt that accumulate over the winter.
But not everyone is happy with their decking material.
Jason Vickery installed a Trex composite deck a year ago and within two months the dark brown colour had faded to a light tan.
"My understanding was there would be some fading after many years, but not within 60 days of installation and not to this extent," he said, adding that the Trex railing has started to sag noticeably.
"The deck was built to Trex specifications so I'm not the least bit impressed by the product," he said, adding that "nowadays you don't get what you pay for."
Decks that are more than two feet off the ground require a building permit (about $225) and a railing, according to a City of Winnipeg pamphlet.