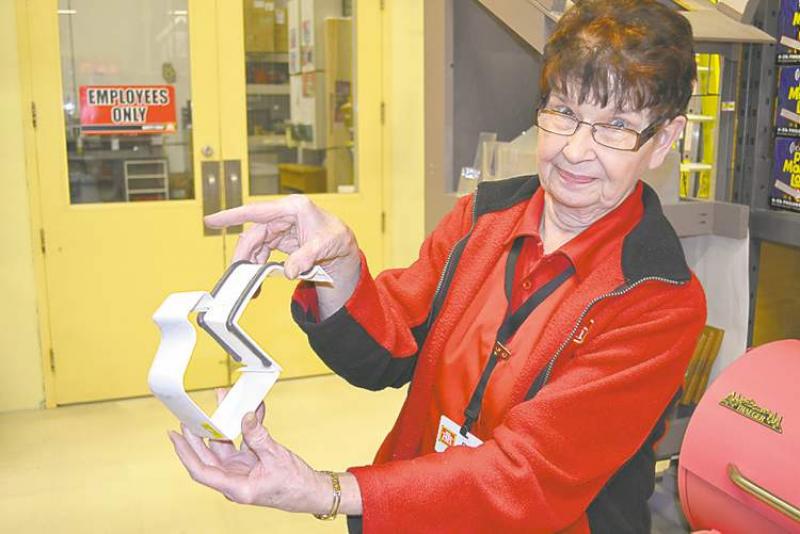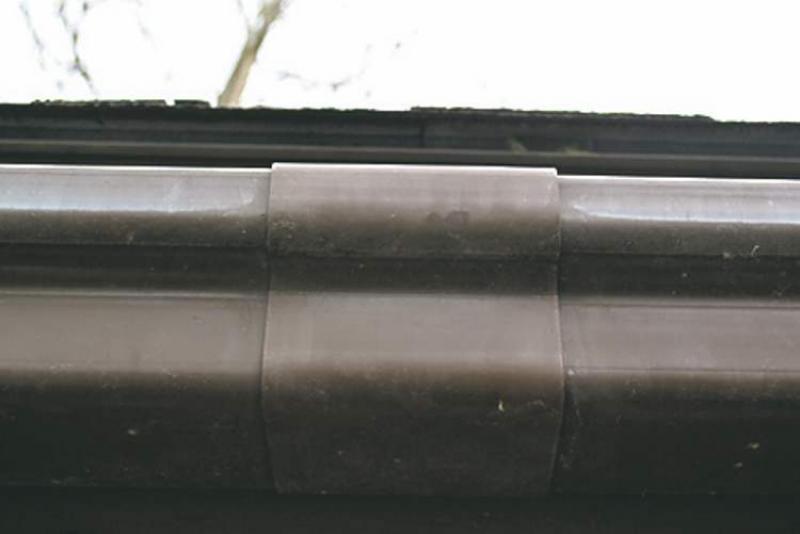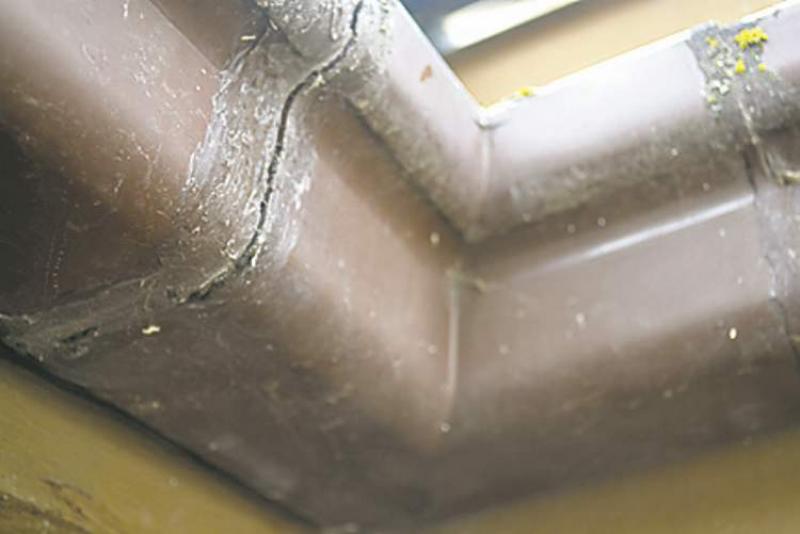 A friend told me recently about a linguist who reads English words to non-English-speaking people to determine what words sound the most soothing to them.
The overwhelming favourite is diarrhea; the least-liked is cud.
I think a similar case could be made for eavestrough versus gutter. Though eavestrough does not slide off the tongue as smoothly as diarrhea, it's certainly more appealing to the ear than gutter, which sounds, well, too guttural.
This is a segue (lovely word) into a discussion of vinyl and metal eavestrough, including some tips for DIYers gleaned from my own experience installing gutters.
There are about five different shapes of eavestrough, four of which you'll likely never see in Manitoba, So let's skip to the almost-universal K-shaped trough named, not surprisingly, for its K-like profile.
Apparently, the contour is similar to the crown molding that transitions the wall to the ceiling in many homes; therefore, the beholder experiences a frisson when she connects the exterior detail with the interior detail -- at least that's how I overheard a real-estate agent make a gutter sound like an attractive addition to a house.
Metal eavestroughs are available in zinc, copper, aluminum and even gold -- the shrine of Imam Reza in Iran has a solid-gold dome and gutter. As Manitobans, we like to get a deal, so gold is out, as are zinc and copper ($8.30 a linear foot).
That leaves aluminum, a difficult metal to smelt but, if you've practised origami with tin foil, you know how crisply it bends. Origami may have inspired the invention of the first aluminum extruder but, nowadays, a compact version is used at job-sites by contractors to produce K-shaped eavestrough from coils of flat aluminum.
Paul Lord, owner of Your Exterior Solutions, said he installed aluminum gutters on about 230 buildings last season, mostly five-inch trough with three-inch by three-inch downspouts.
"Unless you have an exceptionally large roof, stick to five-inch gutters as six-inch ones that get plugged with ice have sufficient weight to tear fascia boards off your house," he said, adding that he's seen pieces of two-by-four-inch roof truss ripped away as well.
Lord uses a portable machine to extrude seamless K-style aluminum gutters in 60 colour choices on the job. He said he's a big fan of the T-Rex (a.k.a. Alurex) system because it functions as a continuous hanger for the entire gutter length, including a closely perforated strainer that stops leaves, coniferous needles and other debris from entering the gutter while allowing water to flow freely.
According to the manufacturer's specifications, Lord said a six-mph (10 kph) wind will remove wet leaves, pine and fir needles from the strainer's surface, preventing the trough from the kind of plugging associated with cheap plastic meshes.
"Moreover, unlike the flimsy gutter systems that require hangers spaced every 16 to 18-inches to hold them up, T-Rex's continuous support will bear the weight of three big men over a 10-foot span," Lord said, adding that advantages include no sagging and no dents by ladders placed on weak areas between hangers.
As part of its installation service, Your Exterior Solutions paints the heads to match the colour of the trough and offers a five-year labour warranty and a 30-year pro-rated materials warranty.
Lord noted that many new houses have gutters attached with nailing guns, which he said is a recipe for disaster since the nails pull out as soon as a water or ice load builds inside the trough.
"I spend lots of time replacing nails with screws on these shoddy installations. Properly installed gutters, should be attached to fascia boards with screws recommended by the manufacturers."
He added that placing a metal drip edge under new shingles is a waste of time and money if the shingles have been applied properly, with the first three feet of substrate covered with a product such as ice and water shield.
Lord said gutters can be hung by DIYers, "but before they proceed they should do some math.
"I buy my materials at a discount and I only charge between 30 and 40 per cent of the job's cost for labour. If a DIYer spends $2,500 for material, I can do the same work, labour included, for under $3,000. It can save a lot of money and hassle to hire a pro."
Rob Cascisa, president of All Weather Exteriors, is also a firm believer in extruded aluminum eavestrough over vinyl.
"As part of our business, we clean gutters," Cascisa said. "In the last eight or nine years we've done about 10,000 cleanings. When we encounter vinyl trough systems we usually rip them off. The stuff is complete garbage."
Vinyl expands and contracts, opening seams that must be re-caulked to stop leaks, he said. It also cracks in cold weather, dark colors are prone to fading and it's too shallow to handle a large volume of water, he added.
Because it's rounded at the back, vinyl gutter is nearly impossible to fit snugly against fascia boards, allowing water to run into the gap and down the face of the house, especially if the edges of the shingles are curled or don't have sufficient overhang, Cascisa said. "Aluminum trough has a flat back that can be fitted flush against fascia to prevent this problem."
Cascisa said aluminum trough run off by a company that extrudes its own gutters is a cost-effective alternative to the vinyl gutters sold to DIYers at big-box stores and some lumber companies.
"I have a portable extruder that I can bring to your house to run off whatever length of seamless gutter you want for about $2.50 to $3.00 per linear foot, depending on where you live," he said, adding that City Sheet Metal offers a pick-up service for about $2.10 per linear foot. Cascisa said he installs aluminum trough for $4 to $5 per linear foot, depending on whether the house is a bungalow or multiple-storey dwelling.
"We use three-inch downspouts on all our installations because a three-inch pipe has about twice the capacity of smaller two-inch ones that are still in use."
Cascisa offers a cleaning service that includes removing leaves and other debris from troughs, flushing the downpipes and bagging all the organic debris at a cost of $47.99 for a bungalow and $77.99 multi-storey house. His tip for people who clean their own gutters is to do the job twice -- once in the spring when seeds fall from trees into the toughs, and once in the fall when leaves fill them.
To open plugged downpipes, he suggests pushing a garden hose without a nozzle attached into the pipe and then turning the water on full. "This will unplug it 90 per cent of the time," he said, adding that a pipe filled with water can split open during the winter when the water inside freezes and expands.
For those of us who remain unabashed DIYers, there's a snap-and-lock vinyl gutter system on the market that has partially solved the problem of leaking joints. Seams are joined with a two-part clip -- one piece inside and one piece outside -- with polymer gaskets designed to seal without caulking.
In climates in which the year-round temperature is relatively stable, this system works because there is minimal expansion and contraction of the vinyl. However, Manitoba's severe weather variations can cause vinyl to contract to the point where one end of a trough falls out of the joined seam. This can create a serious leak -- the last thing you want in a gutter system that is supposed to divert water away from your home.
The only remedy I know of is to seal the joint with a high-quality caulking compound such as Tremco Gutter Seal that expands and contracts with temperature variations.
On a new vinyl application, sand the area around the seam lightly with 400-grit wet and dry paper. Wipe the seam clean with water and, when dry, apply a bead of Tremco Gutter Seal to both sides of the seam before snapping the joiner into place. To reseal a seam, scrape away the old caulking (if any), wash away dirt or other organic particles and then give the area to be joined a light sanding with 400-grit paper. Wash the area again and, when it's dry, re-seal with Gutter Seal or an equivalent product.
A caveat: Before you decide to hang vinyl gutter, price out the cost of the gutter and, most importantly, the pieces you need for the job. The trough may seem inexpensive, but the joiners, hangers, end caps, downspouts, pipes, elbows, straps and clips are very pricey, adding significantly to the cost of your gutter system.
Another consideration is that vinyl is usually only available in white or brown from big stores -- colours may be available by special order, but I've not been able to find a Winnipeg retailer who sells them. Also, vinyl trough is commonly sold in four-inch-wide by 12-foot lengths, while the downspouts are usually made to accept a maximum 2æ-inch by 2æ" inch downpipe, considered inadequate to handle a heavy rainfall without backing up. I'm in the process of removing the vinyl gutter from my house because the seams (this is not a snap-and-lock system) began to leak within a year of installation. And even though I placed hangers on the recommended 16-inch on-centre, the gutters sag. Some of the downpipes have cracked, but this is likely my fault for neglecting to completely flush organic matter out of the pipes.
Finally, I don't suggest you waste money on gutter-guard plastic mesh sold by Home Depot, Rona and other large building material outlets. Leaves stick to the mesh, preventing water from entering the trough, and the lattice is made of cheap plastic that breaks down after a few years of exposure to the elements.
Whether you do it yourself or hire a pro, aluminum eavestrough seems to outrank vinyl as the material of choice for most buildings.