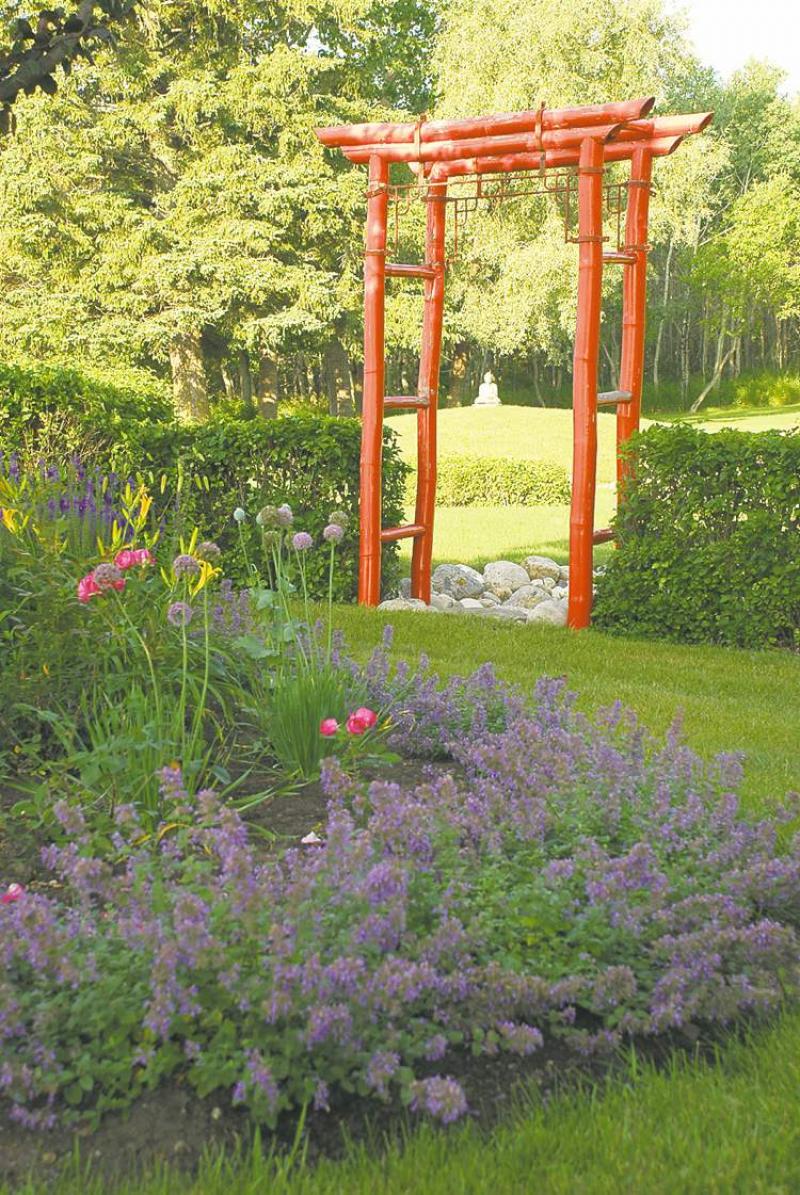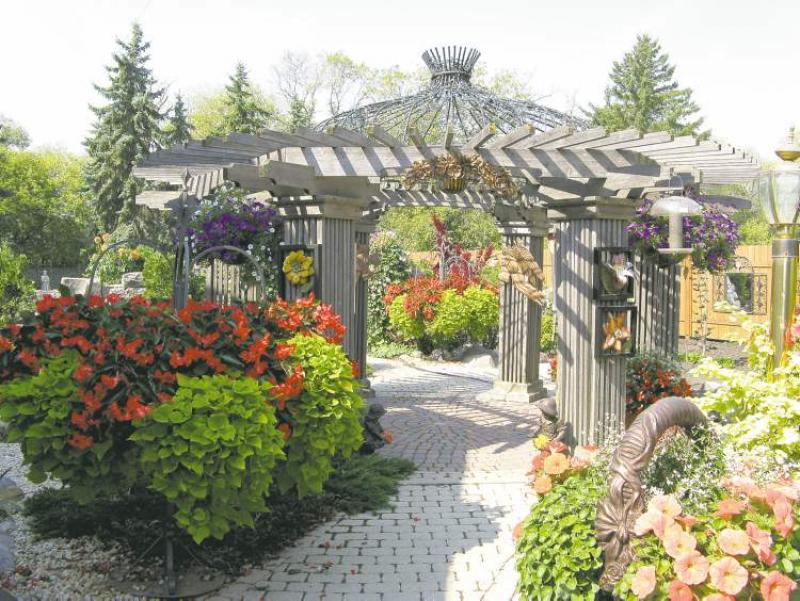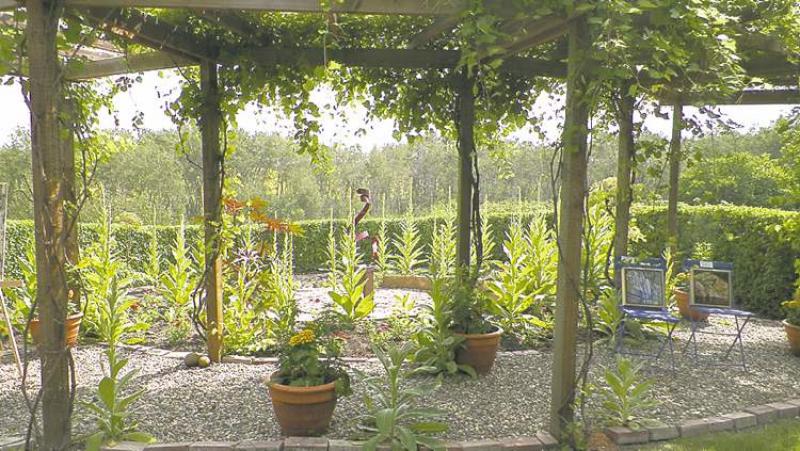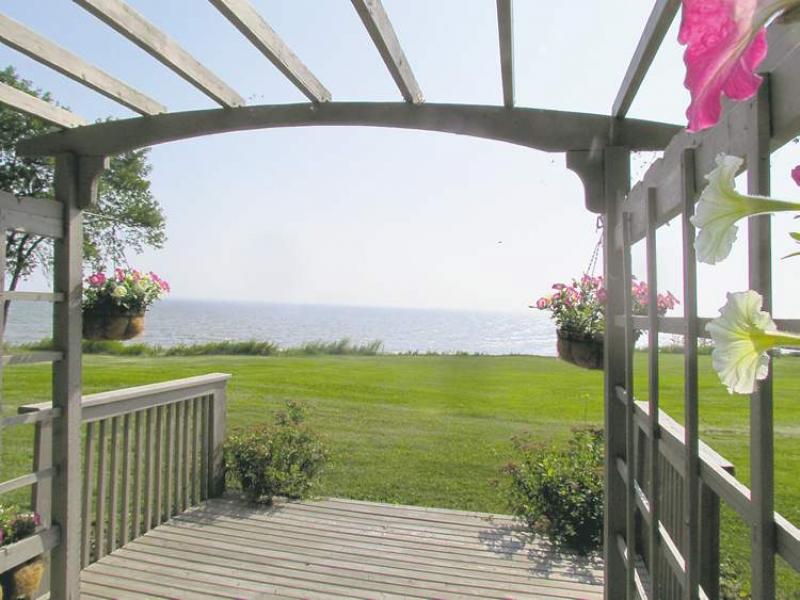 The use of garden structures -- arbors, pergolas, trellises or obelisks -- can be traced back to the gardens of ancient Egypt, Persia and China, circa 2000 to 500 BCE.
Used mainly for utilitarian purposes (to grow vines), it wasn't until the ancient Romans (circa 100), that garden structures were used for ornamentation and their architectural value.
Today, the forms themselves have not changed all that much, although the materials from which these vertical props are constructed have expanded to include ornamental wrought iron, rusted steel, willow, cedar, pressure-treated wood, lightweight powder coated aluminum and vinyl.
Design preferences are equally diverse. Whether your choice is rustic, contemporary or old-world elegance, garden structures can add a new dimension of vertical interest to your green space that invites you and your guests to sit and stay awhile. In addition to adding height and serving as functional support for the groaning weight of a mature vine that will eventually smother the arch in foliage and blooms for a picturesque accent, they can be used as an entry structure to welcome visitors, define boundaries, mask an unsightly feature or to transition from one garden 'room' to another.
Just as we carefully consider which plants to purchase for our garden and where to locate them, it's important to consider the site for your garden structure, its purpose and the type of material from which your project will be constructed. Incorporate features that complement the exterior design of your home and that also serve as a backdrop for your landscape. Do-it-yourself plans are readily available on the Internet or at your local library or hardware store. Some hardware stores offer workshops as well.
Peter Kenyon, lumber manager at the Home Hardware in Selkirk, says the plans they sell include a complete list of all the materials needed as well as detailed assembly instructions.
"We also supply pre-manufactured kits for pergolas and other garden accents for the not-so-handy person," says Kenyon.
"In the case of the pergola, for example, you're going to get the four corners with the arch top, all the required hardware, and pre-finished cedar components with a factory-applied water-based stain." Examples of the kits available can be found at www.yardistry.com.
Cedar has long been the classic choice for outdoor building projects because of its rot-resistant properties but other choices include pressure-treated spruce.
"The cedar that you purchase today compared to the cedar that was available 15 years ago won't last any longer than pressure-treated spruce," says Kenyon.
"It's not old-growth cedar anymore which had greater resistance to rot and decay due to the concentrations of tannins, which act as natural preservatives. New-growth cedar won't last any longer than treated spruce. The quality of the wood in the green treated lumber is very good compared to what was available five years ago."
Many people like the look and smell of naturally weathered cedar and prefer to not stain it. Stain, though, protects wood from drying out, cracking and shrinking -- particularly if it is receiving direct sun.
Bonnie Lenton, a Fort Garry homeowner, decided on a pergola for her backyard to replace some of the shade lost when a 30-foot green ash tree had to be removed following a windstorm.
"After the tree removal, our patio area was a completely blank canvas that was hot from mid- to late day," says Lenton.
Constructed last summer from unstained cedar, Lenton is now debating whether or not to apply a waterproofing sealer. The finished pergola affords both dappled shade as well as some privacy from a neighbour's window, which looks directly into her kitchen window. Designed to complement the chalet style of her house and create an attractive entry to both the backyard and house, the pergola features square pillars supporting an outdoor ceiling of flat crossbeams that follow the slope of the roofline.
Gail Braun, a gardener who lives northeast of Altona, had a novel idea for two gazebos on her farm. She painted an aluminum satellite dish with spray paint for the ceiling and used two-inch copper pipe for the supports. The narrow trellises in between the supports were made from finer copper-pipe tubing obtained from a plumber.
"I drilled holes in the two-inch pipes and attached the trellises with screws rather than soldering," says Braun. "I covered square wooden boxes with sheet copper and planted vines to grow up the trellises. Parts of an old lamp base were used for quite a nice Victorian-looking finial at the top of the gazebo."
Heavier copper sheeting purchased at a hardware store was used for the top of another, larger gazebo. The structure itself was built by the Occupational Training Centre in Altona out of cedar and followed the design of a picture that Braun found and admired.
"We laid twinkle lights on top of the whole structure and at night it looks magical," says Braun.
I'm partial to anything made from rusted steel. Garnet Enns, though, a master craftsman who owns Steinman Ornamental Iron Works in Steinbach (www.steinmanworks.com), creates wrought-iron masterpieces that are rustproofed, powder-coated or galvanized and then painted to last years and years. Enns works with solid steel -- a heavy material that will never blow away or sway -- even in our windy climate.
"It lasts more than a lifetime because it's not tubular," says Enns. "Tubular materials aren't suited for our Manitoba winters. Powder-coated aluminum will corrode over time. Even if steel does get some rust, it can be fixed."
For a more rustic look, consider willow, which bends easily and can be used to create anything from fences to gates to arbors or chairs for the outdoors.
Joe De Simone, a hobbyist who offers workshops at Fort WhyteAlive and Oak Hammock Marsh, harvests his supply of wood in spring and fall when it has no leaves or buds, taking care to cut it so the roots remain.
"The more you cut it, the more you encourage it to grow," says De Simone, who prefers white willow. "You need a whip kind of strength -- it should be green so it can bend. Make sure it is healthy when you harvest it. The bark will come off too easily if you wait too late in the spring. The fall is ideal."
For outdoor use, De Simone suggests protecting the wood with a spray of boiled linseed oil and turpentine.
"I use 50 parts linseed and one part turpentine and mix it in a squirt bottle," says De Simone. "It penetrates the wood and helps it to repel water and the effects of the sun's rays. Put down some plastic to protect the ground and spray every couple of years to promote longevity if you are exposing the structure to the outdoor elements."
Ed Johner, owner and manager of Windsor Plywood on Century Street, has another suggestion for a unique building material that is gaining in popularity: bamboo.
"It's an incredibly durable, natural product that has really caught on. It stands up quite well to our elements," says Johner. "Poles range in size from æ inches to four inches. Some people secure one pole to the other with galvanized wire or screw it together."
Bamboo is perfect for a tropical or exotic look. A classic garden feature is the obelisk. Painted or weathered, with or without vines, it serves as an excellent focal point. A group of five Birtle-area residents is building and selling cedar obelisks as part of a project that provides employment and teaches skills. They are available in two sizes (64 x 25 or 76 x 30) with a choice of natural cedar or painted and crowned with a hand-turned finial and come with two steel anchors.
Visit www.theclassicgarden.ca or drop by the Alternative Choice Garden Centre, Brandon's newest garden centre. In Winnipeg, handcrafted garden obelisks are available from Mensheds -- contact Doug Mackie at 204-832-0629.
Colleen.Zacharias@gardensmanitoba.com