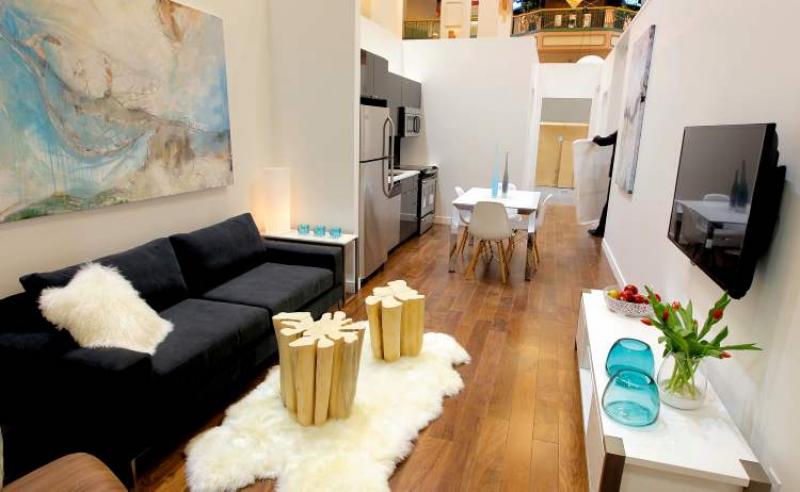 If your goal is to be at the centre of downtown Winnipeg's urban revolution, here's your chance.
At long last, a condominium development -- a joint venture between Toronto-based Urban Capital and Winnipeg's Longboat Development Corp. -- is poised to sit at the centre of all the city's downtown sector has to offer.
Standing 21 storeys high -- and featuring floor-to-ceiling walls of glass for panoramic city views -- the development is fittingly called Glasshouse Skylofts.
"So far, the reception to the concept has been nothing short of excellent," said Longboat Development's director of commercial development, Doug McKay. "We already have 1,200 registered to come to our launch to learn more about the building, and all that it will have to offer."
The concept, said McKay, is all about a streamlined urban lifestyle that's simple, clean and open -- capped off by spectacular views and a host of amenities on site or nearby 309 Hargrave St.
"Access to downtown and all its amenities is what people are looking for," he said. "Glasshouse will be at the centre of it all, offering stunning, uniquely modern lofts that fuse style and sophisticated design in the heart of downtown Winnipeg."
The most significant feature of Glasshouse is the floor-to-ceiling windows that will afford spectacular vistas of not only downtown, but the rest of the city. No matter what unit you choose, there will always be a view to take in.
"Sightlines will be clear and quite panoramic," said McKay. "Corner units will have some of the best views, as they'll have two sides that have glass. One of the best elements of the design is that walls don't run into the glass. That will make for clear, unobstructed views."
Correspondingly, the layout of the lofts - there will be 195 of them, ranging from 435 sq. ft, one bedroom units to 1,080 sq. ft., three bedroom units - will be open-concept to maximize both flow and views. Finishes will be modern, with an emphasis on glass, exposed ductwork, metal and concrete. That industrial-style look will then be offset by warm finishes such as wood and stone.
"It's going to be urban living at its best," said Urban Capital's David Wex. "The suites' cubic footage is going to be maximized by high ceilings and the huge, floor-to-ceiling windows. Even in the smaller units, there will be a real sense of space. Features such as open kitchens and sliding doors will give spaces a fluid feel, and will maximize flow. The feel will be a mix of industrial and traditional. Concrete ceilings and aluminum finishes will be combined with warmer tones that come from using wood and stone."
Stantec Architecture's Michael Banman said the suites are going to be spectacular.
"When you combine the materials, such as exposed concrete columns, with the windows -- light is just going to flood in, and views are going to be amazing -- the result is a leading-edge, urban residence," he said.
Glasshouse not only promises to be leading-edge in its looks, but also in the amenities it will offer its residents, said McKay.
"There will be both a well-equipped gym and theatre on the second floor," he said. "Residents can reserve the theatre to hold movie nights or watch a Jets game with friends, and there's no need to drive somewhere to work out -- you can do it right on-site."
The top-most portion of the building will contain the most spectacular amenity of all, he added.
"First of all, there will be a glass pavilion with a kitchen and space to entertain. Then, outdoors, there will be a terrace with fire pits, cabanas and a large dining table where you and 20 friends can sit down to a gourmet meal," he said, adding that the amenities have been designed to be an extension of each unit. "Of course, the view will be spectacular."
With units starting at an affordable $169,900 and 14 unit designs to choose from, Glasshouse - which will also be attached to a 400-car parkade and will have a second-floor bridge that connects it to the Centrepoint development (Alt Hotel, Milestones and China Libre restaurants) - is poised to revolutionize living in downtown Winnipeg.
"It's unlike anything Winnipeg has seen before," said McKay.
"Anyone who buys a unit is going to get a lot for their dollar, from the views, to the central location and all the great amenities."
For more information on Glasshouse, visit www.glasshousewinnipeg.com or call (204) 282-9658.