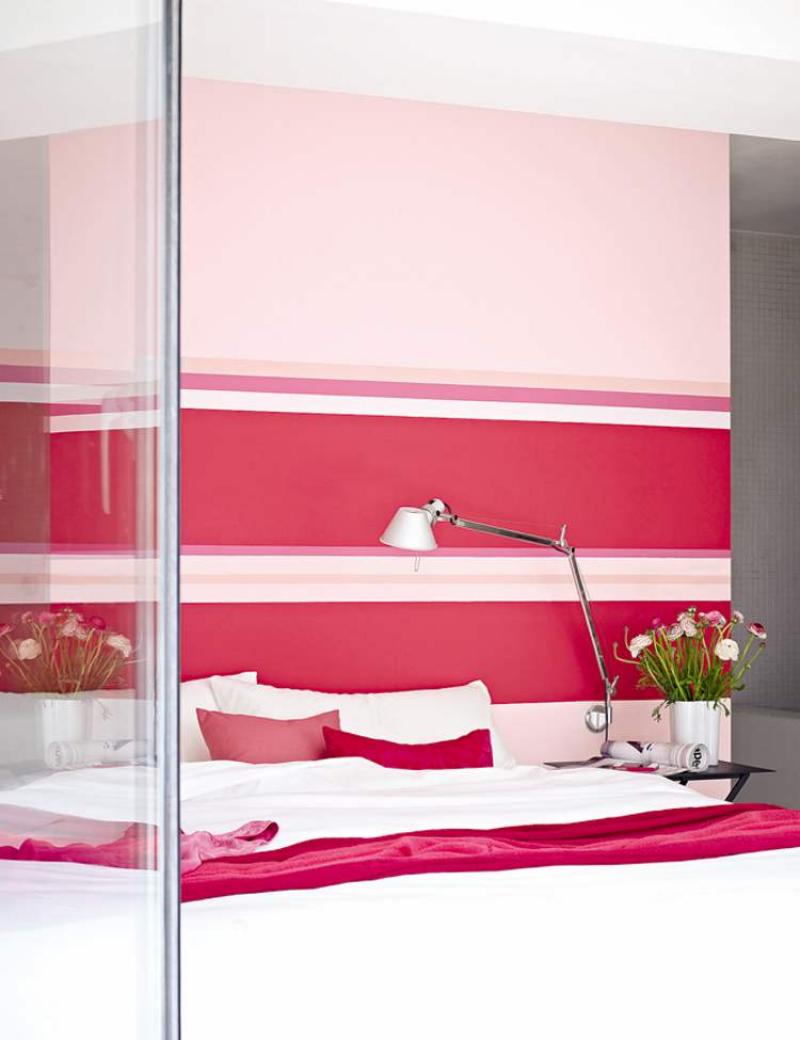 Creating a dramatic space doesn't require a lot of money or time. By using paint and a little imagination, you can transform a blah space into something spectacular over a weekend.
Now that the weather is warm, you can paint inside the home and open up windows to let in fresh air.
Let's look at two feature walls and how to go about creating something similar.
First of all, the CIL Paint photo shown here uses Carnival Pink to infuse a splash of dramatic colour, then balances the paint treatment with lighter shades of pink. You could achieve similar results with colours such as orange, red, lime green, yellow or for a more subdued look, black and grey or chocolate brown and tan. The trick is to have at least one vivid colour to make the feature wall pop.
Once you've chosen your colour palette you can then decide on what type of paint treatment you prefer. Our feature photo shows bold horizontal stripes, which works well on the partial wall behind the bed. An entire wall of bright-pink stripes might be overwhelming, but in this small area it's dramatic and fresh. As well, because the treatment is behind the bed, the room can still feel restful because you're not looking at this vivid wall when you're trying to sleep.
Another thing to notice is they used horizontal stripes to widen the partial wall rather than vertical stripes, which would have made the wall look even skinnier.
You'll want to take the layout of your room into consideration when planning your design. If, for instance, you were working on a tall wall that isn't very wide, you'd probably want to use a horizontal design instead of a vertical design. If the room you're working in has low ceilings, you may opt to use a vertical design to give the room the feeling of more height. If the room and furniture is very boxy, perhaps a softer design, like wavy stripes or circles might soften things up. If you're a modernist, you might want to go with bold geometrics and sparse furnishings. There are lots of options.
Achieving a focal wall, like the one in our sample photo, is all about preparation. Good-quality low-tack masking tape, a level and patience are all needed in order to get a good result. Give each colour band time to properly dry before going to the secondary stripe and take time to step back to ensure everything is even and level.
The great thing about creating a wall treatment is you can use bits of leftover paint from prior projects, which will save you money and time. You get to create a truly one-of-a-kind decor and the design can be as intricate or as simple as you desire. You can add to the design over time as well.
A focal wall like the one in our feature photograph doesn't require expensive artwork to look finished. It is art.
How to find the right design
I have to admit I would have trouble coming up with a design out of the blue. I usually get inspiration from a design I happen upon, then change it up with my own creative twist. If you're like me, you'll want to do some window shopping for a great pattern or design to give you a starting point. The Internet is great for this but also watch for great patterns in fabric, china, wallpaper, paintings, animal prints and murals. Even graffiti art can be an inspiration for a great focal wall, so keep an open mind.
If you've never attempted this kind of paint treatment before, you might want to start with a simple pattern then work your way up to something more intricate. Practise on a large piece of cardboard before you begin, just to see how everything comes together. Don't forget, it's only paint. If it doesn't work out, you can erase it with the swipe of a brush and start again.
Where to use bold pattern
The head of the bed is one place where a bold paint treatment can be used to create drama. A feature wall in a dining room or living room is another great option. Something out of the ordinary, like a bold pattern going up a stairway wall or at the end of a long, narrow hallway can be striking. A small powder room could be transformed with vivid colour and design as well.
If you're renting a home and can't paint the wall, buy yourself one or two large, framed canvases and create your paint treatment on them, then hang them as a focal feature. This way, you get to take them with you when you move.
Happy painting!
Connieoliver@shaw.ca