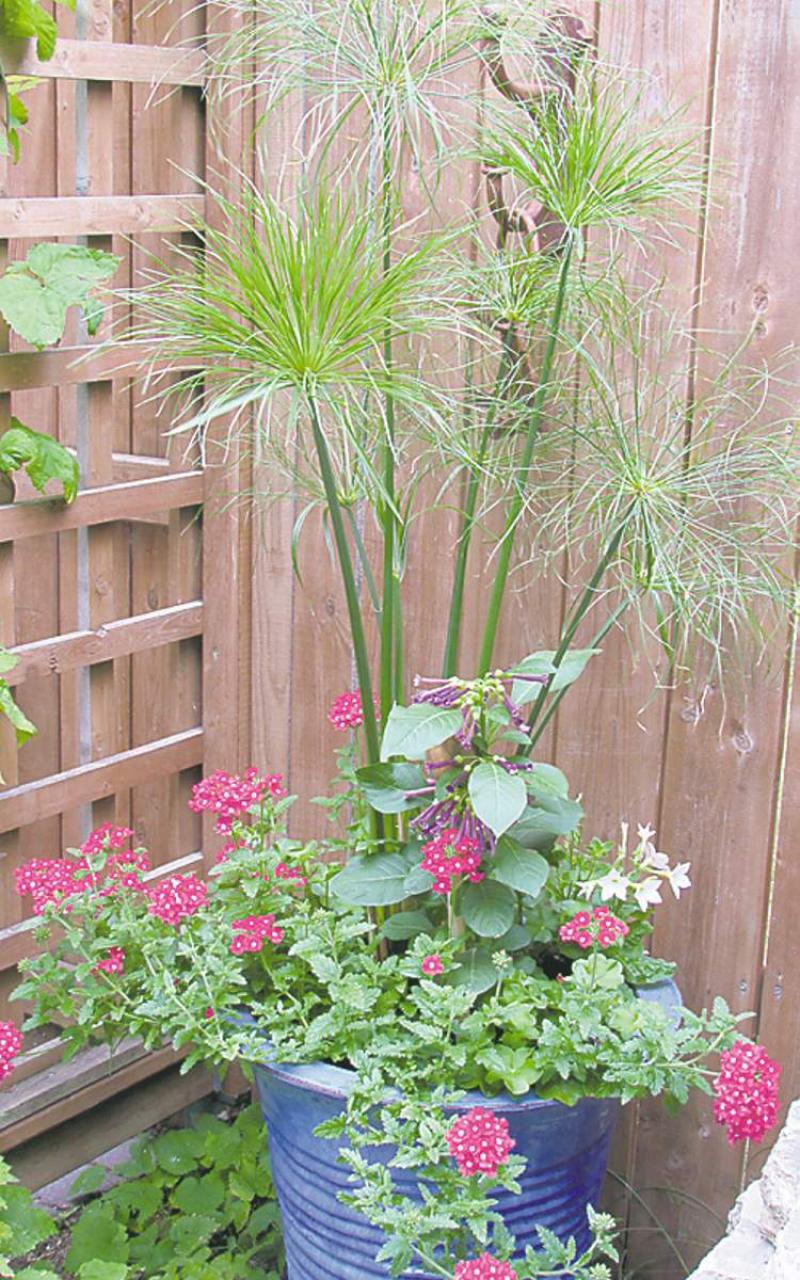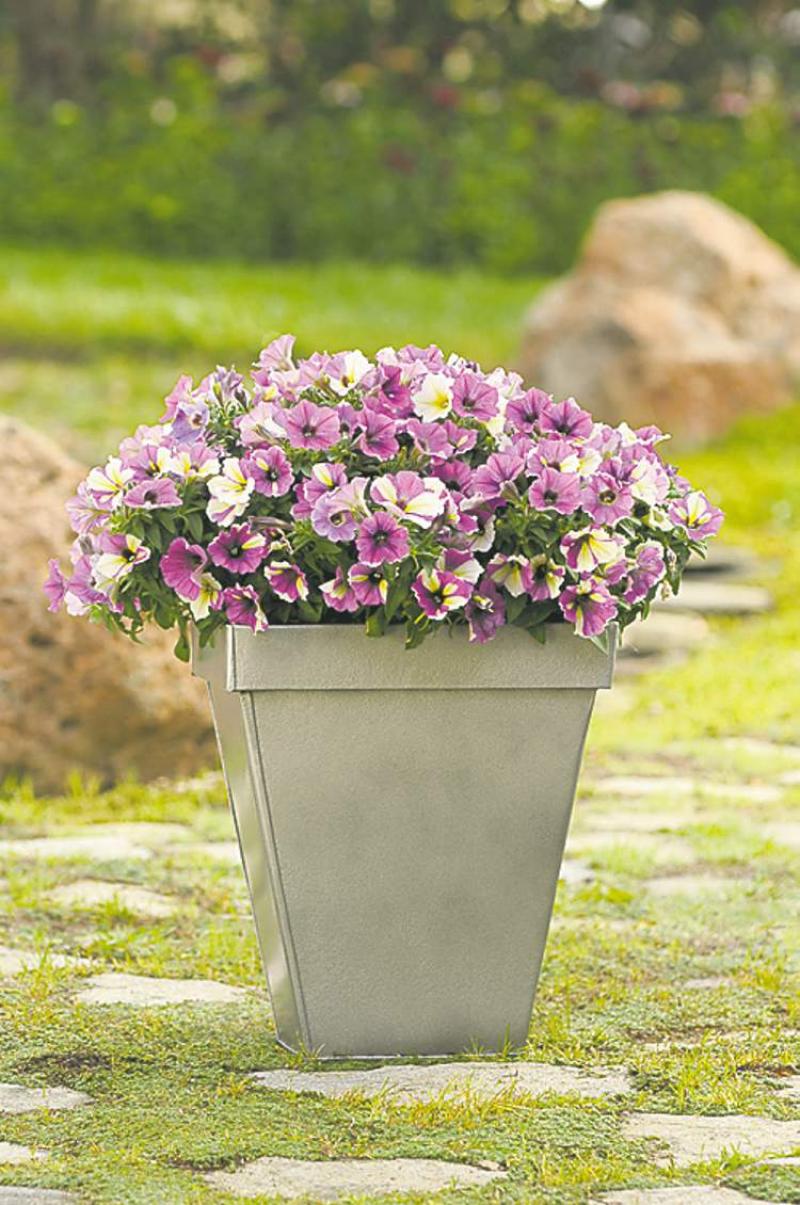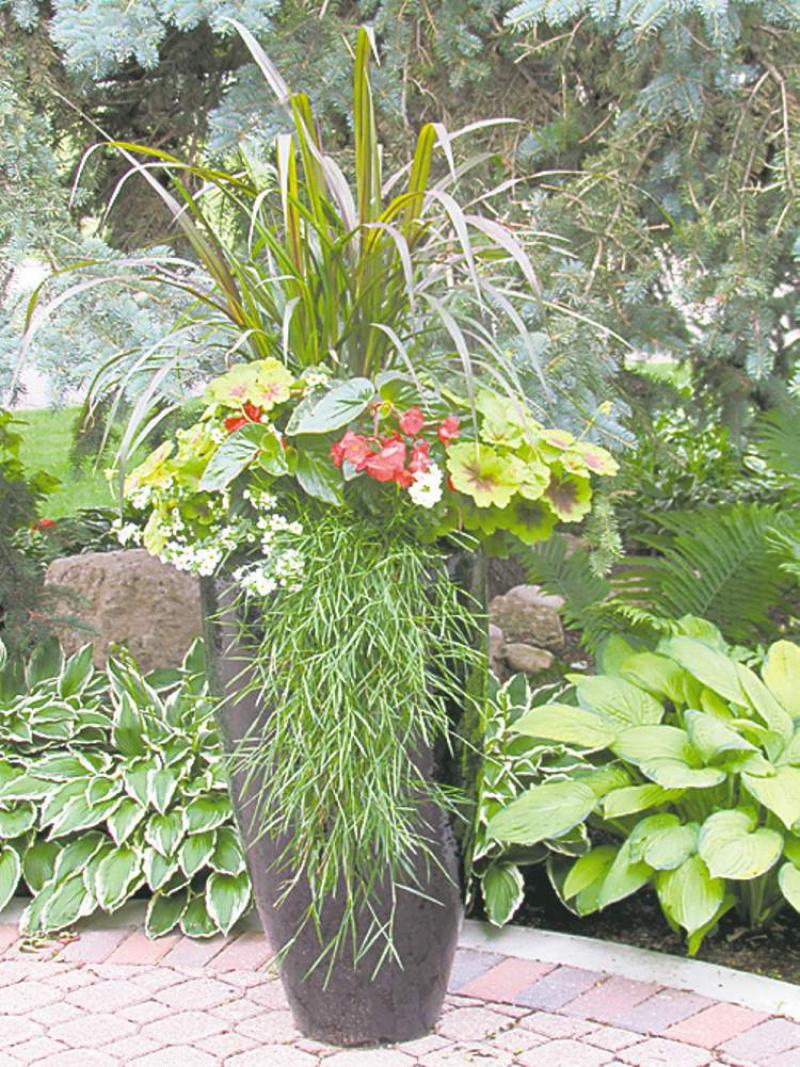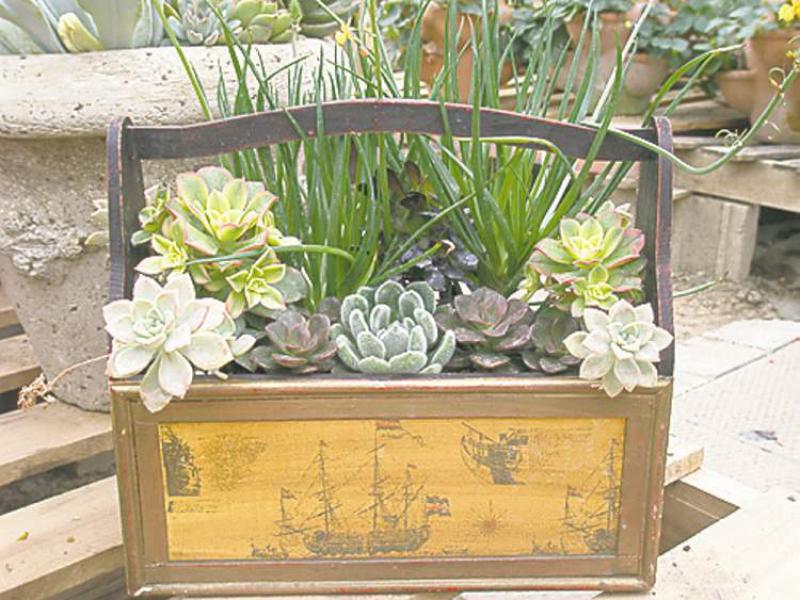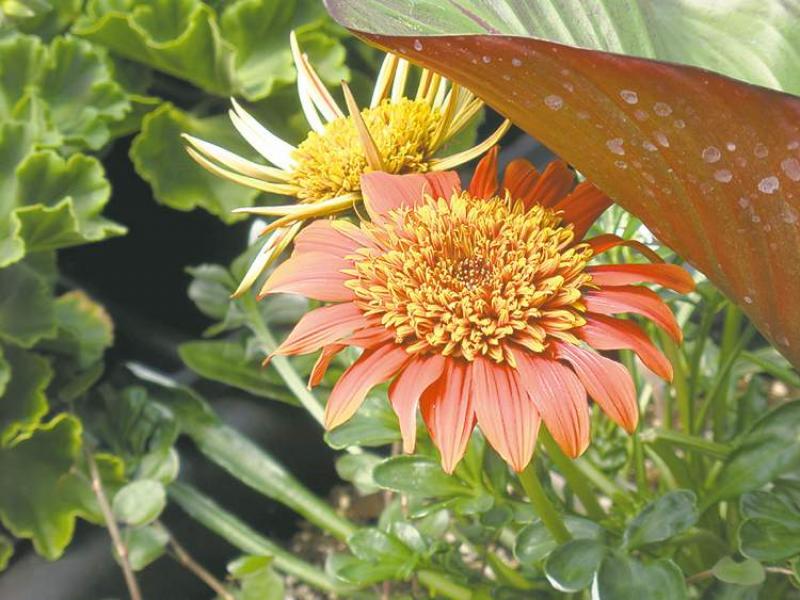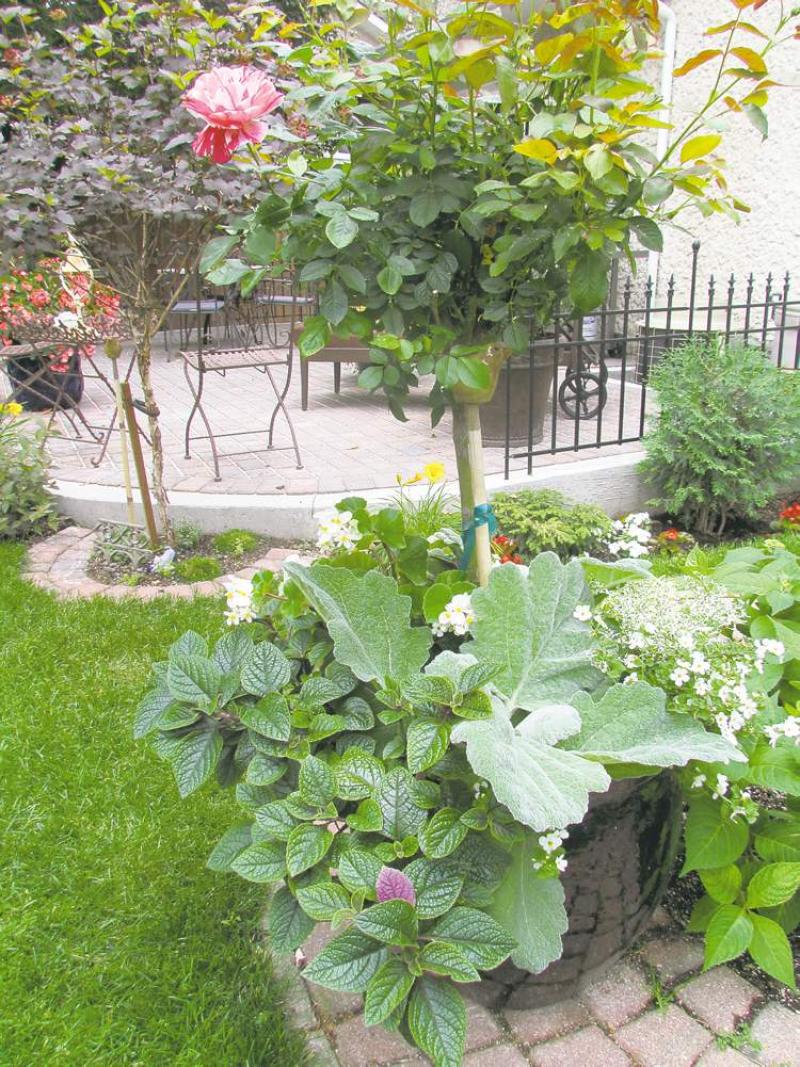 For all of the practical aspects that a garden centre may offer, from landscaping essentials such as trees and shrubs to gardening tools and advice, it's the annuals and flowering perennials that captivate our imagination. Monochromatic colour schemes may have their appeal but, after a long winter of white, the kaleidoscope of colour waiting for us at our local greenhouse is pure eye candy.
While garden planting schemes are sometimes limited by the amount of space available, container gardening, is suitable for brightening up even the smallest space, including patios and balconies. Once nighttime lows are reliably above 8C, most annuals are hardy enough to stay outside.
Allow some transition to the outdoors from the humid, controlled temperatures of the greenhouse. Begin by determining the site conditions for your container display, such as the amount of light and prevailing winds. Purchase a good-quality potting mix -- garden soil is far too heavy for a container planting. I use a mix of peat moss, pumice and composted bark which allows for good aeration, essential to container plantings.
Containers come in a variety of materials and sizes. No need to be intimidated by oversized containers -- simply purchase a plastic liner which can easily be inserted and removed later at season's end. Keep in mind that our growing season is short, so plant your new purchases close together for a lush, full display.
Now, what to plant?
Sometimes the first answer to that question is big-bloomed petunias. The new kid on the block is Blue A Fuse by Burpee which features tricolor blooms -- violet, yellow and white with a deep purple throat.
Don Fryfogel, owner of Fryfogel Flowers, near Oakbank, suggests pairing it in a 16-inch planter with the following plants:
1 Perilla Magilla (hot pink, burgundy and green coleus-like foliage plant) in center of container
2 Lysimachia Goldilocks
2 Potunia (yellow)
2 Blue a Fuse Petunia
A striking container combo at Fryfogels featured Mezoo Trailing Red (a light-green coloured succulent-type plant with a small red flower), Stawberry Drop Coleus, Sunbathers Sunset Gazania, and Wildcat Mandarin Anagillis. If you've shied away from gazania in the past because the flower closes up at night, check out Sunbathers Sunset. This new gazania sports large, orange, semi-double blossoms without the typical dark eye around the center.
Chartreuse and orange continue to provide vibrant contrast for this season's container displays. Bright colours are offset beautifully with darker shades. Look for Illusion Midnight Lace Sweet Potato Vine which will spice up the center or edge of any container planting.
Shawna Bell, from Jeffries Nurseries in Portage la Prairie, says that the trend now is to use shrubs in containers and shares this recipe which makes dramatic use of Smokebush:
1 Golden Spirit Smokebush
1 Purple Heat Setcreasea
1 Midnight Rose Coral Bells
1 Cuphoric Pink Cuphea
1 Red Thread Alteranthera
1 Strawberry Supertunia Pink Veined
1 Tri-colour Sweet Potato Vine
One of my favourite containers last summer featured two shrubs, Limelight Hydrangea and Black Lace Sambuca, together with a cascading Dragon Wing Begonia. In fall, I transplanted both shrubs into the garden. Both overwintered nicely, helped no doubt by the abundant snow cover.
Hugh Skinner, a horticulturalist and author who manages Skinner's Arboretum in Dropmore, suggests including clematis in a container planting for vertical interest. Two favourite varieties are Polish Spirit and Blue Boy. "Polish Spirit is similar to Jackmanii, but is more winter-hardy," said Skinner, who uses Lamiastrum and a variegated foliage plant such as vinca for underplanting. Another useful plant for underplanting is Silver King Sage (Salvia argentea). The huge, silver-coloured, fuzzy leaves drape the edges of containers and are irresistible to touch.
Heather Touchette, who owns Heather's Hideaway in Portage la Prairie, suggests pairing chartreuse-coloured Wasabi coleus with deep orange Rhine Brigitte Begonia and mauve-coloured bacopa. Rhine Begonia has waxy-type leaves which allow it to take more sun. Touchette shares this container recipe for a 22-inch container:
1 King Tut (Egyptian Papyrus) in center of container
4 Marguerite Sweet Potato Vine
2 hot pink geraniums
2 Sunrise Lucky Lantana (semi-trailing pink, yellow, and orange)
While King Tut provides fantastic vertical interest, growing to a height of 48 inches or more, another option for containers, bamboo grass, spills downwards.
"The wind makes it dance," said Touchette, who recommends putting it in a shady location and using potting soil with a polymer for moisture. "If it dries out, whack it off and it will grow back green."
Geraniums, petunias and marigolds may be considered the workhorses of the Prairie garden, but a must-have for my containers is maintenance-free Babywing Begonias. Available in pink or white, Babywing is extremely heat-tolerant and blooms late into the fall. Bacopa, on the other hand, slows down bloom production once the weather turns hot.
An alternative is Gypsy White Achillea, which I discovered last year at Glenlea Garden Centre. It proved to be an aphrodisiac for the rabbits but, once I rescued it and replanted it in a container high up on my front porch, it put on a summer-long show of non-stop small white blooms. A vigorous grower for full sun conditions.
While in Portage, I stopped in at Our Farm Greenhouse, which, true to its name, is nestled in the heart of farming country. Owned and operated by Shea Doherty with the assistance of his mother and siblings, this 35,000-square-foot greenhouse overflows with a unique selection of succulents, annuals, herbs, heritage tomatoes and more. Groupings of sophisticated and imaginative container plantings dot the aisles. Here is one spectacular example in an 18-inch pot:
Yucca Palm (center)
2 chocolate black Colocasia (aka Elephant Ear) 2 sedum
2 licorice vine
2 Gaura (for the 2nd height around the Yucca)
4 hot pink New Guinea Impatiens
Our Farm's succulent house features more than 270 varieties, which Doherty plans to double next year. Gold Dust sedum has been used as a colour block in many of the ready-made container arrangements or artfully as a 'river' meandering at an angle through plantings.
I was delighted to find deep, four-inch containers of Bougainvillea available in four colours -- fuchsia, purple, orange, white and variegated. I bought three of the fuchsia and will combine them with Diamond Frost Euphorbia in a moss-lined wire container with Princess Caroline fountain grass as the thriller
A word of advice from Shea: watch the thorns! "They are worse than the thorns on roses. When we prune them, we don't compost the wood -- they don't break down."
Brandon's Deborah Petrie, a Master Gardener and Past President of the Manitoba Regional Lily Society, loves bright colour and shares these suggestions for a rainbarrel-sized-container:
Start with five Amaranthus cruentus in the center (grows to four feet)
Intersperse seven African daisies with three pixie lilies for the second layer.
Edge the container with Sweet Potato Vine -- alternate a dark variety such as Midnight Lace with chartreuse-coloured Marguerite
Petrie added: "I might try alternating some smaller heuchera in both complimentary and contrasting colours, tucking them in between the daisy layer and the potato vines if there is room in the container."
For sheer drama and leafy texture, tropicals are second to none. Jeff Killeen, a Fort Garry tropical-plant enthusiast, has spent his spare time this spring checking out the tropicals at Sage Garden Herbs, Lacoste, Shelmerdine and Jensen's.
"Sometimes simplicity can create the loudest and most dramatic statement," Killeen said. "This can be easily achieved through rhythm and repetition."
Killeen's favourites for a container with a single plant include Zebra grass or Red Festival grass. His recommendation for an edible tropical display includes a Mission Fig as the centrepiece, surrounded by strategically placed artichokes. Tuck small red peppers in between, or perhaps French Thyme or Curry plant. Encircle with edible pansies -- great for salads or placing in ice cubes for your summer beverages.
"The container garden is the unconventional garden -- no rules, no boundaries", Killeen said. "Just keep the basic gardening technique in mind for starting out your design: the thriller is your main showpiece; the filler is the compliment, and the spiller creates the lushness pouring out and over the edge."