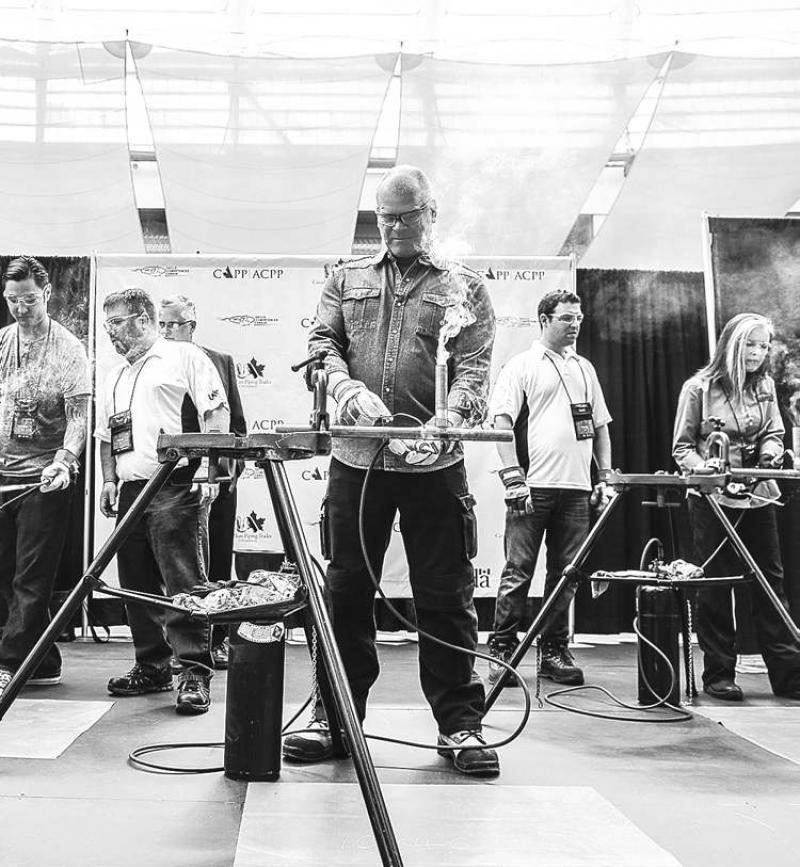 I just got back from Skills/Competences Canada in Vancouver, our country's nationals when it comes to skilled trades. Imagine: 44 trades, 10 provinces, three territories and hundreds of young competitors giving everything they've got to be the best at what they do.
And I'm not just talking construction. Skills Canada includes everything from baking, restaurant service and fashion technology to CNC machining, robotics, website development, aircraft maintenance and TV and video production.
Winners from Skills Canada go on to compete in WorldSkills, which is like the Olympics for trades. It includes more than 60 countries and more than 1000 competitors. It's not just about winning the gold; it's about being part of the event.
I've been working with Skills Canada for eight years and with WorldSkills for six years. This year I took my son, Mike Jr., to see it. I'm also taking him to WorldSkills 2013 in Leipzig, Germany in July. Why? Because you have to see it to believe it -- the passion in these young kids' eyes, their commitment and integrity. Everybody should be watching. Unfortunately, it's not televised.
Every time I talk about Skills Canada or WorldSkills, I always hear the same thing: How come it's not televised? Why don't more people know about it? The truth is I'm asking the same questions. But that's changing. And I'm telling you, it has to.
Skills Canada is about building and supporting tomorrow's trades professionals -- and from what I saw last week, Canada's in good hands. There aren't enough of these pros.
It's estimated that by 2016 there will be 1.5 million skilled job vacancies, and 2.6 million by 2021. Not to mention, Canada will be short at least one million tradespeople by 2020.
This competition doesn't just inspire the right kids to get into the right trades; it inspires everybody who watches them. Every year, I'm inspired by the non-stop push and determination of these kids. They leave everything on the competition floor. And they love it.
For me it's really important we have competitions such as Skills Canada that entice busloads of kids. They're realizing it's cool to be in the trades. You walk around the competition and it's not about, "I don't want to be here." It's all about, "I love being here."
Canada needs the right people to join the trades. If we want to compete in the global economy we need to move fast and push hard -- and we need to do it now. What we do today will have a direct impact on tomorrow's economy.
Skills Canada is being recognized more every year. This year was the biggest yet, but we need to do better. And we all need to get behind this competition and support our trades. We've built so much crap in the last 30 years that we need to fix, so we'll need to have the right people doing the right jobs.
There's a female welder who just recently kicked everyone's butt at Skills Canada. And she's got her eyes set on WorldSkills 2015 in Brazil. I love that determination. That's the kind of people we need in the trades.
Next year, Skills Canada will celebrate it's 20th anniversary. I want to see it televised. I want to see organizations and governments show their support and make it the biggest Skills Canada competition in history. I want to see top Canadian talent get involved, starting with the competitors themselves.
I want Skills Canada and WorldSkills to be recognized like the Olympics. They're that big.
-- Postmedia News
Catch Mike Holmes in his new series, Holmes Makes It Right Tuesdays at 9 p.m. on HGTV. For more information, visit hgtv.ca. For more information on home renovations, visit makeitright.ca.