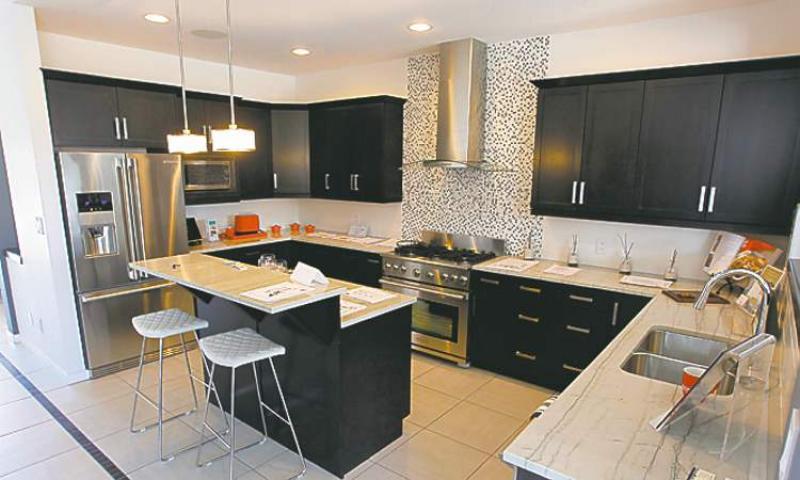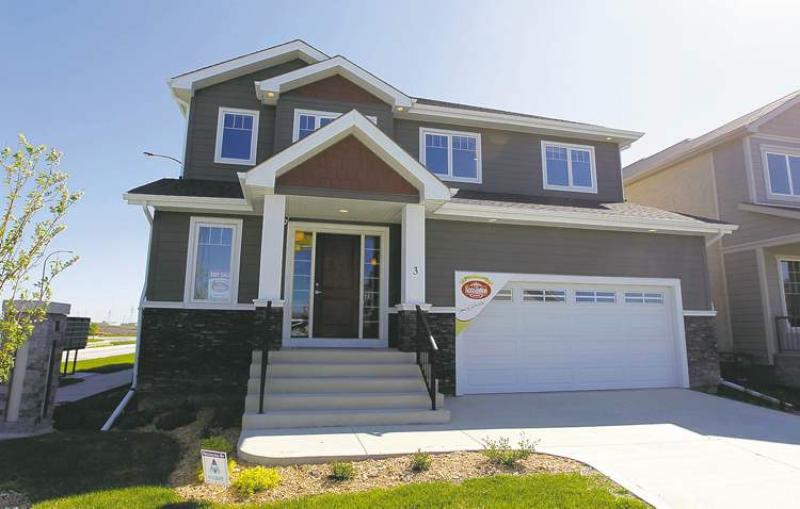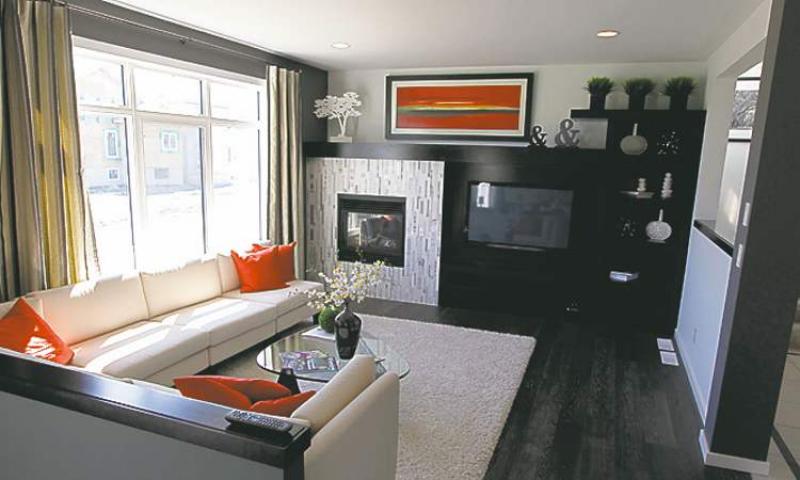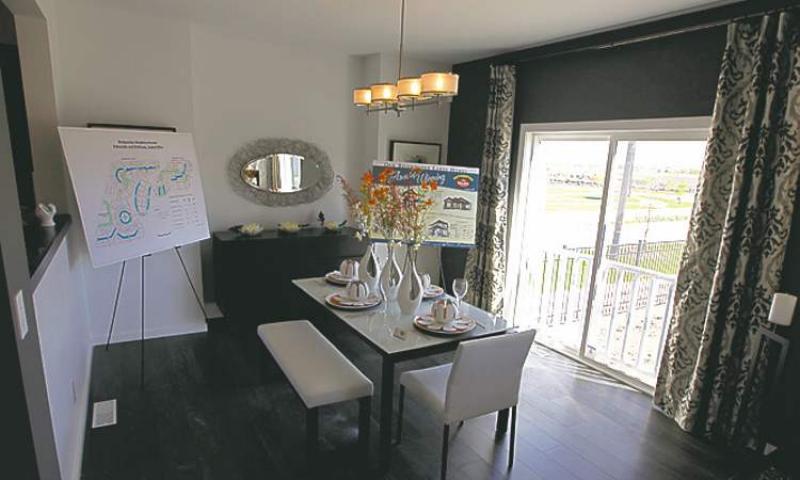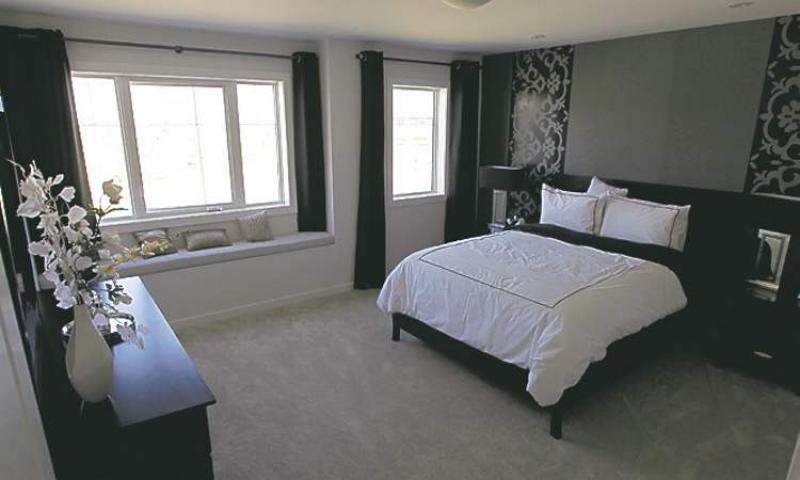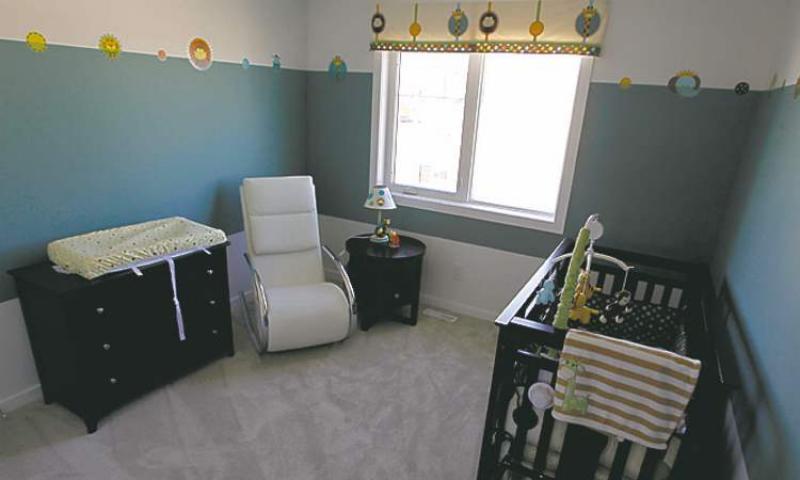 The moment you walk into 3 Rose Garden Crescent, you know something is different in a fashion-forward kind way.
Sabie Brar, Kensington Homes' sales consultant for the Bridgwater Lakes home, said there's a major reason why The Vista -- a 2,415 sq. ft., two-storey show home -- is packed with so much wow factor.
"It's one of the super grand-prize homes from this spring's St. Boniface Hospital Megamillions Choices Lottery," he revealed. "Kensington's designers went all out to create a home that was special both stylistically and functionally."
That style and function starts in an L-shaped, tiled foyer with a jog to the left that contains a window, closet and nook (next to a one-third wall) that was designed to contain a bench where visitors could take their shoes off, or a table on which to place keys and other odds and ends.
On the other side of the one-third wall is a large den that opens onto a long hallway lined with the same 18-inch grey tile that gives the foyer a welcome infusion of texture and style. The hallway then leads to a somewhat unexpected feature.
"The designers wanted to do something a little bit different, so they put an island kitchen to the left of the hallway," said Brar. "The placement is perfect. Flow from the kitchen into the dining area and living room is excellent."
Turns out, all three spaces in The Vista 2's great room are also well-proportioned. At 9.5 feet deep by just over 16 feet long, the kitchen has the depth and width necessary to offer excellent flow and function. A compact island with raised eating nook for two leaves ample room on all sides for ease of passage, while a cut-out on its far right-hand wall connects it with the dining room.
At the same time, a two-foot maple capped wall hides any dishes that might be lingering around the double sink.
"The kitchen is not only functional but it features rich finishes -- tile floor, cappuccino maple cabinets, subway tile backsplash, (beige/black) granite countertops and a gorgeous glass tile backsplash behind the stainless-steel stove and hood vent," he said.
"There are also pot lights above, and the pendant lights over the island finish off the space beautifully. The cut-out also allows light from the dining room and living room to spill over into the kitchen."
All that light comes from two sources: a sliding deck door behind the dining room and an enormous three-part floor-to-ceiling picture window on the living room's rear wall.
In fact, so much light flows in, it might have been too much were it not for the colour palette and finishing materials utilized.
"The home is all about bringing light inside, something that's helped even more by (standard) nine-foot ceilings," Brar said.
"To soften things a bit, our designers went with chocolate brown paint on the rear wall and dark wide plank (oak) hardwoods. The result is an area that's got just the right balance of brightness, warmth and flow."
Just as importantly, both spaces are generous in their proportions. The dining room is impressively spacious at 13.7 feet by 12 feet, while the family room is equally impressive at 17 feet by 14 feet. Once again, style and function is prevalent in both areas.
"With its cantilevered buffet area, the dining room has a nice, big feel to it, while its finishes -- the hardwoods, dark and light colour palette and floor-to-ceiling drapes with chocolate brown and taupe pattern on a beige background -- go together beautifully," he said.
"And the living room's corner fireplace with its (grey/off-white) tile surround and cappuccino maple entertainment unit is the perfect finishing touch, I would say."
Meanwhile, the finishing touch that defines the home's upper level -- which offers 1,081 sq. ft. of liveable space (as compared to the main level's 1,334 sq. ft.) is a family room/loft on to which the upper level stairwell opens. Three bedrooms then run along the left hand wall; the master suite is at the end in the corner directly across from the four-piece main bath.
"I think it's a very efficient, logical layout," said Brar. "The family room (nearly 15 feet by 12 feet in size) offers all sorts of possibilities. It could be a media room, play room, office or computer room. It's also a bright area that benefits from a huge three-piece window on the back wall, as well as two big windows over the stairs. There's lots of room to move between it and the bedroom, and all three bedrooms are larger than normal."
The largest bedroom, of course, is the master suite (at a roomy 14.6 feet by 13.1 feet). A literal wall of windows -- three-piece, boxed out window with window seat plus another large window adjacent to the bed -- inject enormous amounts of daylight into the room, while dark draperies and a taupe feature wall behind the bed offset the room's inherent brightness.
A walk-in closet with built-in storage and three-piece ensuite with grey tile floor finish the bedroom off perfectly.
"It's a beautiful, private space that's perfect for parents to get away from it all," he said.
"It's also directly across from the main bath which has a soaker tub if you want to take a relaxing bath."
Additional features such as a main floor laundry room, ample storage and a well-laid out, bright basement make The Vista 2 a home that neatly bridges the gap between fashion and function.
lewys@mts.net
DETAILS
Builder: Kensington Homes
Address: 3 Rose Garden Cres., Bridgwater Lakes
Style: Two-storey
Model: The Vista 2
Size: 2,415 sq. ft.
Bedrooms: 3
Bathrooms: 2.5
Lot Size: 46' x 130'
Lot Cost: $124,900
Price: $549,900 (Includes land & net GST)
Contact: Sabie Brar, New Homes Sales Consultant @ (204) 990-5230 or Heather Daniels, New Homes Sales Consultant @ (204) 962-8042