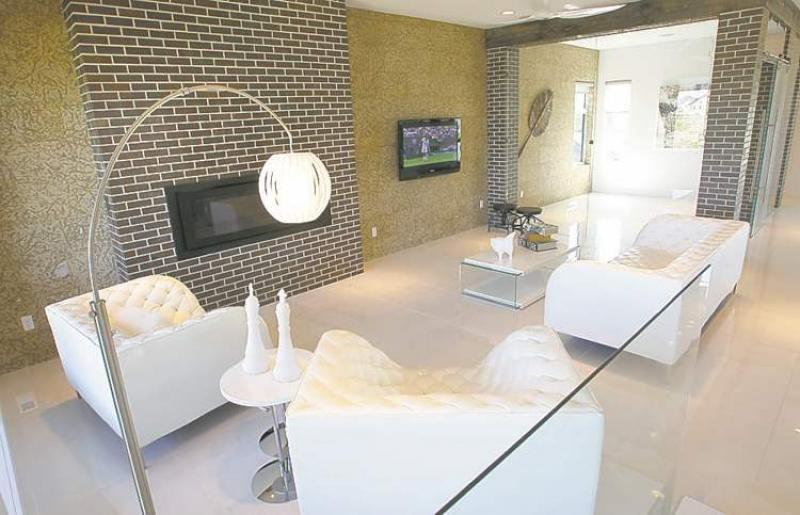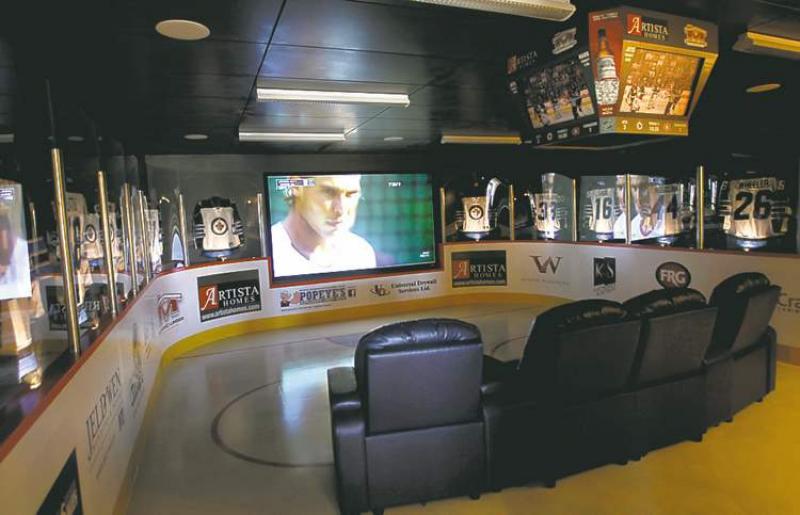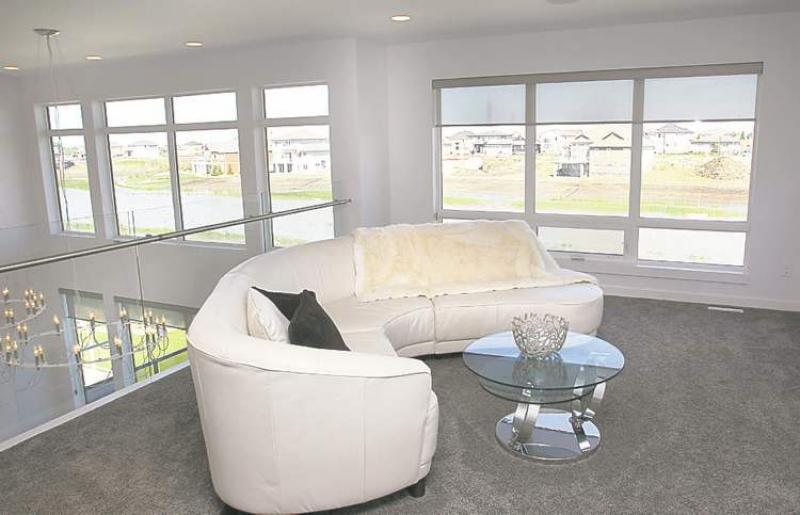 In most cases, it's easy to classify a new-home design as either modern or traditional.
That is, unless the builder is Artista Homes. With a design team whose mandate is to conceive home designs that go outside the box -- and then some -- anything is possible. Artista's latest show home, a two-storey abode at 43 Bridge Lake Drive in Bridgwater Lakes, is an example of Artista's refusal to give in to the same-old syndrome.
"The design team at Artista always wants to keep people guessing about what they're going to do next," said Royal LePage Alliance's Elliot DeDomenicantonio, sales representative for 43 Bridge Lake Drive. "They have two main goals when designing a home. First, it has to be an imaginative design that incorporates design elements that set it apart from all the other show homes on the market. Second, it has to be a functional design. Artistry without function just doesn't work."
Simply put, 43 Bridge Lake Drive doesn't fall victim to the same-old syndrome due to the mix of finishing materials. A space to the right of the foyer immediately disproves the notion that traditional and modern finishes don't mix together harmoniously.
"I think one of the home's coolest features is the den next to the foyer," said DeDomenicantonio. "It features glass walls with a sliding glass door -- and a Tyndall-stone back wall. And the Tyndall stone isn't the only traditional feature. Fir beams above add warmth to the space, while the stone offers tons of texture. It's a different mix of materials that works together very well."
The mix of traditional and modern materials continues in the family room, where its focal point -- a ribbon fireplace -- is set in not one but two very traditional materials. For starters, its surround is taupe brick. It's framed on either side by the Tyndall-stone wall, which extends from the den at the front of the home all the way to the family room's rear wall.
Next come the modern features, noted DeDomenicantonio.
"A gorgeous white/grey (24-inch) porcelain tile runs through the entire great-room area, and the walls are off-white," he said. "It's a very bright area due to huge windows everywhere. The family room alone has three huge windows that let in all kinds of light and provide a view of the water behind the home. The taupe brick, Tyndall stone and tile, with its subtle grey colouring, provide enough warmth to ensure the great room isn't overwhelmingly bright."
Meanwhile, the adjacent kitchen/dining area is a tour de force in ergonomics and modern design. Due to the home's generous square footage -- 43 Bridge Lake Drive offers more than 5,300 square feet of living space spread out over three levels -- there's no shortage of elbow room.
The semi-formal dining area, placed next to a picture window, comfortably holds a table for eight, and there's all kinds of room to move around the kitchen's four-foot by nine-foot island. A plethora of white maple cabinets, augmented by stainless Euro pull-up cabinets over the sink, complement the grey/white tile floor, and an eight-foot pantry with eight storage compartments adds utility.
"The kitchen has been a real hit because it's such a bright, clean space. Set up two steps from the family room and foyer, it's a separate space, yet connected to the rest of the great room, which is a space that's ideal for entertaining," DeDomenicantonio noted.
"People can sit at the eating bar and visit while you create a meal. You can cook as you look at the water through another picture window, or you can head out the door off the kitchen to chat on a raised (16-foot by 15-foot) deck overlooking the water."
The home's upper level is accessed via a staircase that again combines modern and traditional design elements: white maple stairs, stainless steel railing and tempered-glass inserts framed by a Tyndall-stone backdrop. The next bit of wow factor comes in the form of the flex room with a three-sided fireplace directly off the stairs.
Then there's the master suite, which is enveloped in luxury from end to end.
"It's been designed to be a true retreat in every respect," said DeDomenicantonio. "First, there's a picture window that provides a soothing, elevated water view. On the same wall is a door that leads to a private balcony that overlooks the water.
"The bedroom, which is bigger than normal, is then divided from the ensuite by a tempered-glass wall with a glass barn door. A white chiffon curtain can be pulled across if you want more privacy."
Stunning is the only word to describe the ensuite, which features a black quartz stand-alone tub with grey fleur-de-lis etchings on its exterior, a six-foot shower with three body sprays, circular quartz sinks either side of a white quartz and maple vanity, plus a walk-in closet the size of a small bedroom.
While women love the soaker tub, men love the media room downstairs in the walk-out basement, DeDomenicantonio said.
"To be honest, a lot of guys scream in delight when they see it. It has a 154-inch screen, has been outfitted to look like a hockey rink (with boards, Plexiglas and an epoxy floor sanded down to look like ice) and is surrounded by Jets jerseys.
"There's also a gym, games area, bedroom, bathroom, and of course the view and a door to a covered patio in a low-maintenance backyard. This home is stunning from top to bottom."
lewys@mts.net
DETAILS
Builder: Artista Homes
Address: 43 Bridge Lake Drive, Bridgwater Lakes
Style: Two-storey
Size: 5,300 sq. ft. of total living space
Bedrooms: 4
Bathrooms: 3.5
Lot Size: 54' x 118'
Lot Cost: $187,900
Price: $1,200,000 (iIncludes land & net GST)
Contact: Elliot DeDomenicantonio, Royal LePage Alliance @ (204) 990-2516