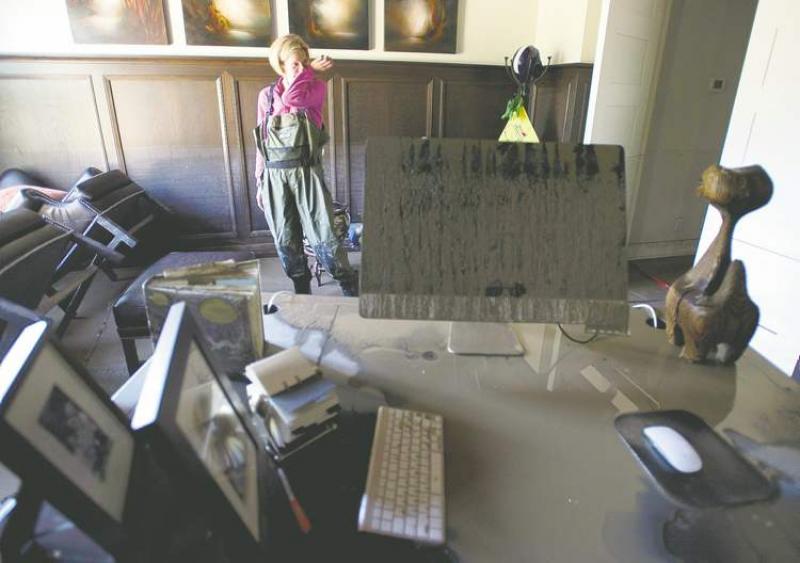 I've been watching the flooding situation in Alberta. I don't think anyone expected this level of devastation.
It reminds me of New Orleans in August 2005, and it's no surprise people are referring to the disaster as the Canadian Katrina.
The water rose 20 centimetres in 2.5 hours, forcing more than 120,000 from their homes. People have been trapped on roofs and in attics, and there have been fatalities. But, it's not over.
All that extra water has to go somewhere. And unfortunately, that means more people will be forced to leave their homes as the water moves downstream.
The flooding has caused a lot of problems and multiple levels of devastation. Alberta is facing an estimated $3 to $5 billion in damages -- at least. It's going to take years, not months, to clean up.
The first step is dealing with the flood itself and the damage it's done to the area. But then there's the mess people are going to face when they're allowed to go back home. Some homeowners have already returned home, and in some cases, the damage is overwhelming. But it's important not to rush to make everything look normal.
There are a lot of measures homeowners need to take after a flood. The first is to have any water in the home pumped out, and this needs to be done quickly so mould spores have less time to grow. Patience plays a big role because any space where floodwater has invaded must be 100 per cent dry before you try to rebuild. Bring in fans, exhaust units -- anything you have to so that the flooded areas dry out completely.
I've seen people cleaning up the mess without protective gear or equipment. Their hearts are in the right place, but this is a huge safety hazard.
Your best option is to hire a cleanup company, especially if there's sewage. Professional companies know how to clean a home the right way.
Another step will be hiring someone to fix the damage. Take time to think about the right materials and products. For instance, when disasters such as this happen, they show us the importance of building mould-resistant homes. Not installing mould-resistant products can cost you much more in the long run.
When you're ready to find a contractor, wait for the right one because many of them are going to be busy. Talk only to contractors who have plenty of experience restoring water-damaged homes.
These pros will know, for example, that if your basement was flooded at least one foot of drywall above the flood line needs to be removed, plus all the drywall below the flood line, all the insulation in this area and all the flooring. Even if there is ceramic tile on top of a wood substrate it all has to be pulled up because the wood will hold moisture.
The Alberta flood has to change the way we build. It's our wake-up call.
There's no denying we're facing extreme weather -- everything from tornadoes and floods to extreme heat and droughts. And that's just in Canada.
If we want to build and rebuild things right, we have to take into account the surrounding environment. And if the environment changes, the way we build must change, too.
-- Postmedia News
Catch Mike Holmes in his new series, Holmes Makes It Right Tuesdays at 9 p.m. on HGTV. For more information, visit hgtv.ca. For more information on home renovations, visit makeitright.ca.