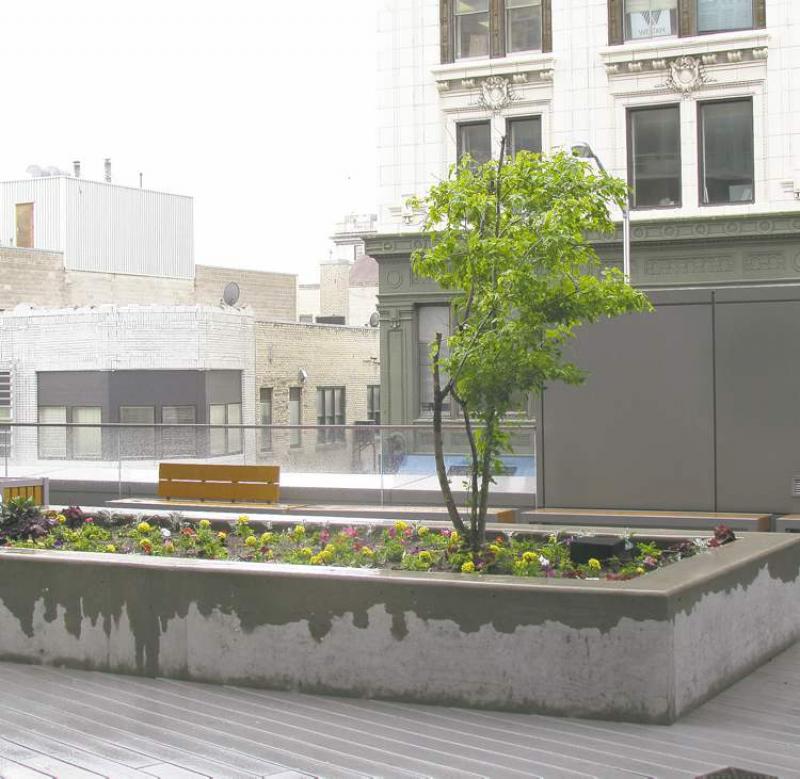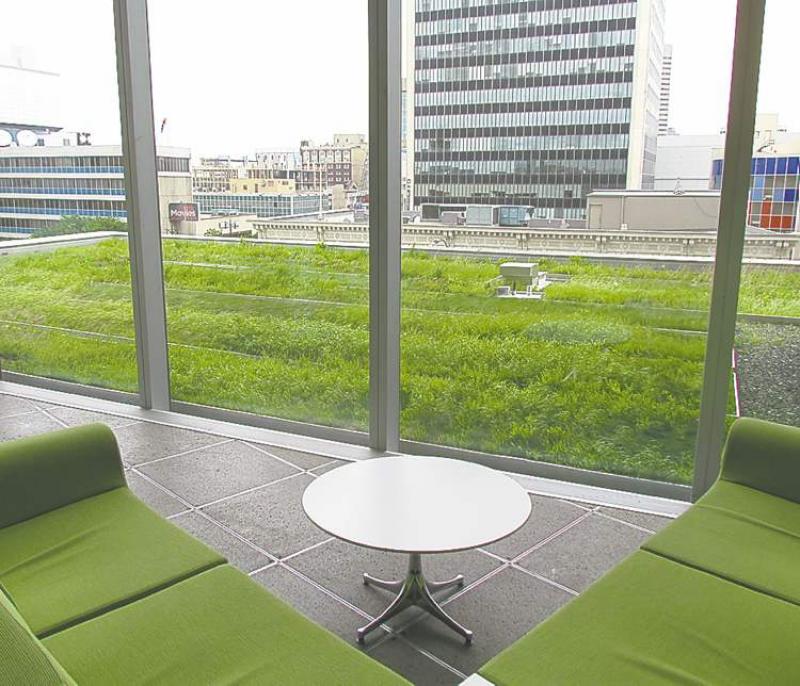 Green roofs and rooftop gardens are growing in popularity in many Canadian cities, including Winnipeg. The benefits are well-documented -- the enjoyment of greenspace enhances the lives of residents, workers and visitors.
Winnipeg's Downtown Biz hosted the first of two downtown rooftop garden tours on July 23rd. Limited to 30 participants, the first tour quickly filled. Downtown Biz's Rose Dominguez says that the enthusiastic response has prompted a second tour planned for August 7th which is now also full. Each tour is approximately one hour and the cost is free -- a growing waiting list may prompt a 3rd tour. Visitors have the opportunity to see the rooftop gardens at the Winnipeg Art Gallery, Manitoba Hydro Place, Red River College's Roblin Centre and Mountain Equipment Co-op.
The latest rooftop garden project in Winnipeg is the Great West Life Rooftop Garden and Solarium at Misericordia Health Centre. Located on the 7th floor of the Cornish building, the four-season solarium is 1,750 sq. ft. with an adjoining exterior patio that is 1,215 square feet.
According to Diane Lambert Shack, Director, Major and Planned Gifts, the Misericordia Health Centre Foundation committed $500,000 for the creation of the project. In addition to community support, Great-West Life provided the lead gift of $250,000.
Ellen Locke, Manager of Recreations says that although the last few finishing touches are being applied to the roof top garden, residents, visitors and staff are already utilizing the solarium. West-facing windows provide a dramatic view of Winnipeg's leafy canopy and Assiniboine River winding its way between River Heights and Wolseley neighbourhoods. East facing windows overlook Armstrong's Point. The Legislature can be seen in the distance as well as the tip of the Museum for Human Rights.
Seventeen square-shaped raised beds (37 in. X 37 in.) will be positioned around pillars in the rooftop garden and are designed to be easily accessible by residents who will decide on the plantings. Students from neighbouring Mulvey School started tomatoes and peppers this spring for a pizza party which will be held in the fall in the rooftop garden.
Locke says that it is important for residents to have their own space, adding that the solarium and rooftop garden enhances the working experience for staff. "It is equally beautiful in winter, not just when it is green; the starkness is very different, especially at dusk."
Winnipeg's largest green roof can be found at Manitoba Hydro Place, 360 Portage Avenue. There are a total of six 3-storey atriums that can be accessed from every floor, starting at the 4th floor where visitors can gaze directly through massive windows at a lush green roof.
Julie Gervino, Visitor Services Coordinator, says there are many good reasons for having a green roof on the 3rd floor. "It puts nature in your view, Not only for Hydro employees but also employees in surrounding buildings. It's a good-neighbour roof".
A rainwater/condensate reclamation system is used to water the green roof.
Gervino says that one of the challenges of having a rooftop garden is that the wind causes significant erosion. "We use a locally produced soil medium for the bio-roof that is a special type of fill -- heavier and less susceptible to erosion".
The building also features spacious outdoor terraces with raised planters, barbeques and, of course, great views. Gervino says that the opportunity to take advantage of outdoor greenspace during the work day has even been found to reduce the need for caffeine.
Ducks pose the occasional dilemma to all of the downtown rooftop gardens, although their presence certainly adds to the outdoor experience.
"The goal is to deter geese from nesting, because there is no water," says Gervino. At one point, a hawk kite was used on one of the terraces to deter geese. Strobe lights have also been used, but to no effect.
One place where ducks can nest happily is in the pond at Millennium Library Park, 251 Donald Street. Guided by Gail Doherty, Administrative Coordinator of Central Library Services and Jack Lubinski, Superintendent of Park Services, I marvelled at the beauty of this downtown park, about one-half hectare in size, which has been created on top of the underground parking facility.
Pedestrians enter the park from various points but perhaps the most dramatic entry is on the north side of St. Mary Avenue, site of a brilliant work of art by Vancouver artist Bill Pechet. Over 10 meters high, the unique container shape wafts a tantalizing mist of fog along the edges of the park. Visitors are greeted by a large circle of lush Kentucky Blue Grass (take your socks off!), complete with loungers for anyone looking to relax and soak up the summer sun.
Walk under the shade of trees that are in pristine condition: native American elms, basswood, paper birch and trembling aspen. Drought-tolerant and native prairie plants include Karl Foerster reed grass, coneflower, monarda, wild onions, rudbeckia, wild roses and tall liatris.
The water feature sits at the base of the four-storey window wall. A boardwalk fabricated from pedra wood decking material adds to the feel of this urban wetland. All of the water plants are containerized and include Blue Flag iris, common cattail, softstem bulrush, needle spike rush, yellow pond lily, and common reed grass. Two tall chrome windmills help to aerate the water. An aerator system with biological agents helps to ensure the water quality.
"From a teaching point of view, it's a great opportunity to see plants you would only see at Fort Whyte or Oak Hammock," Lubinski said.
As well as enhancing the downtown experience for children and adults of all ages, the park also features giant chess games, free Zumba and yoga and performance artists. Check out the Downtown Biz's online events calendar (www.downtownwinnipegbiz.com) or visit Winnipeg.ca/library.
Downtown residents George Shirtliffe and Miles Middleton decided to relocate to downtown from their suburban home when they saw an ad promoting "the best-kept secret in Winnipeg". On investigation, they discovered that the downtown penthouse featured not one but two undeveloped rooftop gardens.
Today, both gardens are planted with scores of dahlias and cannas which they lift in fall and overwinter in the cool basement environment. Some of the bulbs are 10 years' old and when mature, they grow so tall that the half wall of the rooftop garden is completely obscured.
Shirtliffe has also constructed a 4-by-8-foot raised bed brimming with tomatoes, beans, beets and carrots. Neighbours in nearby buildings enjoy the colourful garden and call out from their balconies.
To irrigate the many potted plants, Shirtliffe installed a two-way valve on one of the showerheads plus uses a 50-foot hose which he runs out the patio door. "We start the morning with coffee in the garden, do the watering, and then have dinner outside with a glass of wine", says Shirtliffe, who adds, "We get a lot of personal enjoyment from our garden".
Sometimes a few weeds get blown up into the garden. Mosquitoes, though, are almost non-existent and noise from passing traffic is rarely bothersome. Shirtliffe removes plants from the containers in the fall, leaves the soil in for the winter and stores the containers, a mix of good quality terra cotta and ceramic, on the rooftop.
Anna Thurmayr, Assistant Professor, Department of Landscape Architecture, University of Manitoba, asks, "When you think of the German speaking countries, why do they have so many green roofs and why are they so successful? The driver are by laws that promote their implementation."
In a presentation to an industry audience at The Manitoba Green Show in 2012, Thurmayr stressed that while Green Roof By-laws exist in other urban centres such as Toronto, in Winnipeg we would first need more knowledge, experience as well as crafts people in order to take advantage of this type of by-law.
Thurmayr also stresses the importance of ongoing maintenance which is a big issue -- not just in Manitoba but worldwide. "Landscape architects work toward the first image but once the guarantees of the contractors have been fulfilled within one or two years, the project is the responsibility of the owner", says Thurmayr.
Thurmayr says there is still a lack of public discussion about the amenity and social factors concerning roof gardens. "Similar to ground level gardens they include people", says Thurmayr. "Even if the space is concrete with some greenery, what's important is that there are people who are enjoying the space -- for walking, getting together, relaxing."
"As soon as we understand the rooftop garden, then we can be successful in creating one. It means maintenance and it means experiment -- that's what gardens are all about."