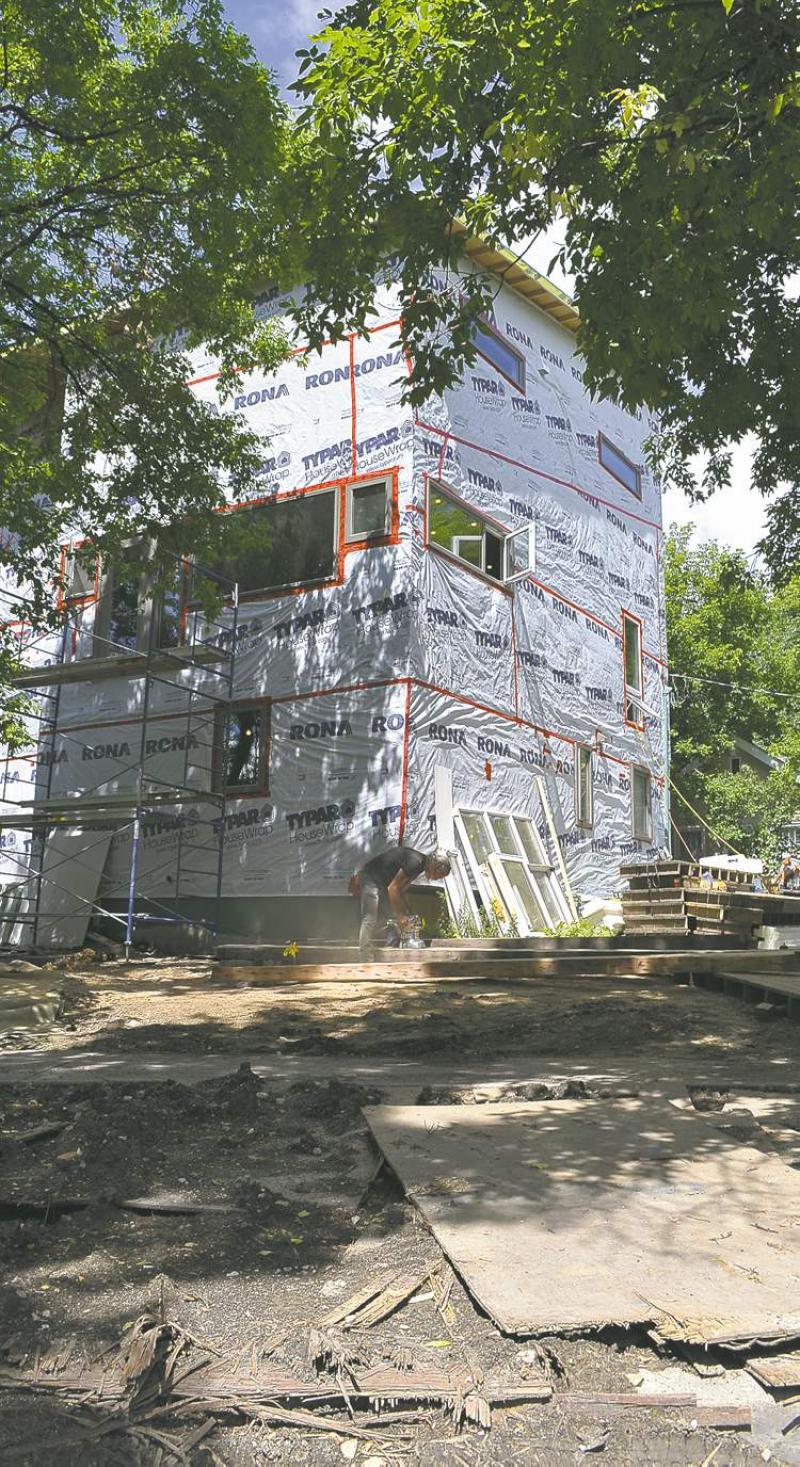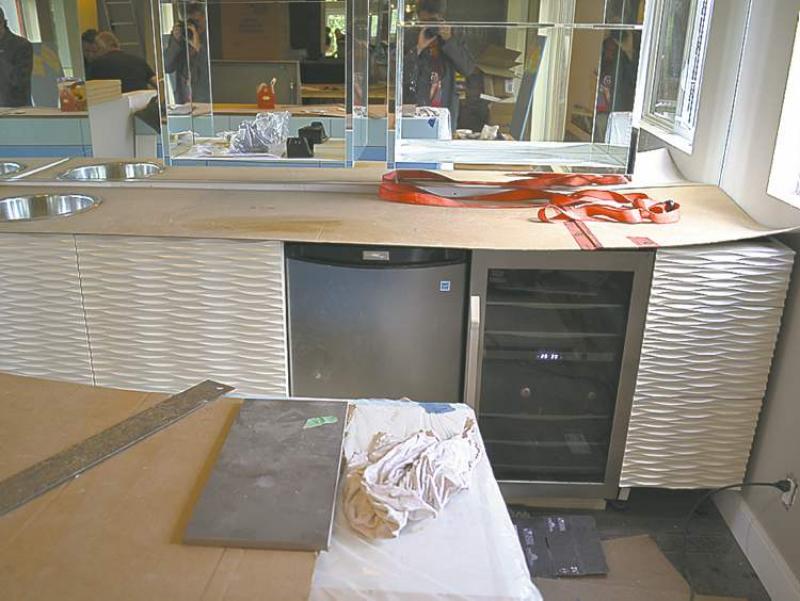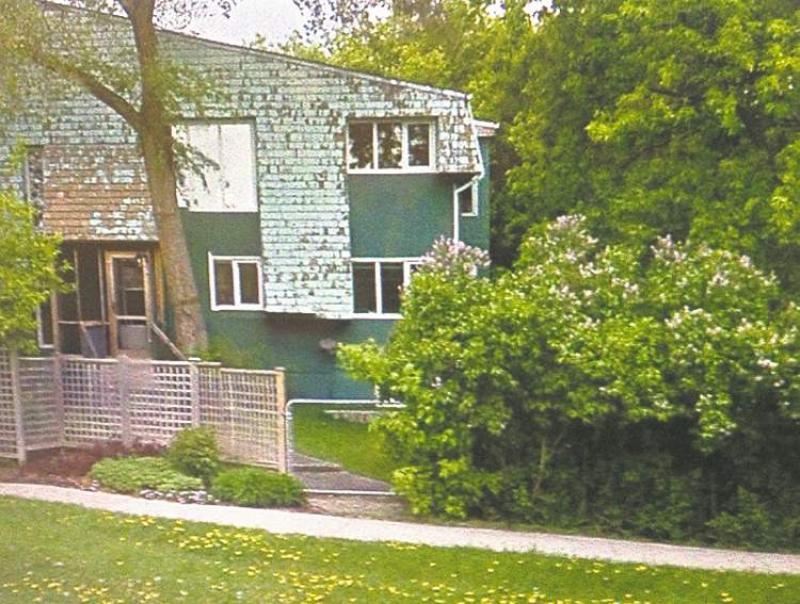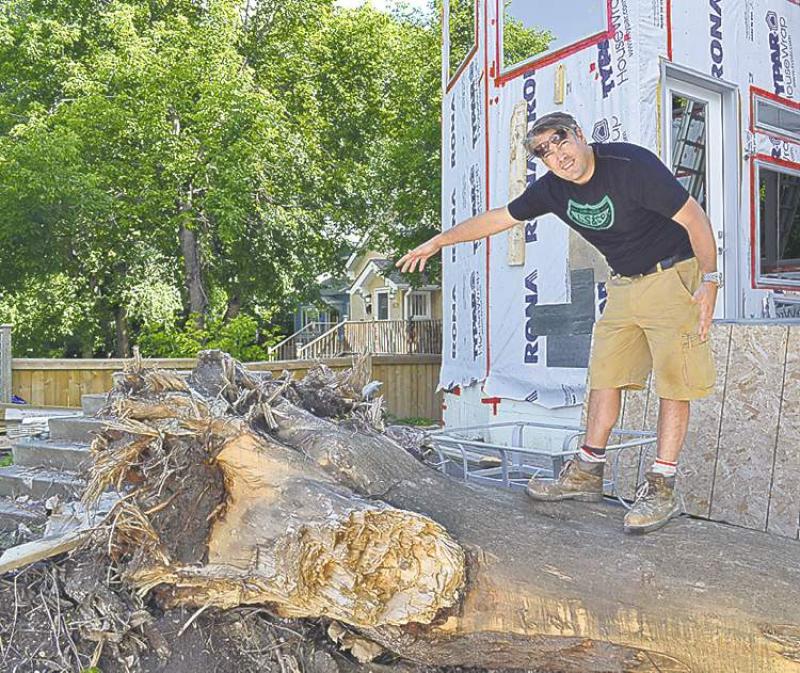 (Part One of a series about a top-to-bottom house renovation on Wellington Crescent.)
We all have dreams and the ability to make them come true. But to make a vision manifest requires a time commitment that modern-day life doesn't afford many of us.
But Steve Thomas, of Thomas Fine Interiors, found time to turn his dream into a reality. A visionary, an artist and a doer, Thomas took a year of out his busy life to purchase and renovate a 1,400-square-foot bungalow on Wellington Crescent for his wife and two children .
"We didn't want to leave the gorgeous area in favour of a new home in a sterile development such as Sage Creek," he said.
Thomas bought the bungalow in February, selling his existing home in River Heights because it was on a double-lot and the $20,000-per-year property taxes were a drain on the budget. The family wanted to remain in the lovely, older area of the city where towering elm and maple trees are a natural wonder and where shopping, work, schools and entertainment are very accessible.
"We can see the Assiniboine River from our lot, my wife's medical clinic is just down the street, the kids' school is close, and we have friends and in the area," Thomas said.
As well, the Rady Centre with its swimming pool, exercise room, steam bath and many other amenities is nearby, as is Assiniboine Park with biking trails, the Zoo and acres of lush lawns and swaying trees.
Thomas's renovation incorporates the original bungalow into a 30-foot tall, four-storey (basement included) home, about 6,000 square feet in total size, that will be a modern marvel when completed.
The outside of the house, currently covered with Typar, will be finished with a combination of tiles that resemble quarried stone and one-way mirror that will reflect the surrounding trees. The windows are also fitted with one-way glass, a smart decision as they will not require expensive interior coverings to prevent passersby from looking into the house.
Thomas said the concrete steps that were part of the original bungalow will be included in the design, as will a towering elm that grew beside the former judge's home.
"The tree died of Dutch Elm disease and I had it pushed over by a machine because I wanted to preserve the root system and bole to build the base and top of a dining table for the renovated dining area," he said, adding that two-inch-thick planks sawn from the tree will be book-matched to augment the wood's natural beauty.
At the back of the house, two areas covered with foam-slab insulation and rebar are being prepared to form the concrete bases for a six-car garage and a studio for Thomas's art work.
The walls of the front entrance are covered with painted panels of diverse sizes divided by strips of mirror. The paint by Modern Masters is a special product that contains ground-up sea shells and other materials that make the panels luminescent in differing lighting conditions.
The piece de resistance will be a 10-foot chandelier featuring 600 individual lead, cut-glass, faceted balls that will surround a LED lighting system with fourteen 60-watt bulbs.
Another feature is a waterfall that will cascade down the side of a wall, creating an artistic frisson as well as a practical heating system, as the warm water will provide some heat for the entranceway.
The original basement floor was removed to allow an eight-foot concrete footing and pile in the middle of the room to support the two upper stories that are being added to the existing structure.
"I covered a post that sits on the pile with mirror because it is a less-expensive material than drywall or wood when time and effort is taken into account," Thomas said, adding that the floor was re-poured with concrete and then covered with a glass and rubber product that looks like tongue-and-groove wood planks.
He said he had only one small zoning problem with the city: "Two inches of a corner at the front of the house were beyond the property line, so I angled the corner to remove the two-inches."
Thomas and his wife are living in the nearly-completed basement, while his two children have separate bedrooms on the main floor that are almost finished.
The second floor will include a large kitchen, as well as a living area with a bar constructed of custom-made glass cubicles to store glasses and bottles. The bar's cupboard fronts are made of hand-carved MDF panels from England which have a wave-like look, painted with white auto-lacquer that matches his wife's Jaguar. The top of the bar is glass painted an attractive blue-green colour, reflected by a large wall mirror to which the glass cubicles are attached.
The room is partially heated by a fireplace that doesn't require a chimney. It looks like a raised metal grate with a mirror behind to reflect the multi-coloured flames that it produces when lit. The unit is lit with a butane barbeque lighter and is shut off by pulling a metal cover over the flames. The simple yet effective unit burns eco-ethanol produced by distilling corn or other grains.
"The only by-product of burning ethanol is moisture, so a chimney is not required to remove dangerous fumes produced by wood or other fuels used in traditional fireplaces," Thomas said, adding that he believes the ingenious heater is of Israeli design.
The family living area will feature Canadian maple tongue-and-groovee flooring stained a charcoal colour that combines lighter browns with darker grey hues. The kitchen floor is gray porcelain tile that will match the gray tones of the living room floor.
"I bought a double-door fridge and freezer made by Electrolux because I've heard a lot of good things about their new products," Thomas said, adding that the stove has a proofing oven that will keep food moist and hot for many hours if dinner is delayed.
The deck, accessible by sliding glass doors, will stand about 16 feet above ground, supported by 15-inch by 15-inch fir beams that Thomas salvaged from a historical building in Winnipeg. It will have a complete outdoor kitchen, including top-of-the-line grilling equipment, a fridge, a stove and granite countertops.
The top floor of the house will contain a master bedroom overlooking the meandering Assiniboine River and the host of lovely maple, ash, elm and willow trees that line its bank.
"In the winter when the leaves have fallen, we can see kids tobogganing on the banks or people cross-country skiing on the frozen river," Thomas said.
The top floor of the home will also have office space for Thomas and his wife, including windows that will allow them to view the sweeping, natural panorama bellow.
"Trees, nature, friends and neighbours are really important to us," Thomas said. "It's one of the reasons we didn't want to move into some new development where there are no trees and the houses are like sealed units.
"It's difficult to get to know neighbours in modern developments because they drive their cars into garages with electrically operated doors, then enter their houses through side doors. It can be very difficult to meet a neighbour you never see."
That surely won't be a problem for Thomas and his family in the old area of Tuxedo were they now live.