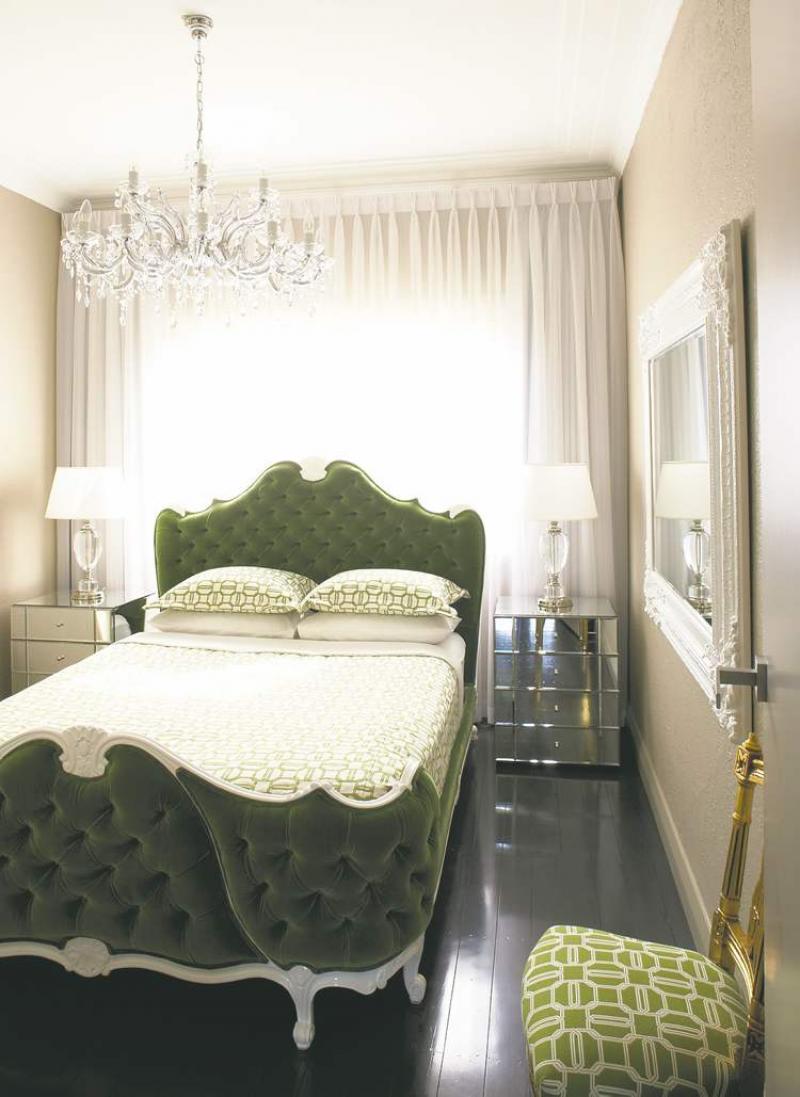 Who says a small room can't be glamorous? Just look at our feature bedroom and you'll see that a small space can make a big design statement.
This narrow bedroom, which looks to be about nine feet wide, has a sense of grandeur.
In a narrow space, common sense dictates the bed should run the same way as the elongated room. This gives you space on each side of the bed for nightstands and ease of movement. As well, having the head of the bed along the focal wall creates instant drama.
Though the bed could be placed against one of the side walls, it's better to have it centred if the room's layout allows, providing a sense of symmetry and visual harmony. Also, it's difficult to make a bed that is placed right against a parallel wall.
A lot of people think because a room is small, the furniture should be understated and diminutive. But to give a small room lots of personality and style, it's a better idea to use less furniture, but choose a few select stunning pieces.
In this case, of course, I'm referring to the striking, ornate bed. Though the room would not properly fit a king-size bed, the double bed, adorned with luscious velvet, is spectacular. It's an absolutely dazzling piece that sets the style tone for the entire room. The rounded corners of the bed frame are another subtle feature that enhances the physical flow of the small bedroom. No barking your shins on a sharp corner here.
To keep the small room from looking too laden with furniture, mirrored nightstands provide the needed storage and bedside accoutrements but seem to disappear into the background, as do the clear-glass lamps that adorn them.
If you can envision dark nightstands of a similar size in their place, you can probably see how heavy that feature wall would look. White nightstands could work, but the unexpected touch of a little glamour and sparkle speaks to the elegant decor. Mirrored or acrylic pieces can be a good option for a small space as well because they provide function without being visually obtrusive.
Another assumption that isn't always true is that small spaces require light flooring. Dark flooring can open up and ground a room, as it does in our feature photo. Dark flooring can be elegant in a small space.
The side chair in the foreground is a perfect choice for this small space. It is armless and slight in stature. The chair is upholstered in fabric that co-ordinates with the bedding. A gild finish on the chair frame adds a bit of glam.
Glamorous touches
The large chandelier over the bed is scrumptious without being gauche. It has a white base and clear crystals that provide tons of drama but, again, it slightly disappears against the white draperies. It's a great choice over, say, a gold-toned or black-light fixture, which would stand out and detract from the luxurious bed.
The choice of sheer draperies sets a neutral backdrop for the elegant headboard, which should and does take centre stage. The light window treatments allow natural light to blanket the room, keeping it light and airy while providing privacy.
Adding decorative molding around the perimeter of the ceiling creates a sense of grandness, especially in a small space.
Lastly, the large, ornate mirror on the long wall adds tons of drama by its design and size. Restraint in opting for a white frame over, say, a gilt frame speaks volumes about the homeowner's good taste. Choosing a mirror rather than a period painting is a contemporary touch that keeps the room looking timely. The mirror also reflects light, which will help keep the space feeling open.
Wall colour
The neutral Dulux Paints wall colour provides the right amount of colour and warmth to create a backdrop that is neutral but rich. Leaving the walls white in a luxurious bedroom like this would make it look sterile and unfinished.
Take a second look at your small condo or apartment bedroom and consider what you can do to create a truly exceptional space.
connieoliver@shaw.ca