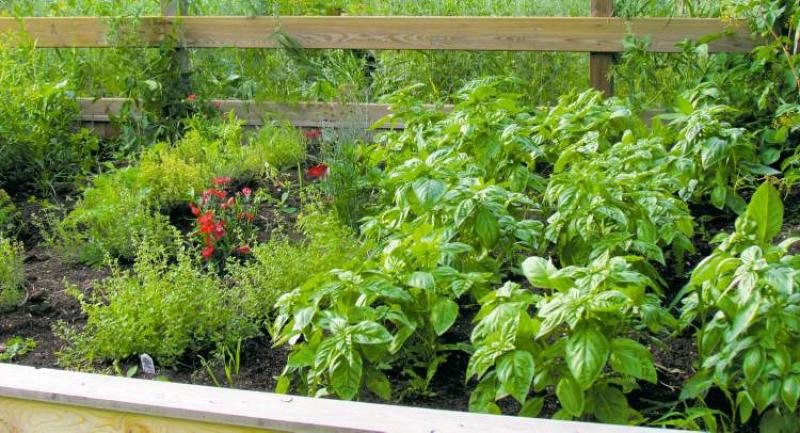 Outdoor entertaining takes centre-stage at the height of our favourite season, with families and friends kicking back and enjoying one another's company amid a backdrop of greenery.
Summer's simple but delicious menus usually include fresh, local ingredients picked from the vegetable garden or purchased at the grocery store or neighbourhood farmer's market.
This summer, I attended a surprise birthday party at a friend's house and, knowing what an excellent cook she is, was prepared to over-indulge in some mouth-watering specialties. A steady rain spattering off the outside deck drove the 34 guests indoors, but no flavourful smells wafted from her oven and only crackers and dip were laid out on the table. A modest affair, I decided. Soon after, though, the sight and sound of an enormous truck with a bright red coat of paint pulled into her driveway. A young man leapt out and proceeded to crank up an oversized awning, revealing a full-sized kitchen behind a 12-by-8-foot window.
We were about to be treated to the ultimate in summer entertaining, courtesy of Chef Steffen Zinn.
Zinn, 32, grew up on a farm in Springstein, Manitoba. Formerly Executive Chef at Pine Ridge Golf Club for seven years, Zinn did his apprenticeship training at the St. Charles Country Club as part of a three-year Red Seal-certified journeyman's program.
"It was a wonderful experience, but it was time to do something new," Zinn said. "It's in my family's blood to run your own business."
Zinn's parents emigrated from Germany and began farming near Springstein. When he was 14, he went to visit his grandmother in Germany during summer vacation and worked at a family friend's hotel and restaurant. It was then that he discovered his love for cooking.
Last year, Zinn purchased an old Ryder rental truck in the U.S. and, over the winter, converted it into a mobile food truck like no other. The truck came with the frame, rails and cab. With the assistance of friends and family, a 44-foot shipping container was cut apart, welded together and then lifted into place. The Red Ember, Winnipeg's largest food truck, was born.
At the heart of this kitchen-on-wheels is a Wood Stone wood-fired oven purchased in Washington state. The oven heats to 670 degrees F. and will bake a pizza in one minute and 45 seconds. Only dry, non-treated hardwood is used, and none that has been cut down specifically for firewood. The oven is a dual-fuel oven -- either propane or wood can be used, both at the same time.
The propane option comes in handy for baking fresh bread, Zinn noted. "I don't want to have an active fire in the oven and then have to sweep out ashes before putting the bread in."
Zinn grows or raises as many of his own ingredients as possible. The rest are locally sourced except in cases where none is available. Sea salt, for example, is bought from the Vancouver Island Salt Company. Organic olive oil comes directly from a 400-year-old olive grove in Crete through a family connection.
Last summer, in preparation for launching his business, Zinn purchased 1,000 pounds of locally grown Roma tomatoes from Katherine Reimer at Reimer Farm to make his special tomato sauce, which also includes local carrots, garlic and onions. The sauce was stored in 20-litre pails in a commercial freezer.
Next, he purchased 800 lbs. of onions from Winkler's Kroeker Farms.
"First they have to be peeled and then cooked until the natural sugar in the onions begins caramelizing,", Zinn said. "Salt and pepper helps to bring the full flavours forward. You only get a 40- to 60-per-cent yield after all of the water is cooked off."
Once the onions were pureed into a sauce, Zinn stored it in four-litre pails in the freezer.
Closest to Zinn's heart, though, is growing his own produce. Utilizing the garden at his home in Starbuck, (which he shares with wife, Heather, and newborn son), as well as his parents' large rural garden in Springstein, Zinn is growing San Marzano tomatoes in 25 large, raised cedarwood beds. The tomato of choice for chefs around the world, San Marzano tomatoes are prized for their firm pulp, easy-to-remove skin, low seed count and rich red colour. Zinn fondly refers to his multitude of raised beds as the Tomato Plantation.
Zinn's mother, Monika, also maintains an ample kitchen garden where he grows Genovese basil, a classic large-leafed basil with a rich aromatic flavour used for making basil pesto. This very European-style garden also produces oregano, thyme and several varieties of lettuce for salads: arugula, a calendula mix (the edible flowers are tasty in salads), Grand Rapids, red deer tongue and green ice. Carman's Heritage Harvest Seeds is a source for many of the seeds.
However, much of the lettuce bolted during early July's consistently hot weather, and the resulting bitter taste has rendered it useless. Flea beetles, the bane of many a vegetable patch, have been another challenge.
Of course, pizza's other ingredients can't be grown in a garden. The bread-like crust is made with a certified organic flour that comes from Prairie Flour Mills Ltd. in Elie, which also supplies flour for organic bread in major centres across the continent.
Zinn is especially particular about the cheese. After visiting a variety of cheese-makers, he chose Whiteshell Dairy Foods Ltd. on Dufferin AVenue, makers of artisan crafted cheeses and owned by Venezuelan-born Pedro Campaya.
Zinn says that the company's mozzarella is a stretch type -- "It has a nicer consistency and a softer texture."
Zinn's brother and mother also raise free-range Berkshire pigs. One of the oldest breeds in the world, the mostly black Berkshire pigs are the source of the juicy, flavourful pepperoni for the pizza. One of Zinn's specialties, The Gobbler Pizza, uses a sausage made from turkeys raised on a Starbuck-area farm.
Other pizza specialties include The Classic, with roasted mushrooms from Loveday Mushroom Farms, and the Ratatouille, which features a mixture of roasted vegetables including garlic, onion, zucchini, eggplant and San Marzano tomatoes. Simply divine.
Or start your day with a slice of Breakfast Pizza.
"We use organic flour in the crust, basil pesto made with organic olive oil, Manitoba parmesan and Vancouver Island sea salt," Zinn said. "We form the dough, top it with the basil pesto, Berkshire bacon from Zinn Farms, Whiteshell Dairy Foods mozzarella and then, just before it goes in the oven, crack a fresh egg on top which bakes with the whole pizza."
Zinn offers a selection of three salads: Classic Caesar; a tomato salad made with olive oil, basil, organic balsamic vinegar and sea salt; or Panzanella, a Florentine salad made with chunks of soaked homebaked bread, capers, olives, tomatoes, sea salt, olive oil and balsamic vinegar.
The Red Ember can be found weekly at the St. Norbert Farmer's Market on Wednesdays and Saturdays, as well as in the Broadway area during lunch hour.
A 10-inch pizza sells for $9 to $11.50. Check out www.theredember.com or follow him on Twitter (@theredember).
Colleen.Zacharias@gardensmanitoba.com