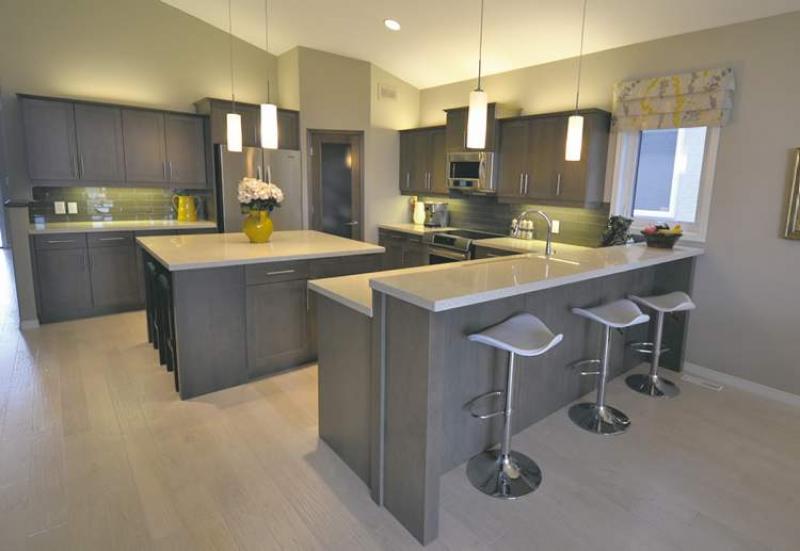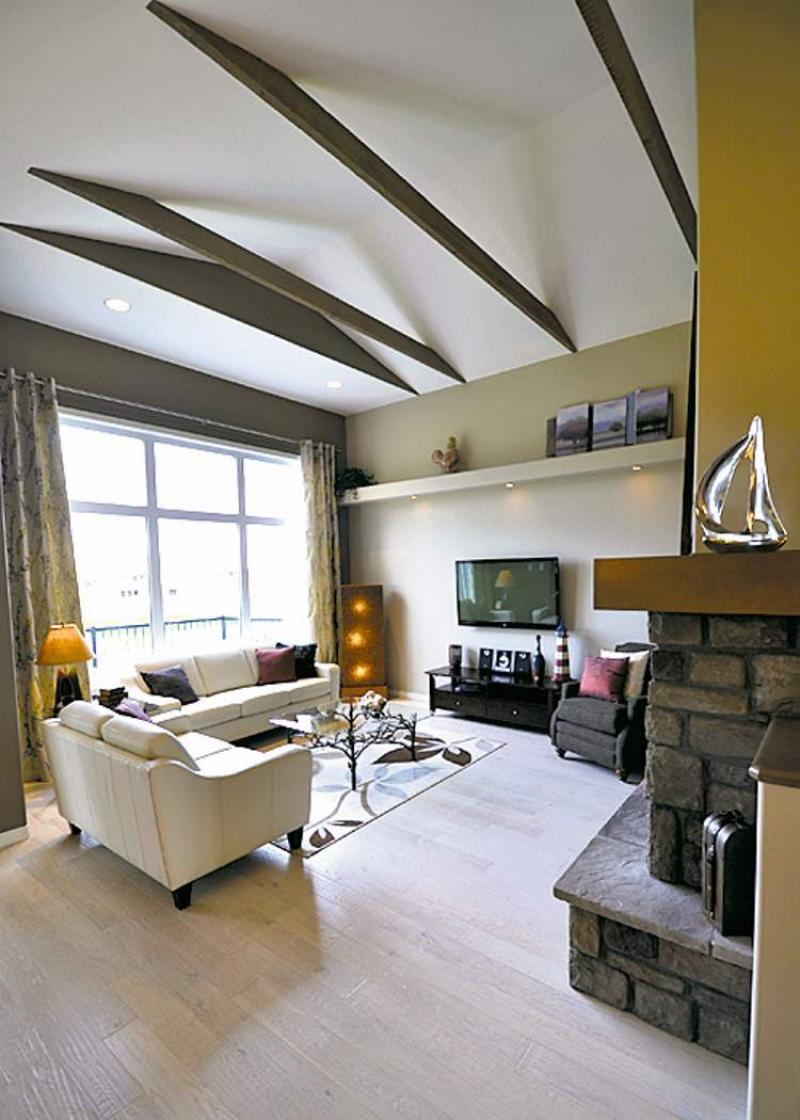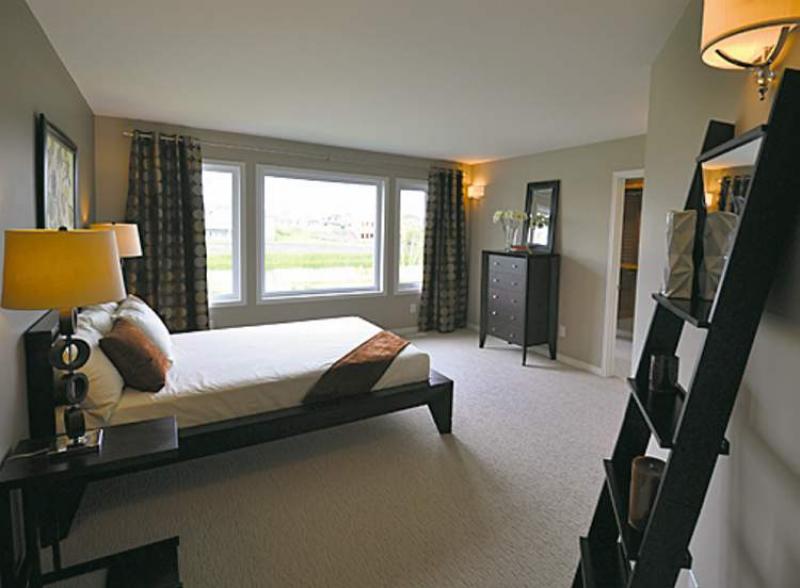 Some home designs are just, well, timeless.
That's the case with a 2,114-sq.-ft. bungalow with walk-out basement found at 51 Bridge Lake Drive in Bridgwater Lakes. Although the design is roughly two decades old, it's still thoroughly contemporary.
"Hearth's owner, Rob Wickstrom, actually created this design in the early 1990s," said Hearth's sales manager, Liam Milne. "That being said, the home has been updated in key areas over the years in terms of adding size and different design details. I think it would be fair to say the design has aged very, very well."
A partial open-concept design, the home's great room contains an island kitchen opening onto an oversized dining area that can comfortably house a table seating six to eight. A raised breakfast bar facing the dining room and the five-foot by five-foot island placed perfectly in the kitchen's centre then add three and two seats respectively to the seating equation.
The kitchen itself, with the island and rich finishes, is a very pleasant and functional place to prepare gourmet meals.
"It's a gorgeous, yet practical kitchen," Milne said. "You can easily have three to four people in the kitchen prepping food at the island, and counter by the sink. The wide aisles make it extremely easy to move around, while features such as a corner pantry and tons of cabinets make it easy to access everything you need when you're cooking."
As functional as the space is, it's also appropriately fashionable. Finishing materials include maple cabinets with a Cape Cod finish, a mocha glass tile backsplash and flecked beige countertops, providing an ambience that's not only rich but rare.
"The Cape Cod finish is a bit darker than portobello -- it beautifully bridges the gap between light and dark tones," Milne said. "The cabinets, backsplash and countertops go great together, with the light countertop providing some nice contrast."
Another design element adds even more contrast and personality to the great room, he added.
"To be different, we put in solid-sawn, hand-scraped white oak (engineered) hardwood (flooring). It has lots of variations in it -- primarily texture and colour -- that create a lot of character. The lighter colour also works well with the other finishes to create an interior that has a good balance of warmth and brightness."
The adjacent family room is a segmented space that's given definition by a two-sided, three-quarter-height cultured stone fireplace. This serves as a divider, yet allows light to flow through and over it from the large picture window on the family room's rear wall.
"Part of the idea behind this design is that you don't want to give away all your secrets, so both the family room and kitchen aren't fully visible from the foyer. At the same time, other design elements open up -- and warm up -- the home in a different way," Milne said.
Those design elements, which are immediately apparent from the foyer, include a vaulted ceiling that reaches 14 feet in height at its highest point, a collection of well-placed, oversized windows, and rough-sawn collar ties on the ceiling that lead you rustically into the great room.
"With all the space, we thought it would be a good idea to warm up the area, and we did that by adding the collar ties, which give the area a homey, cozy feel," Milne explained. "Then, you get to the back of the home in the family room where everything comes together -- huge picture window for wetland view, vaulted ceiling, cultured stone fireplace and the oak floor.
"Segmenting the family room gave it an intimate feel, yet it's still open to the dining room and to a door that leads to a covered deck."
Back at the front of the home, there's a guest suite with a four-piece bath and a superbly designed laundry/mud room.
"We want our homes to be unique, yet functional, and I think the laundry/mud room delivers functional flair with its laundry area, coat closet, corner shelving and an amazing pass-through linen closet," Milne said. "It's so cool -- you can get your linen from in the laundry room, or on the other side in the bedroom wing's hallway."
Tucked away neatly off the lower-level stairs (framed beautifully by a maple railing with tempered glass inserts), the bedroom wing is an ergonomic marvel with a powder room, huge secondary bedroom and, of course, a fittingly opulent master suite.
"I think it has everything you could possibly want -- space, a wetland view through a huge three-piece picture window, a walk-in closet with window and built-in pine (honey maple) storage, and an amazing ensuite," Milne said.
"It's my favourite space due to the colour selection -- a brown cork floor, taupe tile and Alaska white granite countertop on a Cape Cod maple vanity. The granite's veining is just gorgeous. There's also a corner soaker tub, and five-foot shower with frameless glass door and tile surround."
Not to be forgotten is the walk-out lower level which offers space, light, views and all kinds of fine amenities.
"It feels like you're coming down to a second main floor," he said. "There's a media room, sitting area, games area (by door to a covered patio), wet bar and bedroom wing with two huge bedrooms, a four-piece bath and massive storage room.
"With 1,300 sq. ft. of liveable space down, you get over 3,400 sq. ft. of liveable space in an imaginatively designed, functional home."
lewys@mts.net