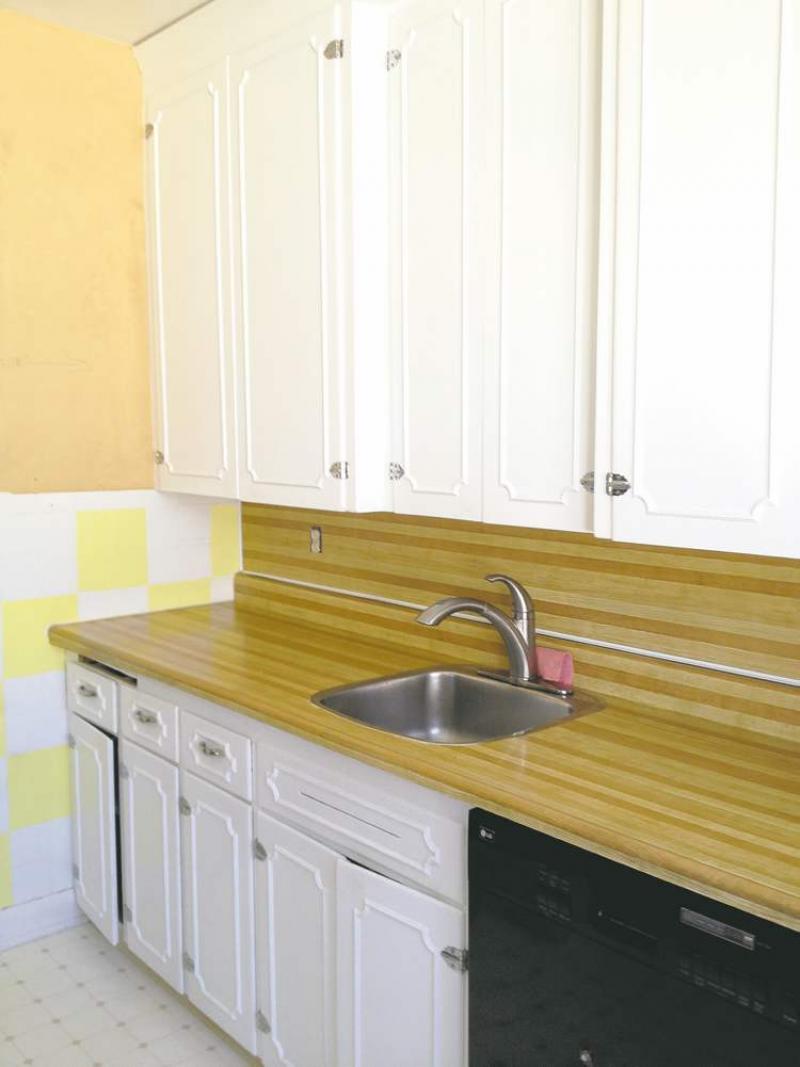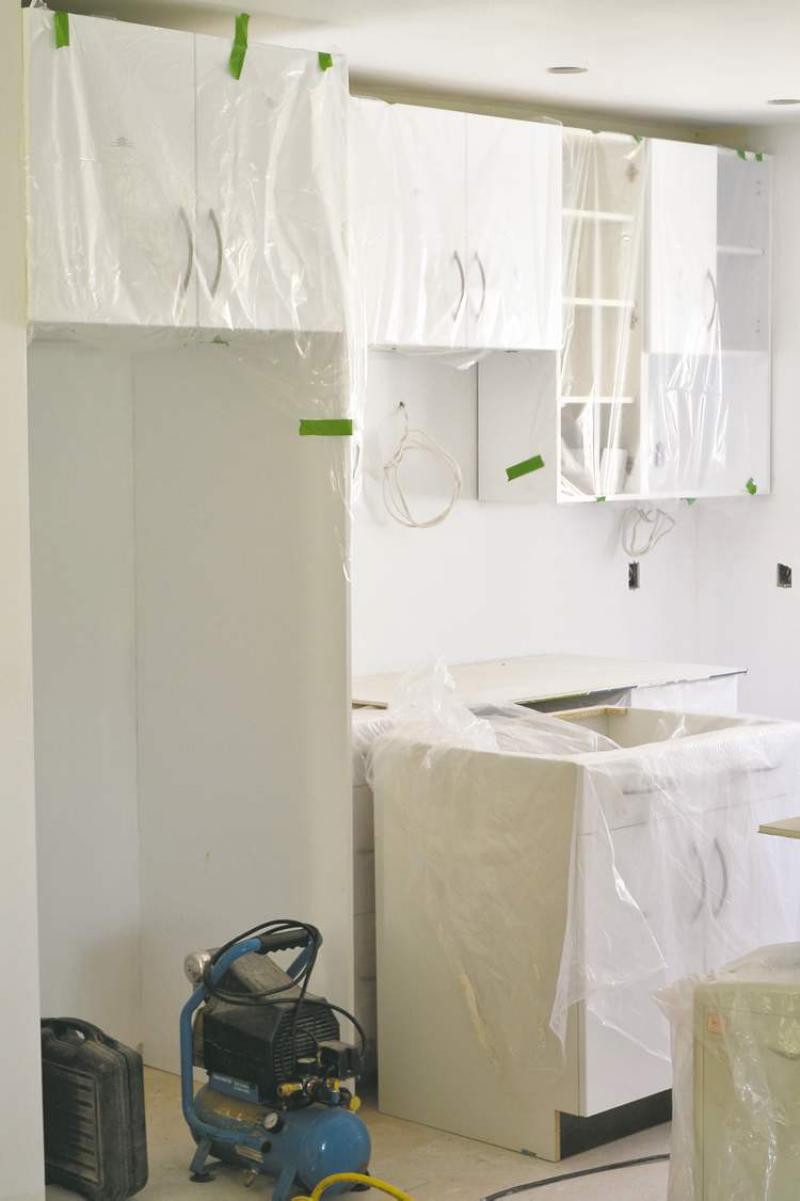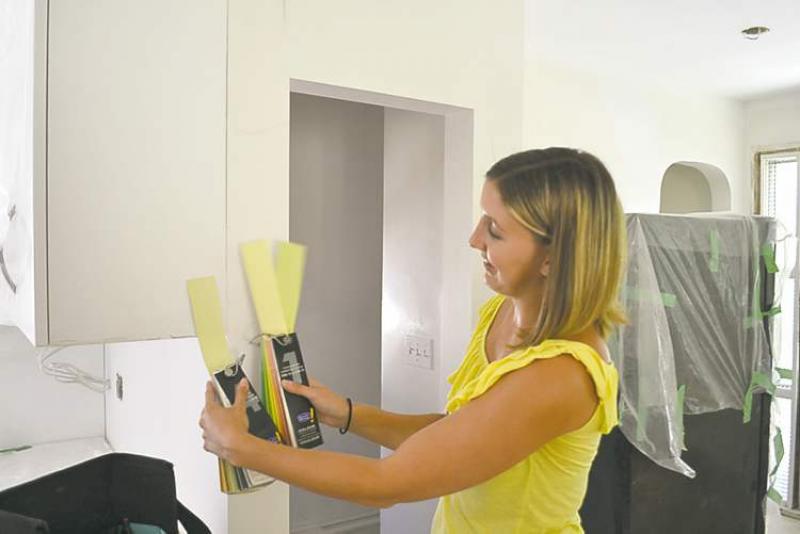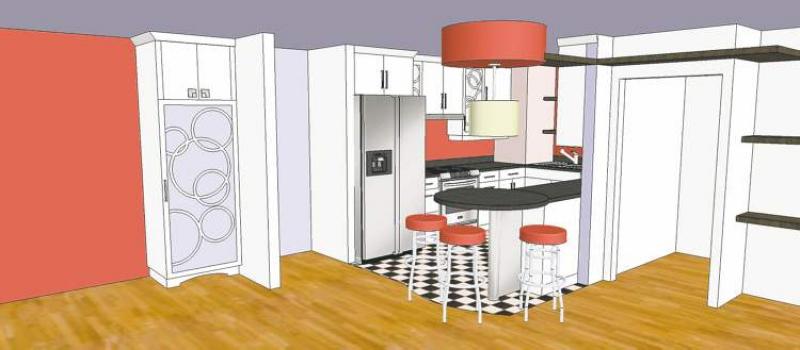 (Part Two of a series about the renovation of an Oak Street bungalow in River Heights.)
If cats could speak, homeowner Diana said her pet feline Taz would opine on the progress of the renovation to her Oak Street bungalow. But as cats can't speak (as far as we know), she said she will wait until the reno is completed for Taz to give her some visual clues as to his take on his new digs.
Meanwhile, she is "personally pleased with the reno to date, but it's different than I imagined as I'm not good at visualizing the whole 3D thing. And I'm still considering whether to go with a transitional look or give in and go more modern."
Carrie Robson, an interior designer with S3 Interior Design Inc., originally produced a drawing of the kitchen with modern, classic black and white floor tiles, a red backsplash and stools covered in red fabric.
However, Diana said she has now decided to cover the floor with natural-coloured cork with black inlays to mimic tiles. The cork will also be laid in the main entranceway that leads into the kitchen.
"I think black and white tiles would have looked too busy," she said. "The cork is more subtle, yet still conveys the idea of individual tiles, which I like."
However, she's still uncertain about the colour of the backsplash and the stool fabric.
"I've got some older chairs and antique furniture that I'd like to keep in the house, but the new, open concept makes it difficult to choose a palette of colours that will tie everything together."
Just last week, Diana and Robson were perusing samples of Benjamin Moore's Inspiration Collection to find that perfect combination of hues and tones to amalgamate the home's walls and ceilings which, at the moment, consist of ready-to-prime gyproc.
They eventually chose a pale-yellow base and a light-sage accent, but the colour and material of the kitchen backsplash remained undecided.
"The backsplash is especially difficult because I do not want to use acrylic or glass tiles, which I consider an expensive clich©," Diana said.
Robson said part of the problem is to find a material that looks good and also meets the fire code.
Contractor Tony Teunis suggested Diana consider pressed-tin, two-foot-square ceiling panels salvaged from the Eaton's building and sold for $20 apiece by The Old House Revival Company and Antique Mall in Winnipeg. People who want to give their renovated homes a retro look use them to cover ceilings, backsplashes and even walls, said store manager Kristin Koy.
Some panels have been soda-blasted to prepare them for repainting, while others require some work to remove chipped paint. "Before repainting the tiles, I suggest people give them a final wash with Sunlight soap to remove any oil that may be on the surface," Koy said.
Teunis said if the tin-tiles are placed over fire-resistant drywall (usually one-half-inch thick), they will meet fire code, adding that a hard-wired smoke and carbon monoxide alarm system has been installed to bring the entire house up to modern code.
Robson said the panels would make a striking backsplash if they were painted metallic-copper, as Diana's black-granite countertops contain copper flecks that would visually unite the two materials and work with the rest of the house as well.
Another backsplash material that Diana considered is a gypsum-based product of interlocking tiles with wave, honeycomb, floral and other designs pressed into the material.
One such product manufactured by Modular Arts is available in 16-inch-square panels that are suitable for backsplashes, can be painted any colour and can be mounted to a wall with just two screws.
"I wasn't completely enamoured of the product, but I'll keep it in mind for use as a backsplash as it's quite inexpensive, and some of the designs might fit the transitional appearance that I think, at this point anyway, I'm looking for," Diana said.
And there is still a boxed-out section of the kitchen -- constructed as part of the reno to make space for extra counter space and a built-in dishwasher -- to mull over.
"The countertop is the same black granite as the rest of the kitchen, so I'll have a similar backsplash, but the new window will require some sort of matching covering," she said.
Though the ceilings of her renovated home are festooned with pot lights as well as under-counter lighting in the kitchen, Diana has still to choose appropriate lighting fixtures and, perhaps, some new furniture that will not seem out of place when mixed with her older pieces.
There are at least three antiques she'd like to keep: a round, solid-oak dining table with a central column supported by curved, lion's paw legs;
a glass-door display cabinet with embossed side panels and a bottom drawer that runs the full-length of the cabinet's front; and a side-board or buffet that features book-matched, veneered drawers and side cupboards.
"I want to keep them because they are beautiful examples of older furniture, and I also have an emotional attachment to them," Diana said. If she opts for a totally modern look, the lovely antiques might have to be put into storage or hidden somewhere in the house.
"I'll need to think more about that."
Diana said one piece of wisdom she can share with people about renovating is to go slowly, think things over, and take lots of time making every decision.
"At the end of the day, you're the one who will be living in the house, and you don't want to have regrets about a choice made in haste."
And it would be a disaster if Taz was unhappy with the outcome, she added.