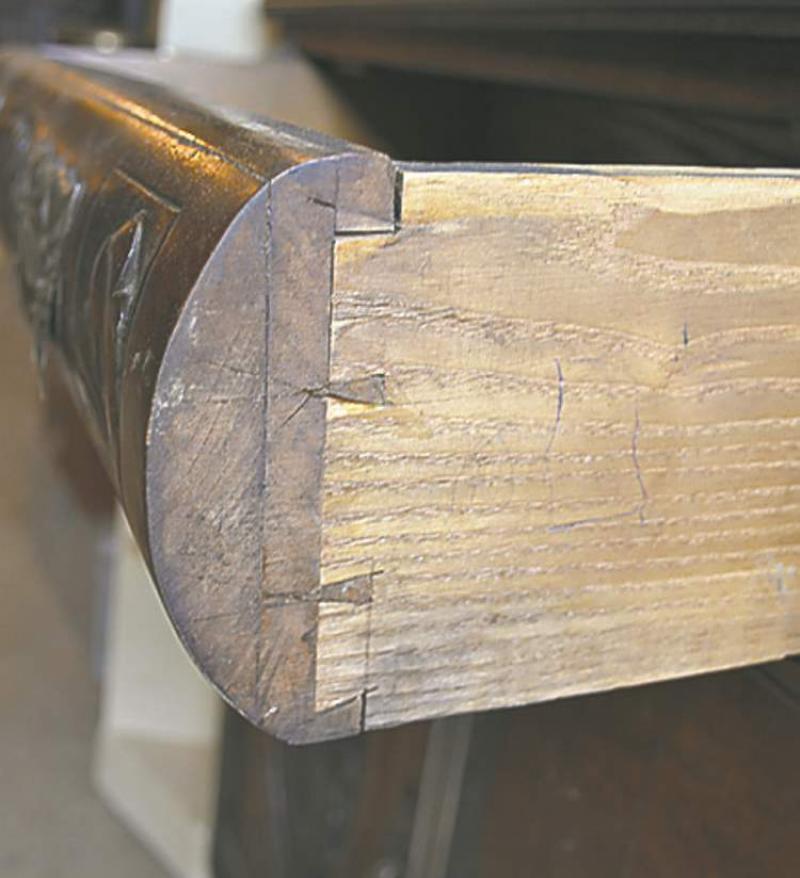 What do Neil Young, the Winnipeg Falcons and Kelvin High School have to do with my life-long search for a kitchen cabinet with a heart of gold? Not much, except I, along with thousands of other Kelvinites, can claim I attended the same school as Young and members of the Falcons, who won the world's first gold medal in Olympic hockey in 1920.
There are many anecdotes concerning Young and his rocky education at Kelvin; sadly, not any about the Falcons, likely because they graduated circa-1914. There is a famous yarn about Young, who, while strumming his guitar in the hallway, because he was perpetually kicked out of class for humming lyrics into his desk's ink well, was approached by an earnest teacher opining, "Neil, you'll never make a living playing the guitar. Knuckle down and get your Grade 12." To which Neil reportedly responded in a reedy voice, "Down by the river, I shot my baby." The reply so unnerved the unlucky teacher that he retreated to the staff room, finding equanimity in the words of an English pedagogue holding forth on a deconstructionist view of Richard III as a comedy.
I can't vouch for the complete verity of the above, but I will say that my own search for a cabinet with a heart of gold (and I'm gettin' old) was rewarded recently when I visited Larry Daniuk.
DYIers and professional renovators alike will appreciate the quality and beauty of the ready-to-assemble (RTA) kitchen and bathroom cabinets sold by Daniuk, owner of The Timeless John in St. Andrews.
Daniuk's large showroom on Parkdale Road, about 10 kilometres north of the perimeter, has examples of all-wood cabinets available in common hardwood species including cherry, oak, birch and maple.
Said Daniuk, "We don't sell a cheap product constructed of melamine or veneered particle board. All of our cabinets from our Value Line to our Premium Line are built of solid wood and half-inch to three-quarter-inch cabinet-grade plywood."
Stock RTA cabinets begin at nine-inches wide and increase in three-inch increments to a maximum of 42-inches wide. They are 24-inches deep to accommodate a standard countertop; upper cabinets are 12-inches deep and available in 30 and 42-inch heights in all lines, 36-inch is offered in 30 out of 45 lines, said Daniuk.
Also included are full extension drawer glides with a soft-close feature on many models, machine-cut dovetails on all drawer boxes, plywood bottoms that are fitted into grooves on all sides of the drawer boxes (cheap drawers often have particle board bottoms stapled to their underside) and non-sag shelves of three-quarter-inch plywood on most models. Cupboard door and drawer frames are also made of solid-wood, while panels are cabinet-grade plywood or solid wood, he said.
"For wall-mounted, upper cabinets we use three-quarter-inch hardwood or metal strips because MDF, particle board or even thin wood can break, especially if the cabinets are heavily loaded."
Base and upper cabinets also include adjustable shelves, European-style hidden hinges and, if desired, some product lines include glazed doors and details such as rope carving, raised panels and traced highlights; interiors are either stained or clear-coated with lacquer.
Indeed, Daniuk's display area has a lovely example of a Premium Line, solid-maple cabinet with merlot stain and complementing glaze, producing a lustrous finish. Raised door panels on the lower cabinets and framed-glass doors with detailing and paint on the upper cabinets are also included, as is a matching, custom-made range hood with a carving on the front. Dovetails join the drawer boxes and, in this case, the cabinet box as well.
(It's interesting to note machine-cut dovetails have been used to construct North American cabinetry since 1850; before then labour intensive, hand-cut dovetails were employed. Kristin Coy, manager of The Old House Revival Company & Antique Mall, showed me examples of machined dovetails on a circa-1930 side board and of hand-cut dovetails on a much older piece. It's easy to discern between the two as machined joints have tails and pins of equal size, while hand joints have large tails and thin pins, as well as awl or knife marks on the wood left by the person who cut the dovetails. Nowadays, unless you purchase one-of-a-kind cabinets made by an artisan, your cabinets won't include hand-cut joints. However, high-quality products will have machine-cut joints, much preferable to inexpensive melamine pieces slapped together with pneumatic staple guns and no joinery whatsoever.)
"RTA's have come a long way since I originally sold them in the 80s," said Daniuk, who recently completed a contract with a townhouse co-operative to renovate about 20 kitchens.
He said the cooking areas had 24-inch wide stoves built into the original cabinets and the townhouse owners wanted to replace the old ranges with 30-inch wide models. Another stipulation was to source cabinets that contained no melamine or particle board as the owners were concerned about off-gassing and wanted a product with a long lifespan.
To meet fire code, however, which requires clearance from combustible surfaces, a large gap between the 30-inch stoves and the new cabinets was required. As a result, off-the-shelf cabinets were out of the question; the new units had to be custom-made at increased cost.
Daniuk solved the dilemma by designing a heatshield of cement board and stainless steel shield that met fire code and allowed him to reduce the clearance from combustible surfaces to zero. A redesign of the kitchen permitted the use of stock RTA cabinets with the new, larger stove, thus avoiding the extra cost of custom cabinet units.
"Even when I included the cost of my heat-shield, I still saved the owners money on the price of their new cabinets, and I supplied them with a superior RTA product," he said.
Daniuk orders his RTAs from a group of U.S. companies with the purchasing power to buy many different lines from large Asian manufacturers. American or Canadian plywood, as well as some North American hardwoods, are used to construct the cabinets.
"Because of my connections to multiple U.S. importers, I have access to many styles of RTAs that meet the requirements of the most discerning customers," said Daniuk.
He said custom-built cabinets (referred to as Cabinetry for Life) can be ordered in the Chelsea and Caitlin series, including a choice of 100 door styles in 11 hardwood species.
His builder's line, mid-level RTA products sell for $240 to $250 a linear foot, including top and bottom cabinets; entry level products retail for $150 to $180 a linear foot, also including top and bottom cabinets.
Each order is shipped to the buyer's address within 28 days of purchase, arriving in a flat box that includes everything required to assemble the cabinet: "An easy job that can be accomplished by a DIYer or a cabinetmaker in a short time," said Daniuk, adding that for a charge of about 15 to 20 per cent more the cabinets can be assembled and installed by his employees.
"People with limited woodworking experience will often take this option as custom cabinets do not come with assembly instructions," he said.
Countertops are not included, but they can be ordered by Daniuk from Craft Line or Flo Form or, in the case of granite and some man-made materials, from other distributors with which he does business.
The Timeless John also offers a free computer-design service to customers who request a detailed floor plan, as well as an accurate price quotation.
Another unique service is "accessible cabinetry" for people who are wheel-chair bound or living with disabilities. These custom cabinets are not subject to a surcharge and include features such as lower sinks and countertops, and readily accessible electrical outlets.
Daniuk also sells Top Knobs, a line of quality hardware in multiple styles to augment the beauty of his RTA cabinets.
"Generally speaking, people will pay about 10 to 15 per cent more for my lines of cabinetry including an infinite selection of styles, mouldings and accessories, but at the end of the day they will own a first-rate product that is made of real wood," he said.
I found my cabinet of gold; the Falcons won their medal of gold; and now we can only hope that Neil Young is homing in on his heart of gold. He certainly made some gold playing the guitar, despite his dubious matriculation.