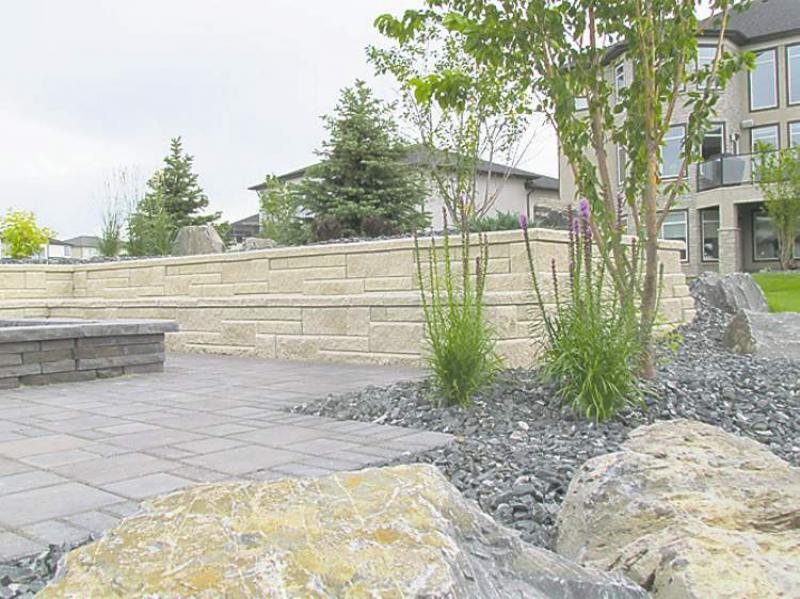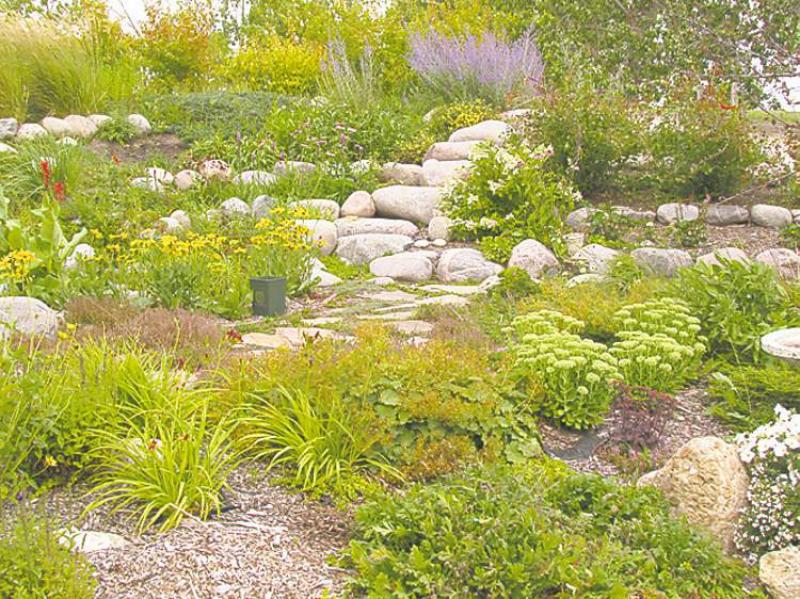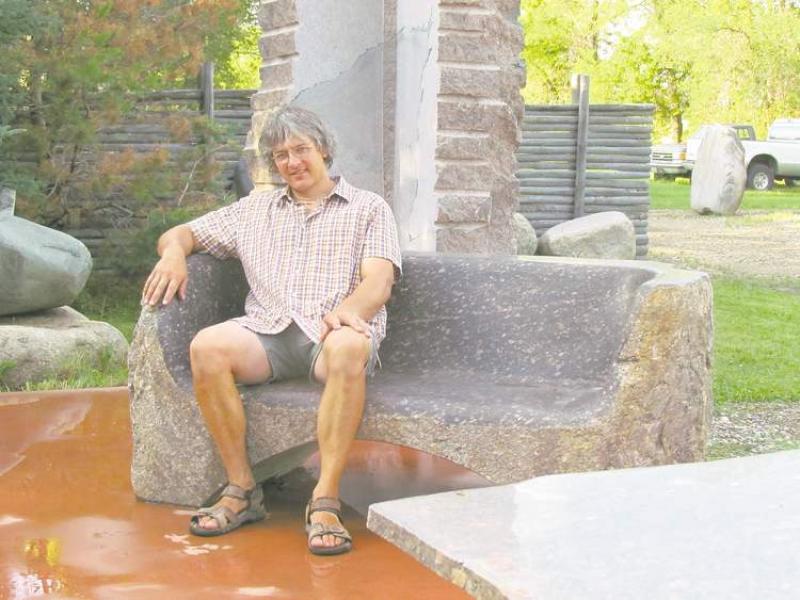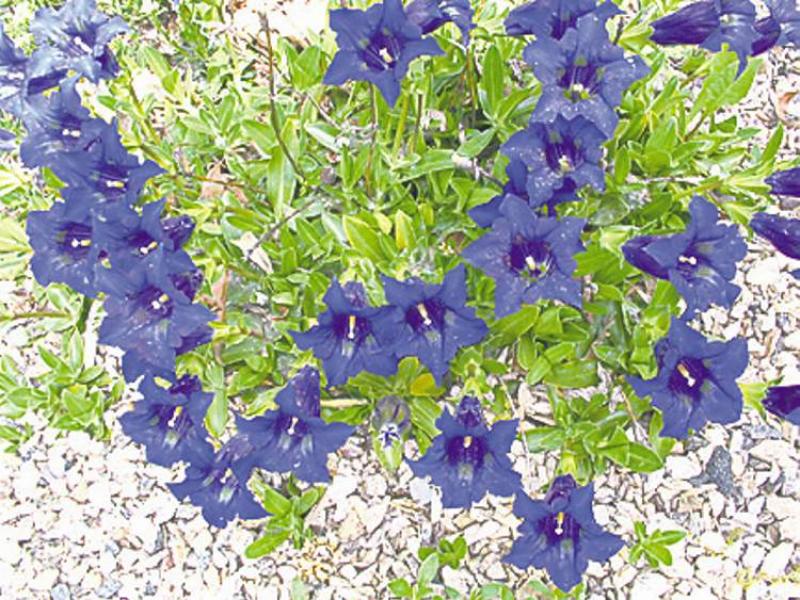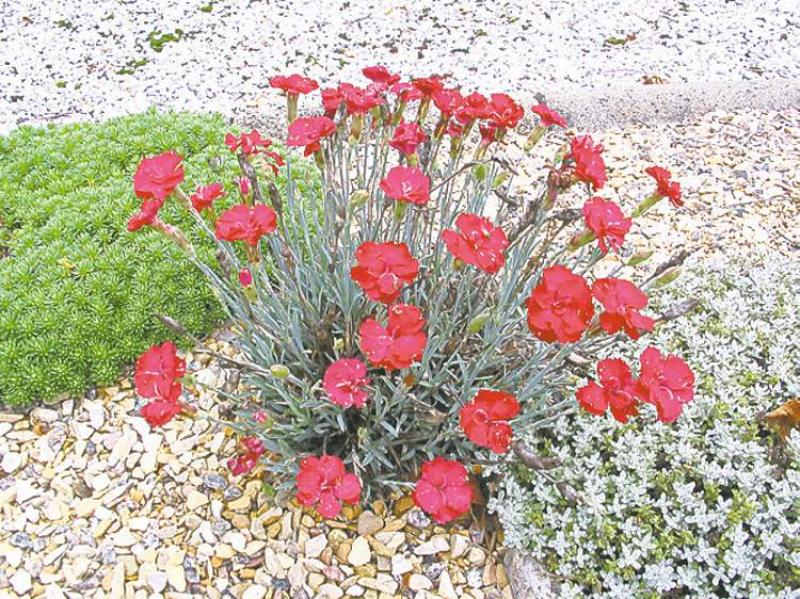 Our fascination with rocks is an innate one, dating back to early humans who discovered their usefulness as tools. During the Stone Age (2.5 million years ago), rocks fused with art when Paleolithic humans used them as their sketch pads.
Rock gardens gained popularity in the 19th century and continue to inspire, playing both a practical and aesthetic role in our gardens, particularly with the trend towards naturalistic settings. Of course, in 21st-century terms, that often means upsizing -- today's hand-picked rocks aren't necessarily easy to pick up by hand and instead are likely to weigh in the hundreds of kilograms or more.
Take a walk or drive through the new Waverley West neighbourhood in South Winnipeg and you will see many examples of front-yard landscapes where homeowners have decided to forego the traditional lawn and kidney-shaped flower bed and instead make effective use of one or more mammoth boulders together with plantings in a bed of crushed rock.
The recently developed landscape of Michael and Kendra Smith, Gen Y homeowners in Bridgwater Forest, consists of a small front yard (20 feet deep) and a large backyard (150 feet deep) that slopes toward one of the community's many naturalized retention ponds modelled after prairie wetlands.
"We wanted to create a rolling landscape with a natural flow that would compliment the surrounding area," says Smith. Busy professionals, the Smith's vision was for a low-maintenance front yard and a spacious entertainment area in the backyard.
Inspired by the landscapes in Pritchard Farm, located north of the Perimeter off Henderson Highway that feature half-acre lots in a natural setting, the Smiths contacted Kyle Thibeault, owner and operator of Silver Stone Landscaping (www.silverstonelandscaping.ca).
Thibeault has strategically placed granite boulders throughout their customized landscape, seamlessly melding them with hardscaping elements that include brick retaining walls designed for seating large gatherings and surrounding a large, rectangular brick fire pit.
"We specifically wanted black granite but without any orange rust marbling," says Kendra Smith. "We felt there was enough depth and variety in the retaining walls and didn't want anything to detract from them." Low-maintenance perennials including daylilies, native grasses, Russian sage, hosta, astilbe, and liatris have been planted in beds with crushed or decomposed granite as a mulch alternative, designed to help suppress weeds and conserve moisture as well as to tie in with the rest of the landscape.
Thibeault says boulders, whether large or small, add a natural element, especially when they are placed among trees. "There are different styles of boulders; darker ones with angles can lend a lot of interest. For homeowners who want a contemporary look, angled, cut ones are the way to go."
Thibeault adds boulders are ideal for use as a retaining wall to hold back the earth. "This is an inexpensive option and also serves as an aesthetic feature."
There is huge demand for this landscape element. "Every job I do includes boulders," says Thibeault. "You need big equipment -- some of these rocks are in the thousands of pounds. A professional develops an eye for them and where they will fit. There is a best way to display them."
Vic and Terry Neufeld, who farm in the RM of Ritchot, have created a spectacular rock garden, complete with a waterfall on a steeply sloped hill that serves as a barrier to floodwaters.
After the devastating flood of 1997, the Neufelds prepared to build a large dike around their home but wanted something colourful rather than a grassy mound looming outside their windows. Dennis Barkman, former owner of Barkman Gravel & Landscaping in Blumenort, delivered boulders by the semi-trailer load.
"I asked for granite, not just ordinary field stones. Barkman hand-picked the larger rocks for me and was very good at getting me a variety of colours," says Vic Neufeld. "By getting a trailer-load, I had a good variety to work with when building the waterfall or other features. My son and I had a lot of fun using a backhoe to create a stairway with large rocks."
Plants include Russian sage, Autumn Joy sedum, Lady's Mantle, creeping thyme, three-flowered avens, false sunflower, coneflower, daisies, Karl Foerster grass, rudbeckia and Pinky Winky hydrangea.
Silvia and Mario Aiello, Fort Garry residents, are in the midst of a home and garden makeover that includes a rock garden in the front yard. They began by removing all remnants of their front lawn, replacing it with mounds of three-way mix from Reimer Soils, which also provided the hand-picked limestone. (Another excellent source for stones in a variety of sizes is Ron Paul Garden Centre -- check out the website, www.ronpaulgardencentre.com, and click on the Easy Estimator to calculate how much material you need for your project).
"I wanted a three-tiered raised garden and plenty of curves," says Silvia Aiello. Plants were purchased at Lacoste and Aubin's Nursery and include an assortment of more than 30 Berberis (barberry) shrubs. The chartreuse shades of Sunsation and variegated foliage of Rose Glow Barberry combined with assorted perennials such as kinnikinnick, broom grass, vinca, dianthus, flowering onion and the little-used but wonderful blue-flowered Dragon's Head (Dracocephalum) promise four season interest.
Husband Mario Aiello, a talented handyman who has 30 years of landscaping experience, is now working on a number of new exterior elements, including landscape lighting that will compliment the rock garden.
Rock gardens are traditionally associated with alpine plants -- plants that grow in areas with natural outcroppings of rock, usually mountainous habitats, and have adapted to the harsh elements of wind and sun. When looking for local expert advice on alpine plants, the first name that usually comes to mind is Mandy Botincan. Owner of Mandy's Greenhouse, located 1.6 kilometres east of Tyndall on Highway 44, Botincan is also known for heritage vegetables, although that part of the business has now been retired. Visitors to her website, www.mandysgreenhouse.com, will soon be able to link to her new website, www.alpineplants.ca.
With more than 200 varieties of plants as well as rocks (including specialty Tufa rock) and chip mulch and an extensive background in the individual requirements of alpine plants, Botincan plans to offer courses in their care and preparation.
Another excellent source of reference is the North American Rock Garden Society (www.nargs.org).
The addition of stone to the landscape does not have to be accompanied by plants. Altona's Todd Braun, stone carver and artist, creates spectacular art from locally sourced raw materials. "I work mostly with granite or variations of granite, which comes in different colours and is similar in consistency," says Braun.
A range of finishes are offered, depending on the client's wishes. "I use 50 grit to 10,000 grit," says Braun. "Depending on the nature of the stone, I may give it a wet look so that you can see all of the details and colour inside of the rock. Other times, more texture is wanted so a chiselled or 'flaming' look is created for a split stone effect. You cut it or grind it and then if you flame it, it looks like naturally weathered stone."
Taking his inspiration from pre-Columbian art, Braun is truly a master craftsman in our midst. "Stone sculptures are like the most beautiful perennials because they endure for all four seasons -- they give a sense of permanence," says Braun.
Elemental Stoneworks, Braun's sprawling outdoor studio, located between St. Joseph and Highway 30, will be open to the public on Sept. 14 and 15, 12 noon to 8 p.m. Admission is only $10 for a guided tour. Phone 204-324-1534 or email element@sdnet.ca for more details.