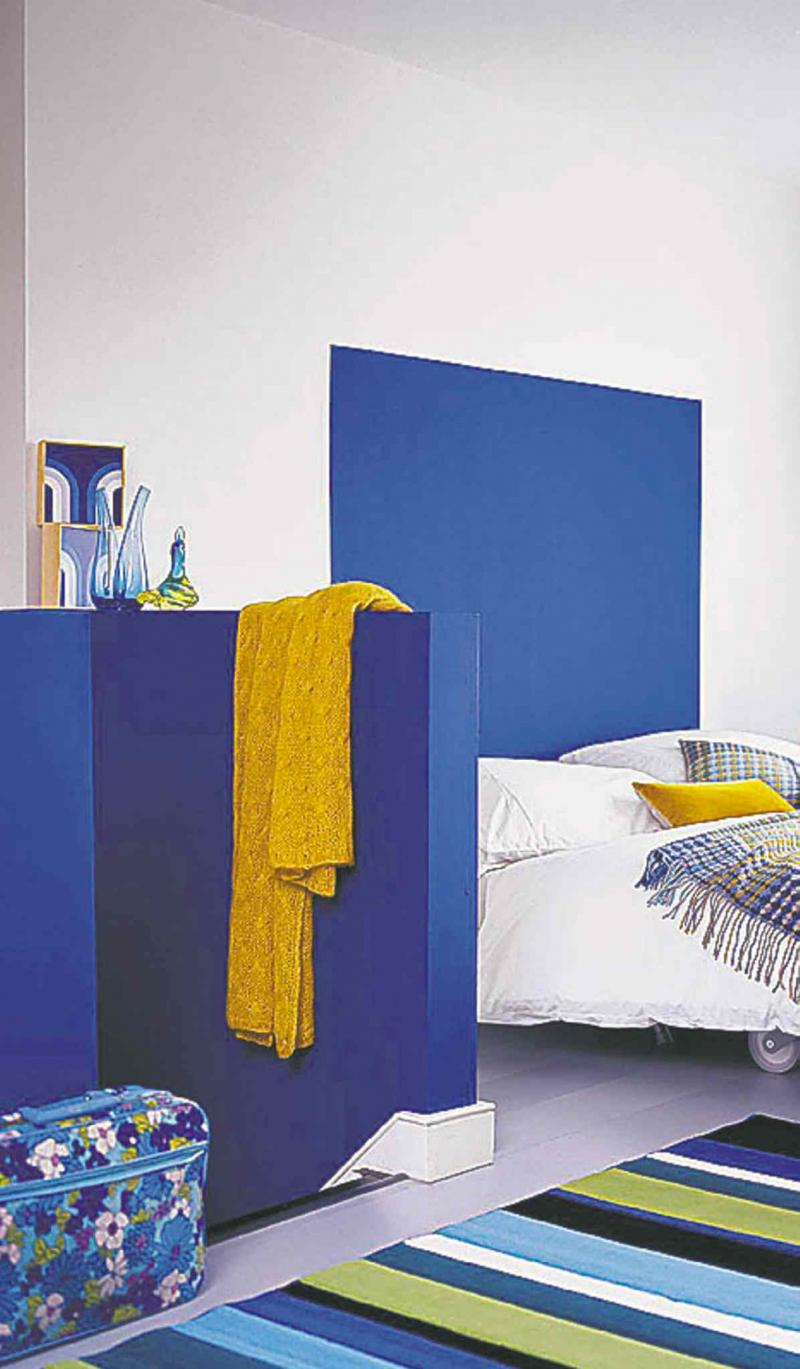 Sometimes you're in the mood to make a change to your decor but not necessarily in the mood for a long-term commitment to a project. The following easy weekend projects might be just what the decorating doctor ordered.
Paint
As you'll note in our feature photograph, courtesy of Sico Paints, a little bit of paint can go a long way to updating a bland room. You may even have enough leftover paint to create a little drama in one room of the home. Painting small splashes of colour does not involve a lot of preparation or time so it can often be completed in a day or two. A key colour was pulled out of the bedding in our feature bedroom and used to create focus at the head of the bed and to enhance a partial wall. Simple artwork in co-ordinating colours and a secondary accent colour of gold finishes this casual bedroom update.
Other rooms that can benefit from a similar paint treatment are the bathroom, guest room, kitchen, foyer or rec room. The most effective way to use splashes of colour are on focal points such as the head of the bed, above a fireplace, over a sofa or at the end of a long hallway. Kids' rooms can be updated with fun geometric designs, large letters or simple animal characters.
In the kitchen, consider painting a focal colour on the centre panel of recessed cabinet doors. Or, paint a focal colour on the wall around white cabinets to set them off.
Stairways can be dramatically updated with colour by painting either the stairway wall, the risers of wooden stairs or the bannister and spindles.
Painting outdated bookcases, entertainment units and small furniture items can give a life to any room. Play with primary colours in a child's room or nursery to create a fun environment.
Brighten up a dim closet with a fresh, light colour. You may want to enhance the closet doors if they are flat and plain in appearance by treating them with a fresh coat of colourful paint.
Paint out mismatched picture frames to create a cohesive photo display. Then create a new wall display by hanging a grouping of these photos on a colourful painted backdrop in a square or rectangular shape.
In the bathroom, a dated vanity, framed mirror or storage cabinet may benefit from a coat of fresh paint. Use a good primer and paint that is made for use in the bathroom to ensure a durable finish.
Move furniture
Changing a furniture arrangement in any room can give it an instant lift. Relocate pieces to other rooms to truly provide a fresh look. Consider placing your bed on an angle if space allows and place a large houseplant or decorative screen behind the headboard for added drama.
Rework wall displays
Once the furniture has been rearranged, you may need to reorganize your wall displays. Again, consider moving items to other rooms to create an entirely new feel to the space.
Lamps and lighting
Updating dated light fixtures can make a huge difference in the look and feel of any room. As well, give tired lamps a new lease on life by updating the shades or adorning existing shades with accouterments, paint or fabric covers. If the lamp base is paintable, then by all means paint it in a wonderful new colour.
Fabric
A bit of fabric can go a long way in the decor. Frame it, make new toss cushion covers, make new curtains and/or table linens or use it to recover a small footstool. A quick trip to any thrift store is bound to be fruitful when searching for great fabric remnants.
Odds and ends
There are so many fun and affordable wall treatments on the market now that can instantly change the look of a room. Decals in any manner of designs, from the Eiffel Tower to sports scenes, can easily be affixed on the wall to give a room a little drama. Decals intended for windows and mirrors can also add a little verve to a room. Larger wall treatments such as murals, while more costly, should certainly be considered when updating your home over a weekend. Wallpaper is coming back and is also an easy update for feature walls.
A few new items that can also make a difference are things such as a new kitchen clock, new spice storage containers and canisters, new light switch plates, new door hardware, new cabinet hardware, a new mailbox or a new welcome mat.
Completing one or two of these easy projects over a few weekends can add up to an updated, refreshed decor.
connieoliver@shaw.ca