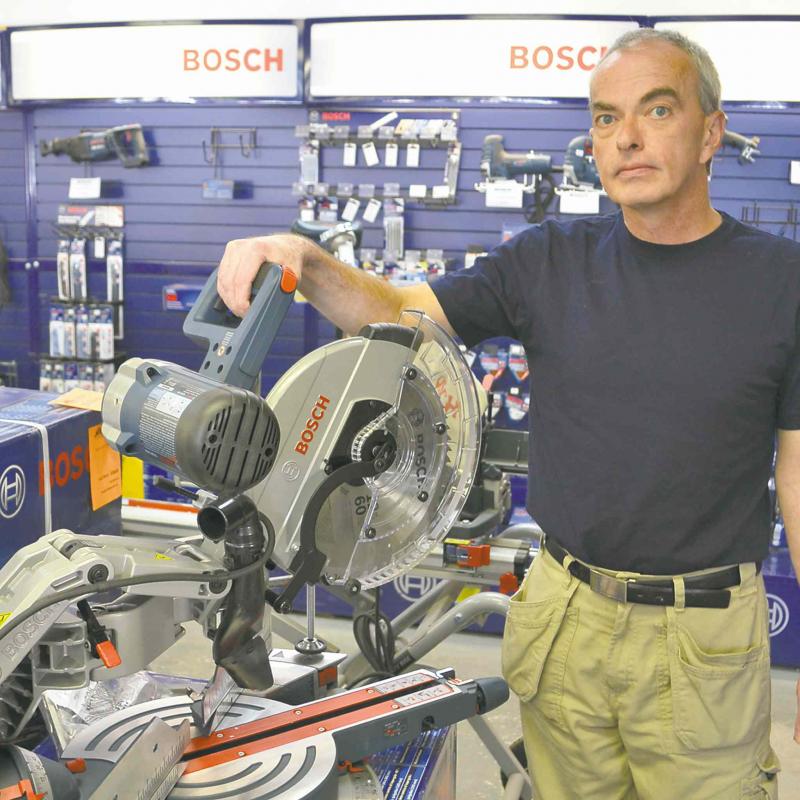 Cheap tools are the scourge of DIY builders and renovators. I say this because over the years I've fallen into the trap of purchasing inexpensive, blow-out-bargain-equipment that is shoddily constructed and guaranteed to produce unsatisfactory results 100 per cent of the time -- discouraging to DIYers expecting good results from bad machines.
For this reason, I thought it would be interesting to examine the good, the bad and the useless of tools commonly used by weekend renovators who work out of small shops.
In the good category, there is General Manufacturing of Quebec that produces sturdy, reliable woodworking machines for the discerning craftsman at prices that -- though considered high end -- reflect the quality and accuracy of the products.
In fact, the two most prized stationary machines in my workshop are a General model 350 table saw and a model 160 lathe, both made in Drummondville, Quebec in the early '80s.
The saw weighs about 205 kilograms, sports a three-horsepower 120/ 220-volt induction motor and features a precision ground, heavy-cast iron table and motor mount. The fence weighs more than a cheap builder's saw I was using at the time; the mitre gauge is solid and accurate with no sloppy movement in the slots. The saw will walk through seven-centimetre rock maple as if it were balsa wood.
The lathe is also a heavyweight, tipping the scales at about 113 kg with most of the weight in the heavy-cast iron bed, tailpiece and headstock. The thick sheet-metal stand encloses a one-horsepower 120/220-volt induction motor with a variable speed option, allowing the spindle speed to be adjusted by a split-pulley while the lathe is running. Though this seemed like a useful feature, I soon discovered it caused belt slippage which, in turn, sometimes stalled the lathe at low speeds. This is the only knock I have on this otherwise indefatigable machine. (More modern lathes use electronic devices to control speed.)
Sad to say, in a bid to remain competitive in the vicious world of tool fabrication, General Manufacturing recently closed its Drummondville plant, changing the company's name to General International, a privately held Canadian company with offices in Montreal and manufacturing centres in Asia, primarily Taiwan.
Though a spokesman for General International in Montreal claimed the company's Asian-manufactured machines are still built to the same specs as their former Canadian-made products, it doesn't take a machinist to discern the difference between off-shore and former Quebec-built products.
Ben McArthur of the Canadian WoodWorker said General International products are of lesser quality because they are made of lower-grade cast iron, have thinner steel cabinets and usually contain more plastic components than the original Canadian machines.
"When you buy a General International product, you're paying a lower price for a machine that is accurate and durable, but is made of lighter and, in some cases, cheaper materials. However, I don't hesitate to recommend the Asian-made machines because they are reliable and a pleasure to operate."
For people who are willing to pay extra for a Canadian-made General cabinet saw such as the venerable 350, they are still a few available new as the Quebec factory only shut down operations in 2012-13, according to the Montreal spokesman.
The company's 160 lathe, once a small industry standard, has been discontinued in favour of an electronically controlled machine with a headstock that swivels to make inboard and outboard turning easier to accomplish, said McArthur.
The Canadian WoodWorker does take General equipment on consignment, so it's worth a look through the showroom if you are searching for an older Canadian-made product.
Also in the good category of stationary tools are jointers, cabinet saws and other machines by Laguna, a California-based company with production facilities in China.
There is also a Delta cabinet saw that features an electronic sensor that prevents serious injuries by stopping and retracting the blade if it is touched by a human hand.
"Even if you were to fall onto the blade, the worst injury you might receive is a tiny slice like a paper cut," said McArthur.
In the bad category of cabinet saws, there are the brand-name products sold by big-box stores. Whether they are made by Bosch, Milwaukee or DeWalt, these saws are built off-shore, are equipped with fences and mitre-gauges so inaccurate as to make a machinist blush, and are powered by cheap universal motors (also referred to as developed or peak horsepower motors).
A universal motor can only be run for short periods before it will overheat and possibly burn out, and, even though it may be rated as a peak three-horsepower motor, it will develop its peak power when it stalls -- the point at which it's drawing so much current the lights in your shop dim.
I've used a couple of these machines and the best I can say for them is that they're easy to move from job site to job site because they're mostly constructed of plastic and the lowest and thinnest grades of metal available.
Hitachi used to make a F1000A planer/jointer that was so heavily built it resembled a T-34 tank.
I bought one (a planer/jointer) back in the '80s, and it has remained a mainstay of my shop since then.
The only thing I don't like about the machine is the universal motor that came with the machine because it was noisy and stalled under heavier loads.
The problem can be solved by removing the universal motor and replacing it with a one-horse induction motor that is quiet, has lots of power and will run all day without overheating.
Hitachi also made an excellent re-saw that suffered from the same design problem that could also be remedied by tossing the universal in favour of an induction motor.
I mention these two machines because even though Hitachi has stopped producing them, you can still find them for low prices on Internet sites such as Kijiji, craigslist or eBay. (I recently noted an F1000A listed for $200; original price would have been close to $2,000.) As these machines are accurate and almost indestructible, I recommend grabbing one if you're looking for quality at a bargain-basement price.
One of the most popular stationary tools nowadays is the sliding compound mitre saw, generally referred to as a chop saw. Why anyone would favour this three-trick pony over a well-built radial arm saw is beyond my comprehension; however, there are a multitude of these saws on the market, the best being, in my opinion, the Bosch 10- or 12-inch model.
Bosch earned its reputation as a maker of good electric hand tools, especially their line of jig saws. And when it comes to chop saws, they remain a leader with a price tag of about $700 to $800; really chintzy chops retail for as low as $150.
I have a woodworking friend who owns a 10-inch Bosch chop who swears by its accuracy, whether making a straight, bevel or mitre cut. He said the controls are easily accessible and the tubular rails the motor and blade slide on are sturdy, making for a smooth, precise cut. (Bosch recently replaced the tubes with an axial glide system that allows the saw to be pushed up against a wall to maximize space in a small shop.)
Milwaukee, DeWalt and Makita also make decent sliding compound mitre saws, usually for a little less money than Bosch.
When it comes to hand-held power tools, the same brand names that are popular in stationary tools are usually a safe bet.
Hitachi makes some good skill saws in the $150 price range, as well as plunge routers that are well-balanced with easy depth-setting features.
I've owned an Hitachi plunge router for over a decade which has been a solid, accurate performer that has not required any repairs.
Be aware that almost any electric hand tool is powered by a universal motor that is not designed for continuous use. Tools with the best quality, developed-horsepower motors should draw at least 10 amps on a 120-volt circuit; the information should be clearly stamped on a plate attached to the tool.
This brings us to the totally useless category of stationary and hand-held electric tools.
I was shocked recently to see a Skil º" drill being sold in a big box outlet for under $15. (There was a Skil jigsaw beside it for a similar price.) I examined both closely, coming to the conclusion they should be melted down and turned into something useful, like garbage bags.
It was disconcerting to learn the company that invented the first Skil saw or hand-held circular saw, now generically referred to as Skil saws as Kleenex is to facial tissue, had fallen to Dante's ninth ring of hell.
I was further dismayed when I noted in another big-box retailer a cabinet saw made by Ryobi that sold for $99. I've owned a Ryobi biscuit joiner for over a decade which has remained accurate, reliable and is of sturdy construction. To be confronted by their cheap, possibly dangerous, cabinet saw made me wonder just how low a company can sink in order to turn a profit.
Another brand to avoid is King Canada, a Canadian-based company that imports low-priced hand tools that will work today, but likely burn you tomorrow.
Moral: Like with most things, paying more for a product will hurt now, but, like a fine musical instrument, will pay you back with years of pleasure.